With online businesses, customers usually rely on the retailer's descriptions of the product and the added images. So, retailers need to provide their online customers time to choose whether they want a product or not. To solve this problem, retailers allow buyers the choice of returning items within some days of receipt. This helps customers return or replace damaged or inappropriate products.
A clear and concise and return policy provides customers a feeling of assurance; that what they are purchasing is confirmed to be what it is described to be. Businesses further gain the trust of these customers by providing them a guarantee of the product that they buy along with flexible return policies. Nowadays, retail businesses have started using methods that track the return habits of customers. The idea behind this was to prevent any fraudulent people that frequently and unnecessarily return items.
Dynamics 365 Business Central from Microsoft is an enterprise resource planning (ERP) system. It is a part of the Microsoft Dynamics family, targeting the small to medium business (SMB) market. Business Central offers your business a number of benefits to your overall performance and productivity.
Microsoft Business Central brings together reports from sales, accounting, and the customer-facing sides of your firm, by connecting data from across your business. It further makes it more comfortable for you to perform accounting and financial duties, such as automatic account settlement and produces the reports instantly and flawlessly that you need.
Using Microsoft Dynamic 365 Business Central, you can utilize timesheets to manage customer projects by building and tracking them with the software. It further provides you the abilities for reporting analysis and job costing, along with the capability to develop and edit your budgets, observe your invoices, and maintain the resources at your end, all in real-time along with the insight functionality.
With guidance from Microsoft Business Central, you can monitor all consumer interactions and notify your sales team of opportunities for cross-selling, upselling, and renewing. This software helps you to communicate with your consumers quickly and efficiently by replying to their service requests and sales queries through Outlook. Hence, using Microsoft Business Central can help you provide your business with several benefits.
Also, read: How to Setup Intercompany Transactions in Business Central – The Ultimate Guide
Easy steps for sales return in Business Central:
1) When customers are returning goods, that you need to retrieve in your warehouse, you can make a sales return order. It can either be as here on the front page or under the sales and sales return orders depending on the role centre.
2) You can search for it in the search menu and make a new one by pressing new. You add the customer number and fill in the type and the item that they are returning. 
3) You can fill out a return reason code for, why the customer has returned the item. You can add how many they are returning. 
4) When every field is filled out as desired, you can post the document, in posting and post. When the warehouse received the items, you can simply receive them.
5) This will transform into a posted return receipt. When you have received it, you can also receive an invoice at the same time. When you invoice a sales return order, a posted sales credit memo would be created by the system.
Also, read: Payment Tolerance – Business Central user manual
Sales Return
If any customer wants to return items or needs reimbursement for items or services sold by you and for which payment has been received, you need to create and post a sales credit memo that defines the requested change. If you want to include the accurate sales invoice information, then you need to generate the sales credit memo directly from the posted sales invoice or you can also make a new sales credit memo by using the copied invoice information.
If you want to have more control of the sales return process, such as a better overview when receiving items from multiple sales documents with one sales return or warehouse documents for the item handling, then you can also create sales return orders. A sales return order automatically issues any return-related documents such as a replacement sales order or any related sales credit memo, if required.
Note: You can also reverse any transaction by using the Cancel or Correct functions on any posted sales invoice if it has not been paid yet.
Defined below is the process of sales return for warehouse sales documents:
Open posted sales invoice
Note the sales invoice number.
Just for testing, search bin content. It will show you bins and items' availability in bins. Check the availability of the item. After return process check again availability.
Create sales return order. Fill Customer's name in customer field. Click on process -> get posted document lines.
Select posted invoice and click ok.
Invoice lines will appear in document.
Create warehouse receipt. Action-> warehouse -> Create Whse. Receipt.
Now post the Whse. Receipt.
Search Warehouse put-away. Check all the details. You can select the bin where your item will put from Lines, action type->place, Bin Code-> select bin from three dots.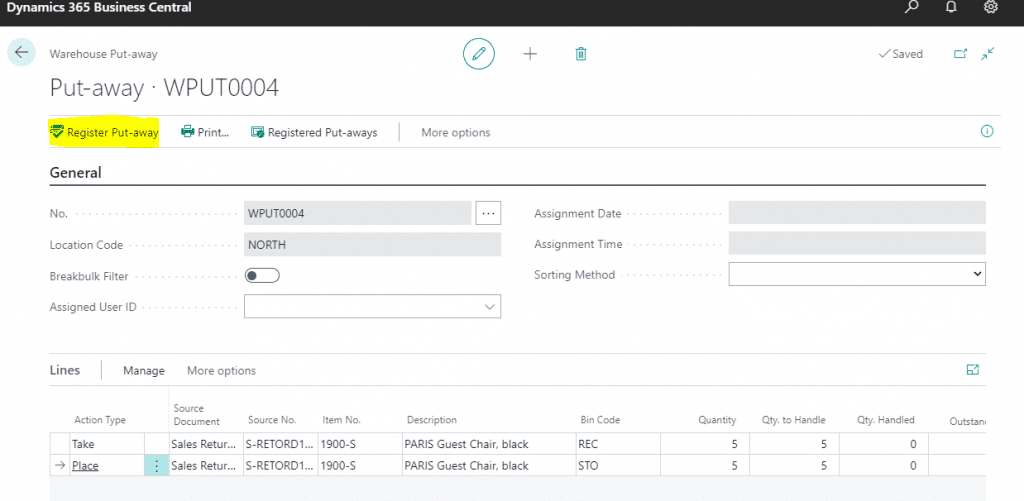 Register warehouse put-away.
Post this return order. It will be sent into Posted sales credit memo.
Search bin contents, now you can notice that the qty of item is increased i.e. your item is received back in your bin.
Also, read: 4 Easy Steps to initiate Refund in Business Central
Conclusion
Microsoft Dynamics 365 Business Central is a scalable and intuitive all-in-one ERP solution. Understanding how many consumers are willing to accept a cost cut on an item and those that insist on a return is important information. These transactions are known as sales returns, respectively, and are generally combined into one account, which has the influence of lowering total sales. Consumers return damaged or inappropriate merchandise if they want their money back. Retailers refund the purchase price and enter this amount as a return.
Here is an example of a sales return transaction – A clothes store customer that brings back a pair of shirts and gets a refund because the fitting is less than ideal or the product broke soon after purchase. By following the above-defined steps, you can easily accomplish the process of Sales Return in Business Central.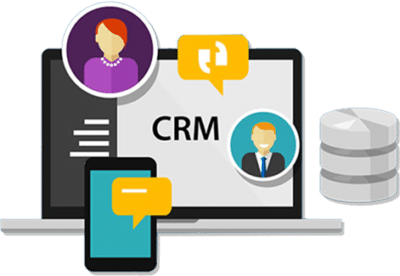 Microsoft Dynamics 365 Business Central is an all-in-one ERP business management solution that helps you connect your financials, sales, service, and operations to streamline business processes. Connect our team if you are interested in implementing Dynamics 366 business central in your business.