Smart and innovative business technologies of today are developed and implemented in a way that includes the ability for different systems to work collectively. Advancement in technology has made it possible for several business applications to work together with other different business applications to get exceptional results along with a notable performance improvement.
You can consider the example of Microsoft Outlook, which is one of the most extensively used and successful business technologies for email communication. With the growing demand for business tools to precisely track leads and maintain customers through CRM (Customer Relationship Management) systems, using Outlook as a CRM or integrating CRM with Outlook seems to be a direct fit.
Customer relations management (CRM) software is always a significant component behind the growth of any business, whether you have a small to mid-sized business or a start-up. When your sales team reaches a point of critical overload with notes and a variety of programs for smartphones, desktops, and mobile devices, and do not talk to each other or the organization, then CRM becomes a necessity to make things smooth and working.
The best sellers know that understanding their customers properly is a huge part of the process. They need to recognize the communications that they had and should track and follow up on applications.
The sales team should understand where a lead is within the sales pipeline, so that the communication could occur in proper context and on point.
The same goes for getting new leads and sustaining ongoing customers. This is where a CRM jumps in, it provides a means for salespeople to track everything important to their customers and clients, so they can give them everything they require to be efficient at their tasks.
Several businesses whether small or medium-sized depend on using Outlook as a CRM (Customer Relationship Management) tool.
When employed accurately, Outlook helps increase your productivity by decreasing several small decisions you need to make and also streamlines the repetitive tasks that can consume a large portion of your time. 
Why plan to use Outlook as CRM?
The primary purpose of utilizing CRM software is to organize customer contact details within a centralized platform and to stay prepared to send and receive emails from it. Using Outlook as a CRM for this purpose can be a good idea.
Furthermore, it enables you to mark calendars and records with appointments, build and maintain task lists, set reminders and alarms on your outlook inbox, plan to-do lists, and events, create and organize folders, etc. Therefore, if you are a small or mid-sized business entrepreneur with some contacts to handle then you can go for Outlook.   
Outlook can work as a stand-alone CRM tool. Using CRM as an effective CRM solution has the following benefits:
Cost – Outlook is normally included with the purchase of MS Office or MS Office 360.
It is simple to add contacts to Outlook.
Outlook stores all of your customer data in one place.
Emails and calendars can be managed from any device that has internet access. 
Easy to integrate with Skype for business purposes.
Outlook provides reminders and integrated tasks that you can link with a contact, sales deal, or company.
It enables you to share customer information across the company.
Secure sharing of data with others or with the Enterprise Management Resource utilized by your firm. 
It's comparatively easy to use and also available on mobile.
Using Outlook as a CRM also makes your sales team an excellent performer, as Outlook helps keep them efficient and more productive.
Also, read: Zoho and Outlook Integration – The Best Practices List
CRM Outlook tips to maximize productivity
Moving around from one program to another makes less sense when you have the option of using Outlook as a CRM, and you can also integrate CRM with Outlook. You can access the information you need instantly and efficiently. Here are some tips to maximize your productivity:
a) In Outlook desktop client select Dynamics 365
b) In Outlook web client select a mail then select more (…) and then select Dynamics 365
c) You can add Lead, Contact, Account, Opportunity, Case, Knowledge Article and Competitor from Outlook
Also, read: CRM Experts that put your business first – Top hiring strategies
4 Best CRM Systems for Outlook Integration in 2021
All types of businesses today use Microsoft Outlook for email communications. Outlook when coupled with a full-scale CRM solution, turns into a more compelling tool that catches and nurtures leads, organizes contacts, manages opportunities, and, more. Now we will discuss some of the most suitable CRM solutions that are compatible with Outlook, based on pricing, ease of use, customer support, etc.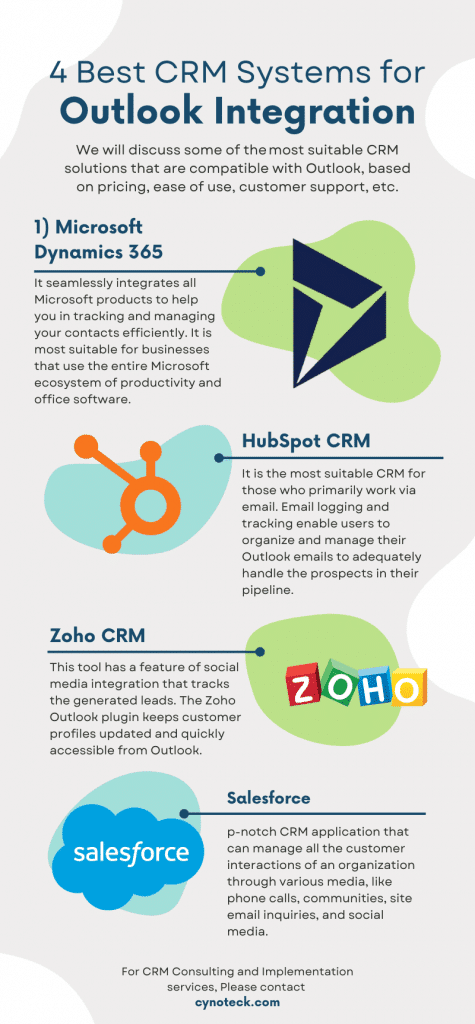 Copy Infographic
1) Microsoft Dynamics 365
Microsoft Dynamics 365 is an enterprise resource platform (ERP) and is the only option with native integration for Outlook. It provides different business applications for mid-sized to large organizations. It seamlessly integrates all Microsoft products to help you in tracking and managing your contacts efficiently. It is most suitable for businesses that use the entire Microsoft ecosystem of productivity and office software.
Best Use: Large teams using the complete Microsoft software suite.
Pricing: Plans starting at $65 per user per month
Professional: $65 per user, per month
Enterprise: $95 per user, per month
Premium: $135 per user, per month
Microsoft Relationship Sales: $162 per user, per month, starts at 10 paid users
Also, read: Top 10 ERP software systems to implement in your production line
2) HubSpot CRM
HubSpot CRM is a full-scale CRM solution that offers powerful contact management to make your work easier. It is the most suitable CRM for those who primarily work via email. Email logging and tracking enable users to organize and manage their Outlook emails to adequately handle the prospects in their pipeline. 
Best Use: Best for businesses that want a free and manageable CRM with Outlook integration.
Pricing:
Free Version: Support for unlimited users
Sales Hub Starter: $45 per month, starts at 2 paid users
Sales Hub Professional: $450 per month, starts at 5 paid users
Sales Hub Enterprise: $1,200 per month, starts at 10 paid users
Also, read: Top CRM models that take your customer relations to the next level
3) Zoho CRM
Zoho CRM offers all the core features that you would expect from a modern CRM, and its integration with Outlook provides you complete command over your email marketing campaigns. This tool has a feature of social media integration that tracks the generated leads. The Zoho Outlook plugin keeps customer profiles updated and quickly accessible from Outlook.
Best Use: The best option for marketers who need to capture and manage social media leads from Outlook email.
Pricing:
Free Version: Support for three users
Standard: $14 per user, per month
Professional: $23 per user, per month
Enterprise: $40 per user, per month
Ultimate: $52 per user, per month
4) Salesforce
Salesforce is a top-notch CRM application that can manage all the customer interactions of an organization through various media, like phone calls, communities, site email inquiries, and social media. Salesforce CRM has great data management and marketing automation functionalities.
Best Use: Most suitable for Built-in Outlook Integration
Pricing:
Sales Essentials Edition $25/user/month
Professional Edition $75/user/month
Enterprise Edition $150/user/month
Unlimited Edition $300/user/month
Also, read: Salesforce vs NetSuite: Pick the right CRM for you
Conclusion 
Outlook is essentially a business-driven contact, email, and calendar management system that meets the requirements of a large number of business users. Outlook CRM is not something that Microsoft provides to its users out-of-the-box, but you can instantly transform Outlook into a CRM powerhouse to enhance your sales performance.
Now, what makes CRM software a compelling add-on to Outlook is its capability to provide you with relevant contact behaviour and information to sustain relationships and improve business performance. Empowering your Outlook with the most suitable CRM software that emphasizes an authorized client-relations approach, marketing automation, and contact management might be the secret to making your next big deal. All the best!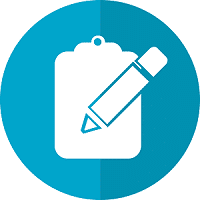 Do you want to implement a CRM system within your organization? Connect with our CRM Experts today!