Microsoft Outlook is a preferred email organizer that provides several in-built features such as contact management, note manager, and calendar. It is an ideal tool to integrate with CRM systems as it facilitates internal team collaboration and saves a considerable amount of time.
CRM Outlook integration brings a lot of advantages and opportunities for businesses. Integration with Microsoft Outlook gives users the flexibility to share the calendar with team members, access emails offline, and capsulize customer interaction in one centralized portal.
It becomes a singular point of contact for all external and internal communication, therefore helping you stay organized and get things done faster.
What is CRM?
Customer Relations Management (CRM) is a technology, or you can say a kind of approach for handling a company's relationships and interactions with all of its customers and potential customers. A CRM solution enables businesses to focus on their relationships with customers, colleagues, service users, or suppliers — throughout the lifecycle.
This also includes discovering new customers, winning their business, and providing support and additional services throughout the relationship. This helps businesses stay connected to customers, streamline operations, and improve profitability. 
If you want to know in detail about CRM, visit here – What is a CRM? Customer Management Software.
CRM software provides tools for business owners to leverage customer information for business growth. Business owners can grow their business by utilizing customers' information for smart decision making, building a personalized customer experience, and creating successful marketing campaigns.
The ultimate goal is simple: to improve business relationships. 
CRM software also integrates automation, analytics, data management, reporting, and communication features. With the popularity of cloud-based CRM systems, most CRM software gets periodical updates to keep up with the latest market trends. You might get similar features in most of the leading CRM systems but it's the integrations with third-party software and the developer community that puts the winners apart.
Integrations let data and information flow across different software products. CRM Outlook integration has become popular as CRM software succeeds in managing data and analysing information. Other than this innovative integration between CRM and Outlook, you can also have more additional integrations with other information-based products to get satisfactory results.
Outlook is a software product by Microsoft, it manages contact information and electronic messaging services by creating contact profiles with fields for additional information. Integrating your CRM with Outlook brings some advantages and opportunities for business.
Some of these includes:
Increasing productivity by improving teamwork and collaboration.
Creating a single platform for managing and directing business projects.
It offers enhanced communication by integrating third-party email services.
It provides optimized project management and scheduling via calendar and timeline synchronization.
Swift information-based decision-making via quick dashboard reports.
Now, defined below are some examples of popular CRMs based on their popularity and available features. Getting the most appropriate software based on a combination of cost and capability is a crucial decision for any business that must be made based on information.
Also, read: Top 5 Reasons to use Salesforce Community Cloud
Here are some of the best CRM for outlook Integration:
Copy Infographic
1) Dynamics 365
Dynamics 365 CRM is a Microsoft product. You can set Microsoft Dynamics 365 for both online and offline use. And if you're presently utilizing the full Microsoft suite of products for document management, email, storage, and more, Microsoft Dynamics 365 is a solid and reliable solution.
Without any doubt, Dynamics integration with Outlook is the most suitable since you can do anything from within outlook without even using the Dynamics365 interface. Outlook and Dynamics 365 are from the same company which means there would be lesser compatibility issues, and integration would have better support. There are different 
plans available that comprise valuable add-ons such as Microsoft Relationship Sales, which empowers reps to personalize their engagement with prospects. Microsoft Dynamics 365 offers both CRM applications and an enterprise resource platform that can directly integrate with the desktop and online versions of Outlook.
Integration of Dynamics CRM and Outlook provides:
Contact information management
Group Emails
A Mobile App
Live Support
Custom Processes
Lead Registration and Capture
Security and Permission
Lead Rating
Forecasting
Offline Access
2) Salesforce
Salesforce is the most popular CRM in the market, controlling approximately 20% of the market. It is designed for both small and large businesses, offering excellent features as in Dynamics CRM. Salesforce is focused on small businesses; it has therefore shifted its focus on businesses.
This furthermore immediately illustrates why its forte is extreme customizability (provided you pay a team of consultants to do that) and why it has placed itself to be the one software vendor that provides a solution to all your business requirements.
With multiple pricing plans, businesses can take the advantage of Salesforce to enhance business productivity and assure successful marketing campaigns. Salesforce has a strong developer community, and service pricing is even somewhat affordable.
Salesforce does even offer a solution to small businesses today, known as Salesforce Essentials, which is a limited version of the full platform.
Integration of Salesforce and Outlook plugin features include:
Contact information management
Group Emails
A Mobile App
Live Support
Custom Processes
Lead Registration and Capture
Security and Permission
Lead Rating
Forecasting
Also, read: 9 signs Your Small Business Needs a CRM already
3) HubSpot CRM
HubSpot comes next in the list of CRMs that can be integrated with Outlook. The HubSpot CRM offers a strong contact management foundation that makes your work more manageable.
It has a free basic plan that also offers much functionality. This easy-to-use tool offers full visibility into your sales pipeline in real-time, and the Outlook integration enables you to log emails sent from Outlook within HubSpot with the help of a single click. Integration of HubSpot with Outlook is accessed through a web browser.
This integration works by upgrading HubSpot with an Outlook plug-in. Web browser access indicates it can hold an infinite number of users. You can access influential HubSpot tools including templates, email tracking, meetings, and sequences without leaving your Outlook inbox.
The free plan offers basic functions such as lead capturing and tracking, but if you want more features and upgrades, then they are available at higher pricing levels.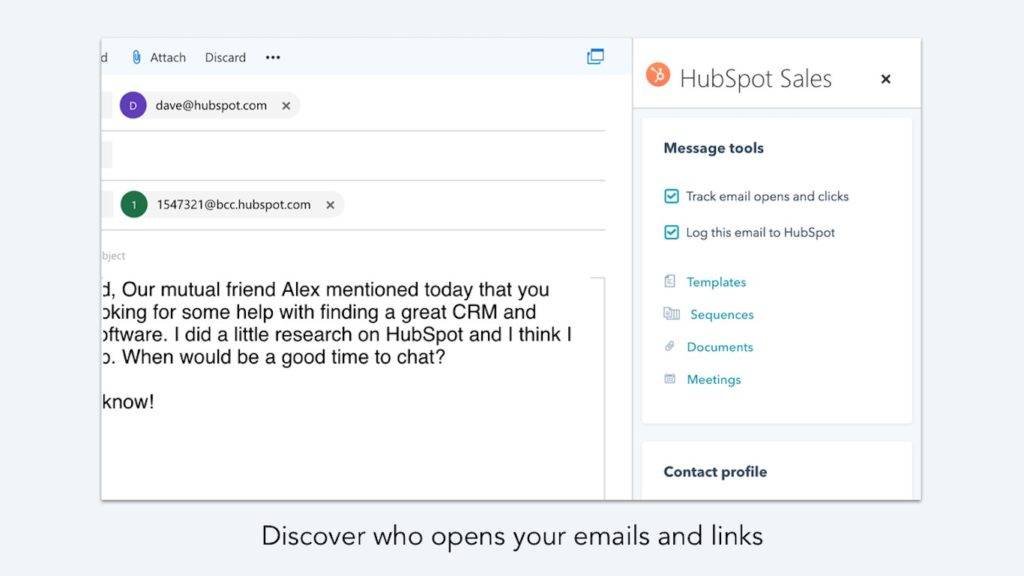 Integration of HubSpot and Outlook provides:
Contact information management
Group Emails
A Mobile App
Custom Processes
Lead Registration and Capture
Lead Rating
Forecasting
Also, read: Salesforce leads vs Contacts vs Opportunities – Maximize functionality
4) Zoho CRM
Zoho, when integrated with Outlook, offers a useful contact management tool. Similar to HubSpot, the Outlook plug-in also provides access to CRM tools via the email inbox. Zoho CRM is the most suitable option for teams that heavily depend on their marketing organization for lead generation.
This tool has a social media integration that tracks the generated leads. The Zoho Outlook plugin keeps customer profiles up-to-date and readily accessible from Outlook.
Zoho services are moderately priced and provide the standard CRM features. There are both plans available – structured paid plans and a free basic plan, which provides a few CRM features.
Integration of Zoho and Outlook provides:
Expandable storage
Tiered features according to pricing plans
Call Log
Lead Capturing and Management
Social Media Integration
Custom Dashboards
Customer Support
Also, read: How to go about Salesforce outsourcing with minimal risks for your business
5) Nimble
Nimble's Outlook CRM is developed to assist you in streamlining and unifying all of your contact data within your inbox. It is one of the best solutions on the market for sales teams doing plenty of work on social media platforms like LinkedIn.
By focusing on contact management, Nimble's platform lets reps create detailed profiles regarding prospects based on their social information. The platform furthermore keeps track of every social interaction that reps have with prospects, making it easy to pick up conversations.
Nimble also has the option of annual billing, which makes the cost lower, and has tagging and segmenting functionality that helps you keep your inbox and CRM data organized.
Best suitable for: Maintaining robust contact profiles
6) Keap
Keap supplements sales automation features with marketing functions. If you are a small business owner or an entrepreneur looking to upgrade from spreadsheets, Keap is a feasible option for handling and maintaining your client data.
In addition to providing features such as payments, invoicing, and messaging, Keap's CRM connects instantly to your Outlook inbox. This platform allows users to create landing pages that the company hosts on its own network, and also provides powerful email automation so reps can nurture leads.
Furthermore, Keap warns you when you get lead email, texts, or calls, so you can answer them quickly. It even provides eCommerce integration. Other capabilities include quote management and reporting features for both marketing and sales.
Best suitable for: small businesses that are looking to organize contact data.
Conclusion
The present business environment demands highly competitive entities that must continuously enhance their productivity and efficiency to remain on top. Leveraging up-to-date information is a need to make swift and successful decisions to survive in this competitive business world. This is the reason why CRM software has become so successful and popular among business proprietors.
You need a full-scale CRM software solution for your CRM Outlook integration to maximize your productivity. If you support your customers through Outlook, finding the one that works hand-in-hand with Outlook can help steer your efforts further and accomplish your expected results faster. 
CRMs' most noteworthy feature is probably the integration and upgrades, and this will allow businesses to keep growing and upgrading their capabilities. It is not enough to choose any CRM, an assessment for the most suitable fit and affordability is needed.
Choosing a CRM is an investment; the ROI must not be too small or too far away, else the business fails. The above-defined options can surely work for you as per your business goals; consider using the one that you feel will serve you best.
Frequently Asked Questions (FAQ's)
1) What makes a CRM system "open source"?
Any software is said to be "open source," if some or all of its source code is available to users for review and modification. Programmers and developers that want the ability to customize their CRM software extensively usually go for open-source solutions.  
2) What are the differences between CRM and ERP software?
CRM software focuses particularly on handling customer information, storing sales-related lead details, and logging interactions with clients. On the other hand, ERP software is designed to handle nearly every aspect of a business's operations, including human resources, accounting, inventory, and analytics.
3) What is a CRM analyst?
A CRM analyst examines your customer data to assist your business make the most profitable sales and customer service recommendations. These professionals help you understand your customers' requirements and interests so you can choose the most suitable ways to market to them.
4) What other tools integrate with CRM software?
Sales and marketing add-ons, reporting, and tracking tools are the most common integrations for CRM solutions. Direct integrations connect most quickly, while third-party integrations need middleware to promote the exchange of data between the operating system, the CRM, and other applications. Custom API integrations generally take longer because the integration has to be created.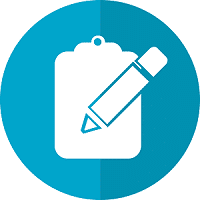 Do you want to implement a CRM system within your organization? Connect with our CRM Experts today!