Enterprise Resource Planning (ERP) is comprised of compelling and strategic process management tools that help to manage data and information within an organization. These comprehensive and integrated ERP systems handle all phases of a production-based or distribution business, regulating human resources, financial management, supply chain management, and manufacturing including the core function of accounting too. Best ERP systems of today provide transparency within the entire business process by tracking all perspectives of distribution or production, financials, and back office. 
As we all know that each business and organization serving today is unique in its way of working, but they all suffer a common difficulty, i.e. to stay competing in today's business environment, they require a reliable and effective way to save and access information. That's the point where the ERP system comes into action. ERP systems integrate all aspects of the industry into one complete information system that can be reached by individuals across the whole organization. Different departments can monitor the information recorded by ERP systems to assure that accurate plans are getting executed. 
Whenever updating or shifting to any modern ERP system for your business, it's important to remain conscious of the several options available. It depends on the nature of your business and overall operations, some of the best ERP systems may end up preventing you from fully optimizing your integration. So, decision-makers need to research the software's reputation, evaluate its capabilities over a wide range of desired functionality, and pick software that meets business requirements without having an immense learning curve.
When a business reaches its peak and gets involved in some complex processes, it finds itself in a need of a powerful, right-sized ERP system. For big companies, much of the groundwork is accomplished by in-house IT staff while the cost is divided over a large product base to reduce the influence on the organization. But for small manufacturing firms with 10-200 employees, these challenges are amplified. This sometimes makes the decision-maker or business owner choose a system that is too inadequate or too powerful or one that possesses such a long training curve for already troubled staff that its entire functionality may never be realized.
So, you should always choose ERP software that helps you automate the repeated and time-consuming production/manufacturing tasks within the organization. It should help your business to maintain and improve all the processes by making more reliable business decisions which can lead to progress in operational efficiency, by recognizing processes that can interrupt manufacturing/production tasks.
Also, read: Top ERP implementation mistakes to avoid (learn from these failures)
Advantages of implementing ERP systems for enterprises
An ERP system can replace the more traditional system with enhanced analytics and functionality to provide reliable and best practice elements management throughout the organization. Furthermore, an ERP system can also help remove fragmentation. As production volume rises, an ERP system eliminates fragmentation by combining the business controls and material into a singular platform with real-time data and analytics.
An ERP system processes the data while providing clear, systematic, and automated functionality to handle core business roles and operate production efficiently along with the appropriate level of material availability.
Some other benefits of ERP for the production industry are:
Streamlines and automates business processes with more prominent adaptability/flexibility
A quicker response to market conditions
Strategic decision making
Decreased costs
Improved customer satisfaction
Also, read: 11 ERP success factors that can make or break your whole operations
Top 10 production ERP software systems
Today there are several options available for almost every industry and business of varying size and complexity. To help pick the right ERP system for your growing business, let us have a look at the top 10 ERP software systems to implement in your production line: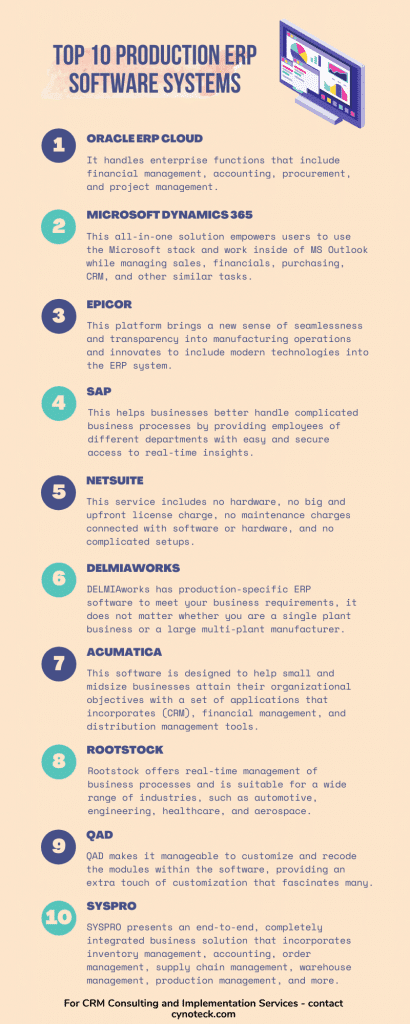 Copy Infographic
1) Oracle ERP Cloud
Oracle ERP (Enterprise Resource Planning) Cloud is a cloud-based end-to-end software solution used to automate back-office processes and day-to-day business activities. It handles enterprise functions that include financial management, accounting, procurement, and project management. This Oracle ERP boosts collaboration, accelerates business productivity, and helps make data-driven decisions by bringing together different business processes. This Oracle ERP Cloud furthermore integrates with different Oracle services as well as other third-party solutions such as QuickBooks, SAP, etc. 
2) Microsoft Dynamics 365
Microsoft Dynamics 365 is a cloud-based business applications platform that combines components of the customer relationship. This all-in-one solution empowers users to use the Microsoft stack and work inside of MS Outlook while managing sales, financials, purchasing, CRM, and other similar tasks.
Microsoft Dynamics 365 is a good fit for bigger and more diverse businesses because of the flexibility it offers. It offers a set of intelligent business applications (ERP and CRM) that can help you manage your entire business and produce greater results with the help of predictive, AI-driven insights. 
Also, read: Agile ERP Implementation – Advantages and Things to Consider
3) Epicor
Epicor ERP is a robust and instinctive solution designed to fit the particular requirements of manufacturers all over the globe while addressing the problems and difficulties encountered in corporate and operational growth.
This platform brings a new sense of seamlessness and transparency into manufacturing operations and innovates to include modern technologies into the ERP system. Epicor ERP empowers you to make informed decisions with the help of predictive analytics to influence change and optimization at each level of your business. It is easy to customize and is compatible with all mobile devices.
4) SAP
SAP stands for Systems, Applications, and Products in data processing, and SAP ERP is one of the most influential enterprise resource planning systems. SAP software provides multiple business functions by centralizing data management.
This helps businesses better handle complicated business processes by providing employees of different departments with easy and secure access to real-time insights. This helps businesses to accelerate workflows, enhance operational efficiency, increase productivity, improve customer experiences – and eventually improve profits. SAP also has well-developed and focused production capabilities.
5) NetSuite 
NetSuite is the best customizable ERP software that empowers businesses to handle all key business processes in a single system. This service includes no hardware, no big and upfront license charge, no maintenance charges connected with software or hardware, and no complicated setups.
NetSuite's dashboard can be customized to fit the unique needs of your business. This platform helps businesses to gain business growth and development by efficiently optimizing business processes. It automates the business processes and activities in a cloud platform with some unmatched advantages.   
Also, read: Do small businesses need an ERP system? 7 Signs it's time to implement an ERP
6) DELMIAworks
DELMIAworks which was formerly known as IQMS is the best ERP software that offers a reliable, real-time ERP system, produced particularly for production processes. DELMIAworks has production-specific ERP software to meet your business requirements, it does not matter whether you are a single plant business or a large multi-plant manufacturer.
Many businesses with complicated operations in the supply chain have observed several benefits from the functionalities of this software. This platform makes it quite manageable to perform minute tweaks to suit your requirements without the need to code full customizations. 
7) Acumatica
Acumatica ERP is a cloud-based, industry-leading, enterprise resource planning platform that delivers adaptable mobile and cloud technology with a different all-inclusive user licensing model, facilitating a comprehensive, real-time picture of your business.
This software is designed to help small and midsize businesses attain their organizational objectives with a set of applications that incorporates customer relationship management (CRM), financial management, and distribution management tools. Acumatica is exclusively focused on the production and provides sufficient adaptability, whether you need to deploy the software through the cloud or via an integration process. 
Also, read: Enterprise Accounting Software Pain Points: A 2021 Market Overview
8) Rootstock
Rootstock ERP is a system for distribution and manufacturers businesses of every size. Rootstock offers real-time management of business processes and is suitable for a wide range of industries, such as automotive, engineering, healthcare, and aerospace.
It is developed on the Salesforce platform enabling it to leverage powerful cloud benefits and better integration with applications. This cloud ERP is a flexible, convenient, and digitally linked system that transforms organizations to provide a more personalized consumer experience while efficiently scaling operations, which helps companies to stand out from the competition. 
9) QAD
QAD Cloud ERP is an adaptive solution for businesses looking to gain command of their warehousing processes. It is scalable and works with the growing business requirements. It merges ERP, finance, supply chain, and consumer service capabilities into a single QAD Enterprise Platform.
QAD makes it manageable to customize and recode the modules within the software, providing an extra touch of customization that fascinates many. QAD ERP empowers businesses to design new extensions and applications in a low-code or no-code environment with user preferences and other personalization options too.  
10) Syspro
SYSPRO is an industry-specific, continually evolving, enterprise resource planning (ERP) solution intended to refine the complexity and add important value to distributors and manufacturers. SYSPRO presents an end-to-end, completely integrated business solution that incorporates inventory management, accounting, order management, supply chain management, warehouse management, production management, and more.
This software can be deployed in the cloud which makes it accessible from any device. It also has a powerful scheduling functionality that enables it to use single constraint as well as multi-constraint scheduling.  
Also, read: CRM vs MDM – The intro to enterprise data essentials
Final Verdict – finding the right ERP Software?
ERP implementation process is time-consuming, tiresome, and costly. By adopting a new ERP platform, a production company invests in a product with a prolonged lifecycle, longer than any production equipment.
One point that you should always keep in mind while choosing the best ERP system for your business is to get the product that matches who you are and what your business requires. If the right product is selected, a business can get the benefits of improved efficiency and enhanced customer service. If the wrong system is chosen, the business can incur losses instead. 
It's also essential to evaluate the overall ecosystem for the systems you are considering making sure that there is sufficient support as you attempt towards a digital transformation. So, decision-makers should always decide on purchasing a new ERP with a balance of cost, lifecycle changes, ease of use, and essentially the unique requirements of their business within their industry. All the best!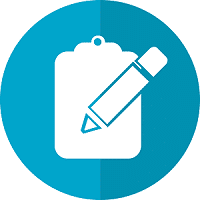 Do you want to implement a CRM system within your organization? Connect with our CRM Experts today!