Businesses today interact with people on various levels, and every interaction produces information regarding the prospect or customer; a customer relationship management (CRM) system enables you to capture that information to enhance customer satisfaction and generate new sales. CRM (Customer Relationship Management) is considered as a fundamental aspect of every business. It handles your company's relationships and communications with the consumers. The most suitable CRM software assists businesses to create lasting relationships with consumers, enhance team collaboration, deliver more exceptional client satisfaction, as well as boost client retention ratio.
When businesses are small, customer relationships can be maintained on an individual level. But businesses when grown out of the initial stage, then to handle more clients you need to implement a CRM system that takes over the troublesome work for you and delivers you the results that you simply cannot accomplish individually.
However, it is always more beneficial to hire an external CRM implementation consultant to improve the utility of the CRM system. Several CRM consulting companies help in picking the right CRM system as well as help in the transition phase too. Furthermore, they boost sales teams' productivity and engagement while supporting sales management.
Whether you need to implement a CRM in your business or already have one and are looking to get more out of that, a CRM implementation consultant can assist you to get the maximum out of that or to establish it from the very beginning. 
What is a CRM Consultant?
Customer relationship management (CRM) consultants are accountable for giving operation services for customers that incorporate application management, custom development, and business process outsourcing. Your CRM consultant will assist you in establishing a CRM system that will be optimal for your business. He/she will help you navigate the pitfalls of using and optimizing your CRM. A CRM consultant will further work with your team to onboard the software and expedite employee onboarding. He/she can help you get the most out of your CRM without any discomfort or difficulty that most businesses suffer while deploying a new system.
Also, read: CRM Experts that put your business first – Top hiring strategies
Signs that show that your business requires a CRM Consultant
When you're facing uncertainties and difficulties in your software project, it's time to get in touch with a CRM expert. This guidance is crucial for executing an implementation that produces the desired ROI. Below, we list some sure-shot signs that your business needs a CRM implementation consultant that can help you meet your business objectives. 
You might also be interested in – Things To Know Before Hiring A CRM Consultant.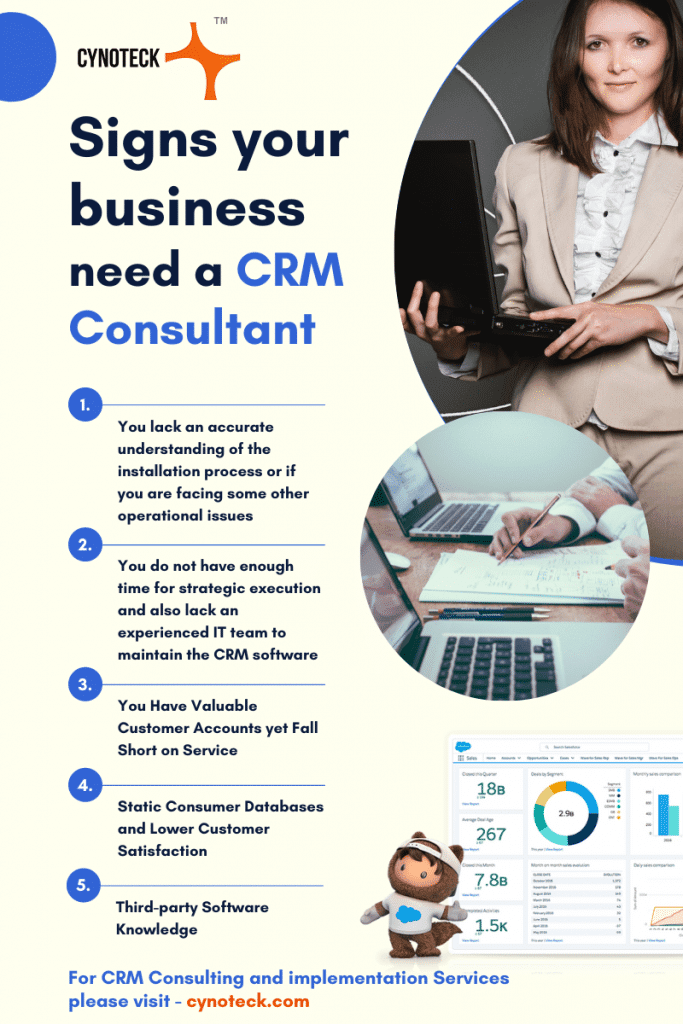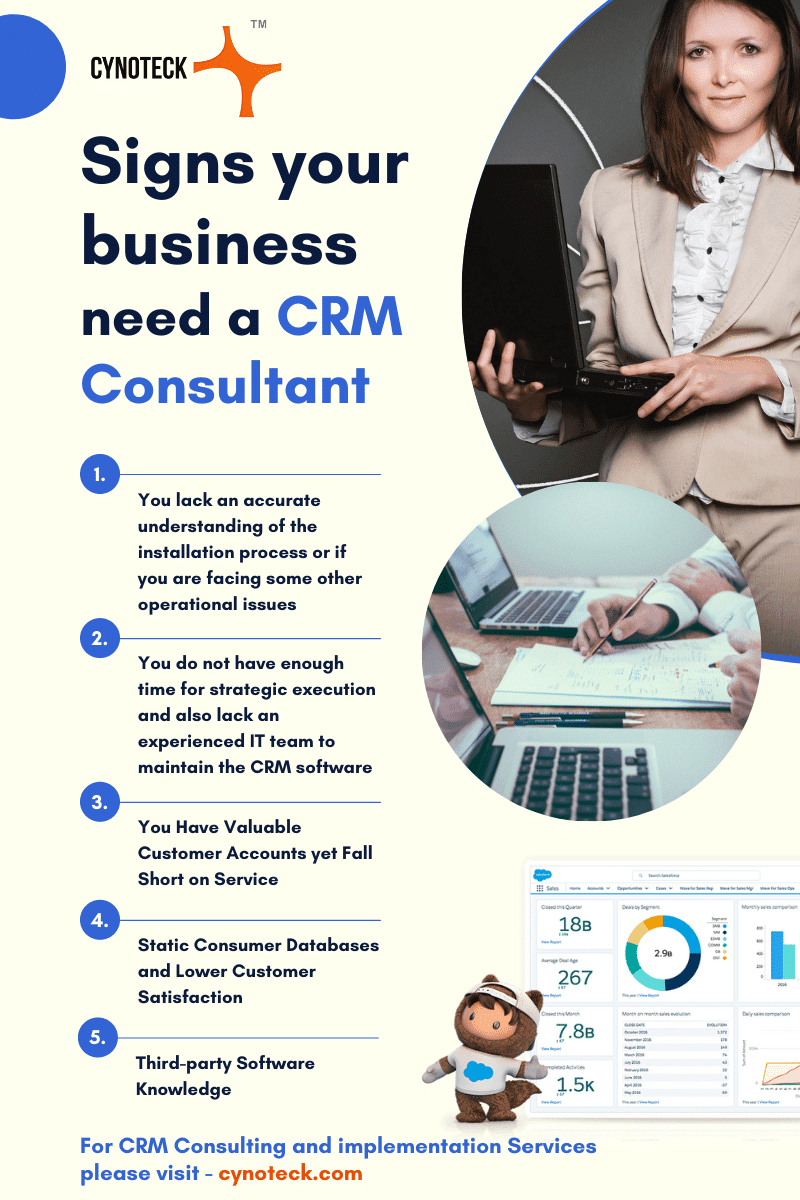 Copy Infographic
1) You lack an accurate understanding of the installation process or if you are facing some other operational issues
Installing CRM software can become a complex task. Moreover, it becomes more complicated if you are converting your old system to a new one. This process needs a significant data migration to the new CRM database. Any wrong integration of the software can result in system failure and data loss.
A business might need a precise executive strategy for maintaining CRM software and tracing its usage throughout the organization or a CRM plan might run over budget because of any unforeseen implementation costs, unanticipated operating expenses, or hidden licensing fees.
To avoid all these situations, help from CRM consultants is necessary. CRM implementation consultants are familiar with the complicated adjustments that the project may need to decrease the operational efforts of the team, they can also help the business in monitoring specific activities throughout the management and maintenance of the system. They can further recommend some third-party add-ons that help boost the functioning of the system.
2) You do not have enough time for strategic execution and also lack an experienced IT team to maintain the CRM software
When a business solely focuses on its operational processes and spares no time or resources to execute strategic plans, it can be a setback for the business. The growth of the business becomes inactive, and even the easiest tasks need a prolonged time to complete. Or businesses may own excellent IT expertise that analyses the transactional operations of the organization. But they may not have the necessary skills to maintain CRM software.
That is where a CRM consultant can help. With years of experience in the CRM marketplace, these consultants can simplify the operations, thereby enabling the staff and managers to focus on the tactical elements of the business. They can likewise assist in prioritizing your requirements to provide solutions accordingly. Moreover, they accurately analyse your business processes and recommend technical platforms that have the potential to develop in the future, eventually boosting your business ROI. 
Also, read: Top CRM models that take your customer relations to the next level
3) You Have Valuable Customer Accounts yet Fall Short on Service  
The greatest failure for any business is to drop customers because of bad customer service. It is even more harmful if you begin losing consumers that have been linked with your business for a quite long period. A developing business may sometimes fail to accommodate every phase of the business, customer service can be one of them.
CRM consultants examine the growth of any business and suggest scalable services that work. They provide operational and technical training to the staff accountable for managing customer service. The primary purpose of installing a CRM system is to help the staff and enhance their productivity. The service provider understands this and finds the working pattern of the team so that the system is adjusted in a way that helps to simplify their workflow. This creates a strong and user-friendly CRM system, which ultimately helps in reducing the attrition rate.
4) Static Consumer Databases and Lower Customer Satisfaction  
A disorganized system that includes duplicate consumer information in various databases and is isolated can create devastation inside the company. The loss of communication can decrease the quality of consumer service, preventing the customer relationship. Here, a CRM can help, he/she can design a centralized system of intellect capability that will assure data quality and ensure an improved CRM implementation. This will further clarify the database by blending various data into one file, which enhances the accessibility of data.
A growing business wants to invest in its consumers however sometimes they cannot decide how. If consumers report disappointment, it is a definite signal that you need to work on your CRM system and improve it, where a CRM consultant can surely help. The need to collect data about customers and turning it into useful information has become more important than ever.
Using CRM analytics, you can target particular consumers, identify which customers lead to the most profits; analyse different product development approaches, and more. For this, you need the services of an expert CRM implementation consultant that can guide you on how to integrate this compelling tool with your current CRM.    
5) Third-party Software Knowledge
A CRM consultant is much informed and has an excellent understanding of information regarding available third-party plugins and add-ons. He/she has the benefit of training and experience with different business migration projects. And businesses are smart enough to listen to a consultant that has implemented the identical CRM software at many organizations.
Utilizing the expertise of a consultant is an excellent method to obtain apps that businesses can use to make their CRM systems work better. A system-focused experienced CRM Consultant not just helps in migration but additionally helps in sales and marketing management while taking advantage of extensive features in the software.
Also, read: 4 Best CRM for outlook Integration 2021
Why You Should Hire a CRM implementation Consultant
A CRM Consultant can help you to choose the right CRM platform. 
A CRM Consultant can help you to maximize your ROI. 
A CRM Consultant can train your team members to utilize the new CRM efficiently. 
A CRM Consultant can help you to customize your CRM as per your business requirements and can also expose your team to CRM best practices. 
A CRM Consultant knows CRM "secrets and also has template collections that can facilitate your CRM implementation process. 
A CRM Consultant can suggest third-party applications for your CRM network. 
A CRM Consultant can help you in maintaining your marketing list or Clients using Marketing Module. 
A CRM Consultant can help in enhancing your business using Field Service Module.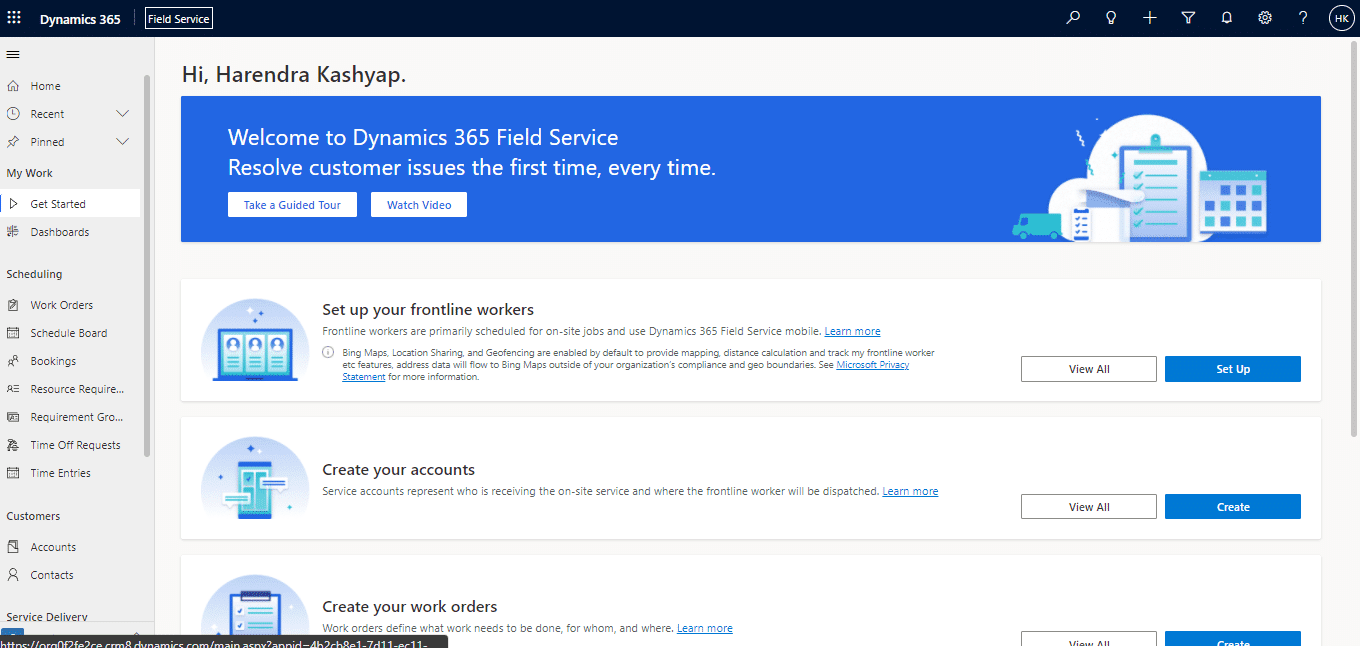 A CRM Consultant can help you in deal with services and facilities using Sales Module. 
Final Verdict – Choose the Right CRM Consultant
Diving in a software implementation program alone can produce uncertainties that can damage your investment and your objective. After including a CRM consultant, you don't need to bother about your data and processes. So, whenever you decide to develop custom software, it is always more helpful to choose an experienced CRM consultant that can guide you throughout the whole process. A CRM consultant can assist you in providing more reliable service to your consumers and close more deals by inducing objectivity, professional knowledge, strategic planning, and efficient use of CRM technology. A CRM implementation consultant analyses the capabilities of the client and provides an optimal CRM solution that meets your business requirements.
Cynoteck has been providing CRM, eCommerce, solutions to several B2B and B2C companies for over 10 years. We can help you make the right selection; our expert consultants can instantly connect your CRM and ERP systems to streamline your operations. Contact us today, we will be pleased to help you!
Also, read: 7 ways CRM improves your customer experience and boosts revenue
FAQs (Frequently Asked Questions):
Who are CRM consultants?
A customer relationship management (CRM) consultant assists businesses to improve their customer relations. A CRM consultant works with companies to identify areas that require improvement and trains employees on consumer support's most reliable practices. Their other responsibilities include meeting with businesspeople, generating sales leads, managing technical issues, and more. 
What are the four key elements of CRM?
CRM aims to enhance customer relationships, improve loyalty and retention, and boost sales. But, for this to work, your CRM approach should consider the following four key elements: People, technology, strategy, and processes.
Who can benefit from CRM?
This is the best part of a CRM system i.e. almost every organization can benefit from a successfully implemented CRM— right from sales and customer service to marketing, business development, recruiting, and more. CRM provides businesses with a more reliable way to manage external relationships.    
How long does it take to perfectly implement a CRM in an enterprise?
Generally, there is no such defined or fixed time. It usually depends on your business requirements and the processes involved. Moreover, any software implementation also depends on the approach that you have used for your business. A small enterprise CRM implementation may take few days while a long and complex CRM implementation could demand several weeks or months to fit into your current business environment.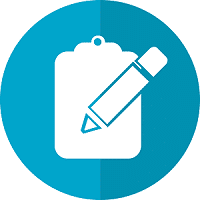 Do you want to implement a CRM system within your organization? Connect with our CRM Experts today!