Salesforce cases are very close to the customers to manage as they help them get their issues resolved. Customers today demand personalized support throughout their buying journeys with businesses. It is critical for a business to handle cases seamlessly to build healthy customer relations.
Salesforce case management helps you look after your customers and resolve their issues effectively. A highlight feature of Salesforce Service Cloud, case management helps you leverage your support services and improve your customers' experience as they engage with your business.  
So, what is Salesforce case management?
What Is Salesforce Case Management?
Salesforce case management is a set of processes that help you track, monitor, and fix customer cases using a centralized platform. The feature lets you and your customer service team ensure that you handle all customer cases with precision and personalization.  
Salesforce case management uses the CRM's functionality to provide you with all relevant information about the cases at hand, making it easier for the agents to resolve them. This helps your team to have an integrated and efficient customer service strategy.
Simply put, every interaction you have with your customers is considered a "case". These cases are recorded within your CRM to be handled effectively by the service agents.  
Case management in Salesforce helps you collect cases from multiple platforms like social media, the web, email, SMS, etc. All these cases are gathered in a centralized location, making it easy for your team to manage them. 
Salesforce case management helps your customer service team to: 
Finalize the right level of support a customer should receive 
Track all customer remarks, reviews, feedback, and issues 
Track the products/services purchased by each customer 
Pick the best and most effective solution for a given problem 
Route the right case to the right agent 
Salesforce case management helps you ensure that a case is closed only after a satisfactory solution is offered to the concerned customer and they are happy with the same.  
Also, read: How Salesforce Omni Channel Routing Improves Customer Experiences
Important Features Of Salesforce Case Management
To understand case management in Salesforce better, it is important to be aware of the following features it offers: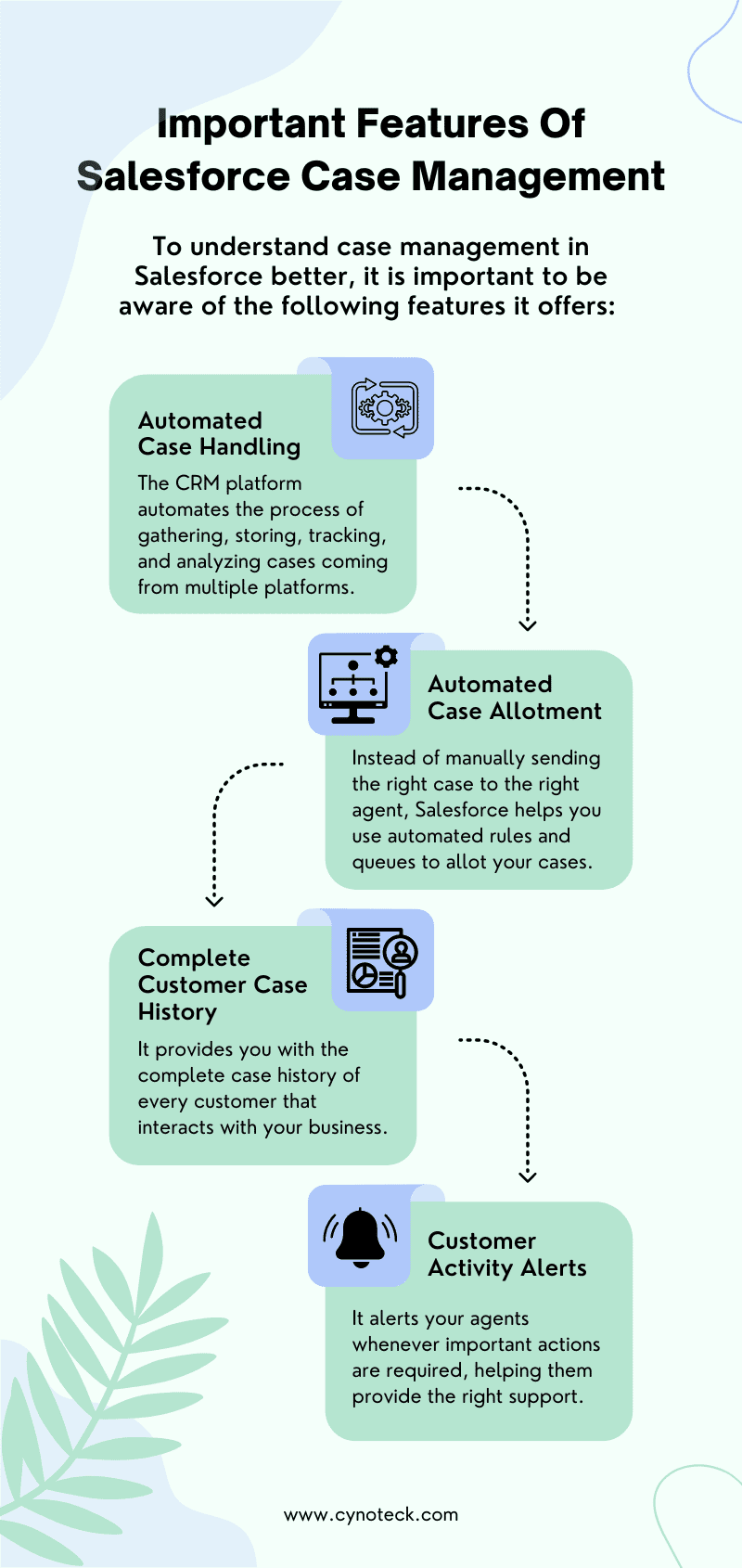 Copy Infographic
Automated Case Handling
Process automation is at the core of Salesforce case management. The CRM platform automates the process of gathering, storing, tracking, and analyzing cases coming from multiple platforms.
This helps your agents save their time and effort in handling cases manually. 
Automated Case Allotment
Instead of manually sending the right case to the right agent, Salesforce helps you use automated rules and queues to allot your cases.
It also facilitates the manual transfer of case ownership and case creation.  
Complete Customer Case History
Salesforce case management provides you with the complete case history of every customer that interacts with your business. This helps your agents to understand the context of every case, improving the personalized support offered to them.  
Customer Activity Alerts
Along with the complete customer history, case management in Salesforce also helps you monitor customer activities in real time.
It alerts your agents whenever important actions are required, helping them provide the right support.  
Also, read: Salesforce Data Migration Checklist: How to Get Started
Key Benefits Of Salesforce Case Management
Now, let us have a look at some of the important benefits of case management in Salesforce: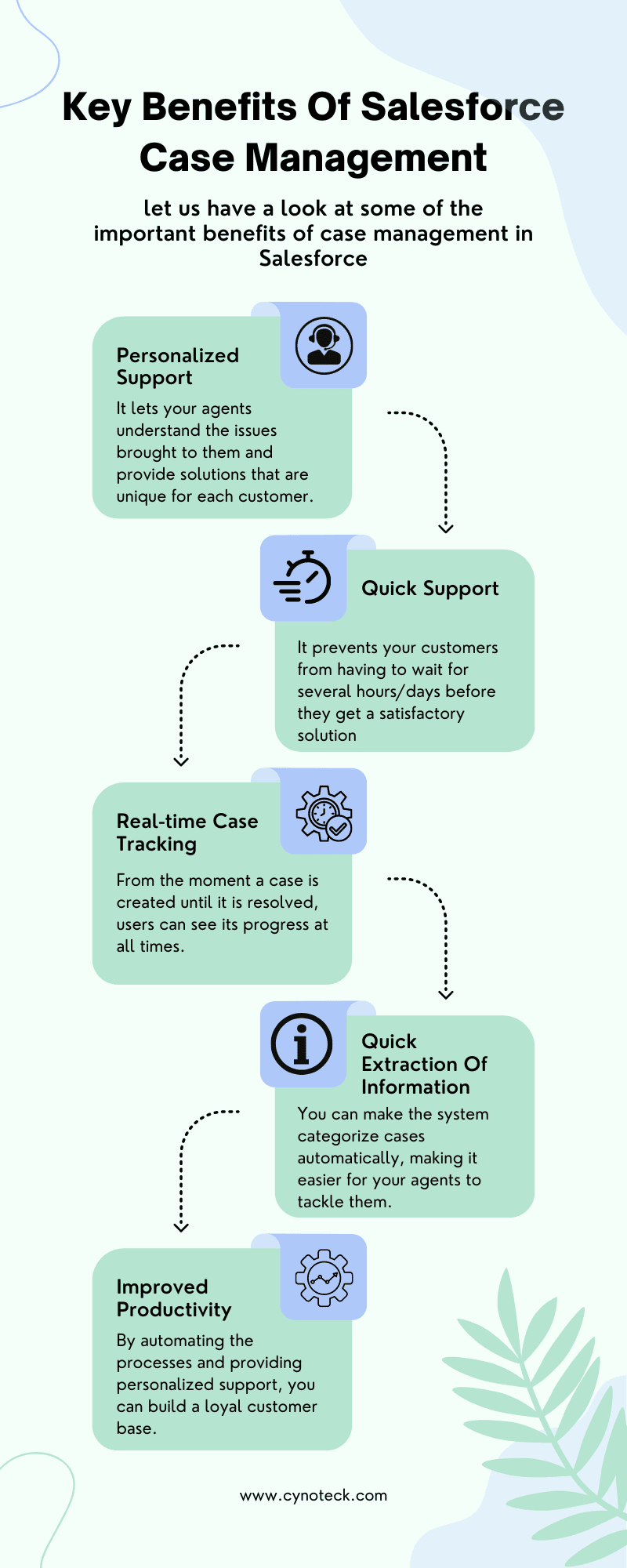 Copy Infographic
Personalized Support
The biggest benefit of Salesforce case management is that it allows you to provide personalized support to your customers. It lets your agents understand the issues brought to them and provide solutions that are unique for each customer.  
Quick Support
Seamless process automation allows you to provide quick resolutions to your customers' problems. It prevents your customers from having to wait for several hours/days before they get a satisfactory solution from your end.  
Real-time Case Tracking
Another important benefit of Salesforce case management is that it allows you and your customers to track the cases in real time. From the moment a case is created until it is resolved, users can see its progress at all times.
Quick Extraction Of Information
Salesforce allows your agents to obtain all information related to a case and the customer involved with a few simple clicks. You can make the system categorize cases automatically, making it easier for your agents to tackle them.  
Improved Productivity
Case management in Salesforce helps you improve the overall productivity of your service teams. By automating the processes and providing personalized support, you can build a loyal customer base.
Looking for Salesforce Service Cloud Consulting & Implementation Services
Send us your requirements, we will get back to you with a quote
Important Aspects To Consider About Salesforce Case Management
Before you start handling your cases with Salesforce, here are some of the most important aspects worth considering:
Copy Infographic
Identifying Service Channels
While setting up Salesforce case management, it is important to identify the different service channels available to you, such as phone calls, emails, lead forms, text messages, and more. This makes your agents' jobs easier as they tackle cases from multiple channels.  
Managing Case Status
Effective case status management helps you provide quick and personalized customer support. Case status provides you with information regarding the stage at which a case is. Make sure you automate the process of updating case status to improve your services. 
Reopening Closed Cases
Businesses often struggle with reopening cases that are already closed. Whether you should reopen a closed case or not depends on how your internal team deals with Salesforce cases.
Depending on the case and your internal workflows, you can either do nothing, open a new case, or interact with your customers on the same case. Make sure the decision you make does not hamper your relationship with your customers.  
Also, read: Salesforce Data Cleansing: Best Practices & Processes
Have Well-defined Case Teams
Your case teams are the teams responsible for handling your Salesforce cases. Make sure you have a pre-defined user group dedicated to resolving customer cases using Salesforce. Also, have pre-defined roles allotted to the right users, such as Support Manager, Support Agent, Technical Support Agent, etc.
Having well-defined case teams ensures seamless collaboration and helps you make the most of the case management features offered by Salesforce.
Make The Most Of Service Console
Service Console is an application that is no less than a boon for your service agents! It provides them with a complete view of your customers and their cases on a single unified UI. Service Console also gives them the right tools to handle cases effectively and provide quick resolutions to the same.
Your service agents can use Service Console to view different records (and related records) on a single screen, allowing them to provide comprehensive support to your customers. Features like console navigation, split view, and workspace tabs further help your service agents resolve cases faster and more effectively.
Use Screen Flows For Service Agents
Screen Flows for Service Agents is a Salesforce case management feature that lets your service agents handle cases with repeatable steps. For example, if a service agent needs to follow a set of dedicated steps, the feature helps them navigate through these steps effectively. 
Optimize Service Cloud Macros
Service Cloud Macros is another important case management feature you cannot ignore. Macros makes case management simpler, faster, and more effective. It is like a small computer program that helps you automate repetitive tasks.
From selecting email templates to sending automated messages to your customers, Macros helps you optimize all your support processes.  
Do Not Forget Email-to-case
As the name suggests, email-to-case is a feature that helps you handle customer cases coming via email. It lets you create a single email address that can be used by your team to interact with your customers.
Whenever a customer sends an email to this address, Salesforce will automatically create a case and add all relevant details about the same in your CRM.  
Email-to-case helps you streamline your case management processes and increases the speed at which your agents resolve the cases.  
Watch the video to Learn How to Setup Email-to-Case in Salesforce
Prioritize Cases By Scoring Them
Just like lead scoring helps you prioritize the leads to be nurtured, case scoring helps your agents prioritize the cases to be handled.
When you have multiple cases to handle, you can use a scoring system to identify the cases that need to be resolved before others. This prevents customers with serious issues from waiting while you handle other cases.  
Merge Duplicate Cases
Duplicate cases disrupt your workflow and make Salesforce case management messier. If multiple cases involve the same customer and issue, make sure you merge them to streamline your case management process. This will prevent the same customer from being contacted by multiple agents for the same case.
Increase Your First Response Time
Waiting for your response after raising a complaint frustrates customers a lot. Even if the case resolution is likely to take longer, make sure your initial response time (IRT) or first response time (FRT) is quicker. This assures your customers that you have acknowledged their cases and are working on the same.
Also, read: What is Salesforce Genie?
The Final Word
These were some of the most important aspects worth considering about Salesforce case management. Seamless and automated case management helps you stay in sync with ongoing trends and stay ahead of the curve by building healthy customer relationships. Make sure you take case management seriously if you are in the game for the long run!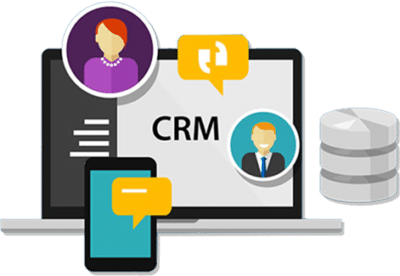 If you are new to automation and confused about Workflow or Process Builder. Need not to worry, we have got you all covered. Talk to our experts and clear all the cloudy thoughts about automation.