Data is the biggest asset of today's digital businesses. And if you are not careful, your company's data can easily become out of date and redundant. Good data supports decisions that enhance goods, services, and client interactions. However, when data is inaccurate, it becomes the cause of several problems and challenges.
Even the most careful workers make mistakes when entering data, so you should not rely on analytics without first checking your data. If you follow proper data cleansing practice, your records and data will remain clean and accurate.    
Sales teams should adhere to Salesforce data cleansing best practices to make sure they always act on the best and most accurate customer information. This way you can get the most out of Salesforce.
Bad Salesforce data will continue to accumulate and deteriorate without a proper cleansing that helps in correcting reoccurring problems. This flawed data can slow down team productivity over time and interfere with marketing campaigns, sales initiatives, reporting, and analysis.
Eventually, your business can find it difficult to successfully acquire new clients and this might harm relationships with the existing ones. This will make leads fall through the cracks, impacting your business growth as well.    
Clean data can improve brand satisfaction, strengthen employee retention, and enhance consumer relations and services. Therefore, effective client data management is crucial to running a successful business.
Today, in this blog, we will discuss the best practices of Salesforce data cleansing. You can follow these tips for a clean data that brings the best results.   
What is Salesforce Data Cleansing? 
Cleaning up your current Salesforce data means deleting (or externally archiving) everything that is no longer relevant. This involves eliminating or merging duplicate records, fixing typographical or grammatical errors, and filling in or removing blank fields.
This furthermore includes reformatting phone numbers and addresses so that they are entered consistently, rectifying entries made in open text fields, and updating out-of-date information.
After completing all of this, it is equally important to constantly maintain this high-quality data.    
Break free from the outdated belief that data cleansing is only appropriate for highly skilled IT teams. This is important if you want to increase revenue and streamline processes. Or some people also think it is for those businesses that have large budgets to invest in highly technical enterprise software.
A clean database improves projectability, productivity, efficiency, and customer happiness; a dirty database loses money, time, and relationships.    
Your employees have to spend more time looking for records because of countless duplicates and missing or inaccurate data.
The information they need might be distributed throughout numerous duplicate records, making for a less-than-pleasant experience.
This becomes a waste of time for everyone and gives a negative impression of your business and customer service.    
You must standardize and arrange your data if you want to draw insights from it. These insights can be used to generate projections or even just to understand the present state of your business today.    
Also, read: What is Salesforce Genie?
Salesforce Data Cleaning Best Practices 
Data cleaning is not a one-time task, but an ongoing process that helps ensure the long-term quality of the data as well. Following these practices can increase the effectiveness of your Salesforce data cleansing process: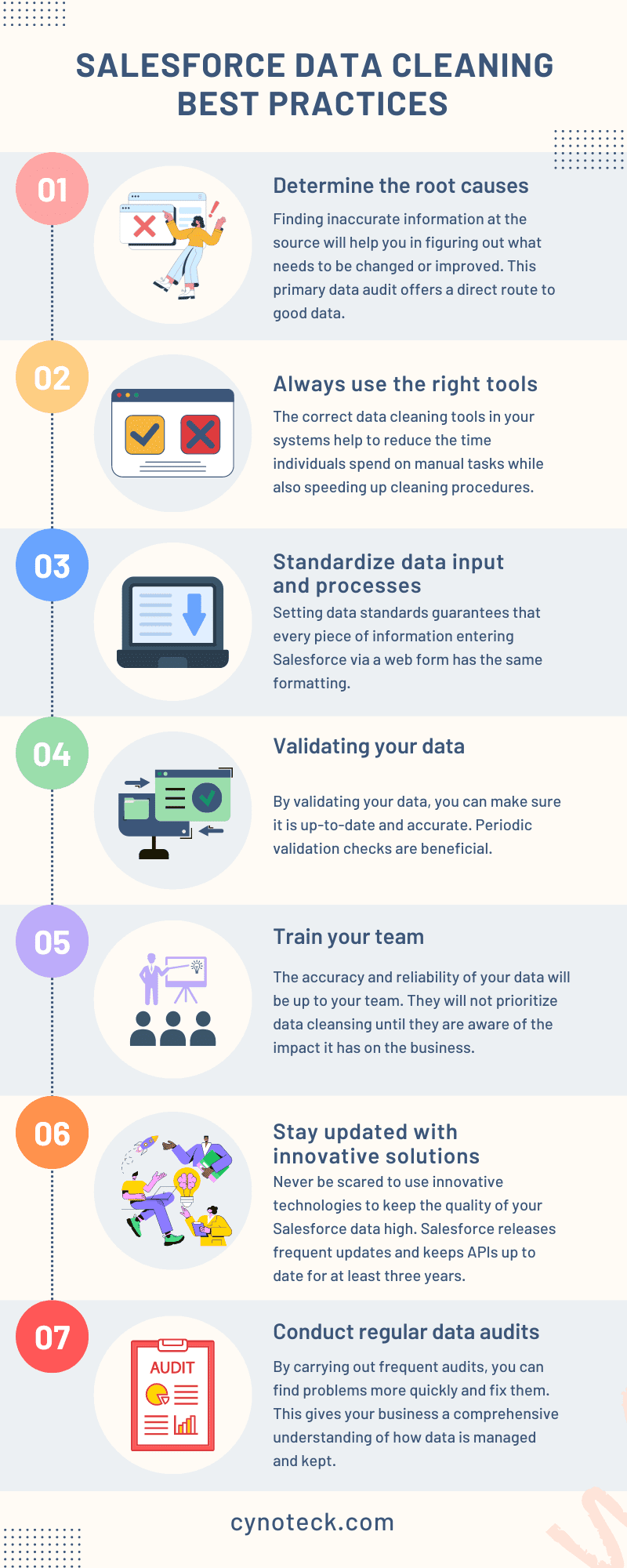 Copy Infographic
1) Determine the root causes 
Finding inaccurate information at the source will help you in figuring out what needs to be changed or improved. This primary data audit offers a direct route to good data.
Finding the most common error locations is the first step in cleaning Salesforce data. You must know whether your team is manually entering data, which raises the risk of human error.
Or if they are relying on a web form platform that lacks the proper system integrations for your business's operations? Bad data may result from these discrepancies or mistakes in your existing data collection techniques.    
2) Always use the right tools    
The correct data cleaning tools in your systems help to reduce the time individuals spend on manual tasks while also speeding up cleaning procedures. Having the appropriate tools is essential when working with large datasets containing thousands (or even millions) of entries.
This is because they require effective data collection and management. With specific capabilities that target and rectify data quality problems, such as duplicates or missing values, these solutions can automate cleaning activities.    
Also, read: Salesforce Robotic Process Automation, AI Capabilities to Einstein Automate
3) Standardize data input and processes
A variety of methods, including human entry, automated forms, data migration from other systems, and even aggregated databases, can be used to enter data into your system.
Customers' manual data entry can contain significant mistakes. You can employ forms with sufficient validation to submit data into your Salesforce databases.
Many of these data problems can be eliminated by using web forms for online data collection and training teams on validation guidelines and data cleaning tools. Setting data standards guarantees that every piece of information entering Salesforce via a web form has the same formatting.
Make sure you format phone numbers, addresses, and email addresses correctly. Also, make sure to consistently use uppercase first names, last names, and city names.
Standardization reduces the discrepancies that result in duplicate records and supports long-term data quality maintenance. You should set systems in place to ensure that data is consistent as it enters your system.    
 4) Validating your data
The most economical option is usually to take preventative precautions. When entering a lot of data, even the most careful people will make mistakes.
By validating your data, you can make sure it is up-to-date and accurate. Periodic validation checks are beneficial.
Contacts can change their names, addresses, phone numbers, email addresses, and other personal and professional details.
Ensuring that forms that input data into your Salesforce databases contain the necessary validation is the best thing you can do for the integrity and health of your data.    
5) Train your team to apply best practices for data cleansing
Setting up forms and limitations is just one element of what should be a part of the multifaceted strategy for maintaining data quality.
The accuracy and reliability of your data will be up to your team. They will not prioritize data cleansing until they are aware of the impact it has on the business.
Therefore, you should always standardize your preferred method of entering new data. This ensures that everyone who has access to it is aware of your expectations and follows the correct protocol.
Making data quality training a top focus will result in future time and cost savings.    
Also, read: Salesforce for Small Business: How it can be helpful
6) Stay updated with innovative solutions
Never be scared to use innovative technologies to keep the quality of your Salesforce data high. Salesforce releases frequent updates and keeps APIs up to date for at least three years.
There are numerous third-party solutions available in addition to conventional and manual toolkits. You can accomplish more with the same tools by updating your software, which also includes new features and security patches.    
7) Conduct regular data audits
The procedure does not end once you have finished a thorough Salesforce data cleansing. Data errors and data deterioration will surely continue to happen without proper maintenance. So, setting up a yearly data audit date is a great approach for many businesses.
Data auditing is examining your data, identifying inaccurate information, and discovering how it entered your system.
By carrying out frequent audits, you can find problems more quickly and fix them. This gives your business a comprehensive understanding of how data is managed and kept.    
Looking for Salesforce consulting & Implementation Services
Send us your requirements, we will get back to you with a quote
Salesforce data cleaning processes 
As part of the data cleansing process, you should also evaluate your users and their access levels. Here are the steps to follow for a successful Salesforce data cleansing:    
Copy Infographic
1) Check your requirements 
This is the first phase, where you must examine the primary motivations behind why users utilize your CRM. For the other steps of your audit, use this as your measuring device.
Consider what you need from your data to meet the requirements of your CRM when you assess your database.    
2) Conducting a data audit
To get an understanding of the scope and data quality issue, you must first pull on your existing data reserves.
After carefully examining the databases, go beyond them to examine the data sources and associated systems that rely on Salesforce data.
The conclusions drawn from this activity will serve as a practical starting point for the data cleansing processes. 
3) Keep track of your data entry points
You can find the reasons for inaccuracies by understanding the sources of the data. The data entry points for your Salesforce, whether manual entry from sales, system integrations, event attendance list uploads, etc. All this should be noted.
As you do your audit, you can begin to see patterns in the sources of errors, from where they are emerging, and more. 
‍4) Use of necessary tools
Naturally, it might be challenging to manually sort through substantial amounts of data. So, it becomes necessary to make use of data cleansing tools for help.
These intelligent tools and technologies can spot discrepancies, verify data, indicate deviations from business rules, update records, etc.
5) Clean up the bad data
You would have recognized faulty data sectors by this point. It is time to remove it from your Salesforce database and standardize it.
You must start by eliminating all the redundant and useless material. Then, introduce standardization by correcting any structural flaws.
Additionally, you will need to sort out the undesirable outliers and assess their validity.
Finally, you will need to find a solution for missing data, whether that means deleting the information, adding the missing information, or changing it.    
Also, read: Salesforce Features that will Increase User Productivity and Adoption
Final Thoughts 
Salesforce has several powerful features for managing data quality. Additionally, excellent Salesforce data hygiene will not happen automatically, and if it is not done, things get worse, and you will start noticing measurable impacts on your sales results.    
Your team will be able to streamline operations once your Salesforce data is clear and regularly updated. They will be able to make smarter and more proactive decisions. They will also be able to provide customers with superior overall service.
Additionally, clean Salesforce data boosts organizational productivity and guarantees a positive client experience. This indicates that reliable Salesforce data is essential for a business to make valid decisions.    
Most importantly, keep in mind that Salesforce data cleansing is a journey and not a final goal. To make sure that your data is as accurate and timely as possible, a combination of procedures and technology will be required.
It is the best time to start your data cleansing if you want to manage your data quality. Start the process right now by following the tips and best practices listed above.
All the best!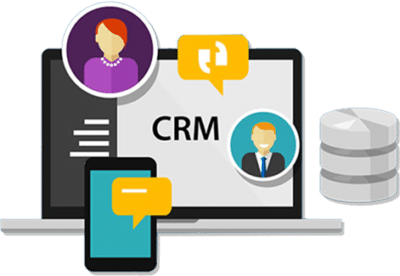 If you are new to automation and confused about Workflow or Process Builder. Need not to worry, we have got you all covered. Talk to our experts and clear all the cloudy thoughts about automation.