Data is crucial to any firm in the modern digital age. Businesses regularly integrate different digital platforms into their system infrastructure. These businesses need facilities for cross-platform data transformation that are safe and secure. The best option for businesses to move their important and valuable data from one tenant to another is Salesforce data migration.
Data migration from or into Salesforce can take a while, as it is time-consuming. And almost every business has difficulties with Salesforce's data migration process, it is a challenge for every firm.    
Any Salesforce professional will inevitably face difficulties when transferring Salesforce data. It is more than simply moving data between platforms or systems. The effort required to migrate Salesforce data depends on several variables.
This includes the volume, quality of the data, the number of data sources, and more. Without a strategy and enough system knowledge, transferring data will take longer than necessary or necessitate repeating the entire operation.
It is imperative that you plan, evaluate the challenges, and choose the optimal data migration strategy.    
Important data and other essential functionalities might potentially be impacted by improper data mapping. So, data migration must be planned after considering several factors.
This article will go over the crucial elements of the data migration procedure as well as how Salesforce is redefining current data migration strategies for businesses who use them.    
What is Salesforce Data Migration?
Moving your company's data from one platform or system to another is known as data migration. When it comes to Salesforce. It has several built-in advantages, like customization, reliable security, and other abilities like quick application development. Salesforce also offers a powerful cloud-based environment.     
The difficulties and challenges in carrying out this data migration process depend on many things. It will take longer and be more challenging to verify the accuracy of the transferred data for larger data sets.
This indicates that ensuring the validity of data becomes more difficult as data cluster sizes increase. Also, an inadequate transfer can result in data loss that affects the new platform's operation. It can also compromise the reliability of the resulting data repository.    
Also, read: Salesforce Data Cleansing: Best Practices & Processes
Benefits of Salesforce Data Migration
Listed below are the top advantages of Salesforce data migration:    
1) Data Integrity    
When all activities are considered, data protection comes first. Data that is accurate and reliable make sure nothing in your business slips between the cracks.
Knowing how to use your data needs understanding and trusting it.
To ensure complete data integrity, Salesforce data migration aims to validate your data after it has been collected in a single location.    
2) Data Governance and Control
Data governance aims to guarantee the reliability and accuracy of your Salesforce data. By transferring the data to one location, this crucial process is streamlined.
Tracking and managing your system data becomes much more difficult when your team switches between multiple configurations and environments.
This migration streamlines this crucial process by gathering the data into one location. There will not be any issue with the right CRM system and accurate migration.
This one reliable extension will let you and your team manage data integrity.    
 3) Business Insights
The accuracy of your data has a significant impact on your company's capacity for strategic decision-making. Every sort of data transfer in Salesforce works to enhance your business strategy.
You will learn more valuable information about your eCommerce business as your data becomes clearer and more accurate.
Salesforce data migration makes it simpler to find and analyze system data. This furthermore increases the value of information, resulting in improved sales and service quality.    
Also, read: Salesforce Robotic Process Automation, AI Capabilities to Einstein Automate
4) Time-saving and simple to use
Salesforce is easy to use and intuitive to learn. Your team can begin using the system as soon as the migration is complete. As a result, the working process will become quicker, and your customers will be more loyal because of the improved service. 
Additionally, because it is a cloud-based CRM system, your team will have complete access to all files and resources needed to complete the work. This frees up time and resources to pursue more important corporate objectives.    
6) Digital solution
You can access Salesforce from any device because it is a cloud-based CRM system. Employees who have a thorough understanding of your business can answer any customer problems right away.
You can have all the information you need in your hands. You just need a reliable internet connection, a laptop, a smartphone, or a tablet. As a result, your business will produce outcomes quickly and effectively.    
7) Lasting growth
Salesforce CRM has advanced tools and built-in features that let you communicate and build relationships with customers in a personalized way.
A significant change is switching to this CRM system with a full suite of functions for eCommerce businesses.
Your success rate in planning and developing strategy is increased by tracking, organizing, and processing the data that has been obtained.
This develops a thorough plan and continuously enhances the growth of your business.    
Also, read: Salesforce in Digital Lending: Delivering Superior Customer Service
Best Practices for Salesforce Data Migration   
You will need to set up your new Salesforce first before starting any migration steps. For a seamless Salesforce conversion process, you may encounter both organizational and technical problems, which need to be controlled and resolved.
To achieve a smooth transition, you might thus need Salesforce developers who adhere to best practices for Salesforce data migration.    
Copy Infographic
1) Determine the data you want to migrate    
Select the items that require migration. The "contact information" from each account might be the only thing you wish to migrate. Or you might even want to move "account information" from a certain division.
You must choose whether to update the current data or replace it with fresh data. And for that you must have a planned strategy.    
2) Create data templates
Each object requires the creation of an excel template. Data export from Data Loader is used for this. You can reuse the migration repeatedly by generating these templates.
The order of data migration is determined by the relationships that must exist between objects. So, you need to decide which fields are necessary for each object. 
3) Fill in every template
Before entering the data into the template, you must make sure that it has been reviewed. If you need to load data for numerous records.
Then you must load one record at a time, examine the results, and then load all the records.    
4) Prepare the destination org
Consider developing custom fields for data that are included in non-standard fields in the old organization.
The custom field will be indexed if you choose to give it the "External ID" attribute.
You must ensure that the organization receiving the data is ready to receive it. Relationships will be preserved, and you can create personalized reports for data validation.    
5) Verify the data
Study the data and check that the info appears to be accurate. Before beginning any project, a sound plan, ownership, and use cases must be carefully considered.    
The migration can be verified using the following methods:    
Spot-check the data. 
Examine any exception reports about data that was not migrated. 
To verify record counts and give you a snapshot of the migration, create a custom report. 
Also, read: What is Salesforce NFT and How Can Businesses Use It
Salesforce Data Migration Checklist
Planning is the key to a successful migration operation. Data transfer is time-consuming and resource-intensive work; therefore, you must set up your firm to manage the entire process.
A Salesforce data migration checklist is described below to ensure a secure approach.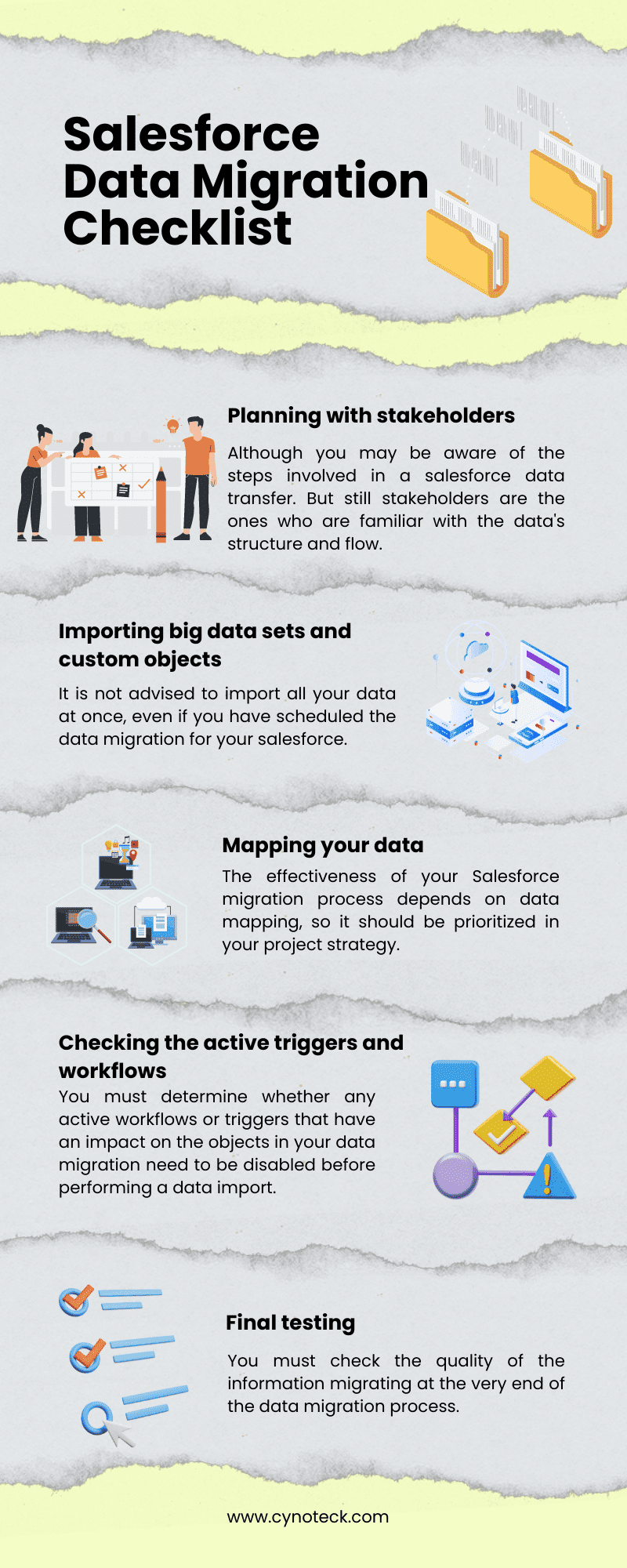 Copy Infographic
1) Planning with stakeholders 
As you migrate to a new CRM program, it is crucial to ensure sure everyone is on board and informed. Although you may be aware of the steps involved in a salesforce data transfer. But still stakeholders are the ones who are familiar with the data's structure and flow.
These stages—risk rating, determining the amount of time needed for the migration process, etc.—have an impact on the entire procedure. As a result, you must establish timeframes, identify the essential points, and back up the data.    
2) Importing big data sets and custom objects into the production environment 
It is crucial to take care of how custom objects are arranged based on their relationships with one another. To make sure that all the relationships are established, you must include the fields of each object in the other objects in addition to the ordering.    
It is not advised to import all your data at once, even if you have scheduled the data migration for your salesforce. It is best to migrate a small portion of your data to a sandbox.
This helps you identify any problems that are there as soon as possible. This will make it simple for you to perform any necessary fixes.    
3) Mapping your data 
Data mapping is by far the most challenging aspect of data migration. The effectiveness of your Salesforce migration process depends on data mapping, so it should be prioritized in your project strategy.
In your source data, you must include fields like Legacy ID or User ID.
The secret to properly mapping your data is to make sure that the context data for each record in your data is transported together with the record itself.    
4) Checking the active triggers and workflows
You must determine whether any active workflows or triggers that have an impact on the objects in your data migration need to be disabled before performing a data import.
Additionally, see whether any validation rules require addition, modification, or deletion. If workflows or triggers are still in effect during the process. Then you can end up sending hundreds or thousands of unnecessary emails to customers.    
5) Final testing
You must check the quality of the information migrating at the very end of the data migration process. The fact that the data loader ran successfully and without any issues does not mean that all your data was successfully moved.
Running reports or checking the record counts in the developer console are both effective testing methods. To determine the number of records for different objects, you can use filters or run SOQL queries. Verify the relationship data, validate its accuracy, and restart if necessary.    
Also, read: Salesforce for Small Business: How it can be helpful
Conclusion
Salesforce data migration can be a tricky process. This is particularly valid if your current CRM solution has customized data fields. You must therefore plan and carry it through. Plan your data migration as a separate project. Keep an eye on your risks and plan to reduce them. Plan for failure, inadequate standards, and clients that are indecisive or non-responsive.    
Salesforce data migration requires accurate data collection, strategic data migration planning, practical migration tools, and a step-by-step data migration approach. The key to conducting an error-free data migration is to gain enough knowledge and understanding of the source infrastructure.     
This makes it important to collect accurate data, plan a data migration strategy, use practical tools, and follow a step-by-step process when migrating Salesforce data. Plus, it is also necessary to have an in-depth understanding of the source infrastructure in order to conduct an error-free data migration.
So, it is critical to correctly plan and implement your Salesforce data transfer strategy. And to communicate your migration plan milestones with users and stakeholders. To achieve the best outcomes, adhere to the recommended practices listed above and always remember the Salesforce migration checklist in mind. All the best!    
Also, Watch our Video on A Comprehensive Salesforce Data Migration Checklist
Also, read: Salesforce Connect: integration, benefits, and limitations
FAQs (Frequently Asked Questions)
1) What is Salesforce data migration?
Data migration refers to the process of transferring data from one system to another. To make it simple to extract data from Salesforce org for backup or import into another system, Salesforce offers data export capabilities.     
Administrators should consider the best practices listed below while transferring data to Salesforce.     
– Identify data  
– Making templates  
– Populate the templates  
– Set up the destination organization.  
– Verify the Data     
2) What are the ideal data migration practices in Salesforce?
Be sure to specify what information will be shared. Assign each of the information blocks a unique ID. Select the appropriate tool, then verify that all information has been accurately transferred and is consistent with the data in the prior system.    
3) What difficulties do data migrations have?
The migration of Salesforce data is among the most challenging and important tasks for any business. Data complexity, underestimating the time required to migrate the data, and a lack of planning and upstream migration are some of the difficulties. Furthermore, moving to a new Salesforce org is more challenging than importing data into an existing system.     
Depending on how much data you need to relocate, you can run into a lot of problems. The most popular of them are:     
– the requirement for extensive time and resources  
– planning for the actual procedure and any risks  
– the requirement for some data to be moved manually  
4) What do Salesforce's data migration tools do?
They are a group of technologies for efficiently and precisely transporting data. They include tools for gathering, delivering, verifying, and converting data from one system to another. Data Loader and Data Import Wizard are the two most used tools for importing data into Salesforce.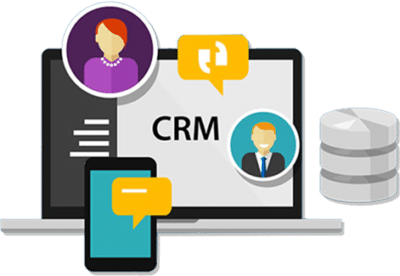 If you are new to automation and confused about Workflow or Process Builder. Need not to worry, we have got you all covered. Talk to our experts and clear all the cloudy thoughts about automation.