Since most tasks today depend on the newest technologies and tools, so the business sector also cannot overlook the advantages technology offers to businesses. It is an innovative idea to invest in sales tools to boost performance. But frequently, using a certain technology to solve one issue only creates another that needs a different approach, and so on. Therefore, businesses must use innovative technology – solutions that tech experts have created especially for commercial operations – to maintain their workflow efficiency.    
Changing technology has made businesses depend increasingly on new tools and strategies to conduct their operations successfully.
All sales managers and their teams should be integrating technology utilization into their daily sales and management activities in the current sales environment. It can be well worth the initial investment to support sales technology because it can result in a more efficient sales management process, less time spent on manual activities, robust reporting, and the flexibility to concentrate more on selling and completing deals.
More durable tech solutions that are simple to adopt and can be tailored to your procedures and needs are always being designed and implemented by software companies.    
To increase productivity, profitability, and competitive advantage in the selling process, managers must adopt new technology and train their teams in their use. Remember that face-to-face interactions are still the cornerstone of sales and sales performance management; technology is but one tool in the sales toolbox.    
In this blog post, we will learn how technology has improved businesses by streamlining sales tactics and the sales performance management process. Additionally, several technologies that are available today and how they might improve your business will also be covered. 
Modern Technology Role in Increasing Sales Performance
Technology has recently changed sales in this new era, which is a significant improvement from the last few years. All of this indicates that businesses will need to update and begin utilizing sales technology. Since in the absence of doing so, their rivals will undoubtedly do so first and acquire a clear competitive edge. Additionally, salespeople will need to constantly learn, adjust, and change their strategies.    
The marketing sector is changing quickly with modern technologies. We now have additional ways to manage customer information, and we can use that information to personalize messaging for each customer based on where they are in the buying process. What does this mean for a modern salesperson?    
A salesperson can now approach more leads with the optimal message that will increase conversion rates, while also knowing more about those leads. We now have more tools than ever before to locate high-quality leads. Today, you can find prospects who have already shown interest in your industry by using a variety of tools.    
Here are several lead-hunting strategies that were not possible ten years ago: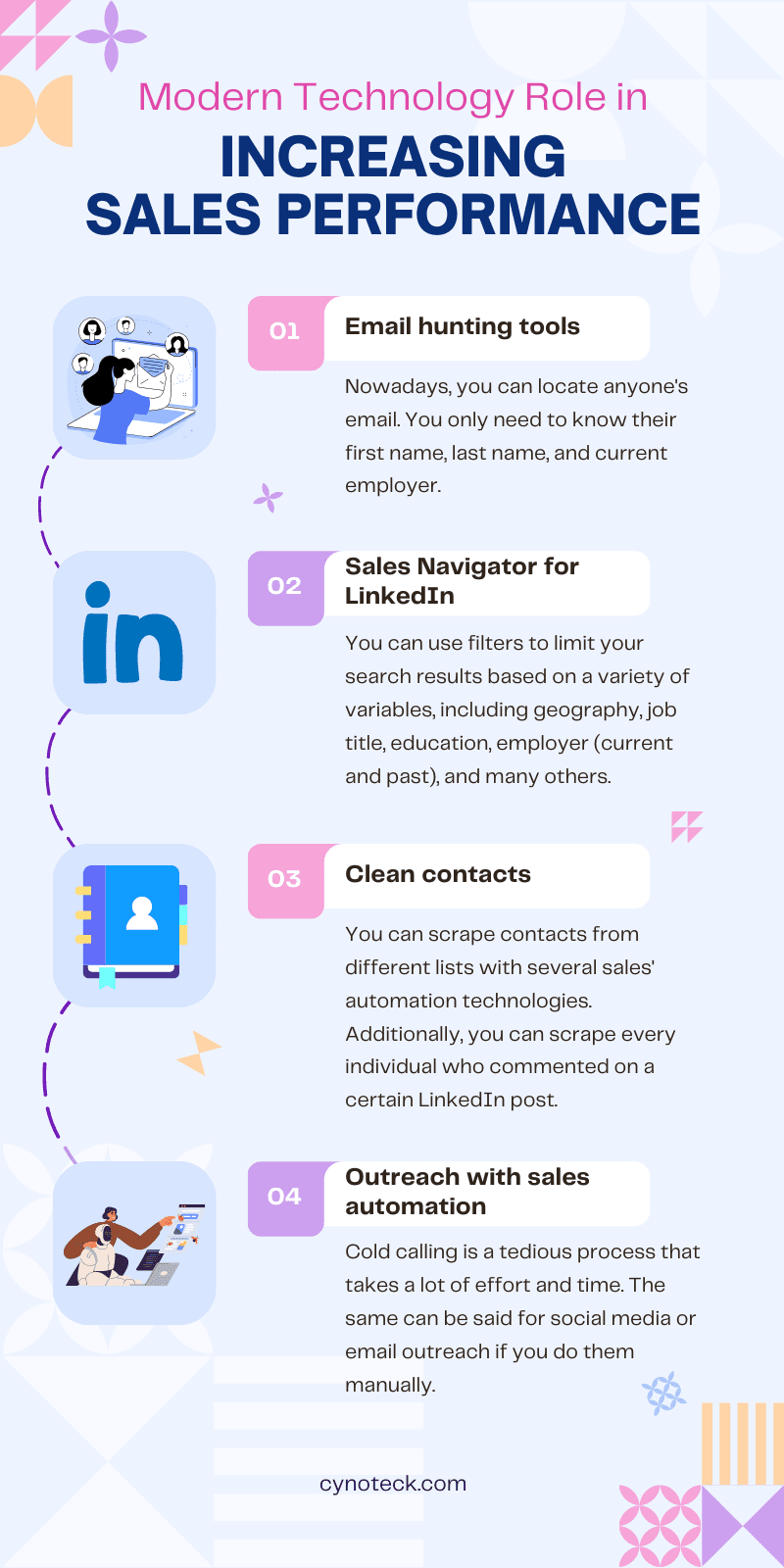 1) Email hunting tools   
Nowadays, you can locate anyone's email. You only need to know their first name, last name, and current employer.
You can access this information online with the help of different email-hunting tools like SellHack, ContactOut, etc. This was unimaginable years ago.
These leads are all available to you right now with a few clicks.    
2) Sales Navigator for LinkedIn
The sales tool on LinkedIn is a fantastic resource for conducting in-depth searches and locating leads.
You can use filters to limit your search results based on a variety of variables, including geography, job title, education, employer (current and past), and many others.
This enables you to narrow down your search results so that they all exactly match the characteristics of your target audience.    
3) Clean contacts
You can scrape contacts from different lists with several sales' automation technologies. Additionally, you can scrape every individual who commented on a certain LinkedIn post.
If you conduct thorough research and know where to look for leads, the opportunities are limitless.    
4) Outreach with sales automation
Cold calling is a tedious process that takes a lot of effort and time. The same can be said for social media or email outreach if you do them manually.
Today, there are intelligent tools that allow you to create smart flows that feel natural to the prospect. You can reach out with personalized, automated messages that are almost impossible to tell from, apart from the ones you wrote from scratch. 
Also, read: Examples of Sales Reports: From Daily to Advanced
The Importance of Modern Technology in the Sales performance management and Business World
Provide your sales team with a competitive advantage. Using the right technology, sales teams can improve lead generation and qualification even further.    
All tasks nowadays depend on the latest technology, so the corporate world cannot deny that technology provides businesses with multiple benefits. In order to streamline their workflows, businesses need to implement advanced technology – tools that are specifically designed for business.    
Chances are at least some of your direct competitors are leveraging a variety of sales tech tools themselves, so taking advantage of automated tech can help you stay ahead of the curve.    
The following reasons show how technology is now a necessity rather than a want:    
Copy Infographic
1) Technology Improves Communications 
Multiple organizations today rely on different applications and software to communicate with customers and clients.
Phone services are the best option if you want immediate feedback because they offer a reliable voice and consistent input. Instant messaging, Skype, and video conferencing are some other methods of communication.    
Employee troubles brought on by communication system breakdowns might be detrimental to the business. As a result, you should be ready and concerned with backup plans in case there is a problem with the company's communication system.    
2) Protection from attacks 
Businesses today need to increase the security of their online accounts that hold sensitive information and data to protect their data. Online attacks are growing alarmingly frequent, which puts businesses in great danger.
To shield businesses from harmful threats, developers are creating cybersecurity defensive systems with the help of the latest technologies.    
3) Technology Improves Productivity 
Robotics and applied science developments help businesses better serve their clients. Furthermore, businesses can leverage technology more effectively because of the development of artificial intelligence.
For example – using chatbots as customer service employees to respond to client inquiries.    
Also, read: Using Salesforce Pipeline Reports to Track Your Sales Performance
4) Cryptocurrency via Technology 
The development of cryptocurrency is made possible by Blockchain technology. And the most widely used cryptocurrency on the online market is by far bitcoin.
Businesses from all over the world are now able to make safe and secure payments with complete records with the help of this unique technology.    
5) For employees to work effectively, they need technology 
Technology is playing a larger and larger role in business. Employees also expect that their managers will provide them with the newest tools so they can perform effectively and efficiently with improved outcomes and productivity.
6) Technology Expands the Business's Capacity 
Businesses can now reach more clients in a shorter amount of time with the help of the latest technology. They will be able to service more clients as a result than they could previously.
Technology boosts the capacity to communicate and store information, which is a big benefit for large organizations.    
Also, read: Strategies To Improve Salesforce Lead Conversion Rates
7) Unlimited Knowledge Supply 
There are no restrictions on what you can do or accomplish with technology. You can keep a close check on your competitors with the help of different technologies.
Keep an eye out for their moves and take the required preventative action to follow the most recent market trends.
8) Greater Employee Engagement 
Technology is renowned for keeping workers interested. Up to a point, employees can also benefit from flexibility. They can work remotely and keep connected to the business via devices like smartphones.    
9) Explore potential growth markets 
Businesses can extend their operations and profitability by entering a ton of new markets with the use of cutting-edge technical equipment.
Technology can help in this area by doing complex computations and forecasts that produce accurate outcomes. You can use new technology to help with business operations, which will boost production and growth.
Additionally, this strengthens the brand's reputation generally and consumers' impression of it, both of which are essential for growth.       
How to Use Technology in Sales to Boost Results and Performance in 2023?   
It is obvious that better tech stacks are required to survive in today's marketplace, but how should you go about creating your own? The kinds of sales tactics and recipes that modern businesses should think about implementing are listed below: 
Copy Infographic
1) CRM (Customer Relationship Management) - Salesforce 
In terms of sales technology and pipeline management, a CRM is a necessity. Additionally, your salespeople have access to this data and are aware that you do as well, which promotes a feeling of accountability, enables them to understand what works, and keeps deals moving.    
Your CRM acts as an all-in-one platform to manage your lead and customer information, making it potentially the most crucial part of the sales performance management process for your business.
Consider your CRM system as the crucial point around which you will construct the rest of your sales tools. The information entered into the CRM must be accurate and up to date.
Voice-controlled digital sales assistants make it simpler and quicker for sales representatives to enter crucial information by allowing them to record data from their smartphones or tablets.    
"Your CRM keeps track of all communications, including emails, phone calls, and individual experiences with your business website, for prospects, leads, and clients."      
 2) Social media  
Every business in 2023 should make its top priority to use the potential of social media and its website for both B2B and B2C sales.
Target marketing and establishing relationships with your target market are key, as opposed to simply selling to them. Today's customer is too busy to read a long text explaining how you can resolve their issue.
Since it takes time to develop relationships with potential leads and interact with your target market on social media, this task should not be given to a salesperson.
Consider integrating chat pop-up software into your website to make it more engaging. This will enable you to converse with potential consumers and understand their requirements with a few simple queries.    
Also, read: Benefits of Salesforce Sales Cloud: Implementation and Integration
3) Virtual learning 
Salespeople today do not have to wait for a face-to-face meeting before delivering a crucial presentation. The salesperson can make a brief presentation using cloud-based software that clients can view whenever it is convenient for them.    
A poll can be created using a variety of software tools by just emailing a URL to participants' mobile devices. These resources might consist of differentiators, strategies, and plans of action.
The secret is to use these tools to support and improve group collaboration and coaching. For salespeople, logging into an LMS, doing a few quizzes, and then leaving is not sufficient.
Managers' input and direct involvement are still necessary for salespeople to develop their selling abilities.    
4) Mobile devices  
Today, every salesperson uses a mobile device, not simply a phone. During a given selling day, they are employing iPads, computers, and other tools that are routinely helpful to them.
To collaborate with clients, vendors, or subcontractors, think about using a single platform for file sharing, messaging, and other tools.
Hold a visual call with a customer using an app like Zoom, Teams, Google Hangouts, or WhatsApp to add a personal touch to your conversation.    
Keep your apps simple. They should not be overloaded with content because they are not websites.
A customer should be able to open the app, push a button, and then leave when they urgently need help and be connected to a business representative.    
Also, read: Using the Sales Cloud trial: Top things to check for maximum understanding
5) Tools for lead enrichment 
One of the biggest issues facing today's sales teams is finding and qualifying leads. In other words, lead enrichment tools make it possible for you to fill in the blanks on your leads' information without having to do manual research.
Lead enrichment provides you with a more complete view of your contacts, including corporate data, demographic information, their social media handles, and more.    
You can streamline the process of studying leads and prospects alike through lead enrichment. This simplifies the job of your agents and guarantees that you do not waste time on leads who are eventually uninterested in what you have to offer.    
6) Customer Reviews and Advocacy 
This is the era of customer interaction, so to increase sales, your marketing strategy should involve enraged customers. This differentiation and strategy should be included in your sales management process and marketing plan.
Since without at least 100 Google reviews and a rating of 4.5 stars or higher, your company is dead to your target market. Assure your customer care team that this is a top priority for the business and thank them for each review they request.    
7) Tools for engagement and sales enablement  
AI-powered sales enablement and engagement solutions might be a valuable companion in your quest to find the answers to these questions. Are phone or email follow-ups preferred by your leads? When is it "too soon" to contact? Are you pressing them too hard? 
You can examine and reenact the touchpoints that lead to sales by designing sales sequences. With the remaining reps, you can repeat what is effective.
These solutions support consistent interactions with your clients and prevent your reps from over or under-analyzing their workflow. For example – you can use tools like Outreach.io.    
8) Tools for internal communication in sales teams 
Remember that not all the technologies used by salespeople are correlated with client interactions. Agents must be able to immediately exchange information or consult one another for advice on how to proceed with a deal.
Also, sales managers must be able to monitor how well their teams are working together and getting along. An effective communication tool can be used for better connectivity, shorter response times, and a more productive workplace.     
Also, read: Salesforce Service Cloud – How it can benefit your Business
How Technology Can Promote Repeat Business?
With the help of the latest technology, there are different strategies to increase recurring business. However, the following tactics will work well for you if you are searching for quick, easy, and effective solutions:    
1) A loyalty programs 
The best thing to do is launch a loyalty program to promote repeat business. Gather consumer information, provide a unique account number, or card, and then start rewarding customers when they make a subsequent transaction or reach a certain money perimeter.
Loyalty programs tend to enhance the average transaction amount in addition to encouraging repeat purchase behavior.    
2) Personalized customer service 
People are used to being treated like little more than consumers in modern society. When a consumer visits your store, how well you treat them will determine how they perceive you.
Sending personalized email marketing, which targets an email campaign to a specific subscriber based on the data you already know about them, is another fantastic way to personalize a service.    
3) Provide clients the chance to leave feedback 
Offering clients, the chance to provide feedback can help them feel valued and less like a number. Although there are many ways to gather feedback, anonymous surveys are one of the most popular.
Asking for feedback frequently is crucial when seeking it. Make sure you provide customers with the option to submit reviews on multiple platforms.    
4) Future-use coupons 
Many customers visit a certain store in search of a single item. If they locate it, they buy it, and they do not have many reasons to go back.
By giving them future-use coupons, you can attract these customers and promote recurring business. Online coupons that can be used at checkout should be included as well.
This attracts clients to come back and explore the available online coupons.    
5) Maintain a regular social media presence 
Social media is very useful for providing your brand with a personality. Additionally, it helps to maintain your business in people's minds.
Social media posts that are creative and appealing not only draw attention to your company but also provide your existing consumers with something to point to when promoting you to others.
Video is also extremely useful for demonstrating the effort you make behind the scenes to keep your business functioning smoothly. 
Also, read: 10 Best CRM for Real Estate Agents to Improve Their Productivity and Sales
To Sum Up   
Sales businesses of all sizes place high importance on investing in digital solutions. By doing this, you can empower your salespeople and keep your business competitive in the current sales environment.    
Mentioned above are the best innovative methods to use technology and enhance your business's workflow. Do not be hesitant to adopt technology in your organization because a lot of other businesses are also going through this challenging change. Focusing on innovative technical concepts for your business can help you not only stand out from the competition but also win over your long-term consumers.    
If you keep using technology to experiment with new concepts, there are a lot more advantages that can come about for your sales performance management process. Do not be hesitant to attempt new things because your business might benefit from them occasionally. This can result in making your firm go to the next level by cleanly aligning your departments, which makes it possible to complete tasks more quickly and with less effort. Start implementing latest technologies for your business today and get the desired results that you always expected.   
Also, read: How can you increase Sales with Dynamic 365 Business Central?
Also, watch our video on- How to use Salesforce for Sales Management
FAQs (Frequently Asked Questions)   
1) Why is it important to create a sales process?
The most crucial factor in creating a business's sales process is maintaining focus. Maintaining an objective and realistic perspective can help you reach the goal since trying to cover more ground than is feasible can lead to failure and restrict the expansion of the business by lowering investment costs in technologies and employee training.  
2) How can you evaluate the effectiveness of your sales management process?
By defining commercial management indicators, you can develop a performance metric for your sales process in the best possible method. You can get information from the management of your sales reps on the deals they close, how long it takes them to achieve so, and how much the sales are worth.       
3) How can you get your customer's feedback?
Customers love how they are handled, the language that sellers use to communicate the business offering, and their capacity to actively listen to the needs of prospects and customers, even though this statement can appear exaggerated. Applying empathy and security can help you strengthen your relationship with both prospective and current clients.     
4) How frequently should your business process be reviewed?
Periodically evaluate your sales process to track its development and, based on that analysis, make any adjustments required. To do this, you must engage your team before introducing any changes and notify your leads or customers whenever a change is made that has the potential to affect their decision to make a purchase.     
5) What characteristics should a salesperson possess?
These three characteristics are essential for a salesperson. The first is strong listening abilities, these are crucial because, without them, a salesperson cannot obtain the information needed to advance a sale. Another critical component is empathy; to sell effectively and predict consumer demands, salespeople must be aware of how their clients feel. And last one is curiosity, which is also essential. Effective salespeople are curious about how to satisfy customer wants and continue to be interested in industry changes and rival advancements.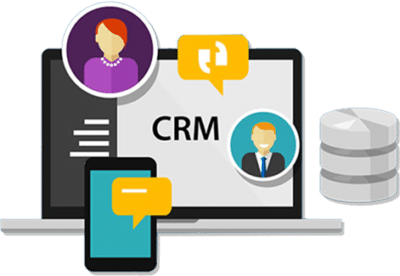 If you are new to automation and confused about Workflow or Process Builder. Need not to worry, we have got you all covered. Talk to our experts and clear all the cloudy thoughts about automation.