Today the mobile app world is growing faster than ever. This app industry is large and expanding every day with innovative ideas and countless insights. When it comes to new, creative, and innovative mobile app ideas there is no limit, but one major question here is, what should be the first step with that mobile app idea. What steps you must follow to make that idea a success.
Many businesses today are evolving with new mobile app approaches to make it a big success in their domain. They either want to get some new audience or serve their existing customers more reliably. But people are not aware of the processes or steps required to convert a mobile app idea into actuality. Because of the lack of information and expertise among start-ups and settled organizations, most of them don't understand how to proceed with planning and shaping their app idea.
Creating an app idea for the first time can be an extremely difficult task. Particularly with an unlimited number of possibilities such as developing a service app or something like that. This uncertainty has constantly produced a specific fear inside producers. The worry of producing something, contributing hours, and paying hundreds of dollars creating something which might not pay back any visible results. 
Great app idea creation is not a reward provided to a chosen few, rather, it is a program that any of us can accurately explore by understanding the step-by-step methods to find the solution to every problem. You can start by first exploring your resources, then proceed by studying your competition, following which you can conduct a wide analysis of your business, and finally expand your vision by examining industries thoroughly. All of this can help you develop an app idea.
Based on experience in mobile app development, we've developed solutions to the most commonly asked questions regarding how to take an app idea to real business.

How to implement an app idea
You can now take a look at a step-by-step guide to put your ideas in sequence and transform your idea into a successfully grown app: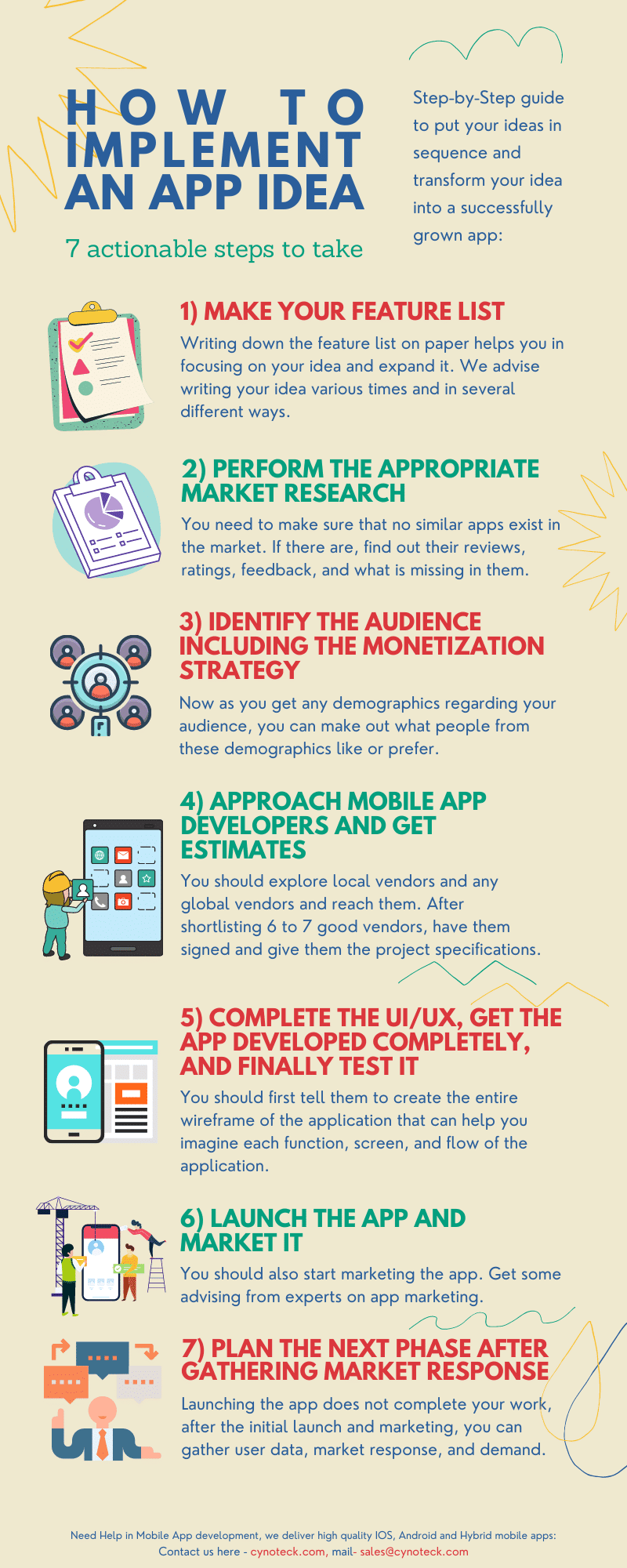 Copy Infographic
Step 1) Make Your Feature List
Begin your idea by preparing some notes and important points. You can start with writing whatever occurs to your mind. Writing down the feature list on paper helps you in focusing on your idea and expand it. 
We advise writing your idea various times and in several different ways. This program can also be helpful when you consult with your designers, co-founders, developers, or investors; they are all going to ask for it. Note that your feature list should be clear and straightforward to understand. 
Additionally, you need to make sure that it includes modern and unique features, which play a significant role in the success of your product. 
Step 2) Perform the Appropriate Market Research
After drafting a strong list of features, you need to do market research for identifying the trends, competition, and market requirements.
You need to make sure that no similar apps exist in the market. If there are, find out their reviews, ratings, feedback, and what is missing in them. Add features in your app that would make it unique and more attractive to the audience. After doing market research, you should update your feature list. 
Also, read: The Guide to Developing and Adopting a Mobile App Strategy for Businesses
Step 3) Identify the Audience/Users including the Monetization Strategy
It is very essential to know who would be using your app. Your users can be from a specific industry, region, gender, existing customers, age group, income group, particular profession, or some other group.
Now as you get any demographics regarding your audience, you can make out what people from these demographics like or prefer. Understanding your audience helps you in re-engineering your app along with the characteristics within it. Your entire project runs around user engagement. 
Earning money is the most prominent reward that you get from your idea. You can earn money from your app idea in many ways: in-app ads, subscription charges, user data, in-app purchase, sponsorship, and more. You need to understand which one works for your app, market, and audience. You need to pick 1 or 2 techniques that would provide you a solid return on your investment. 
Step 4) Approach Mobile App Developers and Get Estimates
Now once you have your initial variant of the feature list, you need to begin recognizing vendors that can cost-effectively design your mobile app. You should explore local vendors and any global vendors and reach them.
After shortlisting 6 to 7 good vendors, have them signed and give them the project specifications. You should receive offers from various vendors, along with the time and cost quoted for development. You can now judge the vendors on prior performance, price, process, time, and their enthusiasm to work for you. Lastly, select one vendor and begin working with them. 
Also, read: 5 Things most successful business Apps have in common
Step 5) Complete the UI/UX, Get the App Developed completely, and Finally Test it
You should work with your selected company to design the UI/UX of the app. You should first tell them to create the entire wireframe of the application that can help you imagine each function, screen, and flow of the application.
After analysis, you can choose to add or eliminate features and also pick the theme, fonts, colour, and visual appeal for your plan. This step will provide an almost final picture of what your mobile app would look like and how it would proceed. After finishing, have your vendor re-evaluate the development plan, cost, and time. You need to pay the right value to your mobile app developer. 
It is very crucial for you to QA the app after development, as this helps you check the quality, price, and timeline, and determine whether the mobile app requires some changes or not. You can also include your colleagues or associates in testing. If you have any new sets of characteristics throughout the development, review those with your app developer and take the estimate of the time and cost. 
Step 6) Launch the App and Market It
After you are completely satisfied and happy with the app, launch it in the Google Play Store and iTunes App Store. You should also start marketing the app. Get some advising from experts on app marketing. You can likewise do self-marketing.
Begin on Twitter, Facebook, and Instagram, it is a simple way to spread the word regarding your app. You should further reach out to bloggers and reporters that may be interested in your app and write about your app. You can hire an app marketing company or a PR if you have more in your budget. 
Also, read: 7 Examples of hybrid apps that have taken businesses to the next level
Step 7) Plan the Next Phase after gathering Market Response
Launching the app does not complete your work, after the initial launch and marketing, you can gather user data, market response, and demand. If you get a good response, you can prepare for the next phase of the app. You need to repeat steps 1 to 9 for the next phase.
This time, you should be able to do complete them a lot faster and more efficiently. If the app is not responding well in the market, find out the reason for less growth and produce a more improved plan of action. 
Conclusion
Simple and uncomplicated app ideas are extremely effective. This is the initial step to consider before starting a mobile app development project or picking a development company. Firstly, no creative work should ever be done while following a step-by-step template. Only knowing the steps will not do, your implementation of those steps is what results in making a successful app. Secondly, you should treat your app as a business. As it is a goal of every business to deliver value and to hold the capability to deliver value by charging a fee. You only get paid when you are being useful, and as a result, you can last in business. 
So, you must figure out where you stand in this app-making process and should take the next best step as you can. You should not stop and should keep making progress, getting insights, and building momentum. You should make a huge impact with your app.
We hope that this article has provided you a clearer understanding of how to develop an app idea and execute it. There is no single way to design mobile app ideas, rather, there is a process that unexpectedly gets together and should be accurately explored in each aspect. So, try for yourself, good luck.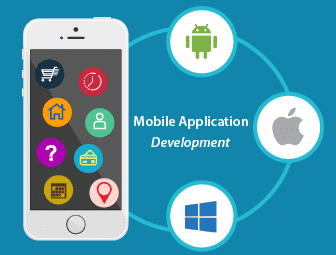 Do you want to leverage mobile technology for your business? Cynoteck is a one-stop Mobile app Development Services provider. We provide iOS and Android application development services so that you can reach your target audience on any device.