Today as per modern technology, everyday thousands of mobile applications are uploaded globally on various app stores. And all the app owners desire that their mobile apps should get popular and successful on the app store and make great revenue with millions of downloads. But in actuality, just a few mobile apps accomplish to become as popular as they were expected to be.
Now, what makes a good app. If you wish to build one of the most strong and prosperous applications, it's essential to ask yourself one important question before beginning with the ideation process, whether you want to produce one of the best mobile apps? To answer this, be certain to understand what your purpose is. If you are looking to exceed competitors and attract your target audience's attention, amongst other things, your answer should be a loud 'Yes'.
Some applications assist people to maintain their finances while others provide medical solutions, and various more help a wide range of additional purposes, from analyzing and simplifying the process of online shopping to satisfying a user's entertainment requirements. There are millions of mobile apps available for download on both Android and iOS devices. The problem here is, unless your application provides something worth using, there's a great chance that it will get stuck within the gaps. Certainly, it may earn a decent audience, but to stand out from the crowd, you need to produce an app that gives something so exceptional and so unimaginable that your target audience will not be able to survive without it.
A large number of mobile apps today fail to engage and retain users because of several reasons. Now, if we look at some of the most successful mobile applications with millions of downloads, we will discover some basic and common things in each of them no matter the type and the category.
Today in this article, we'll discuss those common factors in detail. The features that the most successful apps of all time possess in common, and how to create an overall successful application: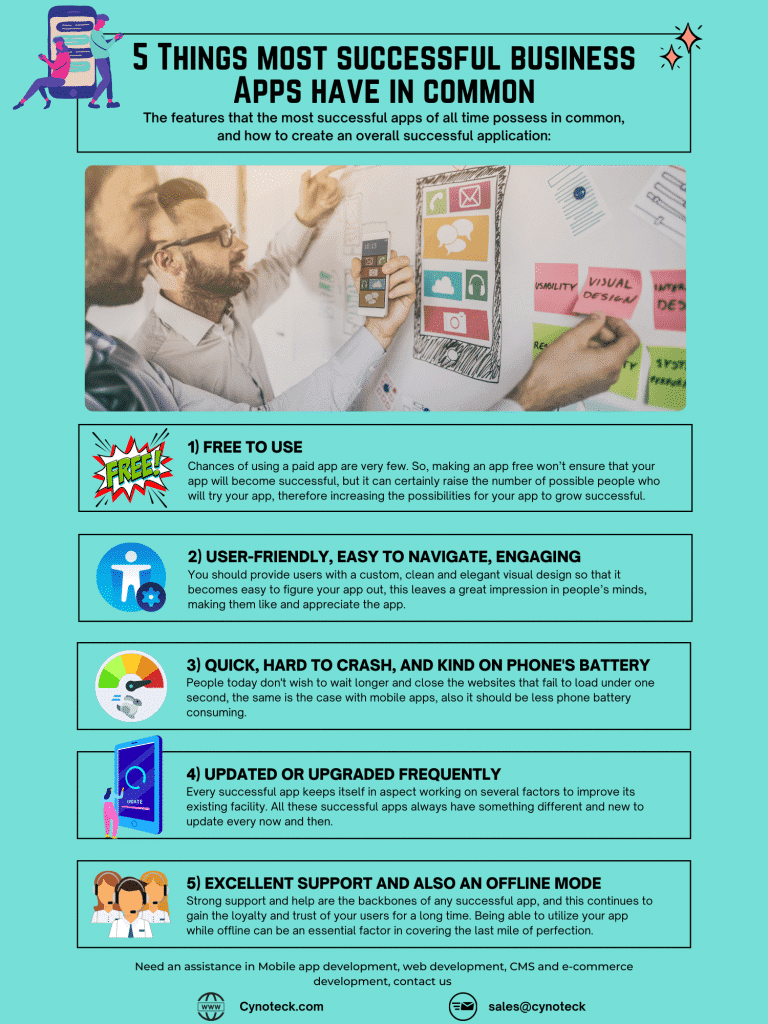 Copy Infographic
1) Free to use
Everyone wants to download apps for free; it provides them a chance to examine what you have to offer without asking them to pay something. Chances of using a paid app are very few. So, making an app free won't ensure that your app will become successful, but it can certainly raise the number of people who will try your app, therefore increasing the possibilities for your app to grow successful.
If people like your app or find it helpful for achieving their requirements, then several users will be glad to pay for in-app purchases to unlock premium features or even buy an ad-free version of the same. You should develop an app that delivers enough value to users for free to sustain them, this is the key to success. But this should be done in a limit not that much that users are fully satisfied without the need to unlock something more. Almost all apps allow users to download for free during the beginning. So, you should keep your app free to use and think of a different monetization plan. You can make a lot of money if you have millions of users, by having a clear business idea.
Also, read: 7 Examples of hybrid apps that have taken businesses to the next level
2) User-friendly, easy to navigate, and visually engaging
It all revolves around the user experience nowadays. If people need to give a large amount of time to learn how to utilize your app before they extract any value from that app, then there is a chance that you will drop a large number of users. You should provide users with a custom, clean and elegant visual design so that it becomes easy to figure your app out, this leaves a great impression in people's minds, making them like and appreciate the app. They keep coming back to navigate through it repeatedly rather than viewing it as a burden.
Always try to find a unique idea for your app. You should focus on keeping your users involved and engaged. If your users love spending time on your app, you are one step closer to success. There were several social networking apps before Facebook and there were several messengers before WhatsApp. But these successful apps produced something unique that their predecessors could not provide. As a result, they are successful, and their predecessors are not.

3) Quick, hard to crash, and kind on phone's battery
People today don't wish to wait longer and close the websites that fail to load under one second, the same is the case with mobile apps. The same lack of patience occurs in apps, so you need to make sure that your app operates as much as it can in background threads and boots up as quickly as possible.
Another pain point for people using your app is whether your app drains their phone's battery. Your app should not be the reason for battery drainage, you should focus on the least battery consumptions so that users love to keep your app in their phone. You can consider the example of WhatsApp and Facebook, they are active when your phone is in an idle state and even with background activity going on, they don't take up many resources of the phone, which is quite impressive.
Also, read: Mobile App Development for Small Businesses
4) Updated or Upgraded Frequently
To make your app succeed, you need to release constant app updates to fix the bugs that users will surely find interesting, and they keep coming back for more. A lack of updates can likewise be a negative factor for reliability and influences your download rates. Every successful app keeps itself in aspect working on several factors to improve its existing facility. All these successful apps always have something different and new to update every now and then. If an app is not updating regularly, it will soon become obsolete. Updating your app implies making utilization of the best features of that app.
You can ask a question from yourself if you need to download an app which one will you do, the one that was updated one week ago, or the one that was updated one year ago. So, update your app regularly and give your users the best that you can offer.
5) They provide excellent support and an offline mode for users who lose Internet access
How simple it is for your users to get your guidance and support from your app defines how successful your app would be. All the successful applications out there give a one-click support service. Moreover, the support team should remain prepared whenever a user needs them. You must offer one-click help and the support team should not take more than an hour to return to any query.
Strong support and help are the backbones of any successful app, and this continues to gain the loyalty and trust of your users for a long time. The support team should set a benchmark with proper support and a proficient response rate to address any user issues.
Today, though the internet is easily available almost everywhere, it is however important that your app can work well while running offline. Being able to utilize your app while offline can be an essential factor in covering the last mile of perfection for users and therefore can be a great success factor.
Also, read: Hybrid apps vs native apps- the checklist to figure out what's right for you
Conclusion
What makes a good app? Designing a new successful application is not simple, it needs a lot of constant effort and dedication. However, you should always keep in mind these above-defined best characteristics of any successful app. There are several other ways that you can use to create a successful app. But the main point to remember here is that progress is often determined by eliminating any barriers while delivering value to your users and concentrating first on producing an excellent user experience, then followed by making money from your app.