Data and information have always been immensely powerful and influential, and you only need to comprehend precisely what the data is trying to tell you. Because it is not always that easy to get a clear understanding by simply looking at some different numbers of stats and information. It is necessary to have the data represented in an analytical manner that is easy to understand and makes you effectively apply your learnings. That is where data visualization steps in to get things in command.
Data visualization is defined as the visual or graphical representation of data and information. It provides a convenient way to understand trends and new patterns in data by using visual components like graphs, maps, and charts.
Valuable insights obtained from data visualization help users in making more reliable data-based decisions. This process helps users to communicate data in a manner that is easily interpreted to conclude for the viewer.
Today every business has a large amount of data which makes data visualization more important and harder to ignore. To get the most out of the bulk data and to know the latest patterns and trends, it has become crucial for organizations to utilize data visualization.
Further, these internal trends presented by data visualization can provide businesses insight into how to maximize profits or reduce losses and understand which strategy to use and when to fight for their goals and survive in today's competitive market.
Why is data visualization important for business?
Data-driven visuals work better, they draw better attention, are more straightforward to understand, and help in quickly conveying your message to the audience. Using descriptive dashboards and graphics can make even complicated data clear and understandable. Without the latest trend and pattern data, organizations operate in the dark, not knowing what measures to take at what time.
Hence, rather than relying on assumptions, they can make use of data visualization that provides insight into patterns and trends that have been hidden in the shadows of untapped data and can be applied for a more successful strategy.

Mentioned below are some reasons why data visualization has become crucial for businesses:
Data visualization provides data insights that help business proprietors make quicker and wiser decisions.
It helps build a story from raw data to help specify business objectives.
Helps business owners to focus better on business insights.
Right visualization reveals different trends, correlations, and patterns in data, helping stakeholders and decision-makers make more profitable business decisions.
Decision-makers can efficiently manage data analysis reports with different visualizations.
Helps in building different business approaches and development proposals.
Also, read: How to handle Survey data set issues in Power BI?
Benefits of Data Visualization
When implemented the right way with the proper processes and solutions in place, data visualization offers multiple benefits for every size or kind of business.
Its diverse advantages help businesses discover a way to obtain and utilize insights for their growth and development. Now let us shed some light on the most significant advantages that data visualization offers.
Copy Infographic
1) Better and improved absorption of business data and information
The most significant business advantage of data visualization is its simplicity and usability of visualized data. Humans can process graphic information more quickly than plain text or any other note.
Data visualization helps you move past the spreadsheet or generic sheet era with its easy-to-read graphs and charts. Interpretation of data via different forms like histograms, bar graphs, and pie charts makes information more accessible and useful to solve different business challenges.
2) Find meaningful business insights and make predictions
Visual data discovery tools allow businesses to enhance their capability to obtain relevant insights from large datasets. These tools identify relevant trends and patterns hidden in the data; this helps organizations to maintain their relevancy in this growing competitive industry.
These patterns show important business information like profits, losses, ROI (return on investment), and much more. Getting all this information in hand helps businesses to fine-tune their business decisions to maximize profits and improve customer satisfaction.
3) Improved understanding of business processes with the latest trends
In today's competitive business environment, the quicker you are in analyzing data, extracting insights, and realizing them into actionable business conclusions, the stronger you become.
And for this, data visualization can direct the way, as it allows businesses to see the relations and connections between the different business processes while facilitating management teams to handle everyday business operations productively.
It also helps businesses find the latest trends to deliver quality products and recognize problems even before they emerge.
4) Helps save employee's valuable time
The development of detailed reports, modifying dashboards, data retrieval requests, and so much more used to take up a lot of employees' time before data visualization became mainstream. This was not just time-consuming but cumbersome too.
Businesses need to provide detailed training to their employees to utilize the right systems and software to produce reports, handle dashboards, etc. But now the appearance of data visualization saves a bunch of employees' time that can be utilized in other essential tasks.
5) Encourages engagement
Pictures do help with engagement, but data visualizations with the help of graphs, charts, and tables can promote a reader's curiosity. This is because data visualizations turn out to be more appealing to look at and can provide more context than text and pictures.
Presenting the outcomes of your campaigns with a clear and well-made visualization allows the representatives to have an apparent view of all the points that you stress on, which will certainly influence them. You can make use of other techniques too like data storytelling to make it even more impactful. People respond positively when they understand what you are saying.
Also, read: Everything you need to know about Microsoft Power BI
Principles of successful data visualization
Data visualization requires arduous work, and lots of research, analysis, and cleaning along with the manipulation of chaotic data into captivating charts and graphs.
But before making any graphic, the very first thing to keep in mind is to check all data for accuracy and consistency, keeping the fact in mind that the right message is delivered to the right person at the proper time.
But even with prepared and organized data, you still must stick to specific principles or procedures to create informative and valuable graphics.
1) Select the appropriate graphic depending on your purpose.
2) Ensure that the message of your graphic works well with your audience.
3) Always use the right design for the graphics.
How data visualization works
Data visualization is a graphical art form that involves managing tons of data that is converted into meaningful visuals with the help of widgets.
So, it is important for organizations to choose data visualization tools that provide interactive visual creation, robust data connectivity, sharing visuals, automated data refreshing, and secure access to data sources to meet all their requirements.
Hence visualization is only useful if done right. Everyone can comprehend complicated data and feel confident and secure in their decision-making while contributing values to meaningful conversations.
Some quick tips to make your data visualizations the best include:
Show the relevant facts.
Keep the widgets as simple as possible.
Hide any unnecessary details in your visuals.
Maintain widgets with pleasant colors.
Organize extensive data with drill-down techniques.
Get your visuals auto refreshed to show the current data.
Create dashboards as per the interest of decision-makers.
Pick the widgets that sufficiently convey the story in the data.
Too much information in your visuals can be overkill.
Also, read: Microsoft Ignite November 2021 – New Power Platform announcements and capabilities
Top Best Data Visualization Tools
Data visualization has many tools, some of them have a high learning curve while others are easy to use. Let us look at some of the best visualization tools:
1) Microsoft Power BI
Microsoft Power BI is an inclusive platform from Microsoft. The AI (Artificial Intelligence) capabilities and data security features of this tool make it easy to scale your business requirement.
2) Qlik Sense
Qlik Sense is a modern analytics platform that delivers a full range of interactive visualization and allows the creation of visual stories utilizing simply drag and drop options.
3) Apache Superset
Apache Superset is a powerful open-source data visualization tool that is easy to use. It has a code-free visualization builder that extracts and delivers datasets.
4) Tableau
With Tableau, you can formulate, clean, and arrange data to create intuitive visualizations from hundreds of sources.
Conclusion
This blog primarily covered data visualization in detail, its significance and advantages, and some quick tips for compelling data visualization. Creating influential visual formats is the key to valuable insights and there is no one-fit approach for visualization. So, you need to drill down into the data visualization services and understand how to design custom solutions by splitting data and information to analyze better and get better business outcomes.
Visualization is one of the most beneficial professional skills that you can develop because the better you convey your facts visually, the better you can leverage that data. In conclusion, you will not regret including data visualization in your business plan.
Also, read: How to create a Power Platform trial?
Frequently Asked Questions (FAQs)
1) What types of data visualization exist? 
Data visualization is categorized into many distinct types. It would not be a shocking surprise if the number of categories increased in the future, as this field is growing very rapidly. For now, it can be categorized into the following: 
> Tables
> Graphs
> Charts
> Maps
> Infographics
> Dashboards
2) What is the difference between Data Visualization and Data Mining?
Data visualization is the process of representing data through visual elements and data. If you utilize the right tools, you can visualize data more effectively. On the other hand, Data mining is a procedure to examine large data sets utilizing statistics, machine learning, and algorithms to classify and summarize the data.
3) How do you know which graph to use?
Every chart or graph has a unique way of illustrating data. You need to understand what you want to communicate to choose the right graph. Similarities, comparisons, and variations in time represent different information and can be visualized in many ways.  
4) What does a data visualization specialist do?
A data visualization specialist translates big data sets into statistical business data in a visual form to represent business information. A specialist can aid businesses in making data-informed decisions by providing data and information in creative ways.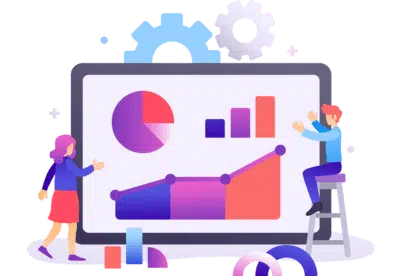 Harness the power of Data Science
Unlock hidden opportunities, optimize processes, and make smarter decisions. Contact us today to discover how our Data Science services can propel your organization forward. Don't let your data go untapped. Take action now and revolutionize your business with Data Science.