The domain of sales aligns seamlessly with generative AI's capabilities. Sales operations generate substantial data through interactions and transactions, including emails, audio recordings, and video exchanges. The sales landscape has grown significantly with the integration of AI, introducing transformative possibilities. Notably, generative AI for sales emerges as a potent force, balanced to reshape sales workflows and fuel unparalleled growth.
Among the ongoing evolution of generative AI, advanced platforms are entering sales and commercial domains with complex use cases. Leveraging intelligent automation, generative AI empowers sales teams to drive data-backed choices, improve customer interactions, and streamline sales functions.
Now, in this article, we will deep dive into the profound impact of generative AI on sales, explaining its primary advantages and addressing associated challenges.
Sales GPT: What is it and what does it do?
Salesforce, a global CRM leader renowned for promoting innovation, introduces Sales GPT, its latest advancement aligning with the vision of AI clouds for enterprises.
Sales GPT revolutionizes the sales journey, encompassing research, meeting prep, and contract drafting. Seamlessly integrated with Salesforce CRM, it delivers AI-generated summaries and actions, facilitating automatic updates.
Sales GPT streamlines burdensome communication tasks for sales teams, simplifying message distribution to customers/leads. It can also be connected with LinkedIn Sales Navigator, Salesforce, and HubSpot to access messages for each lead, thereby improving efficiency.
How Generative AI Can Help Sales?
Incorporating generative AI becomes a key transformative factor in sales, empowering small businesses for intelligent selling and exceptional achievements. This AI subset revolutionizes sales operations through automation and augmentation.
Here are several ways generative AI reshapes sales operations, accompanied by illustrative examples: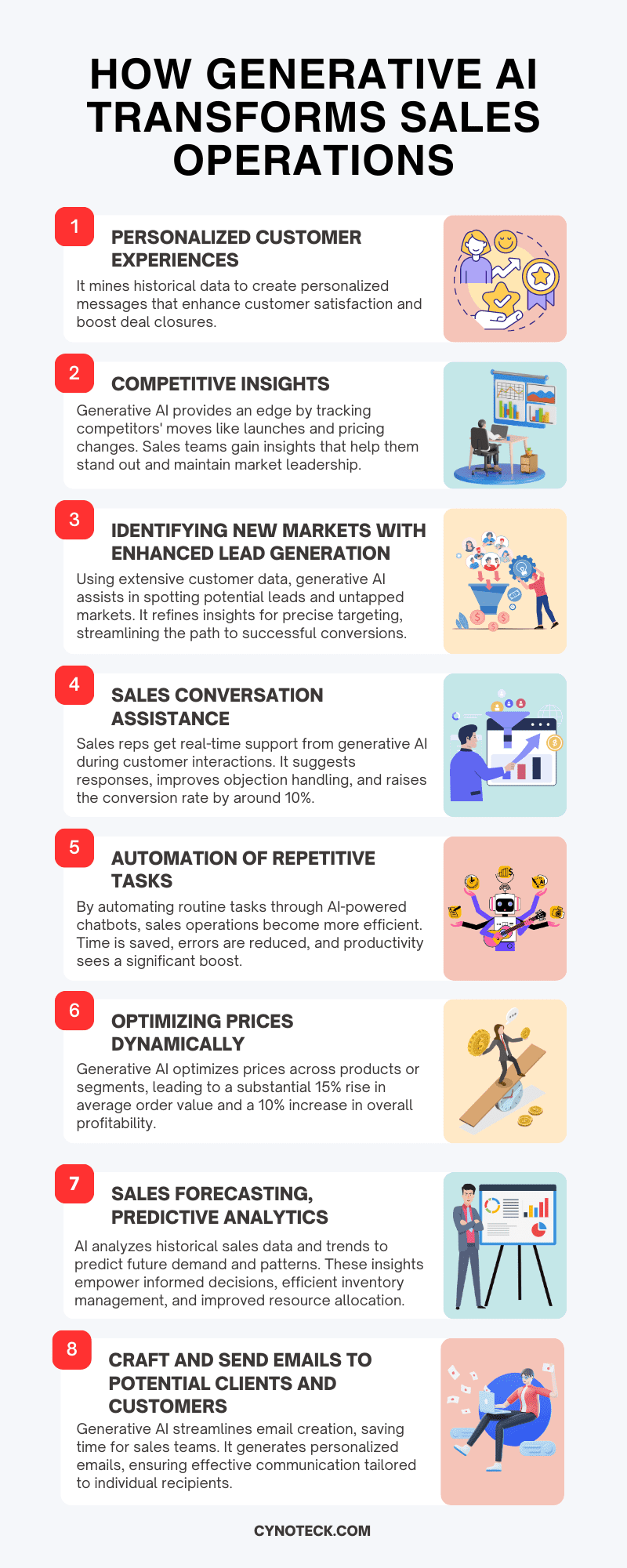 Copy Infographic
1) Personalized Customer Experiences and Sales Recommendations
Generative AI excels in producing personalized suggestions and maximizing customer product experiences. It also empowers sales teams to provide widespread personalized interactions.
By parsing historical data and preferences, AI algorithms create customized recommendations, messages, and offers. This high level of personalization increases customer delight and significantly boosts deal closure prospects.
These AI-driven tailored recommendations help customers in uncovering added features, enhance software utilization, and ultimately improve productivity.
2) Competitive Insights
Generative AI can compose new content including text, images, and videos. This technology can transform marketing and competitive analyses, providing enterprises with new insights and resources.
Through Generative AI, businesses can monitor competitors' activities like product launches, pricing adjustments, and customer feedback.
The AI system furthermore evaluates this data and delivers insights to sales teams, providing businesses with competitive intelligence to distinguish themselves and maintain market leadership.
3) Identifying New Markets with Enhanced Lead Generation
Generative AI offers businesses a tool to navigate potential clients and unexplored markets. By processing vast customer data (big data) and refining insights, sales teams acquire the capacity to determine and target promising leads with exceptional accuracy.
This results in a streamlined lead qualification process, channeling sales endeavours toward prospects most likely to transform successfully.
4) Sales Conversation Assistance
Generative AI proves valuable for sales representatives in live customer interactions, providing real-time suggestions and responses.
Through contextual analysis, it delivers recommendations to support objection handling, product expertise, and customer interaction.
Previously, sales reps faced challenges in objection handling, yielding a 40% conversion rate. Integration of generative AI elevated the rate to 50%, attributed to improved objection handling and more professional communication.
5) Automation of Repetitive Tasks
Generative AI revolutionizes sales by automating labour-intensive tasks, allowing sales professionals to prioritize high-impact activities. AI-driven chatbots proficiently manage routine queries, appointment scheduling, and information dissemination.
Customized automated email campaigns, tailored to customer preferences, streamline efforts. Automation leads to improved productivity, reduced errors, and enhanced efficiency, promoting streamlined workflows, time savings, and improved outcomes.
6) Optimizing Prices Dynamically
Now, if you are a consumer services firm and are aiming for dynamic pricing optimization. Previously, setting competitive prices posed challenges, impacting profit margins.
Generative AI now recommends optimal price points across products or customer segments, boosting revenue and profitability.
Implementation yields a 15% rise in average order value and a 10% growth in overall profitability through refined pricing strategies.
7) Sales Forecasting, Predictive Analytics, and Pipeline Management
Leveraging AI algorithms, historical sales data, market trends, and customer input are analysed, enabling prediction of demand and identification of success patterns.
Generative AI models utilize these insights to generate precise forecasts, offering comprehensive views of future market conditions, demand trends, and revenue prospects. This strategic approach enables informed decision-making, optimization of inventory, and resource allocation.
Additionally, Generative AI predicts customer preferences based on past purchase behaviours, suggesting products more likely to be purchased, thus minimizing guesswork and enhancing recommendations.
8) Craft and Send Emails to Potential Clients and Customers
Creating personalized emails can be a complicated task. Generative AI streamlines this process by generating tailored emails for prospects and customers, preserving valuable time and energy.
These AI tools produce emails resonating with individual recipients, similar to providing your sales team with constant access to a skilled writer who customizes their narrative for the audience.
Also, read: The Pros and Cons of AI/ML in Healthcare
Implementing AI in Sales Operations: Challenges Faced
Among the substantial potential of generative AI in sales, organizations must also know about the different challenges and considerations to fully leverage its advantages:
1) Data Privacy and Security
Incorporating AI into sales operations presents a significant challenge: safeguarding customer data privacy and security. Generative AI and AI-powered sales tools manage sensitive information, and data accuracy is crucial for optimal AI model training.
Addressing customer data privacy concerns is imperative to promote trust and adhere to data protection regulations.
2) The Demand for Human Inspection
Although AI can streamline various sales operations, maintaining human oversight is essential. This necessitates the presence of skilled sales operations professionals who can assess AI-generated insights, make critical decisions, and guarantee AI's alignment with company objectives.
To successfully incorporate generative AI solutions into sales processes, careful integration with existing CRM systems and tools is essential. Thoughtful planning and execution are key to ensuring a smooth transition and widespread adoption within sales teams.
3) Integration with Existing Systems
Incorporating AI solutions into existing sales tools, CRM systems, and workflows presents significant challenges. Achieving compatibility, synchronizing data, and seamlessly integrating with the company's infrastructure demands careful planning and coordination.
In certain instances, adjustments or tailored configurations may be essential to enable a frictionless integration process.
4) Management and Adoption
Incorporating AI into sales operations necessitates a cultural shift and the full acceptance of the sales team. Overcoming resistance to change and concerns about job security can pose limitations to effective implementation.
It's essential to address these concerns and offer comprehensive training and support to ensure the seamless integration of AI technologies.
By tackling these challenges head-on, organizations can leverage AI's potential in sales operations, all while safeguarding customer data and upholding the importance of human expertise in critical decision-making.
Also, read: Generative AI in Healthcare: Enhancing Patient Engagement and Beyond
What effects does Generative AI have on Sales Training?
Generative AI transforms sales training:
1) Creating dynamic training materials
Composing compelling training materials demands time and creativity, as individuals have diverse learning preferences.
Here, AI proves invaluable. Leveraging generative AI, powered by machine learning, enables the creation of innovative and pertinent training resources derived from the input data.
Utilize this technology to improve your creative process and continually captivate learners with novel content.
2) Personalized skills improvement
Much like personal trainers, AI sales tools can provide targeted exercises to help teams in achieving their performance objectives.
Generative AI analyses past performance data and patterns to provide individualized training for each sales agent. It identifies individual strengths and weaknesses, offering customized exercises to improve their skill sets.
3) Providing Sales Trainers with Useful Information and Insights
AI-driven sales training tools offer benefits not only to sales representatives but also to sales trainers. These tools can analyse a wide array of data, ranging from the substance of a salesperson's pitch to their confidence and communication approach.
Consequently, sales trainers access valuable insights into their team's performance, enabling ongoing progress monitoring, the identification of strengths and areas requiring development, and the delivery of tailored coaching to each individual.
4) Streamlining Developer Workload Training and Increasing Win Rates
Generative AI can take on repetitive tasks, freeing training developers. It expedites onboarding for new sales representatives, accelerates sales goal tracking, and streamlines feedback collection for training courses.
This empowers trainers to delve deeper into sales analytics, perform thorough skills gap assessments, and create personalized training materials for continuous improvement.
5) Timed Learning
Providing timely information improves the relevance and efficiency of the learning process. In sales training, this might involve offering insights or tips just before a client meeting or sales call.
Generative AI, on the other hand, plays a key role in crafting tailored training materials that align with the individual learning journeys of each sales representative.
Also, read: AI in CRM: Top Use Cases, Best Platforms, and Guidelines
Conclusion – The Future of Generative AI for Sales
Generative AI is firmly establishing itself as a transformative force. Early adopters can reap substantial benefits. This technology has the capacity to reshape sales through process automation, enriched customer experiences, and operational optimization.
From lead generation and qualification to personalized interactions and precise sales forecasting, generative AI equips sales teams with data-driven insights for well-informed decisions. Sales managers who integrate this tool into their processes and drive early adoption can maximize their ROI.
In conclusion, the future of AI in sales is exceedingly promising. Embracing predictive analytics and AI-driven CRM systems is no longer optional but essential for businesses to remain competitive in the evolving sales landscape.
Also, read: Unlocking the Power of AI in Digital Transformation: A Roadmap to Success
FAQs (Frequently Asked Questions)
1) What is generative AI in sales forecasting?
Utilizing machine learning, generative AI in sales forecasting creates predictive models, furnishing valuable insights into forthcoming customer actions and market dynamics. Consequently, it also helps strategic decision-making capabilities.
2) How does generative AI impact marketing and sales?
Generative AI transforms sales operations through the automation of prospecting tasks, the refinement of personalized outreach strategies enhanced writing efficiency, and the provision of predictive analytics. These advancements result in elevated engagement rates and heightened revenue growth. Additionally, Generative AI plays a pivotal role in supporting marketing endeavours by generating personalized content for specific target demographics, forecasting customer behaviours based on historical data patterns, and fine-tuning ad campaigns through real-time adjustments.
3) What are the limitations of Generative AI for Sales?
Generative AI has immense potential for optimizing sales operations; however, it does come with its share of limitations. These include concerns about the quality of generated outputs, issues related to bias and fairness, considerations of safety and security, and the importance of high data quality. Yet, perhaps one of the most significant challenges lies in ensuring the consistency and quality of responses, particularly in customer service environments. Generative systems approach each question uniquely, crafting tailored responses. Consequently, even when posed with the same question repeatedly, the system may offer different answers, posing a notable challenge in maintaining consistency.
4) How to implement Sales GPT for your organization?
To introduce Sales GPT into your organization, the initial step involves identifying its potential applications within your sales team. Subsequently, collaborating with a Salesforce implementation partner becomes important for creating a tailored solution aligned with your specific requirements. Sales GPT serves as a valuable tool for pinpointing and exploring novel opportunities, as well as devising potent strategies to attain your sales objectives. By leveraging the creative ideation capabilities of an AI chatbot, you can quickly generate innovative ideas that may have a profound impact on boosting your sales performance.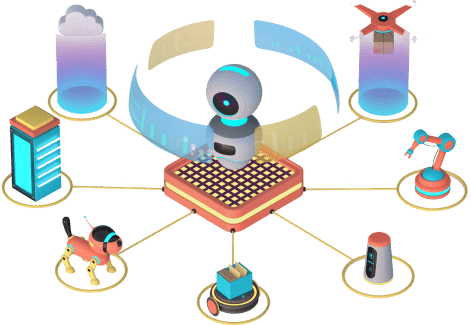 Planning to Leverage AI for your business? We provide AI Consulting to help organization implement this technology. Connect with our team to learn more.