In today's healthcare landscape, technology utilization, from EHRs to patient portals, has reached unprecedented levels. Surprisingly, one area where technology adoption lags is inventory management, also known as supply chain management. While hospitals and physician practices have adopted cost-cutting strategies, focusing on billing and services to reduce expenses, some are now exploring healthcare supply chain management. As payers start claiming payment for quality and cost performance, adopting technology in this domain becomes essential. 
The significance of efficient healthcare supply chain management cannot be overstated, as it directly impacts healthcare outcomes, patient safety, and cost reduction. The primary goal is to quickly deliver essential medical supplies to hospitals, clinics, and pharmacies.
By improving healthcare supply chain management, stakeholders in the healthcare sector can eliminate inefficiencies, reduce unnecessary expenses, and strengthen the healthcare value chain with resilience and agility. 
This informative article explores the vital role of supply chain management in the healthcare industry, emphasizing its significance in optimizing patient care and operational efficiency.
We will understand key practices adopted in this domain, highlighting how effective supply chain management positively impacts healthcare outcomes.
What is Healthcare Supply Chain Management?
In the dynamic healthcare sector, the seamless execution of daily activities relies on a network of interconnected approaches. These include supply chain management, resource acquisition, and procurement, all critical for providing quality care. Every aspect of the medical supply chain significantly influences total costs, patient outcomes, and service effectiveness. 
Healthcare supply chain management entails overseeing the seamless movement of medicines, medical equipment, and healthcare services from producers to primary health doctors and ultimately to patients.
This intricate process involves the flow of diverse products, including medical supplies, devices, and pharmaceuticals. By ensuring timely access to prescriptions and treatments, supply chain management caters to the needs of healthcare practitioners and patients alike.
In hospitals, efficient supply chain management enhances overall efficiency and productivity. Join us to explore the vital role of healthcare supply chains in delivering optimal care and maximizing healthcare outcomes. Elevate your knowledge and discover strategies for streamlining supply chain processes in the healthcare industry.
Also, read: Hospital Inventory Management Software: Best Practices, Features, and Platforms
How does supply chain management impact healthcare?
In the healthcare industry, the supply chain serves the vital purpose of identifying and addressing departmental vulnerabilities to achieve desired health outcomes while optimizing financial support for international health initiatives.
By effectively managing supplies, the healthcare supply chain facilitates the seamless integration of hospital departments, operations, and the revenue cycle. This works as a backend application and plays a pivotal role in harmonizing various activities, ensuring efficient coordination and resource utilization. 
Effective supply chain management in hospitals plays a critical role in ensuring the timely availability of medications and other essential products, thus minimizing inventory waste and enhancing patient care.
By coordinating efforts across all departments, supply chain management helps in reducing human and pharmaceutical errors, ultimately contributing to improved patient outcomes.
Moreover, healthcare supply chain management helps facilitate the delivery of the best possible care to patients.
Collaborating with suppliers to ensure the use of the highest quality products and streamlining the flow of medical supplies and equipment are key components of a well-optimized healthcare supply chain.
Optimize Your Healthcare Supply Chain with Business Central.
Unlock operational excellence and cost reduction with Microsoft Dynamics 365 Business Central's Supply Chain Management service.
Benefits of Digital Supply Chain Management In The Healthcare Industry
The adoption of a digital Supply Chain Management platform in healthcare companies brings numerous benefits, including optimal resource utilization, timely drug delivery, and streamlined business processes.
Additionally, it improves data visibility, fosters effective collaboration, and minimizes inventory wastage. Apart from these, some more benefits it offers are: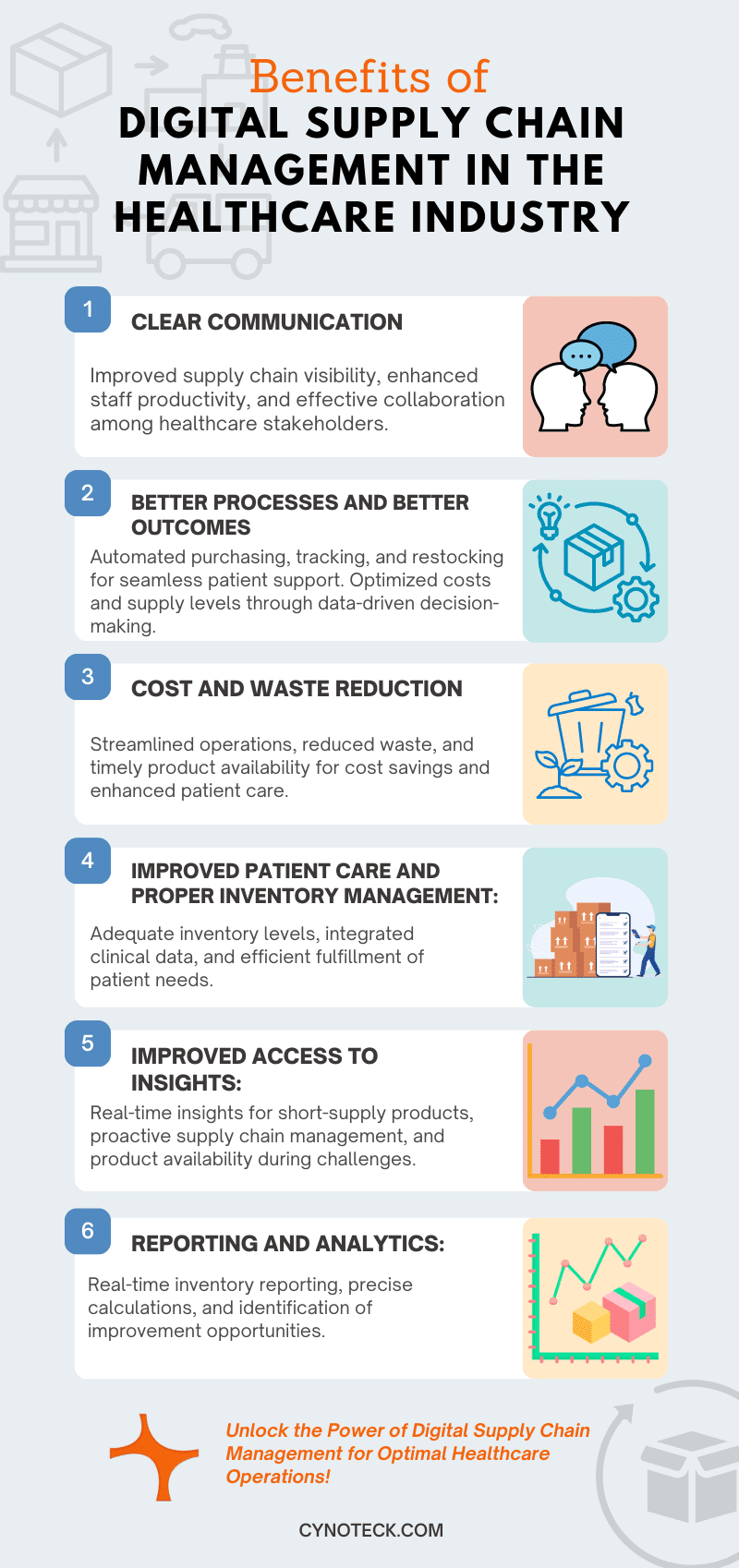 Copy Infographic
1) Clear communication
Implementing a digital Supply Chain Management platform not only improves supply chain visibility but also enables effective communication and collaboration among healthcare stakeholders, improving staff productivity and partnership efficiency. 
2) Better processes and better outcomes
Healthcare supply chain management automates purchasing, tracking, and restocking products and services, ensuring seamless support for your patients. It empowers hospitals to optimize costs, quantities, and supply levels through trend prediction and effective planning.
Leveraging supply chain data as a competitive advantage drive informed, data-driven decision-making and improves the understanding of managing value-based care costs. 
3) Cost and waste reduction
Balancing cost reduction with improved healthcare quality is a significant challenge in the industry. However, supply chain management in healthcare has proven effective in achieving both objectives.
By streamlining operations, supply chain management helps reduce waste and ensures the timely availability of the right products, contributing to cost savings and enhanced patient care.
4) Improved patient care and proper inventory management
Effective supply chain management (SCM) involves maintaining adequate inventory levels and proactively addressing potential disruptions.
Leveraging utilization and clinical outcome data empowers healthcare teams to improve patient outcomes. By integrating clinical data into supply management, cost-effective healthcare choices can be made.
Additionally, a centralized SCM with efficient communication channels ensures seamless fulfillment of patient needs.
5) Improved Access to Insights
A robust healthcare SCM system offers real-time insights, enhancing access to short-supply products and boosting revenue for organizations.
It promotes transparency, enabling providers to proactively manage supply chain disruptions and ensure product availability during challenging situations. 
6) Reporting and Analytics
Discover the power of cutting-edge healthcare supply chain management software, empowering real-time inventory reporting and precise calculations.
Unlock valuable insights into performance and improvement opportunities through comprehensive inventory data analysis, including cost analysis and sales performance.
Optimize your operations with this seamless and highly efficient supply chain management solution.
Also, read: Best Healthcare ERP Solutions for Enhanced Efficiency
Using digital technology to improve the management of the healthcare supply chain
By integrating innovative technologies like data analytics, AI, IoT, and Blockchain, supply chain management systems in the healthcare sector, you can experience improved efficiency, heightened security, and rapid global growth.
Implementing these innovations paves the way for an efficient digital healthcare ecosystem with robust medical supply distribution.
These technological advancements can strengthen hospital supply chains, improving their resilience to unexpected problems.
1) Improving visibility using Blockchain
Leveraging the immutability of Blockchain, healthcare providers can efficiently and securely track and trace supplies, preventing delays and fraud.
It ensures product traceability across the entire value chain, from raw material providers to hospitals, without any risk of data tampering.
Innovative blockchain-based solutions are being developed to securely track items throughout their lifecycle.
2) AI and Predictive analysis
AI has revolutionized traditional inventory management in healthcare by providing decision support and transforming data management, analysis, and interpretation.
Predictive analytics enabled by AI allows healthcare providers to monitor patterns and anticipate future events more efficiently, leading to improved decision-making.
3) IoT and RFID tracking
IoT-based decision-making offers quick and frequent feedback by automating data collection and real-time sharing. With the ability to take small actions, measure outcomes, and make corrections based on feedback, IoT-controlled systems enhance efficiency.
Through real-time location systems (RLTS), assets can be easily located, tracked, and monitored, streamlining the healthcare supply chain and providing comprehensive system awareness.
4) Robotic Process Automation (RPA)
Integrating an RPA system in healthcare supply chains streamlines processes, reduces costs, and mitigates human errors.
By adopting RPA-deployed devices in warehouses, organizations improve productivity and optimize revenue. Routine automation boosts efficiency, resulting in significant cost savings.
5) Drone technology
Drones offer a competitive advantage in the healthcare supply chain, delivering vaccines, medications, supplies, and blood samples efficiently and rapidly.
They can also ease the urgent delivery of blood or samples to specific recipients. Moreover, compact indoor drones can be utilized within hospitals to transport medications directly to patients at their bedsides.
Also, read: Also, read: Top 10 Real Estate ERP Software for Enhanced Efficiency
List of Top 10 Healthcare Supply Chain Management Software
Optimize medical supply procurement, inventory management, and spend management with healthcare supply chain software. These solutions enhance transparency among primary, ancillary care, and non-acute care providers for improved patient services.
Mentioned below is a curated list of the top 10 healthcare supply chain software solutions.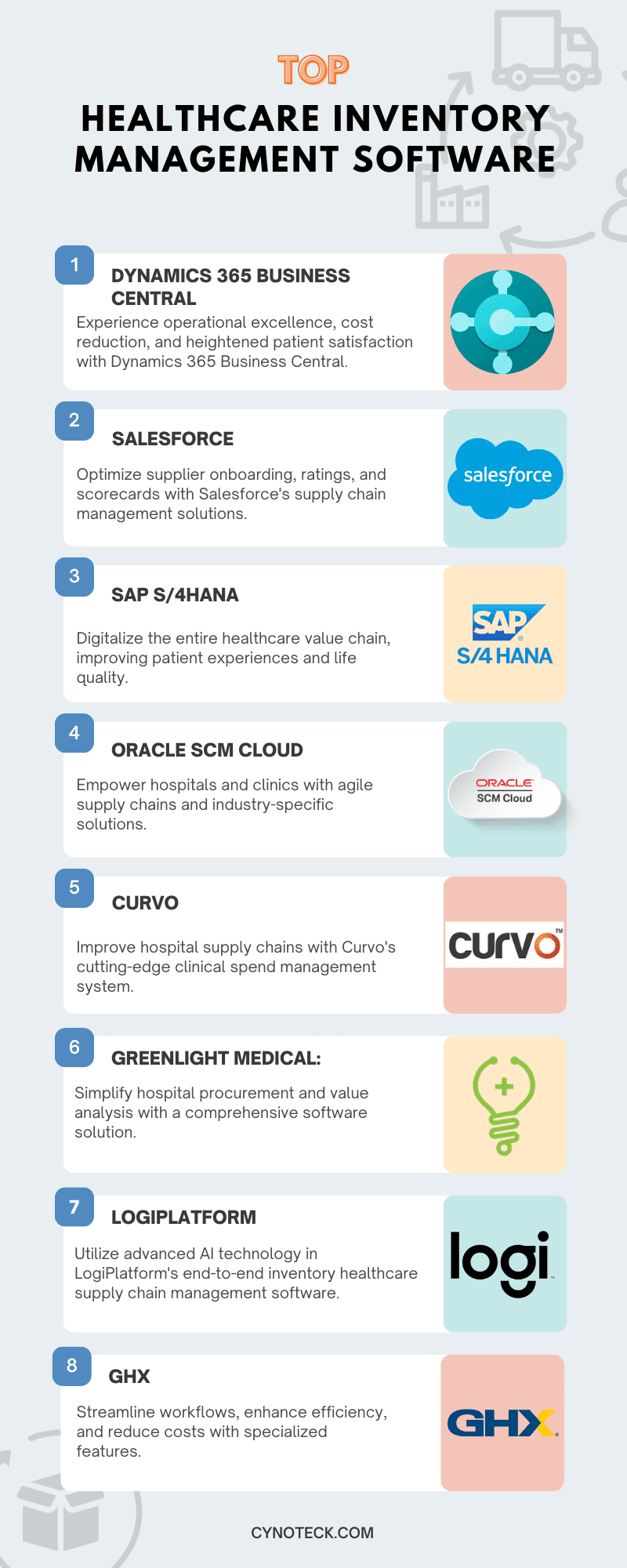 Copy Infographic
1) Microsoft Dynamics 365
Microsoft Dynamics 365 Business Central is an excellent tool to manage your company's supply chain. The supply chain management features in Business Central can help your business in maintaining a proper inventory flow and increasing visibility throughout the entire process.
It is a flexible product that integrates relatively well with third-party systems, and it can be a good fit for many organizations.
Experience operational excellence, cost reduction, and heightened patient satisfaction with Dynamic 365 Business Central for healthcare providers.
Get the Business Central for Supply-Chain Management.
2) Salesforce
Optimize supplier onboarding, ratings, and scorecards with Salesforce supply chain management. Leverage cutting-edge analytics, real-time data, and AI-driven automation for unmatched efficiency and collaboration.
Get vital visibility across the entire system, improving the customer experience from pre-sale to post-sale.
Get the Salesforce for Supply-Chain Management.
3) SAP S/4HANA
Leveraging SAP for the Healthcare Industry and digitalizing the entire healthcare value chain brings substantial benefits. SAP support enhances services to the healthcare and pharmaceutical sectors, leading to improved patient experiences and higher life quality.
Its comprehensive ERP functionality includes financials, inventory management, and CRM, making it a robust solution for healthcare organizations.
4) Oracle SCM Cloud
Oracle Cloud SCM empowers hospitals and clinics to enhance care quality, optimize planning, reduce costs, and manage agile supply chains. It enables quick responses to dynamic demand, supply, and market conditions.
With industry-specific solutions for automotive, communications, healthcare, industrial manufacturing, and retail sectors, organizations gain seamless supply chain connectivity, improved efficiency, and enhanced resilience.
5) Curvo
Improve your hospital's supply chain with Curvo, a cutting-edge clinical spend management system. This cloud-based platform enables faster data organization, opportunity identification, sourcing projects, and supply chain savings capture.
Tailored for hospital supply chains, Curvo empowers healthcare providers to track purchase history data and identify cost-saving opportunities efficiently.
6) GreenLight Medical
GreenLight Medical offers comprehensive hospital procurement and value analysis software, providing a smarter and simpler solution for evaluating new technology and streamlining healthcare workflow.
With one shared platform, connect clinical, financial, and operational stakeholders, enabling cost- and quality-based purchasing decisions that drive innovative medical technology into your facilities.
Simplify and improve your healthcare processes with GreenLight Medical.
7) LogiPlatform
LogiPlatform is an advanced end-to-end inventory healthcare supply chain management software, leveraging artificial intelligence technology.
It effectively keeps track of how much medication is being used, when it expires, and when it has to be replenished.
It also seamlessly connects to all supply chain components and integrates with hospital ERP systems. Real-time data flow and intelligent insights empower healthcare providers to make informed decisions and optimize inventory management effectively. 
8) GHX
GHX is a complete healthcare supply chain system created for suppliers and providers of healthcare services.
It offers specialized features for healthcare, including transaction management, price alignment, up-to-date item master data, and automated invoice and payment solutions.
With accurate trading partner information and compliance support, GHX streamlines workflows and enhances supply chain efficiency while reducing costs. 
9) Hybrent
Hybrent offers a cost-effective and cloud-based healthcare supply chain software for procurement and inventory management.
Accessible on desktops, tablets, and mobile devices, it provides a unified portal for shopping, order automation, approvals, order tracking, e-receive, invoice matching, contract management, AP and clinical integrations, reporting, and more.
Improve your supply chain efficiency with Hybrent's versatile and user-friendly platform.
10) HealthLine
HealthLine is a trusted software in healthcare inventory and supply chain management. Increase revenue by optimizing labor resources, allowing medical staff to concentrate on patient care.
This software simplifies and improves inventory management, ensuring reliability and ease of use throughout the supply chain.
Experience greater inventory accuracy and improved patient care with this HealthLine advanced solution.
Also, read: Business Central Cloud vs. On-Premise: A Comprehensive Comparison of Features and Pricing
Conclusion
The implementation of supply chain management software in the healthcare industry has revolutionized operations, improving the patient experience, minimizing manual errors, optimizing inventory, and automating departmental tasks.
Understanding its advantages and adopting it empowers healthcare providers to enhance patient care, reduce errors, and streamline operations efficiently. 
Strategic technology selection plays a critical role in improving healthcare supply chain management. By diligently following the entire process, desired outcomes can be achieved.
So, comprehensive understanding and improvements in the healthcare supply chain allow all stakeholders to achieve their goals efficiently and expeditiously.
FAQs (Frequently Asked Questions)
1) What does supply chain management in healthcare mean?
Healthcare supply chain management involves the systematic monitoring and control of the movement of medicines, medical products, and healthcare services from manufacturers to patients, ensuring timely access to essential treatments and medications. It serves as a pivotal mechanism for purchasing and distributing medical goods and services, ensuring seamless flow from the loading port to the patient's hands. Each element in the medical supply chain plays a critical role in impacting costs, patient outcomes, and overall service efficiency.
2) What is the purpose of managing the healthcare supply chain, and why is it crucial?
The primary objective of healthcare supply chain management is to enhance visibility and efficiency while improving the agility and responsiveness of the supply chains. It plays a crucial role in ensuring timely access to medications and treatments for patients and healthcare providers, precisely when they are needed.
Healthcare supply chain management holds significant importance for businesses in the healthcare sector as it contributes to cost reduction, improved supply chain efficiency, and enhanced agility and resilience in the healthcare value chain. Equally crucial, it ensures that patients have uninterrupted access to the medications and treatments they require for their well-being.
3) What is the importance of Supply Chain Management in the Healthcare Industry?
In recent years, supply chain management has gained central importance as healthcare organizations face mounting pressures to cut expenses amid the pandemic while also improving patient outcomes and reimbursement. This COVID-19 pandemic has accelerated the urgency to optimize supply chain management. This holds particularly true for health systems aiming to deliver high-quality care, ensure service availability, reduce costs, and improve profitability. To achieve these goals, health systems focus on enhanced data collection and utilization, efficient vendor management, and alignment of incentives.
4) What are some typical problems that supply chains run into?
Supply chains operate as complex networks, and any disruption in one part can have ripple effects throughout the entire system. Implementing current best practices is essential to maintaining smooth operations. Healthcare facilities may encounter common supply chain issues, and navigating them effectively requires proactive management.
i) Different Objectives Across Supply Chain Links
In a supply chain, different links may have varying objectives, leading to potential issues that can impact patient care. Understanding the goals of each link and effectively navigating them is crucial for maintaining a stable and operational supply chain. By aligning the objectives, healthcare providers can ensure seamless and efficient supply chain management, ultimately benefiting patient outcomes.
ii) Difficult demand forecasting
The COVID-19 pandemic has introduced unprecedented challenges to demand forecasting in supply chain management. Businesses across different industries have faced complexities as their traditional forecasting models were disrupted. The uncertainties caused by the pandemic have left retailers and suppliers of consumer goods/services without accurate guidance on inventory stocking and manufacturing needs.
iii) Insufficient labor
The workforce serves as the main component of supply chain success, facilitating the seamless operation of each link in the chain. Without a proficient workforce, the supply chain would face challenges in fulfilling its goals and satisfying market requirements effectively.
iv) Sudden and impactful developments
The COVID-19 pandemic has been an unprecedented event that showcased the vulnerability of healthcare supply chains to external forces beyond their control. However, effective risk management practices can empower healthcare organizations to proactively prepare for future challenges and ensure the timely availability of essential resources. 
v) Inflation
In the stage of an extended period of inflation, businesses must proactively anticipate and manage cost increases associated with raw materials and finished product procurement. These escalating costs can trigger challenges like excess inventory, rising storage expenses, tighter profit margins, and declining revenue for product-based brands. Nevertheless, by implementing robust cost management strategies and optimizing supply chain processes, businesses can effectively navigate these obstacles and reduce the adverse impact of inflation on their operations and overall profitability.
5) How can healthcare supply chains be optimized?
Optimizing the healthcare supply chain is critical for delivering high-quality patient care. Despite adhering to strict regulatory standards, there are opportunities for improvement within the healthcare supply chain. You can improve efficiency in the supply chain by following these tips:
– Improve Visibility
– Implement Standardization
– Know Your Costs
– Consolidate Your Supplier Base
– Center Performance
6) What does the future of healthcare supply chains look like?
Effective supply chain management plays a key role in the healthcare industry. Beyond cost reduction, it yields substantial benefits such as improved patient outcomes and increased reimbursement. Healthcare organizations can acquire these advantages by prioritizing data collection, aligning incentives, and enhancing vendor management strategies. Adopting these approaches will pave the way for a promising future in healthcare supply chain management.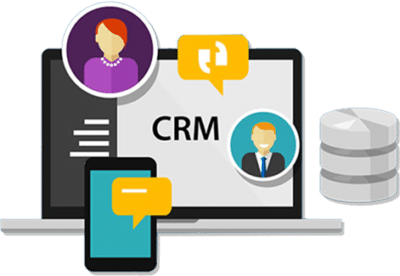 Microsoft Dynamics 365 Business Central is an all-in-one ERP business management solution that helps you connect your financials, sales, service, and operations to streamline business processes. Connect our team if you are interested in implementing Dynamics 366 business central in your business.