Salesforce is an amazing platform designed to help organize processes in any entity.
First and foremost, Salesforce is known as a CRM platform, that is, a customer relationship management platform.
Even though nonprofit organizations do not have customers in a conventional sense, Salesforce is still an essential tool that can help manage operations, streamline processes, and eliminate bottlenecks.
Benefits of Salesforce for non-Profits
The most feature-rich platform out there
Salesforce has hundreds of functions, apps, automation scenarios, and data reports that you can apply to achieve your goals of raising funds and helping people.
The first 10 licenses for eligible charitable organizations are completely free of charge – that's part of the Power of Us program. Additional license subscriptions start at $36 per month with access to web-based interface and features like donation tracking, donor management, and campaign management.
Whenever you need to upgrade and expand your features you can always purchase access to additional clouds and modules.
The Power of Us hub is an online community (currently counting 40K+ members) of individuals engaged in nonprofit activities and using Salesforce for their operation.
Having access to such a large hive mind is a great way to stay updated, get help, motivation, ideas, and support.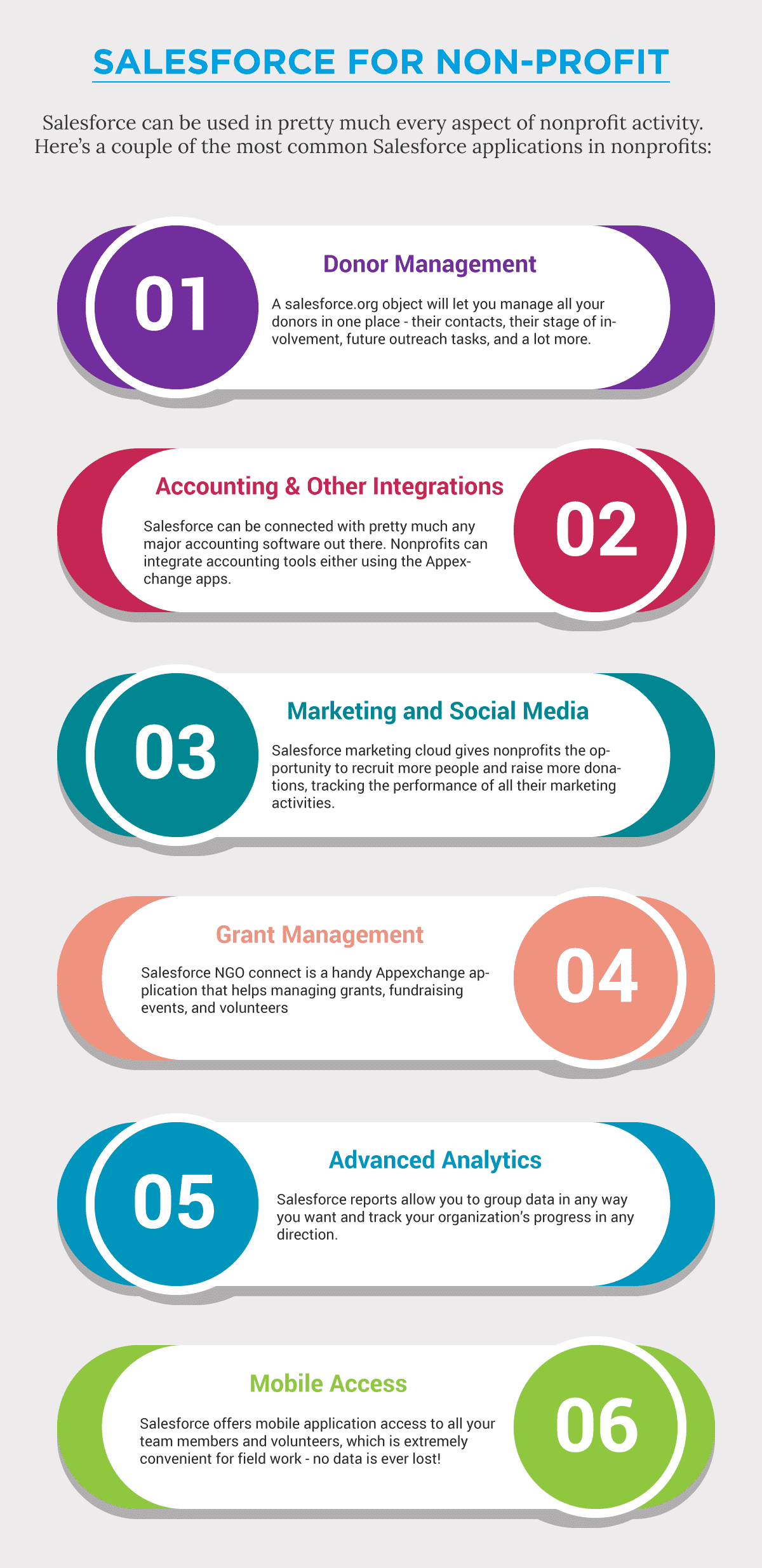 Copy Infographic
Where Salesforce can be used in non-profits
Considering Salesforce contains a huge ecosystem with a multitude of functions – it can be used in pretty much every aspect of nonprofit activity. Here's a couple of the most common Salesforce applications in nonprofits:
Donor management
A salesforce.org object will let you manage all your donors in one place – their contacts, their stage of involvement, future outreach tasks, and a lot more.
Accounting & other integrations
Salesforce can be connected with pretty much any major accounting software out there. Nonprofits can integrate accounting tools either using the Appexchange apps (from Quickbooks to Blackthorn payments) or using custom developed apps.
All in all, Salesforce is easily integrated with any other management tool that processes data, so do not worry about the transition period.
Salesforce marketing cloud gives nonprofits the opportunity to recruit more people and raise more donations, tracking the performance of all their marketing activities.
Grant management
Salesforce NGO connect is a handy Appexchange application that helps managing grants, fundraising events, and volunteers.
Advanced analytics
Salesforce reports allow you to group data in any way you want and track your organization's progress in any direction. Just set up your workspaces to display the reports you need and get a clear understanding of everything your team is doing.
Mobile access
Salesforce offers mobile application access to all your team members and volunteers, which is extremely convenient for field work – no data is ever lost!
…and much, much more.
Also, read: Salesforce security: the guide to keeping your business and customer data safe
The Appexchange treasury
Appexchange is a marketplace filled with pre-made Salesforce apps developed to solve particular industry needs. Just a quick search will give you dozens of Apps designed for non-profits.
Some of the examples are:
Non-profit success pack – a fundraising and constituent management application with a multitude of functions, all configurable and customizable. Best parts – it's free and it's developed by Salesforce.org.
HandsOn Connect – a solution for volunteer engagement. This helpful app will let you organize volunteers into effective campaigns and rallies.
Rallybound Fundraising – a tool that let's manage and scale fundraising activity, with a cus on the import and third-party tool integrations.
It's safe to say there's a ready solution for most non-profit needs.
Custom apps all the way to a better world
If your nonprofit organization grows and levels up, custom Salesforce app development may be necessary. 
A custom app is an effective way to direct all the platform functionality to perform just the operations you need without anything extra.
Custom apps are usually easier to use whenever you have multiple employees and volunteers working with data in Salesforce.
Also, read: 7 Reports in Salesforce that will help you boost revenue
Salesforce consultants come in handy
Salesforce can help you do pretty much anything. That is why it's nearly impossible to know in advance what feature you will use – and that is why Salesforce consultants exist.
A Salesforce consultant is a professional with a rich business experience that keeps up-to-date with Salesforce functionality and can offer the most efficient way of reaching your goals.
Most large organizations need custom Salesforce development, so a consultant will help select and implement all the necessary features.
Using Salesforce should be approached as problem-solving, so just have a set of tasks: "we need to outreach to donors better", "we need to raise more money", or "we need to spend less". An experienced consultant will figure out how to get it done and come up with a solution for you.
How to get started with Salesforce for nonprofits
The first way to go is to visit Salesforce for nonprofits, sign up and start exploring Salesforce yourself. However, if you are short on time and need reliable dedicated Support and consulting – reach out to us and let's discuss your nonprofit organization's workflow needs.
Also, read: Salesforce Nonprofit Success Pack (NPSP)- Complete Guide
My Comments
We can mention that 10 licenses are free of cost and additional licenses are paid. 
Under Accounting it is mentioned that salesforce offers multitude of features, it offers basic donation and grants tracking and some other features. Salesforce does not have inbuilt accounting features.
Two features can be added: Analytics and access to salesforce through mobile application.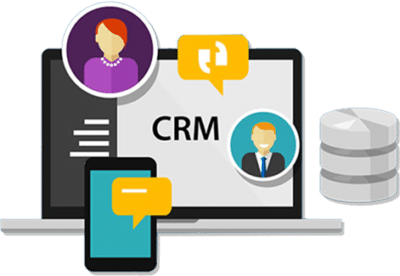 If you are new to automation and confused about Workflow or Process Builder. Need not to worry, we have got you all covered. Talk to our experts and clear all the cloudy thoughts about automation.