Salesforce is an amazing platform designed to help organize processes in any entity.
First and foremost, Salesforce is known as a CRM platform, that is, a customer relationship management platform.
Even though non-profit organizations do not have customers in a conventional sense, Salesforce is still an essential tool that can help manage operations, streamline processes, and eliminate bottlenecks.
Benefits of Salesforce for non-Profits
Features to enhance your work process
Salesforce has hundreds of functions, apps, automation scenarios, and data reports that you can apply to achieve your goals of raising funds and helping people.
Attractive discount system
Additional perk -the first 10 licenses for eligible charitable organizations are completely free of charge – that's part of the Power of Us program.
Additional license subscriptions start at $36 per month with access to a web-based interface and feature like donation tracking, donor management, and campaign management.
Whenever you need to upgrade and expand your features you can always purchase access to additional clouds and modules easily.
The Power of Us hub
The Power of Us hub is an online community (currently counting 40K+ members) of individuals engaged in nonprofit activities and using Salesforce for their operation.
Having access to such a large hive mind is a great way to stay updated, get help, motivation, ideas, and support.
Also, read: An overview of what is Account Teams in Salesforce
Features of Salesforce for Non-Profits
Copy Infographic
1. Salesforce Nonprofit Cloud
Salesforce Nonprofit Cloud is an all-in-one CRM platform for nonprofits. It facilitates fundraising, program management, grant management, marketing, and of course, donor management.
All facets of nonprofit management and operations can be measured, tracked, and updated. Your nonprofit can use data to promote growth and success with the Salesforce Nonprofit Cloud.
On Salesforce Nonprofit Cloud, nonprofits can build accounts for contributors, companies, grantees, volunteers, and other organizations. After that, include your contact details, such as your addresses, phone numbers, and email addresses.
You may track donor reactions online and add information from social media. Your team has access to all of this information from any location. A visual overview of your gift history, pertinent remarks, and other documentation will also be provided.
Depending on the user that accesses the item, donor records can be translated into multiple languages, time zones, or currencies. In order to better understand how donors were introduced to their organization, nonprofits might link records together to form partnerships.
Finally, security permissions can be assigned for certain individuals so that NGOs can guarantee the confidentiality of donor information.
2. Event management apps
The location of donors can be seen on a map with the help of Salesforce's Event Management, which helps NGOs get off to a good start. Using that data, organizations can decide where to hold their event.
Nonprofits can start by selecting event management tools from the Salesforce app store. They give nonprofits discounts, enable data management from any location, and let them watch real-time updates as visitors check-in.
Mobile registration and passbook tickets are options for nonprofits. Volunteers and employees can use these applications to easily search donor information, work together on team documents, update donor records, and view and modify event schedules.
Online access is available for guests to create and maintain their evening schedules. Additionally, attendees can share photos from the event on social media and answer surveys that your company sends out.
The knowledge from last year's event will be useful to you as you go with arranging your own. Information on which events prompted more participation and which ticket types performed the best can be gathered. This knowledge can help you improve donor relationships, raise more money, and make the required changes.
3. Fundraising Strategy
The fundraising team must be more flexible in its approach if it is to raise more money for the cause. They can plan and develop effective tactics that attract more funding for the company with the aid of Salesforce's digital-first fundraising approach.
The digital-first approach enables fundraisers to reach out to potential donors regardless of where they are and tap them with tailored information through numerous channels. The fundraising function opens up a world of possibilities, allowing you to build lasting relationships with your people through engaging digital interactions and online fundraising.
4. Nonprofit marketing
Salesforce for NGOs has a number of capabilities that can be used to effectively market events and fund-raising initiatives.
Emails
One of the best-used marketing strategies for NGOs today is email campaigns. Pre-made email templates are available for organizations to use, and they can be further customized to incorporate the nonprofit's logo and mission statement.
These templates can be used by employees, board members, and volunteers to maintain the branding of your company.
Then, based on updated and segmented donor information, nonprofits may send personalized emails and monitor the open and click-through rates for each campaign.
Social media
Social media is another popular marketing option for nonprofits. Organizations can use Salesforce to store donor social media information and track any online interactions.
Direct mail
Nonprofits can also use Salesforce to organize and track responses from direct mail campaigns.
5. Dashboards and reports
In order to respond to inquiries from the board, volunteer groups, and significant donors, nonprofits must provide reports. The information is shown visually on Salesforce's dashboards and includes information on ticket sales, overall event income, attendance, donors, donations, and survey results.
Here are a few ways nonprofits can use dashboards to keep everyone updated:
Track fundraising goals
Collect and share survey responses
Automatically update events with last year's information
Measure donor participation and schedule regular updates
6 Accounting Subledger
Both your accounting and fundraising teams will find working with Accounting Subledger to be simple. You can save a lot of time and money by syncing your fundraising data with an accounting system.
This feature includes pre-built templates for well-known accounting programs including Workday, QuickBooks, NetSuite, Microsoft Dynamics, and Blackbaud Financial Edge.
Your teams will find it easy to track donations, pledges, and revenue data because of the user interface's clarity and intuitiveness.
7. Salesforce AppExchange
AppExchange is the Salesforce app store. For nonprofits, however, Salesforce has listed a separate list of apps to benefit from.
These apps are categorized into sections like consulting, fundraising, management apps, popular, sponsored, etc.
Many of these apps are free and can help boost your nonprofit fundraising, management, and growth.
Transform your non-profit with Salesforce Nonprofit Cloud.
Boost fundraising, streamline operations, and improve donor relationships. Schedule a consultation today to learn more.
Where Salesforce can be used in non-profits
Considering Salesforce contains a huge ecosystem with a multitude of functions – it can be used in pretty much every aspect of nonprofit activity. Here's a couple of the most common Salesforce applications in nonprofits: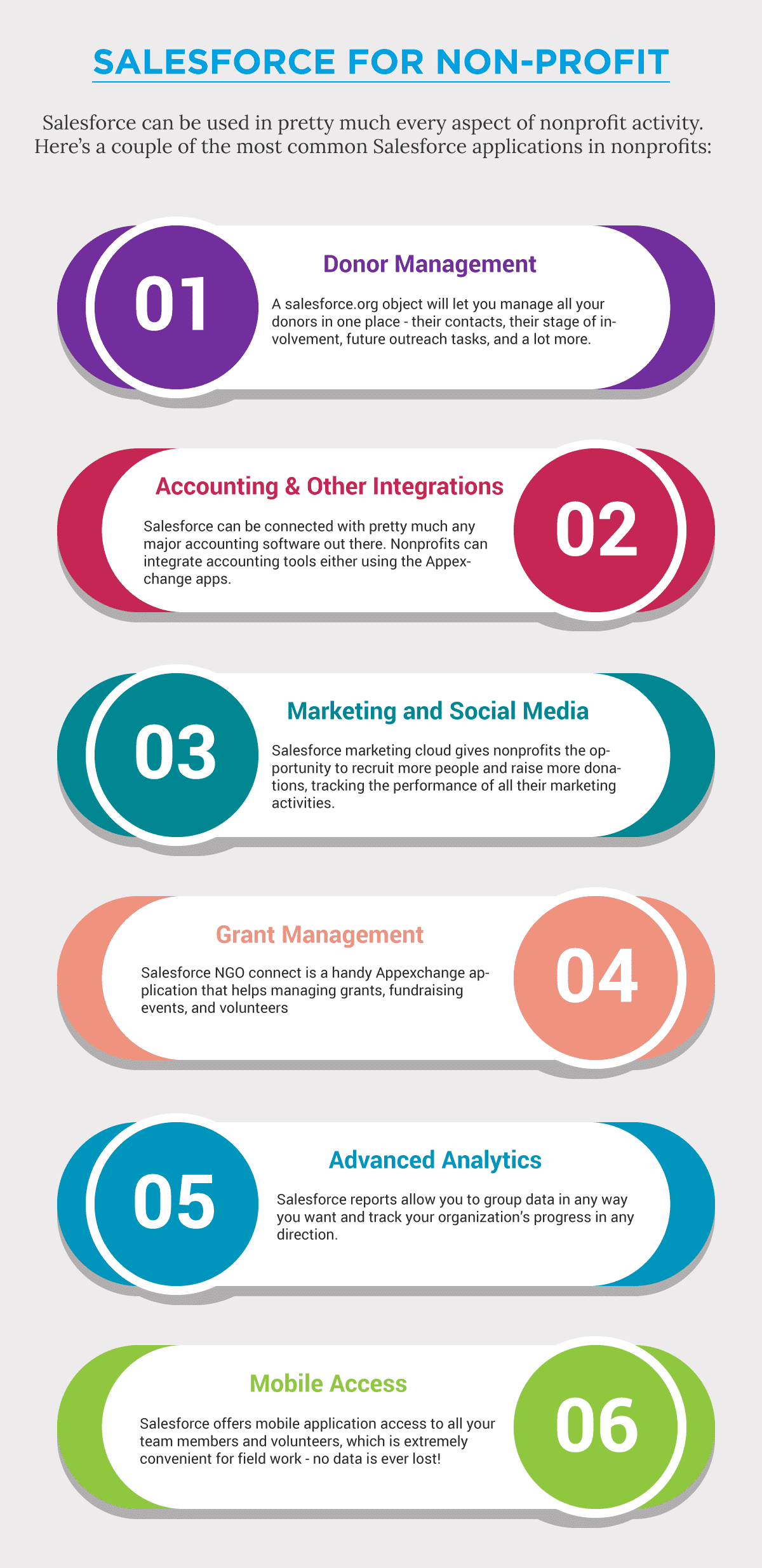 Copy Infographic
1. Donor management
A salesforce.org object will let you manage all your donors in one place – their contacts, their stage of involvement, future outreach tasks, and a lot more.
2. Accounting & other integrations
Salesforce can be connected with pretty much any major accounting software out there. Nonprofits can integrate accounting tools either using the AppExchange apps (from QuickBooks to Blackthorn payments) or using custom-developed apps.
All in all, Salesforce is easily integrated with any other management tool that processes data, so do not worry about the transition period.
Salesforce marketing cloud gives nonprofits the opportunity to recruit more people and raise more donations, tracking the performance of all their marketing activities.
4. Grant management
Salesforce NGO Connect is a handy AppExchange application that helps manage grants, fundraising events, and volunteers.
5. Advanced analytics
Salesforce reports allow you to group data in any way you want and track your organization's progress in any direction.
Just set up your workspaces to display the reports you need and get a clear understanding of everything your team is doing.
6. Mobile access
Salesforce offers mobile application access to all your team members and volunteers, which is extremely convenient for fieldwork. In this way, data is not lost and is always safe.
Also, read: Salesforce security: the guide to keeping your business and customer data safe
The Appexchange treasury
Appexchange is a marketplace filled with pre-made Salesforce apps developed to solve particular industry needs. Just a quick search will give you dozens of Apps designed for non-profits.
Some of the examples are:
Non-profit success pack – a fundraising and constituent management application with a multitude of functions, all configurable and customizable. Best parts – it's free and it's developed by Salesforce.org.
HandsOn Connect – a solution for volunteer engagement. This helpful app will let you organize volunteers into effective campaigns and rallies.
Rallybound Fundraising – is an exceptional tool designed to help you effectively manage and effortlessly scale your fundraising activities.
With a strong emphasis on integration with third-party tools and ease of use, this platform is a game-changer for organizations of all sizes looking to maximize their fundraising potential.
It's safe to say there's a ready solution for most non-profit needs.
Also, read: Revolutionizing Customer Experience with Salesforce's Einstein GPT: A Look into the Future of Sales and Service
Custom apps all the way to a better world
If your nonprofit organization grows and levels up, custom Salesforce app development may be necessary.
A custom app is an effective way to direct all the platform functionality to perform just the operations you need without anything extra.
Custom apps are usually easier to use whenever you have multiple employees and volunteers working with data in Salesforce.
Also, read: 7 Reports in Salesforce that will help you boost revenue
Salesforce consultants come in handy
Salesforce can help you do pretty much anything. That is why it's nearly impossible to know in advance what feature you will use – and that is why Salesforce consultants exist.
A Salesforce consultant is a professional with a rich business experience that keeps up-to-date with Salesforce functionality and can offer the most efficient way of reaching your goals.
Most large organizations need custom Salesforce development, so a consultant will help select and implement all the necessary features.
Using Salesforce should be approached as problem-solving, so just have a set of tasks: "we need to outreach to donors better", "we need to raise more money", or "we need to spend less". An experienced consultant will figure out how to get it done and come up with a solution for you.
Also, read: Chatbots and Salesforce – Top Recipes for Maximum Conversions
How to get started with Salesforce for Nonprofits
The first way to go is to visit Salesforce for nonprofits, sign up and start exploring Salesforce yourself.
1. Sign up for a free trial
Nonprofits can sign up for a free 10-user license of Salesforce's Nonprofit Success Pack (NPSP), which is built on top of the Salesforce platform. This will give you access to a range of tools and resources designed specifically for nonprofits.
2. Get trained
Salesforce offers a range of training resources for nonprofits, including webinars, online courses, and in-person training sessions. You can also find training resources on the Power of Us Hub, which is Salesforce's online community for nonprofit users.
3. Customize your instance
Once you have access to Salesforce, you can customize it to meet the specific needs of your nonprofit. This may include adding custom fields, creating custom reports and dashboards, and setting up workflows to automate processes.
4. Import your data
If you have data stored in other systems, you can import it into Salesforce using the Data Import Wizard or other data integration tools. This will help you get a complete view of your constituents, donors, and volunteers.
5. Get connected
Salesforce offers a range of integrations with other nonprofit tools, such as email marketing platforms, fundraising software, and payment processors.
By connecting these tools to Salesforce, you can streamline your nonprofit's operations and get a more complete view of your constituent interactions.
6. Engage with the community
Finally, be sure to get involved with the Power of Us Hub and other Salesforce nonprofit user groups. These communities offer a wealth of knowledge and support and can help you get the most out of your Salesforce instance.
Also, read: Salesforce Nonprofit Success Pack (NPSP)- Complete Guide
Conclusion
No matter what size or type your nonprofit has, when you have a clear view of how your business is running and operating, you will be able to move ahead with a strong vision and strategies. But if it is vice versa, it ultimately stops you from achieving your desired targets, so what will be more fruitful for you? An updated and advanced overview of your NGO operations. And here, Salesforce helps you with it.
Today for many organizations throughout the world, Salesforce has emerged as the most dependable and appropriate partner, assisting them in staying current with their operational activities by delivering accurate and timely information. You will also remain informed and enjoy yourself; all you must do is use Salesforce to run your nonprofit's operations.
We can assist you if you're unsure of how to use Salesforce for nonprofits. For your best assistance and solutions, we have a dedicated team of Salesforce consultants for charities. So, don't be reluctant to get in touch with us. We're only pinging right now. However, if you lack time and require dependable, committed support and advice, get in touch with us, and let's talk about the workflow requirements for your charitable organization.
Also, read: Salesforce Task Management to help Operations – Best Tips
Frequently Asked Questions:
Q. What is Salesforce for Non-Profits, and how can it help my organization?
Salesforce for Non-Profits is a customized version of the Salesforce CRM (Customer Relationship Management) platform designed specifically for non-profit organizations. It offers a range of tools and features that can help non-profits better manage donor relationships, track donations, run fundraising campaigns, and measure the impact of their programs. 
Q. What are some of the key features of Salesforce for Non-Profits?
Salesforce for Non-Profits includes a range of features that can help non-profits with tasks such as donor management, fundraising, program management, and volunteer management. Some key features include donation tracking and reporting, customizable fundraising campaigns, volunteer management tools, and program tracking and reporting. 
Q. How much does Salesforce for Non-Profits cost?
Salesforce for Non-Profits offers discounts on its pricing plans for eligible non-profit organizations. The cost can vary depending on the size and needs of your organization, but pricing typically starts at around $36 per user per month. 
Q. Is Salesforce for Non-Profits difficult to set up and use?
While Salesforce for Non-Profits can be customized to meet the specific needs of your organization, it also comes with pre-built templates and workflows designed for non-profits. Additionally, Salesforce offers a range of training and support resources to help users get up to speed on the platform. 
Q. How can I get started with Salesforce for Non-Profits?
To get started with Salesforce for Non-Profits, you can visit the Salesforce website and sign up for a free trial. You'll be able to explore the platform and its features to see if it's a good fit for your organization. If you decide to move forward, you can work with a Salesforce partner or consultant to set up and customize the platform to meet your specific needs.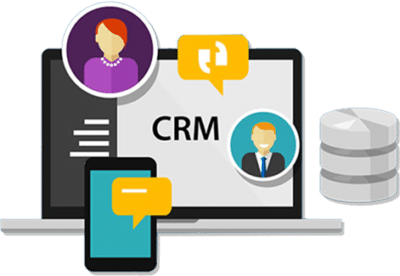 If you are new to automation and confused about Workflow or Process Builder. Need not to worry, we have got you all covered. Talk to our experts and clear all the cloudy thoughts about automation.