Businesses today want to take advantage of 24/7 engagement with their customers through a single touch point. And Customer relationship management (CRM) has become important for every business that wishes to successfully evolve using digital technologies in the era we are living in.    
CRM data's worth is gradually rising, particularly as now that chatbots are being integrated into business software. A chatbot can offer you the necessary information directly to your chat box, saving you the time and effort of browsing the website or navigating the applications.
A chatbot is a piece of software that enables clients to connect with your business, carry out simple tasks, or access specific information without requiring a human agent to do so. This enables clients to contact and communicate with your business after hours or when they cannot reach you in another way (via phone).    
One of the top platform services, Salesforce, enables businesses to use artificial intelligence (AI) to automate their CRM. Salesforce is used to track sales activity, including every lead, opportunity, and client. Salesforce will make it possible for your business to provide customers with a positive experience. 
With Salesforce chatbot integration, a chatbot will be installed in your system, giving you the power to manage several tasks. This method of information access has already gained popularity with the help of chatbots from Siri, Amazon, Facebook, and Slack.
In this article, we will discuss the benefits of using chatbots in Salesforce, use cases, and top recipes for maximum conversions.
How to create a Chatbot?   
Regardless of their scope and size, most organizations today realize a chatbot is essential for increased productivity and improved customer experiences.
Chatbots welcome customers and provide help. These AI chatbots help customers locate what they are looking for more quickly.    
Salesforce offers technology that makes it possible for customers and eCommerce chatbots to communicate precisely. The techniques to construct your chatbot are listed below:    
Choose a chatbot creation platform for AI. 
Build your bot following the platform's instructions. Set user expressions that the AI chatbot will answer and configure object identification. 
Programming the chatbot. Expressions must be used to verify if the objects are functional. Do not forget to provide room for errors. 
Also, read: A self-learning chatbot is easier than you think: steps to create your own
 How to Implement Chatbot on Salesforce?
Before you begin creating a chatbot, you must decide what it will be used for. Do you intend to use it for lead generation, sales, or customer service? You can more successfully build the chatbot if you are aware of its goal.
You now need to understand how to link a chatbot to Salesforce after generating one.
Using internal platforms with Einstein Bot and external platforms are the two approaches to integrating a chatbot into Salesforce.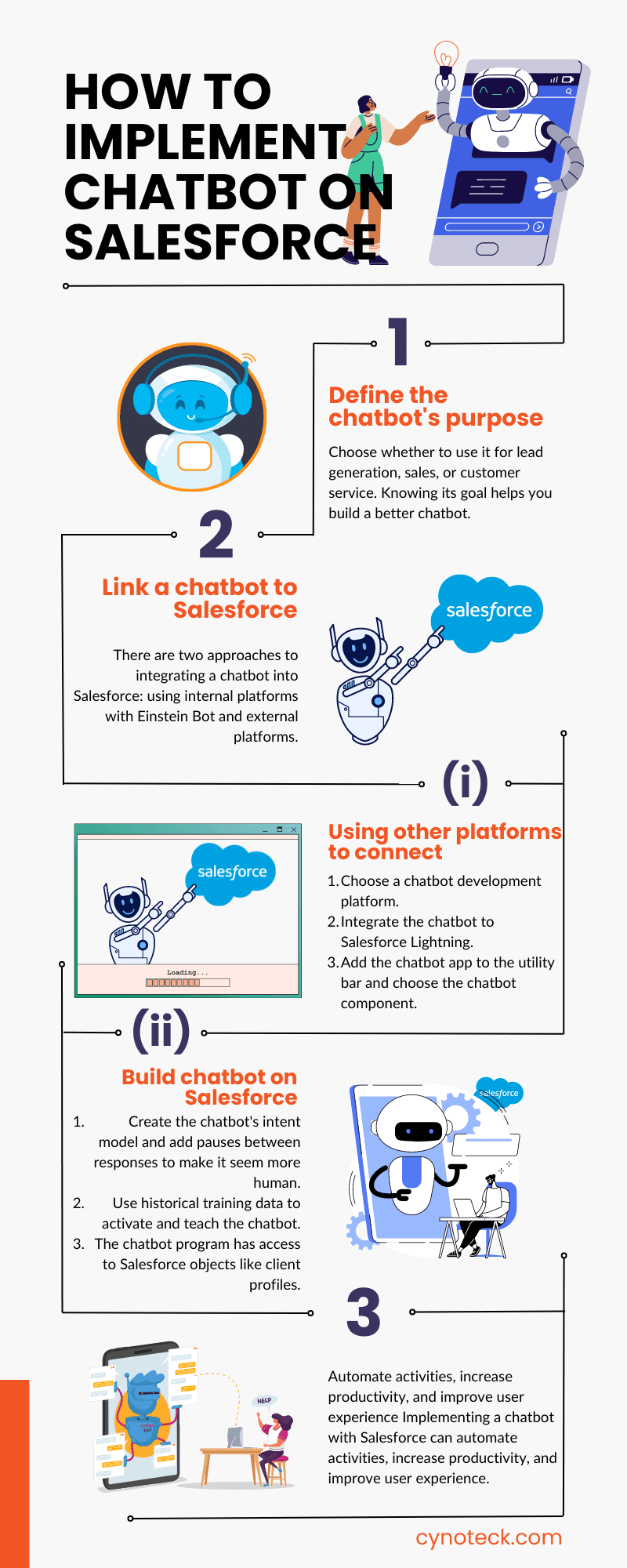 Copy Infographic
1) Using other platforms to connect 
Choose a chatbot development platform: Einstein Bot is a chatbot development platform offered by Salesforce. Salesforce can be integrated with other chatbot-building services like Amazon Lex and Dialog flow.
You must integrate a chatbot you develop on a platform other than Salesforce to Salesforce Lightning. This means you put up your chatbot app in the app manager accessible in Salesforce lightning and add it to the utility bar. Choose the chatbot component next.    
2) Build Chatbot on Salesforce 
Salesforce makes it easy and simpler to build chatbot applications. Salesforce's Einstein bot streamlines the process of developing AI chatbots. Create the chatbot's intent model and add pauses between responses to make it seem more human.
Use historical training data to activate and teach the chatbot. The chatbot program has access to objects in Salesforce. It can thus access information like client profiles.  
You can automate activities, increase productivity, and improve user experience by implementing a chatbot with Salesforce. 
Also, read: 10 Powerful AI Chatbot Development Frameworks
Salesforce and Chatbots – Top Recipes for Maximum Conversions
Mentioned below are some of the best practices that can help in using chatbots and Salesforce to maximize conversions: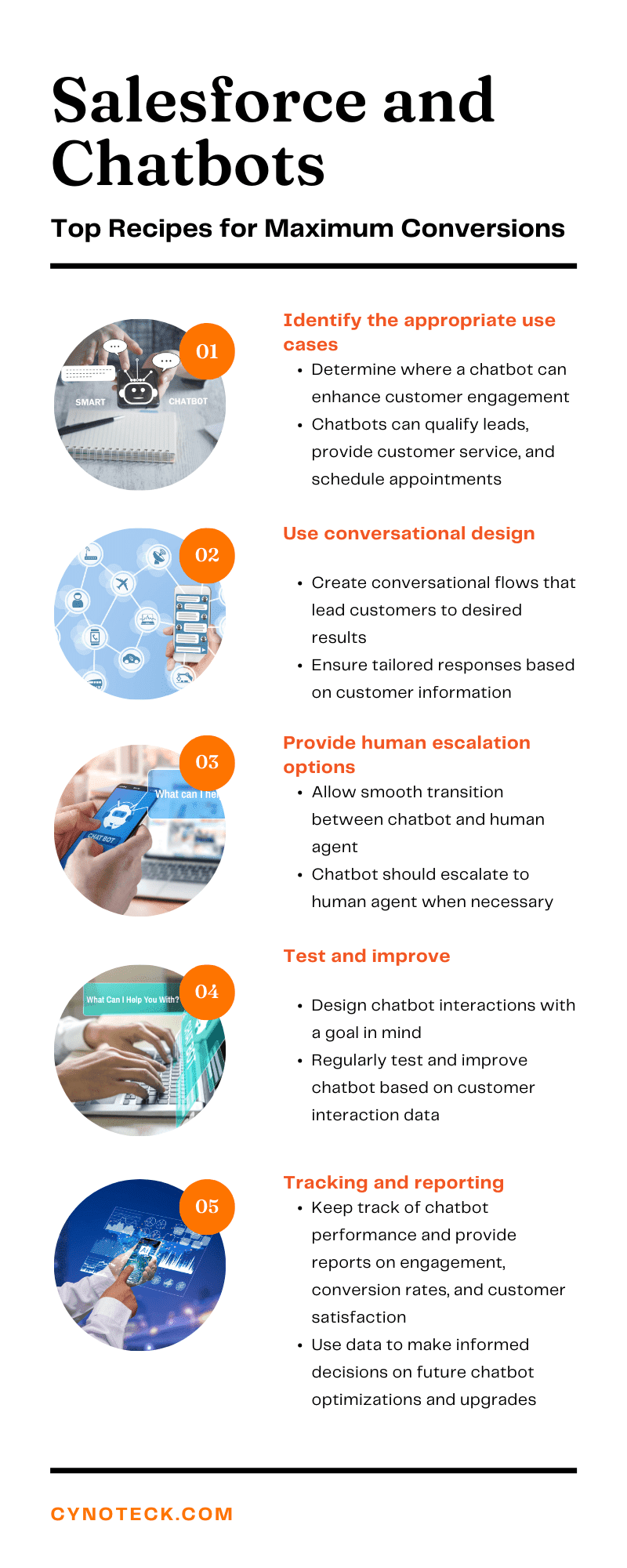 Copy Infographic
1) Identify the appropriate use cases 
Determine the areas where a chatbot can most significantly enhance consumer engagement and experience before putting it into use.
Customers have had trouble communicating effectively with brands in the past. A few problems existed, like long wait times, poor customer service, a lack of personalization, etc.
Now, though, a startlingly different narrative is being told by the customer experience environment. Artificial intelligence developments have altered how organizations previously interacted with their customers.
A chatbot can be used, for instance, to qualify leads, provide customer service, and schedule appointments. 
2) Use conversational design 
Every conversation is an opportunity to develop relationships, whether it is with a potential new client or an existing customer.
Successful businesses use conversation design to reduce customer pain points and build trust.
So, you must create conversational flows that lead consumers to desired results while still seeming natural and interesting. Make sure the chatbot offers tailored responses based on customer information. 
3) Provide human escalation options 
As a conversation designer for Salesforce's user experience team, we have seen that when bots behave and appear too much like people, they can have an unintentionally unsettling or creepy feel. Instead, you need to lessen the robotic nature of bots.
Even though chatbots can do a variety of activities, customers sometimes need a human representative.
Make sure there is a smooth transition between the chatbot and a human agent and that the chatbot can escalate, as necessary. 
4) Test and improve 
Designing chatbot interactions with a goal in mind will let you adjust based on how well the goal is performing.
As the bot returns a knowledge article, creates an order number, or submits a case, for example, adds a target to track how frequently your customers reach that point in the conversation. The chatbot must then be regularly tested and improved to become more useful.
Consider customer interaction data while adjusting the conversational design, language, and messaging. Your chatbot is better able to serve your clients' demands the more frequently they achieve their goals. 
5) Tracking and reporting 
Keep track of chatbot performance and provide reports on important indicators like engagement, conversion rates, and customer satisfaction.
Make informed decisions about future chatbot optimizations and upgrades using this data. Learn how to report on bot behavior to enhance your bot.
The conversation definition dialog daily metrics, conversation definition sessions, and conversation definition hourly dialog metrics objects can be used to create standard reports.
Get the Einstein Bots Value dashboard from AppExchange to leverage CRM Analytics with Einstein Bots. 
Also, read: The Role and Risks of chatbots in Healthcare Industry
Conclusion
To follow up and handle all the business, new leads, and client conversations, though, might feel a little stressful as the business expands. When you add a Salesforce chatbot, you can improve internal productivity and efficiency while raising the bar for customer service. 
Integrating the chatbot with Salesforce will increase efficiency by automating procedures. As a result, the chatbot can be able to access client information, change records, and carry out other tasks. Businesses can use chatbots and Salesforce to their fullest potential by adhering to the best practices, which will improve customer engagement and boost sales. 
You will need to carefully consider the value of using a chatbot in your business. Your customers will value how customer care chatbots quickly and effectively address their queries and issues. Your team will continue to concentrate on difficult customer service issues rather than responding to common queries. And once new situations come your way, you will be able to scale your support with ease to address them. 
Also, read: Chatbot Developers vs Ready-made Solution: Know What's Right for your Company
FAQs (Frequently Asked Questions)
1) What is an Einstein Chatbot?
With Salesforce Einstein Bots, you can unleash the power of chatbots if your business uses Salesforce.  
Einstein chatbot can help your business in the following ways:   
i) Getting the order number of a customer and informing them of the status of that order.  
ii) Let customers reschedule appointments without interacting with chat agents.  
iii) If a technical problem or support query is not resolved by searching your knowledge base, file a case in Salesforce and request additional help.  
2) What role do chatbots play for different businesses?
Chatbots can have a significant impact on your organization. Customers can rapidly get the information they need with the use of self-service tools like chatbots, which can lower contact traffic. Moreover, chatbots can be used to automate processes like updating order statuses, freeing up your support staff to work on more difficult jobs.  
3) What are the benefits of Salesforce integration for conversational bots?
A conversational bot and Salesforce together have several benefits. CRM can quickly and simply obtain client data with the help of such a relationship. And if a chatbot user (customer) wants to know details about the order, he/she can ask the bot directly, and it will respond based on his Salesforce data. The user will receive a prompt response from the bot, eliminating the need for a real human to spend time looking up and sending these details.     
Integrating chatbots with this CMS enables more effective permission management and automation of routine customer support duties. This enables businesses to provide their customers with satisfactory feedback (via conversational agents), which ultimately increases their loyalty.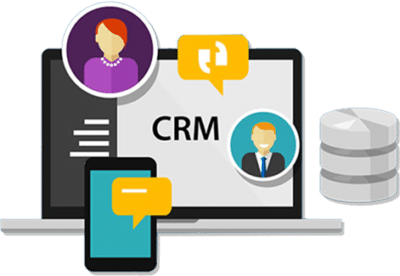 If you are new to automation and confused about Workflow or Process Builder. Need not to worry, we have got you all covered. Talk to our experts and clear all the cloudy thoughts about automation.