In the face of a climate crisis, the need to cut carbon emissions is important. Collective action is necessary for individuals, corporations, investors, and regulators to combat this challenge. Global net-zero targets require a balance between emitted greenhouse gases and removal efforts, necessitating both natural and technological interventions. Salesforce addresses this complexity with the strategic introduction of the Net Zero Cloud, offering businesses a way to accomplish their net-zero ambitions.
Enabling the transition to a sustainable tech-oriented business model necessitates a carefully crafted action plan. Centred on data-driven protocols, this blueprint plays a pivotal role in curbing carbon emissions route to net-zero milestones.
The strategic integration of Environmental, Social, and Governance (ESG) principles promotes continual sustainability, yielding enduring value when harnessed as a strategic asset.
A pioneering solution, Salesforce Net Zero Cloud, empowers quick climate actions across diverse sectors via enriched data insights. Notably, it concurrently improves transparency, strengthening organizational credibility.
What is Salesforce Net Zero Cloud and why it is important?
The Net Zero Cloud traces emissions originating from energy consumption, travel, and supply chain operations. It empowers enterprises to rigorously manage and govern their carbon footprint across the entirety of their value chain. This precision helps in pinpointing improvement opportunities and establishing focused goals for emission reduction.
Salesforce Net Zero Cloud serves as a reliable Salesforce platform offering a suitable depository for your environmental data. This enables streamlined tracking, analysis, and reporting of carbon emissions and waste management metrics.
Elevating sustainability efforts promotes emission reduction, thus strengthening organizational performance and cultivating a respectable reputation through eco-conscious practices.
Also, read: How to Perform a Salesforce Health Check?
How Salesforce Net-zero Cloud Can Help Businesses?
In the dynamic and evolving landscape of today, integrating sustainability into fundamental corporate strategic planning is no longer optional, but imperative for survival.
Businesses must seamlessly infuse sustainability into their daily operations, encouraging a dependency on partners and technology to steer this important evolution.
Salesforce has pioneered a comprehensive sustainability platform that integrates sustainability services with the ability of Salesforce Net Zero Cloud. This integration provides businesses with essential insights required to seamlessly implant sustainability across all operational aspects.
The influential Salesforce Net Zero Cloud enables precise tracking, analysis, and reporting of critical environmental data, propelling businesses toward their net-zero aspirations.
Let's take a quick look at some of its key characteristics before you decide to employ Salesforce Development Services to use it to the maximum: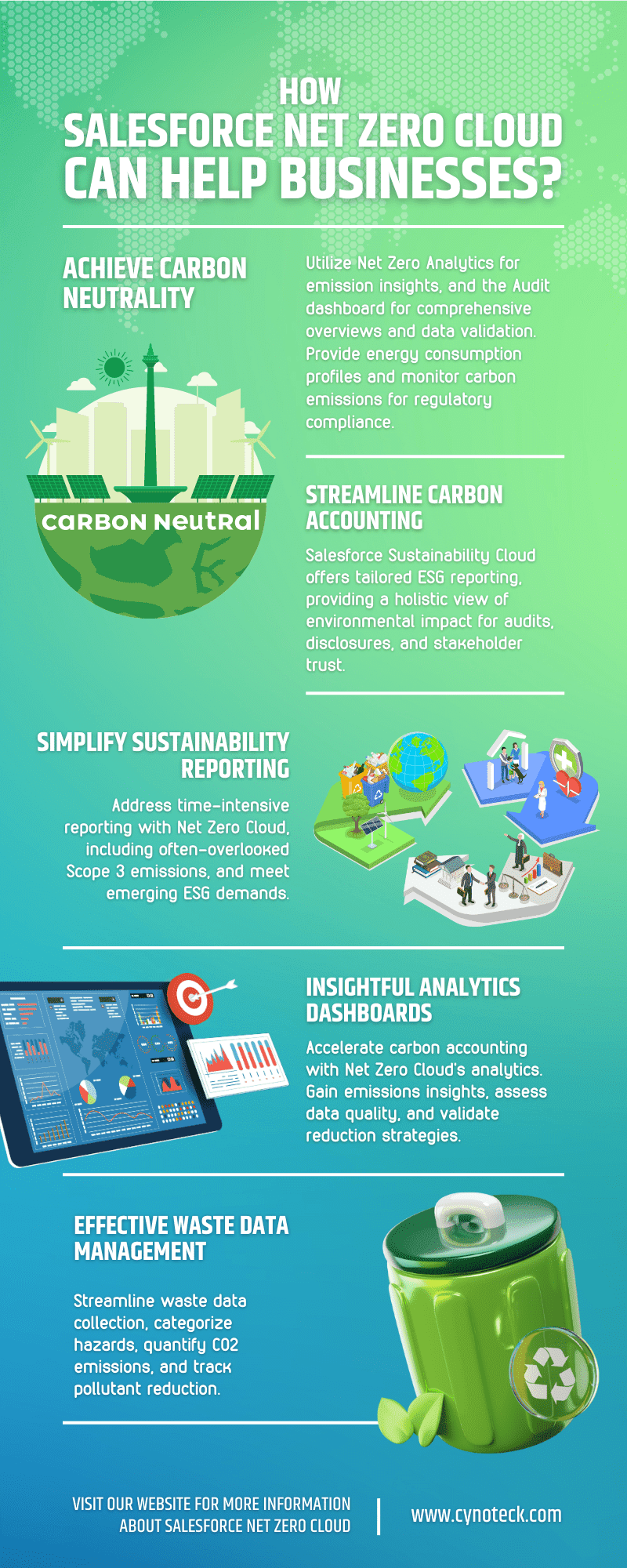 Copy Infographic
1) Adopt Net Zero Goals and achieve carbon neutrality
Leverage Net Zero Analytics dashboards to gain insights into emissions originating from travel, procurement, vehicles, and assets. You can employ the Audit dashboard for an encompassing emissions overview, data quality assessment, and validation of emission reduction strategies.
Incorporate data-driven insights throughout your business, showcasing a commitment to eco-friendly practices to stakeholders. You can offer regulatory bodies a comprehensive energy consumption profile and employ advanced analytics to monitor carbon emissions and energy utilization.
2) Carbon Accounting Audit
Salesforce Sustainability Cloud empowers customer monitoring and enables proactive carbon emissions reduction by delivering tailored ESG reporting.
This feature presents a comprehensive perspective of your organization's environmental impact and investor-level data. Vital for third-party audits, financial disclosures, reputation management, and promoting trust among stakeholders.
Prominent corporations are actively participating in this endeavor to mitigate harmful gas emissions, underscoring their commitment to environmental preservation.
3) Environmental Sustainability and Climate Reporting
Salesforce Net Zero Cloud addresses the burdensome reporting process, which can take up to 6-7 weeks to 6-7 months for organizations.
Notably, it includes Scope 3 emissions, a frequently overlooked aspect in carbon reporting. These emissions arise from activities outside the organization's direct control but within its value chain, intensifying its indirect influence.
And demands for reporting on environmental, social, and governance (ESG) matters are also emerging for organizations, accompanied by governments' proactive disclosures of climate-related financial prospects and risks.
4) Net Zero Analytics Dashboards
By adopting Sustainability Cloud, Salesforce achieved a remarkable reduction in carbon accounting time—from over six months to just six weeks. This solution offers a comprehensive view of a company's environmental impact, along with investor-grade data for customizable ESG reporting.
Utilizing Net Zero Analytics dashboards provides insights into emissions linked to travel, procurement, vehicles, and assets. The Audit dashboard furthermore offers an emissions overview, data quality assessment, and validation of reduction strategies.
5) Waste Data Management
Salesforce Net Cloud describes a significant step toward environmental sustainability. It streamlines waste management data collection, encompassing various hazard impacts. The platform categorizes waste by nature and duration.
Moreover, it enables the quantification and management of various harmful gas emissions, notably CO2, offering a mechanism to track the reduction of these pollutants and their corresponding carbon emissions equivalents.
Also, read: What is Salesforce DMP? A Comprehensive Guide to Data Management
Salesforce Net Zero Cloud – Technological benefits
Integrated within the Salesforce platform, Salesforce Net Zero Cloud leverages the same capabilities that establish Salesforce CRM as the global leader.
It was originally designed for internal use, but Net Zero Cloud was progressively refined into a commercially accessible product as its features evolved. Here are a few advantages it offers:
Different integration opportunities with external systems and seamless data import converge to provide a comprehensive emissions overview within a singular tool. This works as the pivotal ESG command center for your organization.
Net Zero Cloud empowers users to manage complex analyses and forecasts. Preconfigured ESG reporting templates within the system offer guidance and markedly expedite the responsibilities of ESG data management within your organization.
Promoting a Supplier Portal, Salesforce Net Zero Cloud allows seamless information exchange between your organization and collaborating companies. Suppliers can input emission data manually, import files, or utilize diverse plug-ins and connectors to streamline the process.
Collecting data from suppliers allows comprehensive supply chain reporting. This is particularly important for environmentally impactful supply chain operations.
Also, read: Salesforce for Retail: How Can Salesforce Strengthen E-commerce?
Conclusion: Why do businesses currently need Salesforce Net Zero Cloud?
Dedicated to accelerating the global transition to clean and renewable energy, Salesforce anticipates a world powered by sustainable sources. Measuring emissions is often complex and time-intensive, but climate action surpasses mere emission control. Salesforce's commitment to improving customer experience extends to environmental considerations.
Their latest innovation, Salesforce Net Zero Cloud 2.0, empowers businesses to monitor energy usage, catalyzing improvements and strategies for energy reduction and carbon footprint mitigation. Adopting Net Zero Cloud is crucial for businesses desiring to ecological and operational excellence.
Moreover, Salesforce Net Zero Cloud offers seamless customization and configuration to align with each client's unique requirements. Understanding the diversity of companies and their distinctive paths toward sustainability, this adaptability ensures customized solutions.
Also, read: Salesforce Implementation Checklist: Best Ways to Get the Most Out of Your CRM
FAQs (Frequently Asked Questions)
1) What does the Net Zero policy include?
The fundamental principle of a Net Zero policy involves minimizing greenhouse gas emissions and allowing the remaining emissions to be reabsorbed by natural systems like oceans and forests. This equilibrium creates a net zero state. Global net zero attainment means emitting no more greenhouse gases than can be eliminated through natural processes or advanced technologies.
2) What is the difference between Net Zero Cloud 2.0 and the previous version?
Salesforce Net Zero Cloud stands as a purpose-built sustainability management platform, helping organizations in managing their environmental impact and monitor their journey toward net zero. Employing Net Zero Cloud grants access to a packed repository of carbon emissions data. It promotes detailed asset analysis, evaluating impact across various dimensions. Additionally, the platform provides insightful reports and executive-ready graphical representations with full comfort, streamlining emissions tracking and management.
3) How does Salesforce plan to achieve net zero as a company?
For more than a decade, Salesforce has undertaken a dedicated sustainability evolution. However, it has been acknowledged that sustaining net zero residual emissions and realizing lasting sustainability objectives is an ongoing endeavor. This continuous process involves quick emissions reduction, alongside the procurement of 100% renewable energy and high-quality carbon credits to offset any remaining emissions.
4) How do businesses get Net Zero?
It is believed that net zero is an ongoing journey, a compelling collective commitment to a fair and equitable transition to zero emissions globally. Powered by carbon accounting software, businesses can accomplish 90-95% emissions reduction, bridging the rest by extracting carbon from the atmosphere to offset the remaining 5-10% of emissions.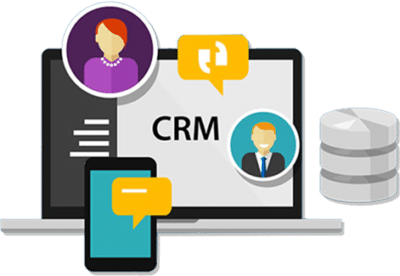 If you are new to automation and confused about Workflow or Process Builder. Need not to worry, we have got you all covered. Talk to our experts and clear all the cloudy thoughts about automation.