Businesses continue to make new investments in Salesforce as they understand the necessity for a system that not only unites business processes but also provides a data-rich and seamless experience while engaging with customers. If you have a Salesforce solution, your essential decisions will be based on quantifiable and accurate data. Any leading sponsor of a company that has newly invested in Salesforce will do some number crunching for justifying investment from the very beginning.
If you're investing in any modern technology, you need to be sure that technology does what it had promised to do. For any investment, you need to preserve it, nurture it, observe it, and make changes for the highest possible returns. This can also be monitored by understanding ROI, which is how much cost savings or profit is achieved. 
Salesforce is a CRM that simplifies the process of gathering, analyzing, and tracking data. Numerous factors contribute to achieving a strong Salesforce ROI in terms of profit gains. It is always recommended for beginners to get your Salesforce implementation done right.
Now, what parameters you can use to evaluate your company's Salesforce ROI? You can begin by boiling down every quantitative benefit collected from performance metrics over each department and then proceed to measure the qualitative benefits, like customer happiness and user adoption because that is what the Salesforce ROI is all about, an intelligent mix of both.
So be careful that even if you observe an increase in profit, during the beginning, it will not last if there is no uniformity in customer experience. 
Also, read: 7 ways CRM improves your customer experience and boosts revenue
What is the ROI of Salesforce CRM?
Whenever you are looking at some modern technology for your business, you should always remember what kind of return you can expect from your investment. This works especially right while implementing a key business system like an ERP or CRM.
Calculating Salesforce ROI
There are a large number of claims that say that Salesforce CRM is a "magical compound" for business. We understand that this can be absolutely true, but there several factors that go into its success for your business, and we see some remarkable results. There is a fair amount of risk that comes with a Salesforce CRM implementation, starting from the correct implementation until the users adopt the system. 
Businesses today should consider the overhead costs of Salesforce subscription services, hardware, consulting, and training over 3 years compared to the overhead costs for measuring the ROI of Salesforce investment, before implementing Salesforce. 
Benefits of Salesforce CRM:
The very initial step in determining the ROI of Salesforce is to understand the benefits of CRM. Your customers are your business. Whether you are a B2C or B2B or an organization, knowing and serving your customer is the key to success. A CRM is a system for exactly that. It intends to develop quality relationships with your current and existing customers.
Some other benefits of implementing CRM are: 
Better Data and more insights 
Productiveness and Efficiency through Automation 
Better Consumer Experience 
Effective Marketing  
Better Team Collaboration 
Ability to Cross-sell and Up-sell 
Key Metrics to track CRM ROI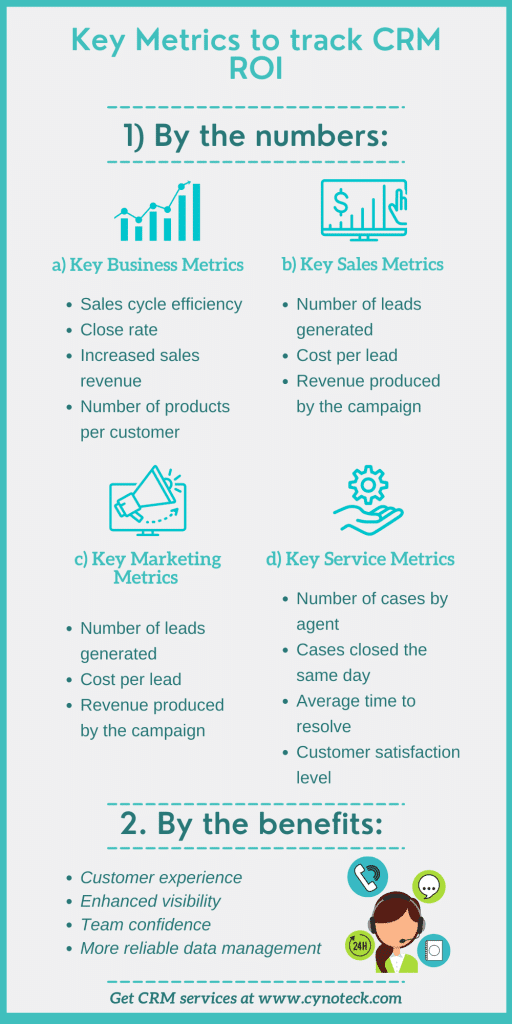 Copy Infographic
1) By the numbers:
a) Key Business Metrics:
Process enhancement 
Profit gains 
Cost savings 
Team productivity 
Investment break-even point  
b) Key Sales Metrics:
Sales cycle efficiency
Close rate
Increased sales revenue 
Number of products per customer
c) Key Marketing Metrics:
Number of leads generated
Cost per lead
Revenue produced by the campaign
d) Key Service Metrics:
Number of cases by agent
Cases closed the same day
Average time to resolve
Customer satisfaction level
2) By the benefits:
Customer experience 
Enhanced visibility 
Team confidence 
More reliable data management 
Measuring Salesforce ROI
A lot of quantified metrics help you in measuring the return on investment for Salesforce. But the challenge here is to decide which of your team's achievements are directly bound to your software and process investments.
Copy Infographic
The following four tips help you in measuring your Salesforce ROI.
1) Costs vs. Sales Growth
One way to measure Salesforce ROI is to match your sales growth sales for a particular period against the costs of your technological implementations. One of the main purposes for utilizing a tool like Salesforce is to provide more beneficial information to your teams, so that they can provide better service to your consumers in return.
It is important to measure profit growth over time to obtain a real picture of the Salesforce impact and identify trends in your business. 
2) Sales Growth from Tools
Another key measurement challenge is to determine when Salesforce tools directly contribute towards improvement. You can get to know how much impact a tool is having with the help of feedback from your team's experiences. This kind of qualitative feedback is very essential in determining how your team feels about the tools that you have paid for. 
3) Forecast Accuracy
As a supervisor, one of your preferences should be accurate sales forecasting. It can become hard to effectively manage budgets to manage costs if you are off on forecasts. If your organization is actively providing the latest data and information into Salesforce, then analyzing that data will provide you a clear and sharp line-of-sight about potential sales. 
A stronger relationship between CRM activities and actual revenue will indicate that your team is using Salesforce to explore opportunities and evaluation processes. 
4) Revenue Per Lead
Revenue per lead is an essential CRM metric. If your team is utilizing Salesforce from prospecting stages through relationship management, your pipeline performance should considerably improve, and you should be able to determine revenue per lead.
To measure growth in revenue per lead, you can break your total sales throughout a period by the number of active leads. Your average revenue per lead will grow up with Salesforce and can be improved with lead nurturing systems like HubSpot and Marketo.  
When your team is constantly following processes and appropriate data is entered into CRM you will be able to track the aspects of your efforts that boost lead conversion. 
Also, Read: The Guide to Salesforce Deployment checklist
Conclusion
Salesforce ROI Calculator comprises a mix of tangible and intangible metrics. It is crucial to remember that your investment is not simply in software, it is more in your people. Learn to recognize other factors that will affect the cost of ownership, including support, training, and custom programming. 
It is essential to keep analyzing and tracking the qualitative impact of Salesforce CRM on your business to easily calculate ROI. Salesforce CRM allows different departments to collaborate seamlessly and promotes intelligent decision-making by showing managers a clear picture of the performance of the department. This results in business processes being standardized and streamlined. 
Ultimately, Salesforce CRM promises a significant return on investment (ROI).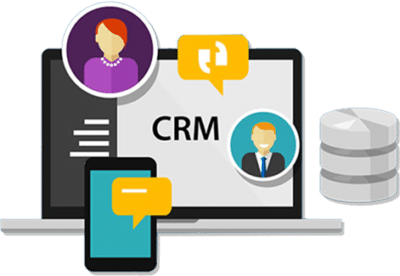 If you are new to automation and confused about Workflow or Process Builder. Need not to worry, we have got you all covered. Talk to our experts and clear all the cloudy thoughts about automation.