Microsoft Dynamics 365 is a cloud-based enterprise resource planning (ERP) system with excellent customer relationship management (CRM) abilities and expertise. This platform incorporates rebranded versions of Microsoft Dynamics CRM and Microsoft Dynamics AX. This Dynamics 365 helps businesses reach more reliable decisions based on recommendations and data-driven insights. Businesses can function more efficiently by optimizing and automating manual tasks with intelligent workflows. 
Businesses streamline their required tasks for administrative services by using this Microsoft Dynamics 365 suite of cloud-based business applications. This saves your workforce to concentrate on what's essential, such as creating and maintaining customer relationships and keeping up with promising business leads. Dynamics 365 offers flexibility which is why so many businesses adopt it as their CRM. 
Dynamics 365 further uses a modern approach to ERP functionality by incorporating artificial intelligence (AI), mixed reality (a combination of reality and virtual reality), and machine learning tools for businesses. This solution offers various features like Automated fraud protection, Predictive guidance for sales, Product visualizations, Virtual sales agents, Mixed-reality remote assistance, etc.
After examining these features, you may wonder about the Microsoft Dynamics 365 implementation cost. You can choose and decide which components of Dynamics 365 you want to buy a license for, enabling businesses to build a customized platform that provides them the accurate functionality needed for day-to-day operations.
Also, read: Microsoft Dynamics 365 Sales Insights add-on & How to Configure
What are the major cost elements?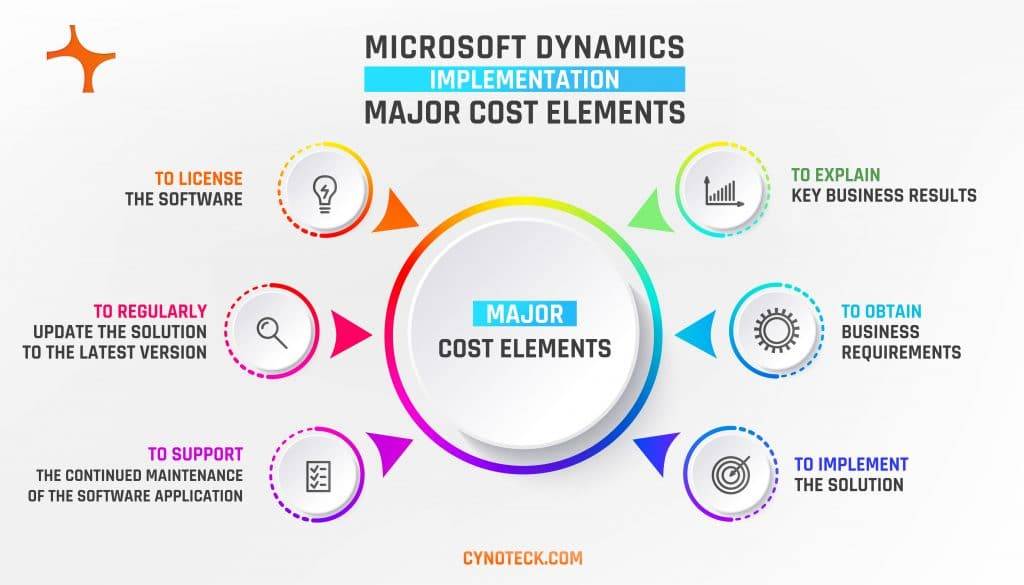 Copy Infographic
Businesses should not only consider the cost to execute a particular solution but also the cost of the effort needed to get the business case approved:
To explain key business results
To obtain business requirements
To implement the solution
To license the software
To regularly update the solution to the latest version
To support the continued maintenance of the software application.
You should also consider internal and external costs while preparing the business case
Businesses thoroughly consider the major costs of the external vendors but fail to accurately analyses the internal costs like the resource requirements, disruption to the business, and the cost of not allocating experienced professionals to conduct an activity if internal resources are contributing to the project deliverables.
There are two versions of Microsoft Dynamics 365: Enterprise and Business. This former is the least costly option and is intended for small and medium-sized organizations including up to 99 employees, while on the other hand the Enterprise edition is intended for organizations with 100 or higher employees. The cost of Dynamics 365 depends on the version, the number of users, and their roles in terms of what features of the software they require to access for performing their job roles and functions.  
In extension to role-based licensing, there is a more popular application-based licensing, under which you would spend a per-user price for individual apps, like Dynamics 365 for Sales, Customer Service, Operations, Project Service Automation, or Field Service. 
By combining processes with the unstructured work of collaboration productivity (Microsoft 365) along with the structured workflow of business applications (Dynamics 365), you can facilitate greater productivity wherever required, so that it empowers employees with the help of productivity tools that support daily business processes. Microsoft PowerApps is usually employed in combination with Dynamics 365 and is suitable for application-based licensing as well.
Also, read: 7 ways CRM improves your customer experience and boosts revenue
Dynamic 365 Business Central is available with 3 License types:
a) Essentials: $70 per user per month
Financial Management 
Supply Chain Management
Customer Relationship Management
Human Resources Management 
Project Management 
Warehouse Management 
b) Premium: $100 per user per month
Everything in Essentials
Service Management 
Manufacturing
c) Team Members: $8 per user per month
Read anything within Business Central
 Update existing data and entries in Business Central – (with some reasonable restrictions)
Approve or reject tasks in all workflows assigned to a user 
Create, edit, delete a quote 
Create, edit, delete personal information
Enter a timesheet for Jobs 
Use Power Apps/Power Automate Use Rights with Dynamics 365 license
For Dynamic 365 for Finance and Operations, a solution created for medium to large organizations, costs start at $190/user per month on the Unified Operations plan and go up to $210/user per month for the complete Dynamics 365 plan, plus it requires a minimum of 20 licenses.
Dynamics 365 Marketing 
Dynamics 365 Marketing – $750 per org/month – 10 Dynamics 365 users minimum
Dynamics 365 Marketing – $1500 per org/month – Less than 10 Dynamics 365 users
Additional Licenses:
Team Member – Perform basic processes and share knowledge. 
$8 per user/month
This Dynamics 365 cost breakdown is just for the software; it does not involve configuration, installation, or any additional products and services that might be needed to successfully deploy your preferred edition. 
Also, read: Agile ERP Implementation – Advantages and Things to Consider
The Best Way to Implement Dynamics 365
Microsoft Dynamics 365 Implementation can be calm and stable for some and may become very unsettled for others. This mainly depends on a few factors, like the real vs. anticipated cost of implementation, what is the skillset of the team to deliver, the complexity of the solution, how those involved business stakeholders are, administrative sponsorship, and more.
Now let us find out how to decrease the costs, not only for implementation but also for upgrading and supporting the application during the long run. A guiding policy for a COTS solution (third-party solutions) implementation is to configure instead of customizing.
It does not imply that you have to negotiate on functionality; instead, it would only be a different method of accomplishing the same functionality. This can be considered as a guiding principle or policy, not as just a method of implementing a Dynamics 365 application. The customizations can be made to accomplish more complicated business requirements and it is sometimes necessary for those business stakeholders to choose the system. But, by understanding and following this principle, you can surely minimize the cost wherever possible.
Also, read: Adobe Sign for Microsoft Dynamics 365 CRM integration Guide
Conclusion
Microsoft Dynamics 365 adoption can become your most substantial start in the journey of Digital Transformation. Dynamics 365 provide you with some beneficial components that help you cover all perspectives of your business processes and operations. These components work independently, as well as with seamless integration. 
Microsoft Dynamics products have gone through brand changes. You should begin with the Microsoft dynamics implementation project plan from day one that should include some of the best practices, quality, and speed, a proven, structured implementation methodology to retain your Dynamics 365 project on track. This article aimed to establish some budgetary limits for implementing Microsoft Dynamics 365 and will assist you in planning a successful CRM implementation, let's start!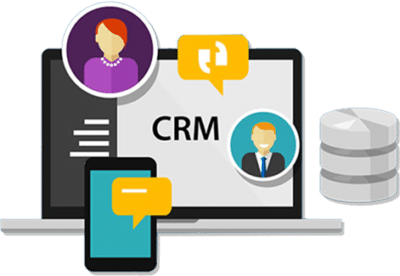 Cynoteck Technology is a leading expert on Microsoft Dynamics 365 and we provide an array of Dynamics 365 Consulting Services to all size of businesses. Get in touch with us for latest updates on Dynamics 365.