It is a mandatory task to keep your website up to date. Optimized content, a secured website, timely review of metrics, etc. To understand thoroughly we have prepared a whole website maintenance checklist so that users don't miss out on important features. For better assistance, we've also mentioned how much website maintenance costs. 
Prospective clients are most likely to go to your website first in their search for pertinent information, value, and professionalism. Any lack in terms of UX, outdated content, or loading may increase your bounce rate. Make sure to go through all the important steps and ensure a rewarding platform for your business. 
What is Website Maintenance? 
Website Maintenance is a set of multiple procedures used to make sure your website is adept, current, and operating as intended. It covers the website's general upkeep in terms of security, long-term development, and planning your content delivery and marketing strategy. 
Components of Website Maintenance
1. A Steady Website Support
Once after formation, a website requires continuous support and maintenance in terms of the upgradation of content or features.
Technology keeps changing and helps users by enhancing features from time to time. If you avoid adding these features to your website, then you may face a downfall.
Consumers might lose interest as everyone likes to try new service, feature, or upgrade. 
Another important component of website support includes resolving bugs and eliminating errors. User experience is the ultimate key to a successful business.
You'd never want to visit any site more than twice if you've faced certain issues repetitively. Website management comprises continual support for the smooth functioning of the website. 
Website support is a broader term and compromises several different features under one category. For example, changes to be made to the designs or assisting users while navigating the site. Assisting new users in setting up an account or looking for services. 
2. Website Security
The most common threat to any website is cyber-attack.
According to the data, every 39 seconds there's a cyber-attack & around 30,000 websites are hacked every day globally.
The cyber threat does not distinguish between big giant businesses or small start-ups it targets anyone on the web.
It is found that around 43% of cyber-attacks target small businesses. 
So, it becomes extremely important to be careful of your website and conduct timely precautionary measures. One should always ensure that the website is up to date & can determine as well as prevent cyber threats. 
It encompasses both direct and indirect management, which includes things like malware scans and changing the architecture of your website.
Indirect management includes things like installing strong firewalls and other effective measures to thwart possible hackers.
3. Content Management 
Website is a constant platform, only there can be timely additions made concerning content to make it relevant to the masses. Content management is a broader term and includes several different components such as adding images, articles, and blogs and making consistent changes to web pages.
Web content optimization is considered a potent factor in content management. It takes knowledge of both HTML and SEO to prepare text on the web properly, which is both an art and a science.
The same applies to uploading photos, which should be size-compressed and tag-optimized to maintain the speed of your website.
If you want your website for the long run, make sure to keep content management up to date. It's one of the most important components of website maintenance. 
Also, read: 8 Reasons Why your Website Needs a Mobile Application
Importance of Website Maintenance
Effective management is essential to the success of any venture, and there are, several compelling reasons why website management is important:
1. It saves time & cost
Managing business processes has never been easy. With the advent of digital technology, there are several important tasks easily manageable and that is too effective.
This can help businesses save tons of time and money. By streamlining essential procedures and promoting more productive collaboration and working methods, website management technologies and strategies help in cost reduction.
2. Ensuring Productive Growth 
The easiest way to make sure you're prepared to scale your business in the future is to adopt good website management tools and practices right away.
The right business strategy and plan implementation provide promising results in the longer run. 
3. Timely upgradation 
Web pages are dynamic and not static. It requires continuous enhancement, in terms of revision. Content updating is constantly being produced and distributed.
These procedures quickly get complicated, difficult, and expensive without competent website administration.
4. Inevitable errors
Continuous work is needed for website maintenance yet sometimes there are fallouts. Due to any reason, poor management can hamper your business (especially if you are an e-commerce platform).
If not prevented timely poor management can lead to website downtime. There are several competitors as well as attackers always up to compete or damage your website. 
Looking for Web Application Development and Maintenance Services
Send us your requirements, we will get back to you with a quote
A Complete Website Maintenance Checklist 
A checklist helps to maintain a proper strategic analysis of the website. The ultimate checklist is compromised on a weekly, monthly, quarterly as well as annual basis. Evaluation of the website followed up by demanding changes helps to maintain an optimized site with profitable results.  
Weekly Tasks of Website Maintenance Checklist: 
On daily basis, there are a few mandatory tasks on weekly basis you need to keep in mind.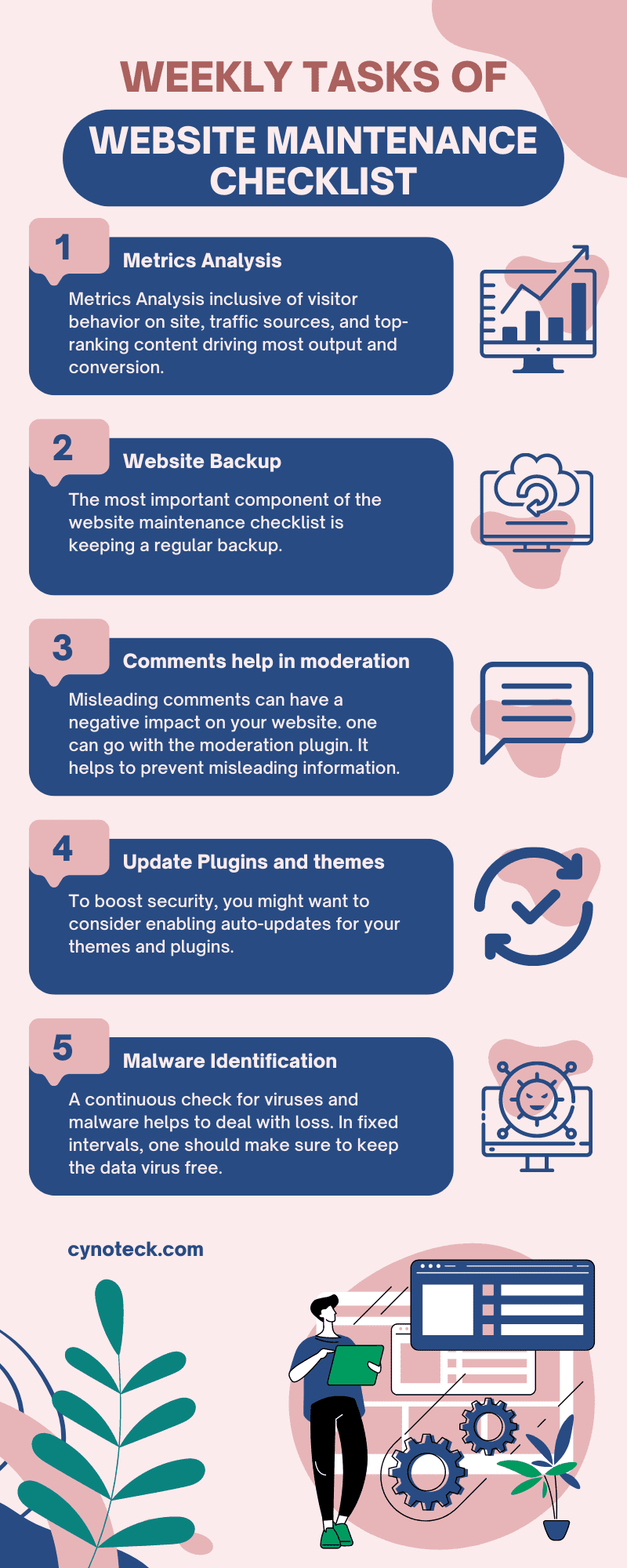 Copy Infographic
1. Metrics Analysis 
There are multiple sources whose data review is very important. Data inclusive of visitor behaviour on site, traffic sources, and top-ranking content driving most output and conversion. 
Once you review your data, you'd be able to focus on the issues and fix them on time. One of the most crucial points to remember is speed.
It plays a vital role in retaining users who have directly or indirectly landed on your website. This helps to review data on weekly basis. 
2. Backup is important for the website 
The most important component of the website maintenance checklist is keeping a regular backup. If by any misfortune you miss on data backup, then there are chances you might lose your data. 
3. Comments help in moderation 
Users are more likely to engage with your website when the comment section is active. However, there is a negative side to the comment sections.
Attackers may try to use spam comments to lure you into publishing malicious stuff. Wrong content can be hazardous for your website.  
There are always people whose intent is to propagate the audience in a wrong manner. Either by posting comments with misleading information or offensive content. This can have a negative impact on your website.
To manage this issue, one can go with the moderation plugin. It helps to prevent misleading information. 
4. Update Plugins and themes
An outdated plugin or theme is of no use to your website. One should always keep a regular check on updates. It helps to add new security features on a timely basis.
To boost security, you might want to consider enabling auto-updates for your themes and plugins while we have this task on our maintenance to-do list.
5. Malware Identification 
A continuous check for viruses and malware helps to deal with loss. In fixed intervals, one should make sure to keep the data virus free. 
Also, read: What can web-based applications do? – the expert approach
Monthly Tasks of Website Maintenance Checklist: 
By monitoring your search engine performance and site speed, you can stay one step ahead of the competition. You can prepare a monthly strategy, here check out the plan month-wise web maintenance checklist.   
Copy Infographic
6. Mandatory speed test
The bounce rate creates a negative impact on the website. A slow website prevents maintaining a good number of potential customers. 
7. Regular content updating 
Timely updating of interesting content helps to engage users. This is one of the most impactful ways of converting into potential regular customers. If you produce high-quality content regularly, it gains the trust of the consumers and helps them. 
Readers as well as search engines use the content to know more about your website. So regularly publishing content in various forms helps to increase the chances of ranking up on the overall search.  
The best way to post quality content on your website is to make sure that you are following Search Engine Optimization (SEO) guidelines. An experienced SEO team performs at max utilization of content. 
8. Improving SEO 
No matter how hard you work on your website, you might have a great UX and smooth functionalities for users.
Yet if you miss search engine optimization on your site then it might not give the desired hope you wish for. You want to keep a timely check on ongoing trends and optimize the keyword search volume etc. 
You need to ensure that you've made the mandatory changes required as per the keyword strategy. Followed up by reviewing each segment of the site. It acts as an assurance that the changes will help to spike up search engine optimization.  
After thorough SEO research, all you need to ensure is to keep a timely check on your website. And check whether your optimization research is making a considerable change or not. 
Also, read: Top Web Development Challenges and Solutions
Quarterly Tasks of Website Maintenance Checklist: 
Following are some points that are often missed out while compiling an overall strategy:

9. Password authentication 
One of the foremost ways to ensure maximum security is through two-factor authentication. Authorized access helps in protecting your website from cyber-attacks. Make sure to set a strong password for your website. 
Don't just rely on following the important guidelines for security. Setting up passwords helps to safeguard your information and website exclusively for users. 
10. Review and fix broken Links
Several factors may lead to broken links. These URLs may be widespread, but they are dreadful for both your SEO and User Experience (UX).
Search engine bots will examine a broken link to confirm that it is indeed broken when they come across it. This is a waste of scarce crawl money. You can try to even adjust the URL and fix the existing errors. 
11. Revise and Scrap off unnecessary plugins and themes
Every theme or plugin adds code to your website, creating a vulnerability that hackers could use. It's a good idea to periodically review the installed themes and plugins on your website and remove those that are no longer needed. 
To avoid having to reactivate the problematic program at a later time, you might be tempted to simply disable it. Deleting the code is always the safest course of action because hackers might still be able to access it.
Also, read: 7 Reasons to treat web application architecture seriously
12. Data Optimization 
WordPress has a database where it stores all of your information. The length of time it takes the server to retrieve data from your tables increases with the size of your database.
You can lower server load and speed up page load times by optimizing your database. 
13. Evaluate Your Site's Forms
One of the major components of websites is forms. It helps to drive leads and conversions. A few forms also help to deliver core functionality as well as login forms. 
It is recommended to verify that your forms are operating properly because of how crucial they are. We advise going over the full submission procedure and making sure you're accurately logging user input.
14. Analyse your whole checkout process 
The checkout procedure is the core of your business if you take payments through your website. If there is a problem with this procedure, you can be losing out on a huge number of sales.
In the worst situation, your system can be unusable, in which case your revenue will be zero. While keeping this in mind we advise you to check and verify the whole checkout process. 
It's a good idea to seek any chances to make the purchasing experience better while testing.
Customers can be discouraged from finishing that race if the payment process is difficult. In actuality, if customers are compelled to create an account, 34% of them will quit their shopping carts.
It may significantly improve your bottom line if you can simplify the payment procedure as part of your review.
15. Social Media links are beneficial to reach out to the audience 
Social networking is an effective technique for expanding your audience and keeping your current one interested.
You can maintain your business at the forefront of your followers' minds and guarantee their long-term engagement by posting often throughout social media channels.
Social networking buttons with links to follow your accounts and share your content are prominently displayed on many websites.
The possibility that third-party programs will alter how they handle your requests exists while working with them, too. They might even perform technological upgrades that have an impact on the social media features of your website.
If the links to your social media accounts are broken, you can be losing out on a ton of likes and shares. To ensure that they are still functional, it is crucial to inspect them periodically.
Also, read: Web App Development Cost: The 2023 Prices Breakdown
Annual Tasks of Website Maintenance Checklist: 
The following listed task does not require aggressive implementation. Although it's recommended to perform these tasks annually. 
Copy Infographic
16. Schedule User Testing
The honest review helps to make useful changes to the website. At least one round of testing must be done with consumers to ensure smooth performance. 
However, over time, there is a pattern for how users engage with websites to change. The way the ordinary internet user interacts with your website can be drastically altered by new technological advancements, devices, or browser changes.
We advise setting up yearly usability testing to make sure you keep giving customers a decent experience.
17. Review Your Domain and Hosting Renewals
One of the most crucial choices you may make is the domain name. Your branding will be strengthened by a strong domain.
Imagine now if you had lost this crucial component of your internet identity. You might try to access your website one day and find that your domain has expired if you fall behind on your renewals. Checking the status of your domain and hosting renewals is therefore a good idea.
We still advise carefully checking that everything is set up properly, including your payment information, even if you activate auto-renewals. If your payment card has expired, the renewal attempt will be unsuccessful, and you risk losing your domain or site hosting.
18. Update Legal Policies, Header, and Footer
The top real estate on your website is in the header and footer. These elements are typically used to display relevant information, including your contact information or business hours. You can lose out on conversions if this data is out-of-date.
Also, read: Software Development Time Estimation: A Practice Guide
Steps to Improve Website Management 
You don't need to spend a lot of money or effort to improve your web management procedures. You can start putting a few of the easy steps into practice right away:
Identify Areas of Improvement
On website analysis, there won't be a complete website change required. One should always start we small yet essential changes. Setting priorities is crucial when beginning website administration. This set of following questions might help:
What urgent issue do you have? 
Is there a clear place to begin? 
Is the length of development procedures too long? 
Are you having trouble climbing?
Is it too time-consuming to distribute information across all platforms?
Choosing a Content Management System 
One of the first stages is enhancing the management of your company's website is finding a Content Management System (CMS) that suits your company's requirements.
With the help of a competent CMS, you can more easily plan and launch new websites and marketing initiatives while also streamlining and improving your customer journey.
Make a strategic plan
A strategy for the production and distribution of data on the web helps to clarify the goals.
Consider your goals and objectives for each piece of content while also keeping the long term in mind.
What are your overarching marketing objectives, and how does your content help you achieve them? Both personalization tools and SEO analytics will be important.
When content is well-targeted, it is most effective, so take the time to learn about your audience's demographics and preferences.
Envision Growth 
You must always maintain an eye on the future in addition to keeping your attention on the present and the day-to-day realities of business. This is especially critical as you create your digital systems because it's simple to start down a road that doesn't work out and is challenging and expensive to turn around from.
It's a good idea to look at techniques and technologies that enable simple scaling and don't lock you into substantial early investments to avoid this. It lets you create and develop digital systems at your own pace and on your terms without having to invest a lot of money upfront.
Monitor traffic
Visitors are producing incredibly valuable data as they move in and out of your website, and you better be collecting these marketing analytics or you risk missing out on critical chances to improve productivity and, eventually, enhance sales.
If you have the correct tools, gathering data should be quite simple, but monitoring traffic has a few potential dangers that you should be aware of.
Track the appropriate metrics since some indicators are more important to organizations than others. For your type of business, time spent on a page might not be crucial, but it might be everything. Choose the metrics you track wisely.
Do not assume that your landing page should be abandoned because of a high bounce rate. You might only need to rearrange a few items.
Don't interpret a single data item as indicating that you must make drastic adjustments because data needs context.
Make appropriate changes 
In the business world of the digital era, adaptation is the name of the game. You must be able to change course quickly.
With a wealth of information at your disposal, you ought to be able to conclude how to position your company for future success.
Establishing a regular time to evaluate the data and come up with improvements for your company is a smart idea.
Tip: Keep an eye on your counterparts; if you find that they have adopted an innovative strategy, it may be time to thoroughly examine your data to determine whether you are missing anything.
Also, read: What is Workflow Automation? And top Workflow Software for 2023
How much does Website Maintenance Cost?
There are several affecting the cost to be utilized on the website. And the amount varies depending on those factors. On the average website, maintenance costs $35 to $5000 per month or $18 to $25 per hour. Annually, businesses invest $400 to $60,000 into website maintenance.
Mandatory – All websites must have a domain name and a web hosting plan. Make sure to renew it on a timely basis. 
Essential – Factors such as design and tech support improve the overall website's functionality and attracts more traffic.
Optional – Elements relevant to specific websites, such as e-commerce features and plugins.
Conclusion 
Not all of your time and resources need to go into building an efficient website. It can become a significant marketing tool for your company without taking over your life if you can pinpoint the goals you're attempting to achieve and create a plan to get there.
Remember that there are many software tools available to you for assistance. There are plenty of options available that can make managing a website pleasurable rather than work, whether you're seeking the finest blogging platform or simply want to be better at it. Try out a few CMS solutions to determine if they are suitable for your business. 
Also, read: Top 9 Software Development Models to Choose From: Phases and Applications
Frequently Asked Questions 
Q. Why Website Management is Important? 
Websites need upkeep to function correctly. To keep your website functioning at its best, it is crucial to so often update and maintain it. A maintained proper website promotes site security, boosts the amount of new and recurring users, and serves as a great platform for other beneficial results too. 
Q. What is Monitoring Uptime?
An uptime monitoring application regularly examines the accessibility of your website at predetermined intervals. You will quickly be informed if your website is down via a variety of ways, allowing you to fix it. 
Q. How important is Data Optimization in Website Maintenance?
Increased website traffic, more conversions, and eventually higher revenue are the objectives of website optimization. Too frequently, marketers and website owners neglect to thoroughly optimize their company's website before moving on to other marketing techniques. 
Q. How can Website Maintenance tasks boost your SEO?
You will gain consumers through search crawlers, and a stronger SEO presence by regularly checking for and replacing broken links. Following all the important steps mentioned above of maintaining a website can help your website's SEO.  
Q. What occurs if a website is not maintained properly?
The website will become outdated without frequent updates and appropriate maintenance, and if timely maintenance is avoided, your domain name can also expire. No proper maintenance becomes the reason for links breaking, and images & content become outdated, which leads to domain name expiration.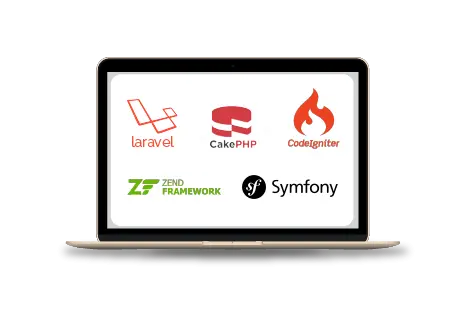 Are you looking for a reliable software development company? Our highly skilled software developers enables us to deliver result oriented software development services. Contact our team to understand, how we can help you in achieving your business goals.