The digital world of today has several opportunities for business development. Each business today needs an appealing website to showcase its content. As the world is moving towards an era where the use of mobile devices is no longer be limited to only towns or cities. So, nowadays mobile devices are used for all tasks and purposes in every village or town. Now, here a big question arises i.e. whether businesses should focus on the development and improvement of their apps or put stress on 'chatbots', which can work as mobile apps, and have the potential to do anything for consumers?
Whenever any new technology enters the market, there always comes a question in mind that whether this modern technology will supersede the former one. This puzzle has led to an open-ended discussion regarding chatbots, that whether they would ultimately replace apps in this ever-evolving technological world of businesses or not. So, this big question is still unanswered, whether chatbots will soon replace mobile apps, or will they continue to co-exist or complement each other for some years?
With the increase in the usage of messaging apps and people in search of more instantaneous responses from businesses, chatbots make absolute sense. As marketing is evolving at a very high pace and it is seen that more and more businesses are focusing on chatbots. AI, NLP, and Machine Learning technologies have developed to the extent that they are allowing practical applications where bots can certainly do intelligent work. And, over the last few years, several businesses have been presenting some exciting chat and voice-based bots that have provided some compelling insights.  
So, here in the blog, we hope to lay down some thoughts on bots vs apps in detail with some pros and cons of both, to help you decide which makes the most sense for your business. However, first, let's quickly understand the definitions of chatbots and apps for a better and solid analysis.
Chatbots vs Mobile Apps
Chatbots
You must be aware of the basic concept of having a conversation with a human, this is what the basic concept of chatbot is and what it is all about. A chatbot is described as an assistant that interacts with people through text messages, a practical assistant that is integrated into applications or websites to help entrepreneurs get more familiar with customers. It works as an automated system of interaction with users. Everything that a chatbot needs to learn to chat with a live person is developed within its algorithm with the help of a concept known as AI (Artificial Intelligence).
Businesses today need chatbots to get relieved of everyday tasks and concurrent processing of several requests from users. Additionally, the great speed of processing users' requests with the help of chatbots benefits businesses to get customers' faith and loyalty.
For example: if someone checks your Facebook page for any fresh product and needs to know more about it. Instead of deploying a human agent to remain on Facebook Messenger for answering questions, you can use a chatbot to answer any question that any visitor has, 24/7. 
Also, read: 10 Powerful AI Chatbot Development Frameworks
Mobile Apps
A mobile application also recognized as an "app" is a kind of application designed to run on a mobile device, which can be a tablet computer or a smartphone. Mobile applications often being a small individual software unit still provide users with quality services and experiences, these apps manage to provide users with all the requirements that they have. Mobile applications were earlier associated with simply large organizations and businesses. Today, this is not the case, as the majority of the smaller corporations use the advantages of mobile apps to serve their customers more reliably and get a higher ROI. 
The modernized world of today has grown to be heavily app dependent. Because mobile apps have invaded each field of our life and business, there are available applications crammed with excellent features and wondrous utilities for every business sector.
For example, a mobile app can work as a vital element of your marketing campaign, as soon as people download your app, you get a platform to market your product directly to them until they remove your app. 
Chat bots vs Apps: What does your Business Need?
Chatbots and mobile apps have different use cases. An app is more like an open approach to target and engage customers, while chatbots allow a modern approach to reach out to a wider customer base. You need to understand which customer engagement strategy works most suitable for your customers. This does not mean that apps are dead, they are still providing a great experience and will stay here for a quite long time. 
Now a question arises in mind that what's the difference between each one of them – bots vs apps?
Let us understand this with the help of an example: Consider a field service application, here chatbots can work as a very productive tool in getting information and presenting reports very smoothly. Normally, field workers are large in numbers, and employee turnover is pretty high in this domain as compared to other sections.
For the field services people to understand the mobile app and its functionalities, there is a long training curve involved. This is the reason why chatbot shines here. You don't require any training; all you need is to simply open a chatbot and begin with your questions and get relevant answers. This is achievable as all smartphone users are used to any messaging service, like Facebook Messenger, WhatsApp, etc.
But the main challenge with chatbots is that they need regular internet connectivity, and it is a necessity. Now, if the field services people are in some region where there is no internet connectivity, in such circumstances chatbot can't be of much use and becomes restricted to local data stores. Mobile apps work as the best solution in these types of situations. As mobile apps have offline functionalities plus apps can download the latest information within the local memory, even in the case of offline.  
Also, read: Is Artificial Intelligence Development Expensive?
Advantages of using Chatbots:
Advantages of Chatbots for Customers
Copy Infographic
Chatbots engage customers round the clock and enhance their experience, these chatbots help in managing customer requests with immediate replies and also boost satisfaction levels. Chatbots have several advantages for customers:
1) 24/7 Availability - Customers don't need to wait for the next available operator. Chatbots maintain a 24/7 reply system making a constant connection between the customer and the seller.
2) Immediate Response - A chatbot can answer thousands of customer's questions instantly, this helps improve the average response time. 
3) Consistent Answers - Chatbots help businesses in sustaining a high level of consistency in their answers, this further helps enhance the customer experience with the brand. 
4) Omni-channel - AI-powered chatbots include an omnichannel messaging support feature, this helps customers to interact with businesses through different channels such as Facebook, websites, etc. 
5) Multilingual - Chatbots support multiple languages, this feature is particularly useful for global brands. You can program the chatbot to reply to queries in the language preferred by the customers.
6) Personalization - Chatbots can provide a more personalized experience than customer service professionals, by engaging customers with one-on-one conversations. A chatbot can discover the history of your interactions with the business to provide a more personalized experience.
Also, read: Mobile App Development for Small Businesses
Advantages of Chatbots for Businesses
Chatbots work as an incredibly helpful tool when it comes to building reliable customer relationships. Chatbots not only help you accomplish marketing goals but also help drive sales and enhance customer service while driving business growth.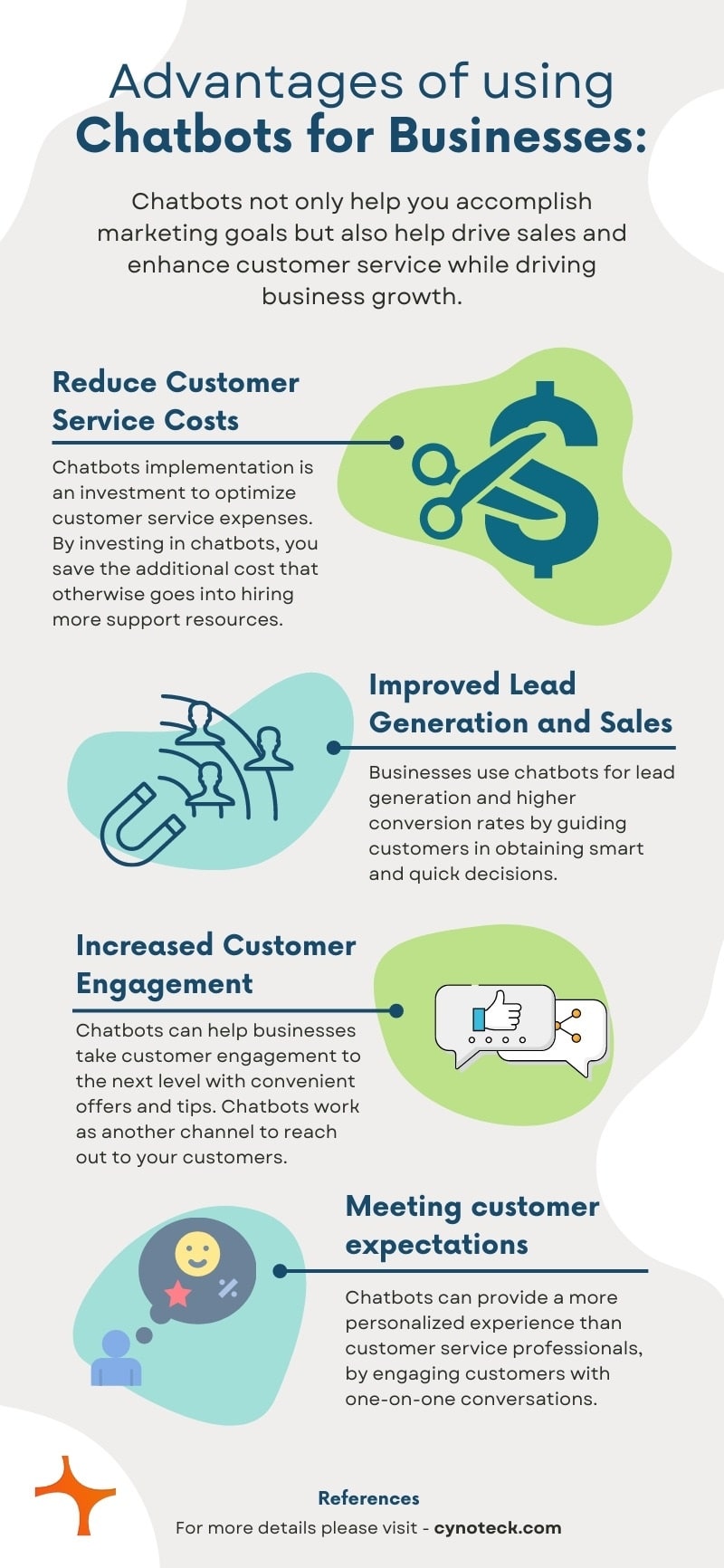 Copy Infographic
1) Reduce Customer Service Costs
Chatbots implementation is an investment to optimize customer service expenses. By investing in chatbots, you save the additional cost that otherwise goes into hiring more support resources.  
2) Improved Lead Generation and Sales
Chatbots help boosts sales because of their 24/7 availability and quick replies. Businesses use chatbots for lead generation and higher conversion rates by guiding customers in obtaining smart and quick decisions.
3) Increased Customer Engagement
Chatbots can help businesses take customer engagement to the next level with convenient offers and tips. Chatbots work as another channel to reach out to your customers. When immediate and relevant replies are given, the customer stays longer on your website and maintains the conversation. 
4) Meeting customer expectations and reaching new customers
Customers anticipate prompt answers to questions or complaints. As chatbots are increasingly becoming smart, businesses can utilize them to automate their everyday interactions and satisfy customer expectations.
Chatbots being continuously active helps businesses in reaching new customers that may otherwise not wish to contact the organization through a call or email.
Advantages of using Mobile Apps: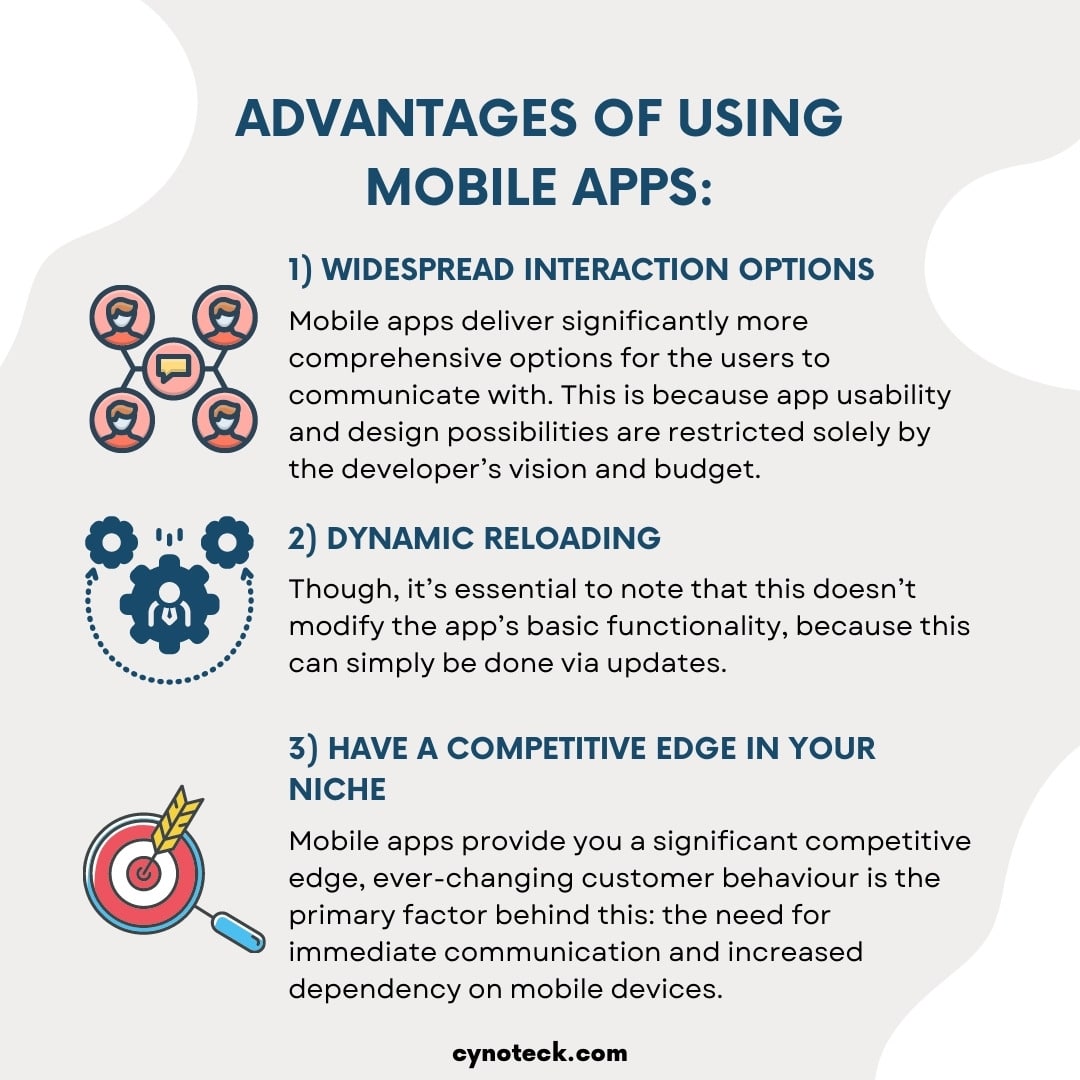 Copy Infographic
1) Widespread Interaction Options
Mobile apps deliver significantly more comprehensive options for the users to communicate with. This is because app usability and design possibilities are restricted solely by the developer's vision and budget.
2) Dynamic Reloading
Another different selling feature of mobile apps is that the content can be reloaded dynamically. Though, it's essential to note that this doesn't modify the app's basic functionality, because this can simply be done via updates.
3) Have a Competitive Edge in Your Niche
Keeping up with the competition can be a difficult task in this digital world of marketing today. Mobile apps provide you a significant competitive edge, ever-changing customer behaviour is the primary factor behind this: the need for immediate communication and increased dependency on mobile devices.
Also, read: The Guide to Developing and Adopting a Mobile App Strategy for Businesses
Will Chatbots replace Mobile Apps?
Chatbots' growth began their growth in early 2016. The tech enterprise has continuously experienced significant transformations and this appears to be one of them. As websites today have replaced client-server applications, messaging chatbots will also replace mobile apps but to some extent.
This is because bots are trending programs, but they are not suited for each possible scenario for which we use an app. Customers today notice the development of unlimited mobile applications such as WhatsApp, WeChat, Telegram, Facebook Messenger, and more. Chatbot facilitates customers as well as businesses to communicate with third-party services from inside the messaging application interface. 
A significant point to remember here is why do we utilize any software program like an app or a bot in the first place. Normally, to get some sort of job done. Just like conventional computer programs, bots and apps exist to resolve particular problems for users.
There are still several problems that bots need to overcome and improve. For instance, they are promoted as a solution to customers, but there are cases when they leave the customer behind, drooping without a conventional solution.
Also, it is unclear whether bots will run properly without an internet connection or not. There are different scenarios where chatbots seem challenging to work, so the answer to whether chatbots will substitute apps lies somewhere in the middle of using both chatbots along with the apps. Businesses will be expanding their customer experience with a hybrid support approach, providing the best of both worlds. 
Final Thoughts: Bots vs Apps
Looking at all the advantages of chatbots and apps, it is clear that bots are proving to be a valuable and significant development in technology, but there are situations when they don't adequately solve every problem that an app does. Chatbots are better than apps and websites, but with the modern development and progress in Artificial Intelligence, these conversational programs will tend to be a part of the user's life, and people will understand that chatbots are one of the most beneficial things that ever happened inside the tech industry. 
However, Artificial Intelligence behind chatbots is growing more, but still, it is not entirely that seamless experience that most people demand from a chat interface. Chatbots are still immature and require more technical inputs. They need more time to grow to that point of fully substituting mobile applications. At present, they will be able to compete with some mobile apps but will hardly be able to replace apps entirely.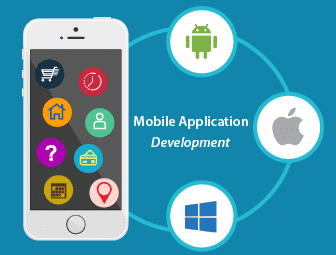 Do you want to leverage mobile technology for your business? Cynoteck is a one-stop Mobile app Development Services provider. We provide iOS and Android application development services so that you can reach your target audience on any device.