An App development software is an application that assists the app development process by offering features such as templates, code-free development, Data synchronization, IDE, API, and Analytic
It helps in the quickening development of the application. These tools provide APIs to make the process of integration with backend services simple and easy. It offers a visual development environment and allows the process of developing the software much easier.
Also, it provides features such as hardware compatibility and assists in workflow design. Lots of app development software can create apps for desktops, mobile devices, and web browsers.
App Development Platforms
The App development platform is a total suite of all required and interrelated tools since these tools enable the development of application, deployment, and then update them. It has various features for all the phases of development such as designing, coding, deployment, integration, testing, etc. These also tools offer the facility for upgrades, advertising, and marketing.
Also, read: Native Mobile App Development: Pros, Cons, Alternatives, and cost optimization
Best App Development Platforms to use in 2022
Copy Infographic
It's not a lie that, the usage of smartphones has greatly increased since the past decade. The use of mobile phones has transformed lots of industries in the world. For example, in the business sector.
Presently, various mobile apps have made it easier to access to lots of clients than it was years ago. Based on the survey reports, it was reported that India is expected to attain more than 800 million mobile phone users in 2019. 
Written below are 10 Essential application development tools and frameworks ones that you can use:
PowerApps
The Microsoft PowerApps is designed to allow individuals to create mobile apps that are compatible with Windows, Android, and iOS. It can also work with virtually all internet browsers.
Salesforce Lightning
Created by Salesforce itself, the lightning is a component-based framework which makes app development convenient. A huge advantage of this tool is that it helps to simplify processes for entrepreneurs with zero programming experience.
Appy Pie
AppyPie helps in developing apps for diverse purposes. It has diverse app builders, such as Payment app builder, Worship app maker, etc. There won't be any reason to resubmit the app when you're done making desired changes.
It also possesses an app builder for small businesses, a restaurant app builder, real estate app maker, radio app builder, and so much more.
Appery
Appery is a low-code development platform that is used for creating hybrid mobile apps, web apps, PWAs. All the Apps created are compatible with all every device and on any platforms.
Appery.io enables you to integrate your existing backend with your app. It has a great feature that will allow you to import and immediately use backend services in the app builder.
Also, read: Top mobile app marketing ideas to get your business to the next level
Bizness Apps
Bizness app is a development app that is an advanced platform compared to its other counterparts, mostly targeted at small and mid-market level companies. It enables you to develop native iOS and Android apps.  
To use Bizness app you don't need to have any programming knowledge, because Bizness Apps offers a Drag-and-drop app builder. It gives premium add-ons such as Private App Store, Signature, Multiple Language Support, and group management. Its design engine is easy and simple to understand.
Verivo
Verivo AppStudio is one of the best app development platforms. Because it provides one of the best tools to develop apps within a short time. It possesses great features such as a UI configuration tool, a server for apps, security tools, and various reporting options.
It has a code-free visual studio, alongside JavaScript and HTML5 to develop any type of apps. Verivo Verivo AppStudio has automation for user authentication, data synchronization, integrations, and deployment.
Felgo
Felgo is a cross-platform framework that supports iOS, Android, desktop (Windows and Linux), etc. Its major function is the ability to make use of the same code for various target platforms. It was attained through a wide range of library of APIs that could decrease the total code size by 60%. 
The framework can be used to build business apps, and 3D objects support makes it relevant for game development. Native IDE is based on QT and enables us to work with JS and C ++. Switching to Felgo is easy and simple due to the detailed documentation and a large library of free project samples.
Also, read: 11 Reasons to create a mobile app for your online shop – and how to get started?
GoodBarber
This app development software platform works effectively with native (iOS/Android) apps, HTML5, but the main aim remains on progressive web apps (PWA). GoodBarber is a French company that provides services for mid-size and small companies who don't only want a mobile app but also have access to its source code.
It possesses loads of great themes, and advanced functions such as social networking, chat, geofencing, customization possibilities, push notifications, lots of plugins. Also, many app managements options, for example, an event listing, CMS, audio/podcast features, user profiling, mCommerce integrations, sharing/comments section, etc.  
Appsmakerstore
Appsmakerstore is a do-it-yourself mobile development platform with various templates to select from and develop Android, iOS or HTML5 apps. There are lots of such design defaults for hotels, food, and restaurants, education, nightclubs, hotels, healthcare/medicine, government agencies, etc.
The platform provides integrations with social media, payment gateways like PayPal and ePay, and advertisement options through Google AdSense. Also, they assist by ensuring that they do everything to submit apps to app stores. Appsmakerstore has a free 14-day trial available.   
Mobincube
Mobincube provides you with the things you've been searching for in an online app developing platform. It has great features such as visual development interface, drag and drop, templates and customization, source code and Google Analytics, notifications.
The major feature that separates this platform from others is the monetization ability through Admob service. It implies that the apps you develop will consist of ads and banners, and track on every click from users, you'll also have your portion of income. What is missing in Mobincube is user-friendliness concerning design and series of actions.
Shoutem
Shoutem is an example of a wonderful mobile app development platform that offers a drag-and-drop app designer. It enables you a preview in the native preview app. It also offers a Re-Publish facility and an automatic publishing facility to iTunes and Google Play.
Shoutem provides multiple monetization functions such as E-commerce, Mobile Advertising, Promoting Local Business, etc. Also, various content sources are well supported.
MobileRoadie
MobileRoadie is one of the most expensive app platforms. Mobile Roadie offices in the USA, UK, and Norway, is majorly targeted on large businesses and enterprises. Examples of their major clients are Disney, TED, Universal, which is impressive, no doubt.
In addition to the wonderful useful design features and templates, you can modify and adjust all you desire. It possesses great features such as content geo-targeting, digital commerce, analytics, and app submission. The only disadvantage for most potential customers would probably be the price of MobileRoadie.
Also, read: Create a custom connector in PowerApps from scratch
Conclusion
Finally, we have provided a list of low code mobile app development platforms to create responsive mobile apps quickly.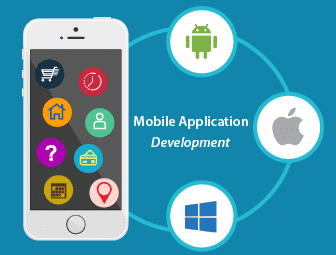 Do you want to leverage mobile technology for your business? Cynoteck is a one-stop Mobile app Development Services provider. We provide iOS and Android application development services so that you can reach your target audience on any device.