In the area of digital transformation, cloud computing has completely changed the game by providing a range of advantages to companies of all kinds. The revolution of cloud computing can be optimized via the right guidance – CIOs and CTOs. The rest of the management team can assist and provide coverage to them as they spearhead the adoption of cloud technology given the size and scope of change needed to fully take advantage of this opportunity.   
Businesses can obtain higher agility, enhanced innovation, improved customer experiences, and cost optimization by shifting their operations and data to the cloud. We would recommend businesses take a cloud-computing approach immediately if you are someone who wishes to accelerate their digital goals.
In this blog, we will try to cover all aspects of how CIOs and CTOs coordinate their investments and business plans that are focused on cloud computing and digital transformation. 
The Role of CIOs and CTOs in leading successful digital initiatives:
It has become increasingly important for chief technology officers and chief information officers to oversee IT efforts. Their impact goes far beyond the IT division as they support the expansion and success of the company.
Copy Infographic
Strategic Vision and Alignment: 
The technological strategy of a company must be shaped by the CTO and CIO and must be in line with the larger business goals. They are quite knowledgeable about how the company operates. If we cover all the aspects, CTOs & CIOs can help businesses to determine new business opportunities and achieve great advancements.     
According to a Gartner study, "Through 2024, more than 80% of digital approaches will fail to provide value because of a lack of collaboration and alignment between IT and business units." 
Operational Efficiency and Cost Savings:    
The improvement of operational effectiveness and cost reduction depends on effective IT systems and processes.
CTOs and CIOs use their knowledge to pinpoint areas where technology might improve productivity by streamlining processes and automating jobs.
Implementing robust IT infrastructure, optimizing software applications, and leveraging cloud solutions, help organizations save costs and increase efficiency. 
Innovation and Competitive Advantage: 
To innovate something new means to grow. Every year as there is a huge technological advancement, to stay ahead it is immensely important to grow in business.
Exploring innovative technology, doing research, and promoting an experimental culture inside the company are all ways that CTOs and CIOs cultivate innovation.
Businesses can obtain insights, make wise decisions, and gain a competitive edge in the market by utilizing technology like artificial intelligence, machine learning, and data analytics. 
Security and Risk Management: 
As cyber threats become increasingly advanced, ensuring robust cybersecurity measures is paramount for every organization.
Effective security frameworks, the protection of sensitive data, and risk management all fall under the purview of CTOs and CIOs.
Through threat mitigation, regulatory compliance, and reputation protection, their cybersecurity knowledge helps enterprises.       
The Function of Fractional and Interim IT Leaders:
In certain circumstances, organizations may use fractional or interim IT leaders to handle requirements, time-sensitive initiatives, or leadership shortfalls.
These executives bring a plethora of knowledge and experience to the table, offering new insights, promoting change, and bringing instant benefits to the company.     
Cynoteck, a reputable source for IT leadership solutions, offers permanent and interim IT leaders who can guide organizations through various IT challenges and provide tailored solutions.       
Also, read: Unlocking Synergy: Navigating Cloud Computing and Digital Transformation
Why are cloud platforms the ideal catalysts for digital transformation? 
Each organization should adopt the digital transformation process when necessary to replace its outdated IT infrastructure with a new one to remain competitive and add value to the business.
Beyond integrating cloud solutions, a business should adopt innovative technologies that accelerate, automate, and improve business operations, such as artificial intelligence, machine learning, big data analytics, and the Internet of Things (IoT).
Cloud computing provides a mechanism to merge these technologies because they require a lot of computational power and storage space.    
One such important technology that has always encouraged innovation and increased agility while enabling businesses to achieve positive results (whether it be a new product or a high-quality customer experience) is cloud computing.    
Also, read: IoT and Digital Transformation: Elevating Industries and Connectivity
What are the benefits of adopting cloud services? 
Copy Infographic
1) Lower Capital Expenditure:
Capital expenditures are the costs of creating and maintaining an internal IT infrastructure and buying modern technology. 
In the case of the cloud, there is no need for any in-house infrastructure equipment as the entire network and storage infrastructure can be made available from a data center.
Likewise, the company need not spend money on upgrading hardware and buying software licenses within a limited period because the cloud service provider will take the responsibility for providing infrastructure and provisioning resources (both hardware and software) for the company to suit business needs.     
Resources are made accessible as needed on the cloud, and surplus ones can be recycled to reduce costs. In a similar way, the business can forego paying IT staff to maintain the infrastructure.
Furthermore, the cloud makes easy work of future expansion without raising the price of equipment acquisitions for the business. 
2) Scalability, Flexibility, and Mobility: 
The cloud allows users the ability to scale or de-scale infrastructure on demand with ease, resulting in optimal utilization of resources.
In addition to this, cloud services let customers utilize any kind of device—tablets, laptops, smartphones, etc.—to access resources from distant locations.  
Data files and documents can be accessed around the clock, and it is also possible to work online replicating an office environment.
Hence, flexibility and mobility are inherent benefits that make employees to be productive. Cloud models provide easiness, you can travel or be any place and access information easily. 
3) Easy to maintain and upgrade: 
The cloud service provider is responsible for all the management of different components. Such as storage, bandwidth, etc. With this benefit, the in-house IT personnel can be allocated to other work and may not engage themselves full-time to monitor the IT department.  
Cloud service providers employ professionals in charge of ensuring service continuity. This implies that whenever a new solution or a patch is implemented in the cloud, it becomes available to all users immediately at no extra cost. 
4) Enhanced IT security: 
Organizations place a high priority on IT security. Many businesses have compromised data and information due to security flaws or attacks. With the use of firewalls, intrusion detection systems, and frequent security audits in their data centers,
Cloud computing increases the security of servers and storage by establishing various degrees of security. The user is freed of the security concern and worries about data loss or theft as cloud computing models quickly develop.
5) Ensures Business Continuity: 
This benefit refers to providing continuous IT services to ensure continued business operations during events such as technology outages, hardware failures, or even unexpected disasters such as fire or flood.
Business operations can be seriously affected and disrupted for many days during such events, particularly in the case of in-house IT systems.
The ease of accessibility allows users to work even in unforeseen events. With cloud services, employees can simply login normally from their laptops and perform work as usual.
Along with these advantages cloud computing has several different benefits.
Clouds ensure smooth integration of data during mergers and acquisitions, launch new business products or services without spending money on supporting systems, and leverage the latest technology and tools that encourage tech-savvy businesses, etc., are a few other benefits.  
Also, read: Unlocking the Power of AI in Digital Transformation: A Roadmap to Success
Objectives for digital transformation with cloud integration: 
Building on your current infrastructure could seem like a simple method to cut costs, but overall, it frequently costs more.
In comparison to investing in a dynamic cloud solution, which you can easily modify when your needs change, the ongoing expenses associated with maintaining and managing old infrastructure are far greater over the long run. 
Moving to the cloud enables you to employ software integrations to construct a well-functioning digital ecosystem rather than bringing in innovative technology piece by piece and assuming it works properly.
Also, you can radically change your business strategy rather than just a few operations by centralizing all your data.
With this strategy, your organization is more interconnected and can more easily adapt to future demands without going over budget. 
Additionally, a cloud-first strategy keeps your company operating even in times of crisis. The cloud makes it simple and efficient to work remotely while maintaining contact with clients and business partners.
The cloud safeguards your data and maintains business operations, reducing financial and reputational damages regardless of local or global catastrophe. 
The cloud also helps improve CX. You can acquire greater insight into your customer demographics and behaviors with the help of cloud's real-time updates and simple access to your organization's data, which enables you to produce new strategies for delivering a more individualized experience and promoting brand loyalty. 
Customers gain from upgrading to cloud infrastructure since it improves team effectiveness and boosts productivity at work.
The cloud, in contrast to legacy systems, is adaptable and can accommodate each person's workflow, enabling them to approach their work in fresh and creative ways. 
Also, read: The Importance of Web Development in Digital Transformation
Selecting the Right Cloud Platform
Despite being called a single thing, "the cloud" is not a monolith. There are many cloud service providers (CSPs) with various value propositions.
The provider you select will be highly influenced by elements including the size, sector, and objectives of your organization. When a provider satisfies certain requirements, such as: 
Services and technology that are compatible with your current tech stack .
An excellent, verified performance record.
Crisis management tools, such as recovery after disasters.
A business strategy that makes it simple to transfer providers if another one is a better fit for your firm.
It can be beneficial to speak with several service providers before choosing one. Many provide free trials or live demonstrations, which are excellent for gaining a close-up view of how each cloud functions and how the business links with yours. 
Integrating AI and ML with Cloud Operations
Integrating AI and ML with cloud operations holds immense potential to revolutionize businesses in today's digital landscape. By harnessing the power of AI and ML technologies, organizations can unlock new levels of efficiency, scalability, and innovation within cloud environments.  
From automating routine tasks to predicting and mitigating potential issues, these technologies empower CIOs and CTOs to optimize cloud operations, thereby enhancing overall performance and cost-effectiveness.
By leveraging intelligent automation, businesses can focus on strategic initiatives, nurture innovation, and stay ahead of the competition in a rapidly evolving marketplace. 
Wide diversity 
The constructive collaboration between AI, ML, and cloud platforms opens a world of transformative use cases. AI-driven applications can optimize resource allocation, ensuring businesses pay for only the resources they need, while ML algorithms enable predictive analytics to foresee potential challenges and optimize cloud performance. 
Moreover, CIOs and CTOs can drive innovation by utilizing AI and ML technologies to create personalized customer experiences, deliver real-time insights, and develop data-driven strategies.
Adopting intelligent automation not only streamlines cloud operations but also enables organizations to adapt to dynamic business demands with agility and precision. 
Ensuring Security and Compliance in the Cloud 
In cloud-based digital transformations, ensuring security and compliance is paramount. Addressing common security concerns requires a multi-layered approach that includes implementing robust authentication mechanisms, data encryption, and continuous monitoring for suspicious activities.  
Best practices for securing data and applications in the cloud involve regular backups, access control, and adopting security frameworks like the shared responsibility model. Moreover, compliance with industry regulations and standards demands adherence to specific data protection and privacy guidelines, which necessitates careful data classification and audit trials to maintain transparency and accountability. 
In conclusion, safeguarding the cloud environment from potential threats and ensuring compliance with regulatory requirements are vital aspects of successful cloud-based digital transformations. By employing comprehensive security measures and following best practices, organizations can confidently embrace the cloud's benefits while minimizing risks and maintaining data integrity and confidentiality. 
Also, read: Digital Transformation in Healthcare: Key trends in healthcare for 2023
Overcoming Challenges in Cloud-based Transformations 
An Unplanned Strategy 
Do not rush into adopting new technology without a proper strategy in place. Factors such as cost analysis, employee training, and the estimated time to complete a migration must be considered to help minimize risk and ensure the right solution is chosen. 
Companies can manage the relocation project's complexity and lessen its effects on the business with the use of a sound change management strategy.
The areas for efficiency improvement and consequent cost reduction will be more easily identified when the company objectives and needs are combined. 
Deciding What Workloads to Move and When 
Migrating data is not easy, it can be challenging. Businesses that are new to cloud migration must be aware of the potential for error and proceed with caution.
As a result, fractioning moveable data is recommended. Companies might protect themselves from errors that could delete, corrupt, or compromise their data by knowing what data to move first. 
Choose to begin your migration with redundant or auxiliary data. Businesses would not compromise data sensitivity and would be able to maintain compliance by breaking the data down and moving it in batches. 
Perceived High Financial Investments 
The looming expense is the one aspect of cloud migration issues that discourages organizations the most. Increased productivity, lower IT expenses, and simpler processes are the long-term benefits of cloud investments, although the initial outlay may appear high.
Every step of cloud migration is financially challenging, which includes rewriting the application architecture for the cloud, investing in the best partner and tools for the migration, training and upgrading current users on new systems and processes, and overcoming issues with latency, interoperability, dependency on non-cloud apps, and downtime. 
Despite the cost, cloud computing is a wise investment with significant long-term savings and advantages. Therefore, strategizing and fractioning are essential to draw out the maximum and have a smooth server-cloud transition.    
Lack of Existing Skill Sets 
When introducing new systems and processes in business, it is important that people are open to the idea of change and that it is easy.
A successful migration is only possible when the top leadership understands the business requirements of migration and helps in cultivating a suitable culture in the organization. 
By demonstrating support and the benefits that cloud migration delivers, it is simpler for the staff to accept the requirement for system training.
As a result, offering employees a robust onboarding program helps the company accomplish its cloud migration strategy without any trouble.
Here, the business must select software and cloud migration solutions that are user-friendly and compatible with its current legacy systems. 
Data Security & Privacy 
Because many firms worry that their cloud migration operations might fail, data security and privacy are the main concerns during cloud migration. As a result, it is crucial to discuss security procedures with cloud service providers before the move.    
Businesses should be ready to ask questions about the location of data storage if end-to-end encryption will be offered, the company's security and privacy policies, and the security standards that the cloud service provider complies with. A company will learn more about its vendor and their security procedures by asking these questions.    
Also, read: Vertical Experience in Digital Transformation: 5 Questions to Ask Your Contractor
Conclusion
By influencing technology initiatives, boosting operational effectiveness, stimulating innovation, assuring cybersecurity, and managing risks, CTOs and CIOs have a significant impact on the growth and success of businesses. IT executives who are part-time or are a temporary add-on to the success of an organization by providing specialized knowledge and quick fixes.     
Organizations that recognize the significance of IT leadership and leverage the services provided by reputable sources like Cynoteck, can position themselves for long-term growth and competitive advantage in this digital era of today. 
Frequently Asked Questions: 
Q. How can CIOs and CTOs accelerate digital transformations?
By leveraging cloud platforms, CIOs and CTOs can achieve greater agility, scalability, and cost efficiency, driving innovation and seamless integration of AI and ML technologies.  
Q. Why are cloud platforms ideal for digital transformation initiatives?
Cloud platforms offer numerous benefits, including flexible infrastructure, cost optimization, and access to innovative technologies, empowering businesses to accelerate their digital journeys.  
Q. What factors should CIOs and CTOs consider when selecting a cloud platform?
Security, compliance, scalability, and overall cost-effectiveness should be evaluated when choosing a cloud service provider, ensuring the platform aligns with the organization's transformation goals.  
Q. How can organizations ensure security in cloud-based transformations?
By implementing robust security measures, data encryption, and adhering to industry regulations, businesses can maintain a secure cloud environment throughout their digital transformation journey.  
Q. What challenges might arise during cloud-based transformations, and how can they be addressed?
Challenges may include resistance to change, data migration complexities, and legacy system integration. CIOs and CTOs can overcome them through change management strategies, careful planning, and adopting modern cloud-native tools.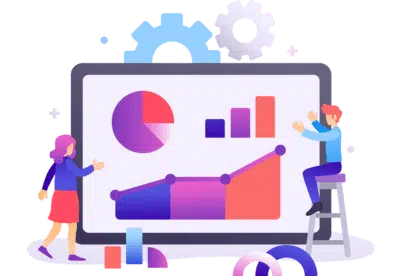 Harness the power of Data Science
Unlock hidden opportunities, optimize processes, and make smarter decisions. Contact us today to discover how our Data Science services can propel your organization forward. Don't let your data go untapped. Take action now and revolutionize your business with Data Science.