AI's rapid advancement has revolutionized the healthcare industry, enabling the achievement of once-deemed impossible tasks. With the integration of AI and ML, diagnostics and patient treatments have become more reliable and efficient. Healthcare institutions now benefit from AI-powered tools that help workload pressures and streamline workflows.
AI effectively handles repetitive, time-consuming tasks and provides real-time clinical decision support through sophisticated algorithms. This transformative technology continues to reshape the future of healthcare.
The COVID-19 pandemic highlighted the necessity for innovation in the healthcare sector as it faced heightened demand for resources. AI's application in the healthcare sector involves utilizing machine learning algorithms to simulate human cognition for analyzing and interpreting intricate medical data.
The industry offers significant investment prospects due to the potential for automation and improved efficiency across various stakeholders, including providers, hospitals, healthcare payers, pharmaceutical, and biotechnology businesses. In a critical domain like healthcare, speed, and reliability are crucial for the advancement of AI. 
But like any other technology, the integration of artificial intelligence (AI) in healthcare offers a combination of advantages and challenges. Numerous influential organizations are actively investing in AI research for medical care institutions, R&D, and other applications. However, it is crucial to implement AI strategically and manage expectations intelligently to achieve the desired outcomes effectively.
In this blog, we will conduct an in-depth exploration of the advantages and disadvantages of AI in healthcare. This allows you to thoroughly assess the benefits of implementing artificial intelligence in the medical domain and identify areas that require further strengthening.
Pros of Artificial Intelligence in Healthcare
Artificial intelligence (AI) has the potential to create a more efficient healthcare ecosystem. Patients can gain a better understanding of their symptoms and receive appropriate treatment with the help of this digital infrastructure.
Improved clinical decision-making is facilitated through real-time access to crucial patient data, allowing healthcare providers to diagnose, plan treatments, and manage population health effectively.
Furthermore, AI finds application in solutions for leveraging insights in genomics, biomarkers, and phenotypes, as well as specialized tools in radiology, pathology identification, and ophthalmology.
Here are some more benefits of AI in healthcare:
Copy Infographic
1) Provides Real-time Data 
AI enables medical professionals to make faster and more precise medicinal decisions using real-time, accurate data. This leads to improved preventative measures, cost savings, and reduced patient wait times, yielding immediate and realistic outcomes.
Mobile alerts keep doctors and nurses informed of critical changes in patient status, allowing for timely responses to crises. Moreover, providing crucial health data to patients through mobile devices enhances their engagement in the treatment process. 
2) Early Disease Detection 
AI/ML enables physicians to accomplish more accurate diagnoses through comprehensive disease data comparison.
By collecting and storing individuals' health data in a centralized platform, valuable insights into their past and current health conditions can be obtained.
The vast health app database, comprising millions of symptoms, diagnoses, and specific cases, facilitates the prediction of future health issues.
Additionally, predictive analytics empowers healthcare facilities to improve their operational management efficiently.   
Also, read: Generative AI in Healthcare: Enhancing Patient Engagement and Beyond
3) Easily Sharing Information  
AI's advantages in healthcare are not limited to physician support but extend to information sharing and precision medicine.
Accurate tracking of specific patient data allows doctors to identify patterns and assess the likelihood of certain diseases. Improved information sharing and analysis enable healthcare institutions to unlock more precise medical approaches.
This level of insight streamlines patient care and reduces potential risks by addressing root causes earlier, delivering immense value to the medical profession. 
4) Streamlining Tasks and Processes 
Artificial intelligence is revolutionizing healthcare facilities by automating time-consuming and detailed tasks. One such task is reviewing insurance; which AI has significantly simplified.
Healthcare providers are leveraging AI to minimize expenses related to insurance claim denials. Additionally, AI-driven systems automate appointment scheduling, patient tracking, and care recommendations, streamlining overall healthcare operations. 
5) AI/ML Unparalleled Surgical Assistance 
The field of AI and robotics applications in surgery has seen significant growth due to successful testing and research.
The AI Surgical System enables surgeons to perform exceptionally precise movements while receiving real-time patient status updates. This boosts patient confidence, particularly for surgeries under general anesthesia.
Complicated procedures are now executed with reduced discomfort, blood loss, and side effects, leading to faster patient recovery.  
Also, read: AI in CRM: Top Use Cases, Best Platforms, and Guidelines
6) Assists Research and Decreases Physician Stress   
AI enables researchers to gather extensive data from diverse sources, enabling more accurate analysis of life-threatening diseases through a growing dataset.
Telehealth systems track patient progress, provide critical diagnosis data, and contribute to shared networks with population data.
AI furthermore streamlines procedures automates tasks, facilitates rapid data sharing, and organizes operations, alleviating the burden on medical personnel from managing numerous tasks. 
7) Decision-making in medicine 
The profound benefits of AI in healthcare are widely acknowledged. Its real-time data empowers decision-makers to improve clinical decision-making, helping in patient diagnosis, treatment planning, and population health management.
AI solutions excel in leveraging insights from genomic, biomarker, and phenotype datasets, as well as specialized applications in radiology, pathology identification, and ophthalmology.   
8) Doctor and Patient Relationship   
Expected advancements in AI technology hold the potential to significantly alleviate the burdensome task of charting for clinicians throughout the patient care continuum.
AI and ML assistance enables contemporary medical practitioners to proactively safeguard patients from illnesses that historically claimed countless lives.
Within clinical consultations, voice recognition innovations can streamline manual data entry into electronic health records.
By reducing laborious tasks and data analysis time, AI holds the promise of enhancing information exchange and shared decision-making between doctors and patients.
Rather than limited treatment choices, AI can propose a more extensive array of six to seven therapeutic options for a given ailment, accompanied by comprehensive insights into prognosis and potential adverse effects.  
9) Internet of Medical Things 
A primary concern within the healthcare sector is the timely transfer of medical data and prompt delivery of patient care. The synergistic integration of AI, ML, and IoT offers a potent avenue for enhancing the efficacy of disease treatment.
AI contributes by enabling early alerts and adjunctive diagnostics. Additionally, the system can seamlessly transfer various crucial biometric data points to the critical care record, thereby enhancing the accuracy and timeliness of documentation.
Furthermore, IoMT supports remote diagnosis, real-time decision-making, and the establishment of a reliable and cost-effective healthcare framework.  
10) Healthcare teams can pay attention to what is crucial
AI's impact on healthcare extends beyond clinical decision-making. It helps in appointment scheduling, clinical detail translation, patient history monitoring, and tracking, freeing healthcare providers from time-consuming tasks.
By leveraging insights, providers can enhance diagnosis and make informed decisions.
AI also plays a crucial role in investigating, identifying, and rectifying errors in insurance claims, translating clinical notes, and offering care recommendations. This transformative technology optimizes healthcare efficiency and quality.  
Also, read: IoT in Healthcare in 2023: Companies, Medical Devices, and Use Cases
Cons of AI in Healthcare
While AI offers numerous benefits to healthcare, it's essential to acknowledge the associated disadvantages. The relevance of AI in healthcare depends on well-defined strategies that recognize and address potential risks.
Recognizing the cons shouldn't discourage its adoption but rather motivate collaborative efforts among regulators, providers, developers, and stakeholders to mitigate these challenges by maintaining an appropriate balance in its implementation.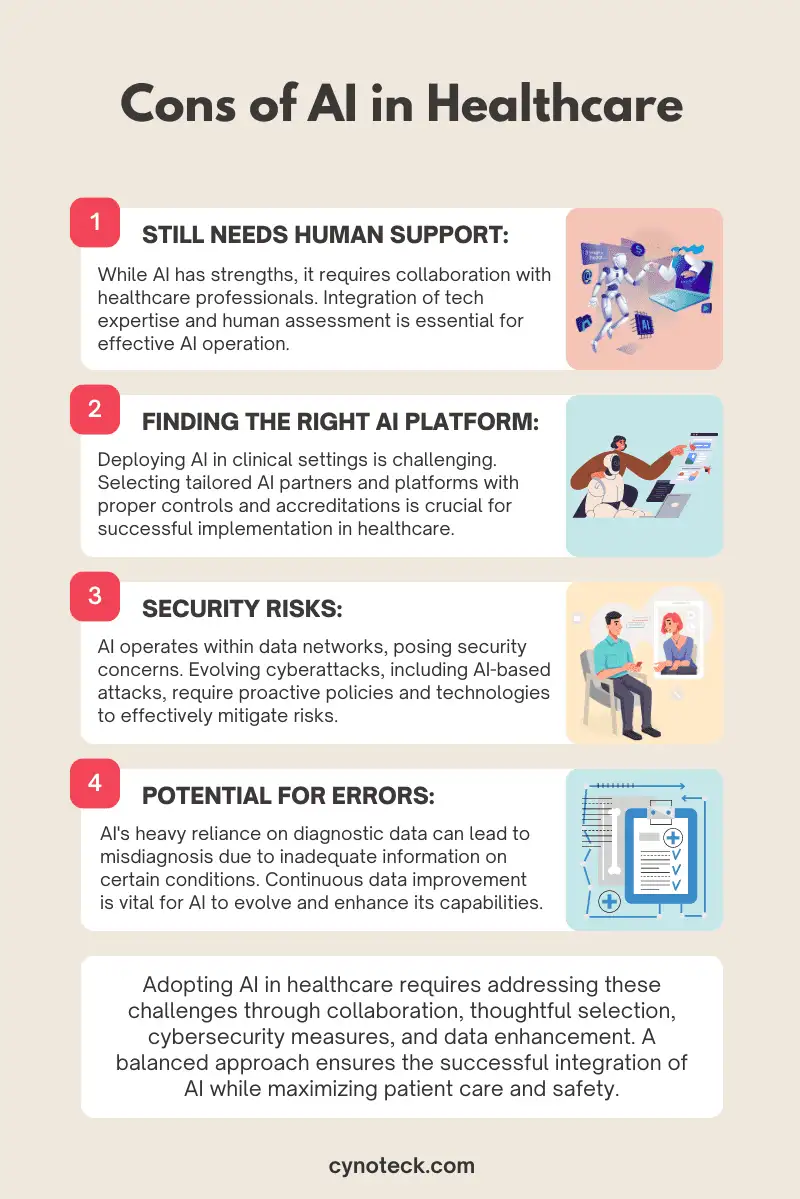 Copy Infographic
1) Still Needs Human Support
AI excels at executing specific programmed commands but still requires collaboration with physicians. It is not yet capable of independent operation.
The key is to integrate tech experts and healthcare practitioners to provide AI with the human input and assessment it needs to function effectively.
The goal is not to choose between technology and healthcare professionals but to synergize their expertise for seamless AI integration in healthcare.
2) Finding the correct AI platform to implement is difficult
Another challenge of AI in healthcare is its seamless deployment in clinical environments. Healthcare institutions must carefully choose AI partners and platforms tailored to their specific needs, with robust controls and accreditations in place.
Thoughtful analysis and selection are crucial for successful AI implementation in healthcare settings.
3) Risk is a concern
Security risks remain a concern for tech experts and providers as AI operates within data networks. As technology advances, cyberattacks become more evolved as well, with AI even being utilized for such attacks.
It is crucial to invest in policies and technologies to proactively address and mitigate these risks effectively. This proactive approach ensures a smoother resolution of potential security challenges.
4) AI can be wrong
AI heavily depends on diagnostic data from vast instances, but inadequate data on certain illnesses, demographics, or environmental factors can lead to misdiagnosis.
Addressing data shortfalls is essential for AI to continue evolving and enhancing its capabilities. Continuous improvement is driven by the effort to support AI's data resources.
Also, read: Acquiring Patients in a Competitive Healthcare Market
Conclusion
In conclusion, despite challenges and risks, AI and ML offer immense benefits that are revolutionizing the global healthcare ecosystem. AI-driven tools and the Internet of Medical Things have positively impacted millions of lives, promoting healthy lifestyles and proactive health management. The transformative potential of AI in healthcare is evident and continues to shape a brighter future for healthcare worldwide.
Healthcare apps will play a crucial role in promoting healthy lifestyles, daily fitness, and immediate access to medical resources. AI-enabled apps benefit both patients and doctors by addressing shortcomings, reducing medical expenses, and facilitating quick fixes in the digital transformation realm. These apps are balanced to become vital tools in improving healthcare experiences for all stakeholders.
The continuous advancements in artificial intelligence have great promise for improving the global patient experience and overall health outcomes. It is indeed fascinating to see how far AI will take us on this transformative journey.
For a customized software business app designed to cater to the specific needs of your healthcare organization, our team of professionals is at your service. Contact us at any time if you need professional advice. We are here to help meet your requirements effectively.
FAQs
1) How AI is used in Healthcare?
AI in healthcare serves as a complement to human decision-making rather than a replacement. Its potential lies in streamlining services and improving the healthcare system's responsiveness, ensuring timely and appropriate care for patients based on their medical needs. Moreover, AI can optimize administrative tasks, medical claims, and workflow processes, thereby improving overall efficiency in the healthcare industry.
2) How can the healthcare sector benefit from AI?
Healthcare systems differ globally, resulting in varied applications of new AI tools. Public healthcare providers can prioritize machine-learning algorithms for early diagnoses and preventive medicine to reduce costs. In contrast, corporations might develop customized tools accessible only to those with financial means. For example, a highly effective AI tool for personalized cancer treatment may be limited to wealthier patients willing to pay premium prices. These differences highlight the importance of considering equity and access when deploying AI in healthcare.
3) What will we do about unanticipated consequences?
Machine-learning algorithms are anticipated to empower doctors and patients in making informed decisions, without making decisions on their own. However, the full extent and speed of artificial intelligence's development and its impact remain uncertain. As we prepare for AI's future, experts suggest being ready for significant changes rather than just incremental progress. 
4) How will AI shape the future of healthcare?
AI is quickly revolutionizing the healthcare industry, transforming medical practices, patient experiences, and pharmaceutical operations. Also, generative AI is already employed to predict various aspects, from designing optimal treatment plans for breast cancer patients to predicting emergency department volumes and more. The potential of AI in healthcare is reshaping the landscape and driving innovative solutions across the field.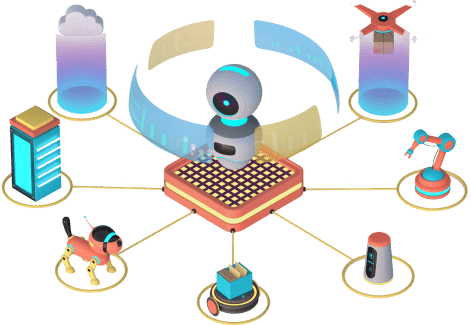 Planning to Leverage AI for your business? We provide AI Consulting to help organization implement this technology. Connect with our team to learn more.