In the ever-evolving landscape of business solutions, the emergence of the Microsoft Power Platform is nothing short of a revolution. It's like having a suite of tools that can supercharge your business operations. In this blog, we'll take a deep dive into the Microsoft Power Platform and uncover its various components, their significance, and how they can propel your business forward. Get ready to unlock the true potential of your organization with this powerful toolkit.
Understanding the Microsoft Power Platform
The Microsoft Power Platform is a comprehensive solution that encompasses Power BI, Power Apps, Power Automate, and Power Virtual Agents. It's like a Swiss Army knife for businesses, offering a range of tools to tackle various challenges.
Components of the Power Platform
Each component of the Power Platform plays a unique role. Power BI is your data analysis powerhouse, Power Apps empower you to create custom applications, Power Automate takes care of workflow automation, and Power Virtual Agents enable you to have intelligent conversations with your customers.
What's truly remarkable is how these components seamlessly work together. Data insights from Power BI can be integrated into your Power Apps, automated workflows with Power Automate, and even utilized in your virtual agent conversations. The synergy between these components is where the magic happens.
Unveiling the Power of Power BI
Power BI is your data visualization wizard. It takes raw data and transforms it into meaningful insights. With stunning charts, graphs, and interactive dashboards, it's like having a crystal ball to predict business trends.
Making informed decisions is the name of the game. Power BI provides the information you need when you need it. It's not just about making pretty charts; it's about having the data at your fingertips to guide your business strategies.
Every tool shines in the hands of those who wield it effectively. Power BI has been instrumental in various industries, from healthcare to finance. For instance, healthcare providers have used it to track patient outcomes and optimize resource allocation. Success stories like these emphasize the practical impact of Power BI.
Also, read: Microsoft Ignite November 2021 – New Power Platform announcements and capabilities
Leveraging Power Apps for App Development
1. Low-Code Development and Its Significance in Power Apps
If you've ever thought about building your own app but felt overwhelmed by coding, Power Apps are your saving grace. With a low-code approach, you don't need to be a developer to create functional apps. It's like a fast track to turning your ideas into reality.
2. Customization and Adaptability in Creating Apps
One size doesn't fit all, and that's where Power Apps truly shine. You can customize your apps to match your organization's unique needs. Whether it's the user interface, data sources, or functionalities, the power to adapt is in your hands.
3. Exploring Various App Scenarios and Use Cases
The possibilities with Power Apps are endless. Imagine building an app to streamline your sales processes, track inventory, or manage customer relationships. It's about finding solutions tailored to your specific business needs.
Also, read: How to create a Power Platform trial?
Streamlining Processes with Power Automate
Business processes can be complex, and that's where Power Automate comes into play. It automates workflows and integrates with various platforms, saving time and reducing errors. It's like having a personal assistant for your digital tasks.
To put it into perspective, consider a scenario where an organization used Power Automate to automate their invoice approval process. The result? Faster approvals, reduced delays, and happier vendors. Real-life success stories like these show the tangible benefits of workflow automation.
While automation offers a host of benefits, it's not without its challenges. Balancing security, privacy, and the need for automation can be a delicate act. However, with careful planning and the right tools, these challenges can be overcome.
Conversational AI with Power Virtual Agents
Conversational AI, including chatbots and virtual agents, is changing the way businesses interact with customers. Power Virtual Agents enable you to create intelligent chatbots that can handle customer inquiries and provide real-time assistance.
Enhancing Customer Experiences with Virtual Agents
In the era of customer-centricity, providing exceptional experiences is crucial. Power Virtual Agents offer a way to engage with your customers 24/7, answer common queries, and guide them through their journey.
Exploring AI Integration in Customer Service
Artificial intelligence integration in customer service is a game-changer. Imagine a virtual agent that can understand and respond to customer sentiments, delivering a more personalized experience. It's the future of customer service.
Integration of the Microsoft Power Platform
Harmonizing Power Platform with Existing Business Ecosystems
The beauty of the Microsoft Power Platform is that it doesn't exist in isolation. It harmonizes with your existing business ecosystem. Whether you're using Microsoft 365 or Dynamics 365, the Power Platform integrates seamlessly.
Seamless Integration with Microsoft 365 and Dynamics 365
If your organization is already utilizing Microsoft tools, the Power Platform complements them beautifully. Imagine having your Power Apps connected to your Outlook or your Power BI dashboards embedded in your Dynamics 365 CRM. It's about creating a unified experience for your users.
Best Practices for Optimal Integration
While integration is a fantastic advantage, it's essential to follow best practices. Ensuring data security, keeping data synchronized, and providing a consistent user experience are key considerations.
Building Your First Power Platform Solution
Step 1: Creating Your First Power Platform Project
Let's roll up our sleeves and get practical. To begin, you'll need to initiate a Power Platform project. Whether it's a simple data analysis task, creating a custom app, or automating a workflow, it all starts with a project.
Step 2: Customizing Solutions Using Various Components
Once you have your project, it's time to get creative. You can use Power BI to create reports, Power Apps to build apps, Power Automate to automate workflows, and Power Virtual Agents to design chatbots. The power is in your hands.
Step 3: Advanced Features and Exploration
As you become more familiar with the Power Platform, you can explore advanced features. Dive into data modeling in Power BI, create complex apps with Power Apps, set up conditional triggers in Power Automate, and integrate AI in Power Virtual Agents. It's about taking your skills to the next level.
Realizing Business Impact
1. Case Studies and Testimonials Demonstrating the Platform's Influence
A great way to understand the potential impact of the Power Platform is through real-life case studies. Organizations across various industries have harnessed its capabilities to improve their operations, boost productivity, and make data-driven decisions.
2. ROI and Success Metrics in Power Platform Implementation
Business isn't just about adopting new tools; it's about making a tangible impact. Measuring the return on investment (ROI) of your Power Platform implementation is essential. It's not just about the efficiency gains; it's about the bottom-line impact.
3. User Feedback and Lessons Learned
User feedback is invaluable. Listening to the experiences of your employees or customers who interact with the solutions you've built can lead to improvements and optimizations. It's a continuous journey of enhancement.
Also, read: What is Power Apps of Microsoft Power Platform?
Future Trends and Developments
1. The Evolving Landscape of Business Solutions
Business solutions are continually evolving, and the Power Platform is no exception. As technology advances, we can anticipate more sophisticated features, better integrations, and even more powerful tools to further streamline business operations.
2. Microsoft's Vision for the Power Platform
Microsoft is committed to the continuous evolution of the Power Platform. With regular updates, new features, and improvements, the platform is continuously growing. It's not just a tool; it's a part of Microsoft's vision for a digitally transformed future.
3. Predictions and Emerging Technologies
The future is exciting. With the potential integration of emerging technologies like AI and machine learning, the Power Platform's capabilities are set to expand. Imagine predictive analytics, automated decision-making, and even more personalized experiences for businesses.
Conclusion
In the grand scheme of things, the Microsoft Power Platform isn't just a set of tools; it's a catalyst for transforming businesses. It's about empowering organizations to streamline processes, make informed decisions, and provide exceptional experiences. It's a journey toward unlocking the full potential of your business.
Whether you're a seasoned IT professional or a visionary business owner, the opportunities that the Power Platform offers are vast. The ability to customize solutions, automate tasks, and gain actionable insights is at your fingertips. It's time to harness the power of the Microsoft Power Platform and propel your organization into a new era of success.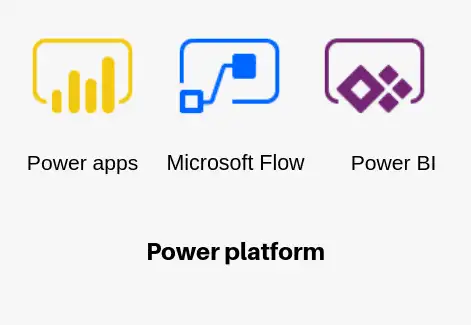 Still, have a question? You are free to contact me or other experts in our team to showcase the real power of PowerApps to you.