The Microsoft power platform combines creative tools that provide business owners with easy and swift app building features. Microsoft Power Platform is built on the Common Data Service for Apps. This allows businesses and users to access work data, creative tools, and app building solutions on a singular data model. The Common Data Service for Apps is a cloud-based platform on Azure cloud that provides a secure database and standard entry fields for easy data input.
Conventional data entry fields include Contacts and Accounts, along with options for adding and editing custom entry fields. Domains may also be hidden or tagged as 'required.' With increasing online connectivity and communication solutions, businesses are starting to discover the power of data-driven decisions, large scale coordination, and the efficiency of online tools.
Power tools help business harness web data, manage social media platforms, and exploit business systems. The whole system is designed to allow businesses to analyze market data, improve productivity, and automate transactions that would be otherwise time-consuming and stressful.
Copy Infographic
The Microsoft Power Platform including Microsoft Flow, PowerBI, and PowerApps. The administration of Microsoft Power Platform has been moved away from Office 365 to its site. You may access free trials and additional information on the website at https://admin.powerplatform.microsoft.com/
Microsoft Flow
This power component provides automating features that help businesses save time, eliminate errors, save labor costs, improve data storage, and sharing among associates. Microsoft flow also possesses characteristics for integrating transactions, updating data stores, account synchronization, and data monitoring. Microsoft flow also maintains high compatibility with more than 200 apps and services that work with it.
Also, read: 4 Best CRM for outlook Integration 2021
PowerBI
This component provides data analytics services. Making business decisions and planning campaigns is much more comfortable with information extracted from market data. PowerBI integrates with big data stored on CDS and other databases to source data for analysis. PowerBI also provides customs options allowing users to design report fields and dashboards to report on desired analytics such as sales, customer services, inventory, market details, and others. PowerBI also integrates well with other apps and platforms, making it possible for reports to be published on other websites, SharePoint, Teams, and PowerApps.
PowerApps
PowerApps is the residential spot for enterprising mobile and app developers. PowerApps enables developers to be creative and quick when creating or developing custom apps that are needed for their systems. The flexibility afforded by PowerApps allows for specialized designs to employ innovative designs in mobile apps that provide solutions to business problems. PowerApps also integrates with Flow and CDS to offer increased data sharing, storage, and sharing features among users and associates.
Also, read: 4 Easy Steps to initiate Refund in Business Central
Advantages
The features provided by Power platform and its component will provide a host of benefits and empowerment to any business owner. Some of these advantages include:
Increased productivity and employee performance
The quicker and better-informed decision-making process
Improved risk management and campaign design
Savings on labor costs, time, and elimination of errors with automation features
Better data input, storage, and sharing
An efficient communication system between partners and associates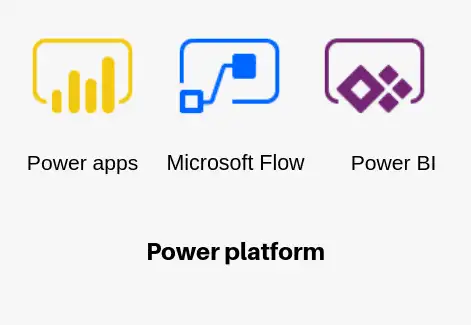 Still, have a question? You are free to contact me or other experts in our team to showcase the real power of PowerApps to you.