The growth in the digital sphere is infinite as of now. Every day exciting changes are being introduced to users. Be it the dependency of AI each day users are being inclined towards, or the growth of eCommerce platforms.
Consumers are informed and ready to explore new tools, websites, or even trends in social media. With this enormous consumption, it is crucial to understand the importance of web development in the digital transformation age. 
IDC predicts that between 2020 and 2023, direct investments in digital transformation would grow at an 18% CAGR to reach $7 trillion as businesses build on their current expenditures and plan to scale up their digital enterprises.     
In this blog, we are going to discuss the different crucial aspects of web development to keep in mind. Now first let us understand what digital transformation means:
What is Digital Transformation?
Digital transformation is the process of revising and changing conventional and non-digital business processes and services or creating new ones using digital technology to meet changing customer and market expectations. This procedure fundamentally changes how businesses run and how their customers are served.      
Read the complete detail about Digital Transformation here- What is Digital Transformation? Overview and Strategy
What are the different types of Digital Transformation?
1. Business Process Transformation
Innovation in business processes changes how organizations operate daily. Recent changes hamper how employees work and incorporate them into their work.
This involves obtaining fresh data and applying it to company decisions, automating manual procedures, and maximizing investments in marketing and R&D. 
Cost reduction is a major goal of business process change. Other goals include minimizing the time to market, improving the quality of the goods and services, enhancing customer satisfaction, and improving brand reputation. 
Also, read: How Business Process Automation Can Help Your Business
 2. Business Model Transformation
Innovation in business processes alters how organizations operate daily. This requires carefully considering how the primary business of the sector operates.
It is usually necessary to look beyond what is already acceptable in the industry and consider the potential of new business models when changing the business model. It places a strong emphasis on innovation and "thinking outside the box" to improve company outcomes.
 3. Domain Transformation
A domain transformation occurs when a company moves into a different industry. Although the concept of a domain transformation may not get as much emphasis in the context of digital transformation, that is understandable given how successful it may be.
 4. Cultural Transformation
Any digital transformation program must consider culture since it is essential to its success. This change may be hard for many organizations.
To ensure that everyone is aware of the possibilities of new technology for enhancing the business, promoting internal collaboration, and developing new strategies for engaging customers, digital transformation must begin with education for current employees.
Utilizing technology and building a continuous innovation process requires a workforce that is flexible and willing to learn new skills.
Certain talents and skills are necessary to completely integrate technology into an organization and transform processes, business models, products, and communications.
 5. Cloud Transformation
The process of migrating your business operations, profitability, and resilience to the cloud is known as cloud transformation. This could include relocating the software programs, internal and client data, and applications used by your company.
It can take many different forms; for instance, a business may migrate only certain apps, data, or services while keeping some legacy infrastructure in place, or it may migrate all its infrastructure to the cloud.
Ownership is a different aspect of cloud transformation; some businesses use the public cloud, a third-party data center run by a cloud provider.
Others build their own private clouds—cloud computing infrastructure that is housed internally. To build hybrid cloud management infrastructure, several people blend the two methods.   
Numerous advantages of cloud innovation include improved data sharing and storage, accelerated time-to-market, and more organizational scalability and flexibility.
Also, read: Digital Transformation in Healthcare: Key trends in healthcare for 2023
Understanding Digital Transformation
Today, businesses must undergo a digital transformation if they want to survive and prosper. Nowadays, customers can access almost every industry virtually.
According to a study, customers are choosing new behavioral patterns. Since the start of the pandemic, transformation has grown more common than before. 
Technology developments were more important than ever during the epidemic as demand surged and expanded. Hesitation or avoidance is the primary cause of many businesses' shortcomings. Some businesses continue to ignore the significance of digital transformation. And as a result, businesses are following in using the online market or other virtual platforms to reach clients.
Then some have been exposed to the digital world but are still unprepared for the ongoing changes and emerging trends.
Improving customer experience is the most crucial aspect of digital transformation. For businesses to succeed and expand, improving the whole customer experience is a vital requirement.
Ready to Transform Your Business?
Experience the Power of Digital Transformation Today!
What is the role of Web Development in Digital Transformation? 
Along with user consumption, it is important to keep fixing the loopholes of your website. You do not want to give a bad user experience every time one visits your website. Continuous improvements promise impressive results.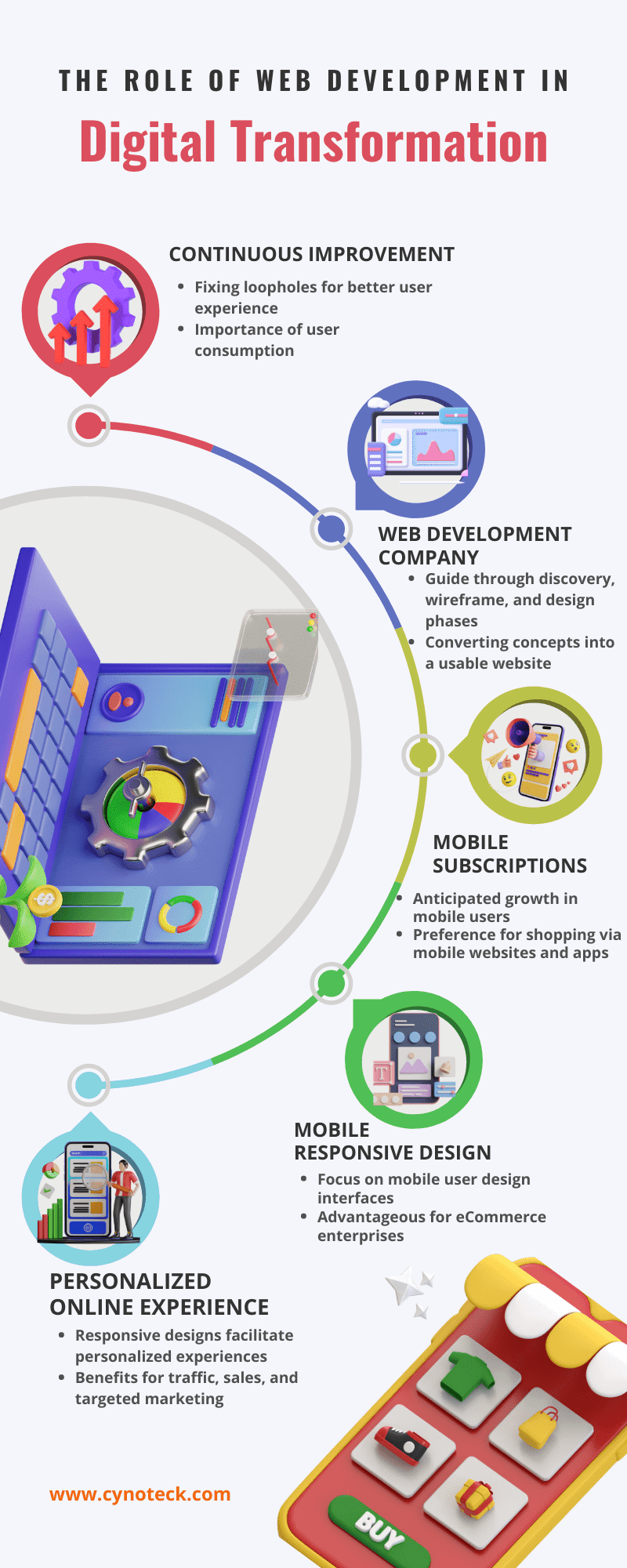 Copy Infographic
A web development company can make a great website! They will be able to guide you through the discovery, wireframe, and design phases before converting those concepts into a usable website.      
In 2023, the users of mobile subscriptions surpassed 7 billion and several hundred million more are anticipated within the following quarters. This data indicates that every other consumer chooses to shop via mobile websites and apps, with a projected annual growth rate of 1.9%.
Mobile responsive
An approach to website design and development known as "mobile responsive" or "mobile first" is based on the straightforward idea of creating digital goods and services first for mobile devices before adapting them for desktop displays.
A focus on mobile user design interfaces improves the user experience, which is especially advantageous for eCommerce enterprises.      
54% of people say they want a more personal online experience. 
With the help of responsive designs, it gets easier for users to adapt the designs. As it fits the screen size of the users. For this feature, all the credit goes to eCommerce.
A responsive eCommerce website helps you with more traffic and sales as well as a more narrowly focused portfolio, the right target market, and faster website performance.     
53.8% of web developers quote "not being responsive on all devices" as their top reason for redesigning a website. 
Also, read: Vertical Experience in Digital Transformation: 5 Questions to Ask Your Contractor
Key Benefits of Web Development in Digital Transformation     
Businesses require a personalized web development strategy that properly complements their brand, objectives, and offers if they want to stand out and have an impact.      
Here are several benefits of choosing web development for your business:     
1) Maintains a Strong Digital Presence
Safeguarding your customers' data and maintaining the reputation of your business are important priorities in a world full of cyber threats.
Even though no-code or low-code website builders could advertise basic security features, only custom web development can offer the superior security your company needs.  
By making your website's source code inaccessible to outsiders, using exclusive source code protects you from potential data breaches.
Furthermore, skilled web developers integrate strong security methods, including SSL installation, ensuring that your website stays a reliable fortress against online attacks.     
2) Better User Experience
Consider a website that effortlessly meets the needs of your target market while offering an unmatched user experience.
You can create a unique website from the ground up with custom web development, including design components, functionality, and features catered to the requirements of your target audience.     
Custom websites are created to delight and engage visitors at every touchpoint, as opposed to generic templates that might not have the precise design themes needed to create a welcome experience.
You can improve client satisfaction, encourage loyalty, and differentiate yourself from the competition by designing a user-centric experience.
3) Online Visibility & SEO 
Utilizing the power of SEO is essential in the era where search engines dominate our digital world. Custom web creation is essential for making your website more visible, attracting targeted traffic, and optimizing it for search engines like Google.
By incorporating SEO best practices into the architecture of your website, you can guarantee that consumers will see your pages prominently when they enter relevant keywords.     
Each year, websites that load slowly lose $2.6 billion in revenue.
Consider the benefit of attracting prospective clients who are actively looking for your products or services. Custom web creation gives you the tools to engage your audience and leaves your competition in the dust, whether it is through convincing writing or captivating call-to-action language.     
4) Strategic Advancement
Although website templates may initially seem convenient, it soon becomes apparent how difficult it is to update and manage them.
The limitations of templates become increasingly obvious as your organization expands, making it challenging to scale and meet changing needs.   
On the other hand, custom web creation gives you the freedom to easily adapt, tweak, and reorganize your website.
By adopting a scalable bespoke strategy, your website becomes a living entity that grows along with your company and is constantly prepared to satisfy rising demands.  
5) Unique personalization
Your website needs to stand out and leave a positive impression in a congested market. A distinctive and visually appealing website design creates the ideal environment for drawing in more visitors and holding their interest.
A custom web design and development business can help you turn your website into a one-of-a-kind masterpiece that emanates the illusive "x-factor."      
Every visitor to your website will be amazed, familiar with your brand, and will remember your distinctive offerings for a long time. Let your brand stand out and make a lasting impression on the hearts and minds of people as per your target market.     
Also, read: Sales and Marketing Integration with Digital Automation
Challenges in Web Development for Digital Transformation:    
Copy Infographic
1. User Interface and User Experience 
Consider the web ten years ago; it was quite a different place. Smartphones were not a thing. Now, web apps that are more user-friendly and straightforward are expected.
Sometimes the smallest UI components have the biggest effects. Websites should be sufficiently responsive in the age of smartphones.
It is challenging to keep visitors to your website loyal if your web applications frustrate or perplex customers.
The website's navigation is another feature that developers frequently overlook. The user experience on a website is improved through intuitive navigation.
Without a steep learning curve, intuitive navigation guides your audience to the information they need. Additionally, visitors can easily access information when the navigation is clear.   
2. Scalability 
Utilizing processing resources and bandwidth effectively is not performance or a part of scalability. It is about balancing the demand amongst the servers; thus, further servers can be added to balance it when the load rises (i.e., more traffic on the page).
You should design the software so that it can operate on a cluster of servers rather than just dumping all the burden on one server.
Service-oriented architecture (SOA) can help in increasing scalability as more servers are deployed. SOA gives you the freedom to change with ease.
In a structure referred to as a "service-oriented architecture," application components provide services to other components across a network or a communication protocol.  
3. Data Security 
The security of web apps is frequently overlooked in favor of design and user experience. However, security should be considered at every stage of the software development process, especially when the application handles sensitive data like credit card numbers and personal information.
When it comes to web application security, there are many factors to consider, including denial of service attacks, user data security, database errors, unauthorized access to password-protected areas of the website, etc.     
Also, read: What is Workflow Automation? And top Workflow Software for 2023
Best Practices for Successful Web Development in Digital Transformation 
Having a framework for your web development process is advised. Because it not only makes everything go more smoothly but also saves a ton of hours of labor. Let us now demystify the word "framework."    
A framework helps web developers in avoiding mistakes and producing top-notch applications. Due to its low initial cost, framework adoption saves a significant amount of time. This implies that your job will be completed sooner.     
Apart from understanding the framework, there are numerous steps and plans to ensure the successful implementation of the web development plan. To know more you can check out the following blog below:   
We are here to assist you:
Cynoteck offers a wide array of web application development services to augment, develop, manage, and better maintain your web material at a reasonable cost.
Our consultant helps different organizations build their easy-to-use CMS system which can allow them to easily control and manage their website content with little knowledge of the backend process.
We have a team of experts that helps enhance the organization's growth by providing them with great CMS solutions.  
Ready to Transform Your Business?
Experience the Power of Digital Transformation Today!
Conclusion
Choosing the best web development partner is a crucial choice that could affect your company's success. It is critical to have a clear grasp of the objectives and specifications of your website and to thoroughly investigate and assess partners before deciding. 
By considering the benefits and challenges of web development you can be ready to make the right choice and enact meaningful changes.
Remember that improvements should be continuous with change. As technology is advancing every day there is a huge room for development. It is essential to choose a partner who can provide ongoing support and maintenance to ensure the website's continued success.
By following the above-mentioned tips, you can make an informed decision and select a web development partner that can help take your business to the next level. The right assistant can leverage your business by choosing the right steps. 
The success of the website depends on choosing a partner who can offer continuing assistance and maintenance. By using the advice, you can choose a web development partner who can help in growing your business and make informed decisions. By making the right conclusions, the appropriate support can help your business grow and succeed.      
Frequently Asked Questions
Q. Why is web development crucial in digital transformation?
Web development forms the foundation of a strong online presence, enabling businesses to reach and engage with their target audience, enhance user experience, and leverage data-driven insights for informed decision-making during their digital transformation journey.  
Q. How does web development contribute to improved customer experience in digital transformation?
Web development facilitates the creation of user-friendly interfaces, responsive designs, and seamless navigation, resulting in enhanced customer experience. It enables businesses to provide personalized content, streamline processes, and offer interactive features that cater to the evolving needs and expectations of customers.  
Q. Can web development boost brand credibility during digital transformation?
Absolutely! A well-designed and functional website instills trust and credibility among online users. It highlights a brand's professionalism, expertise, and commitment to staying relevant in the digital age, which are all vital elements for success in the digital transformation journey.  
Q. How does web development support data-driven decision-making in digital transformation?
Web development enables the integration of analytics tools and data-tracking mechanisms, allowing businesses to gather valuable insights about user behavior, website performance, and market trends. This data-driven approach empowers businesses to make informed decisions, optimize strategies, and drive their digital transformation initiatives more effectively.  
Q. What role does web development play in expanding online reach during digital transformation?
Web development equips businesses with the tools and functionalities necessary to establish a strong online presence, expand their reach, and tap into new markets. It enables effective search engine optimization, mobile optimization, and integration with various digital marketing channels, helping businesses connect with a wider audience and drive growth in their digital transformation endeavors.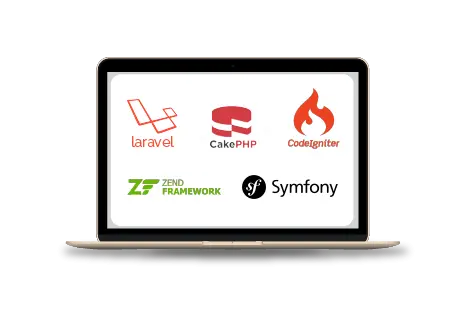 Are you looking for a reliable software development company? Our highly skilled software developers enables us to deliver result oriented software development services. Contact our team to understand, how we can help you in achieving your business goals.