Technology has been advancing rapidly over the past few years. It has generated a tremendous impact on the global economy. And there has been a significant transformation from various offline channels to digital platforms, providing the customers an omnichannel experience. Artificial Intelligence (AI) is the intelligence demonstrated by machines, which is similar to or better than that of humans and is being widely used in different technologies. Today Artificial intelligence is transforming dozens of industries, including the no different marketing industry. Marketers are utilizing AI to enhance ad targeting, produce more leads, improve website design, and give excellent customer service.
AI in Marketing has worked as an asset in making lives easier for marketers, as this technology automates work, improves performance, and overcomes errors. The proper use of AI in Marketing is to understand the preferences of the customers, requirements, and buying patterns of the customers, in serving them better, and assisting them to make the correct purchasing decision. This personalized interaction also helps in improving the customer experience.
Studies show that around 50% of marketers are now utilizing AI and by end of 2021, around 35% more are preparing to incorporate it. After observing the huge success rate, marketers today consider incorporating the use of AI in marketing. As AI-enhanced marketing strategies help in boosting businesses and are now becoming essential for every digital product.
Moreover, with the use of Artificial Intelligence in marketing, marketers become capable of providing excellent online support interactions by quickly predicting consumer patterns, behavior, research criteria, choices, and decisions. Satisfaction of customers is another major area that is significantly influenced by adopting AI, as Chatbots effortlessly resolve consumer queries and problems at a more accelerated rate than humans. Chatbots are also used by digital marketers to have engaging conversations with customers over several social media platforms like Instagram, Facebook, etc. as a crucial component of their marketing strategy.
Today, in this article, we are going to discuss the applications of AI in marketing, and how it is considered as the future of marketing.
Also, read: How is AI in Healthcare revolutionizing the Healthcare Industry?
How is AI transforming the marketing industry?
AI has become more prominent because of its capability to produce data-driven decisions instantly and accurately. Here are some amazing ways how AI is transforming the marketing industry:
Copy Infographic
1) Enhanced Customer Experience with the use of AI
Great customer experience is the most significant aspect of any effective digital marketing strategy. Relevant content brings more customers, and they are more likely to convert into recurring customers. Artificial intelligence can gather data and decide what type of content is the most suitable based on certain things like historical data, location, and prior behavior. This gives the user the impression that this particular brand was created especially for them.
Getting huge traffic to your website can only be of use if that traffic gets converted into sales and this can be achieved by providing a great user experience. The use of AI in marketing can help you customize the views of your prospects by foretelling their persona, behavior, and search sequences. If digital marketing is performed right utilizing artificial intelligence, it makes the buying process smooth and easy for your targeted consumers by eliminating complexity and targeting a product created as per the user's requirements. This unites the consumer to a brand for a longer period than usual.
2) Creating Marketing Content
With the use of AI in marketing, marketers can now connect and understand their consumers in a more reliable and better way than before. With the integration of AI in marketing strategies, you can discover what content is most efficient, according to the behavior of your customers, enabling you to employ a content marketing strategy that produces results.
AI-powered tools help content creators to perform their work much more easily and efficiently. Marketers learn and understand the type of content that works best for their target audience, empowering them to produce the appropriate content. AI tools help to improve the efficiency of your content team by automating tasks like personalized reports, email content, or social media content.
Also, read: How is AI in Education revolutionizing the Education Industry?
3) Optimized Text and Voice-Based Search
Marketers today use voice-based AI to optimize their websites for voice search and they also unite it with the conventional text-based search. AI provides different voice-based tools that understand the intent of the user and provides equivalent conversational speech like if they were talking with humans.
Voice search outcomes have changed digital marketing completely. All one has to do is speak to their device for what they are looking for and he/she would be provided with the desired results. This voice search is likewise available in several different languages.
So, digital marketers, today optimize websites for voice search while keeping the text-based search. They incorporate voice search queries that can respond instantly to the searcher by showing them to web pages that provide them immediate answers to their questions and problems as well.
4) Use of Chatbots for Better Customer Support and Experience
AI-powered chatbots help in improving the user experience as they respond and resolve issues instantly and have human-like conversations that are extremely interactive and polite to their customers. These chatbots are available 24×7 and can handle complicated queries and requests simultaneously.
Chatbots help in social media marketing, backlinking, and also learn a user's requirement, bringing them the desired results accordingly. Today around 50% of people favor having a chat link on a website or Facebook allowing 24*7 customer support. To assist the customer more reliably, marketers utilize these chatbots in apps, websites, text messages, and emails, making the customer journey simple and engaging.
Also, read: 4 steps guide to Machine Learning Model Deployment
5) Email marketing
AI helps email marketers in reaching out to the appropriate customers at the right time, confirming that the delivered message is relevant, interesting and increases the chances of conversion. Before AI came into the picture, emails took time in drafting and were dull enough for any user to read. However, with the use of AI now, and the volume of data available, emails cannot be missed out now. Artificial Intelligence identifies the exact information for the right target audience. You can gather, examine and utilize that information to target your user intriguingly through artificial intelligence.
Artificial Intelligence also assists marketers to optimize their email campaigns, allowing them to increase their results, along with more customized content. Various tools like Phraseeare, Boomtrain, and more, are now available that allow marketers to understand and enhance campaigns faster.
Also, read: What is BERT? BERT for Text Classification
6) Sales forecasting
AI can help you predict the coming trends of digital marketing which enables marketers to execute more suitable strategies for the ultimate success of their businesses. Understanding what to do next and doing it right is something that each business aims, to satisfy customers' requirements, expectations and make more sales.
AI-based digital marketing enables businesses to reach out to prospects by identifying customers based on their preferences, interests, focus, purchasing patterns, and other perspectives. This empowers marketers to settle on the best target audience for their respective brands. This helps you define what merchandise to sell and promote to whom for making tremendous sales. This process of forming business intelligence also allows you to avoid overselling out-of-stock products.
Artificial Intelligence can also notice calendars and fix prices of the products as per the upcoming festivals, sacred holidays or any special celebrations, and weekends as per the users' data and the growing user count.
What Can We Expect from AI in the Future for the Marketing Industry?
AI has gained trust from marketers and has now become a must-have, with more major brands observing it not as the single decision-maker, but as an essential tool for growing the decision-making process. The appearance of artificial intelligence-based technologies has considerably transformed how marketers can reach the ultimate customer experience, providing them to appropriately connect with their target audiences.
The future of marketing with Artificial Intelligence is estimated to become more automated and innovative. Artificial Intelligence has helped businesses with a complete customer focus and has optimized marketing goals such as personalization, knowing customer behavior to customize the pitching and engagement process, delivering more accurate predictive analyses, and preserving time at discovering and converting leads. So, AI will further help
businesses preserve costs with optimized budgets while making more streamlined tasks for employees. It will also help reduce the time by automating the sales processes.
Also, read: 10 Powerful AI Chatbot Development Frameworks
Conclusion – Wrapping up
AI has become more accessible for all types of businesses, employing AI-enabled digital marketing strategies has helped brands to deliver enriched customer experience and bring out more effective marketing. Whatever the kind of business you have, Artificial Intelligence is going to transform your business completely whether it be the marketing industry, or some other industry. The use of AI in marketing will help you save money and time for marketers and also enhance the user experience considerably.
Digital marketing is estimated to experience a standard shift as a consequence of this new appearance of different AI tools. Whether you talk about the chatbots engaging with the consumers, or smart apps dealing with large amounts of data, or predictive analysis, you can make use of all of these to grow your brand and meet the expectations of your customers.
This powerful Artificial Intelligence era provides a completely new approach to efficiency, productivity, and profitability. This gives marketers the possibility of embracing an AI-driven future and transforming their strategies to maintain pace with a digitally driven world.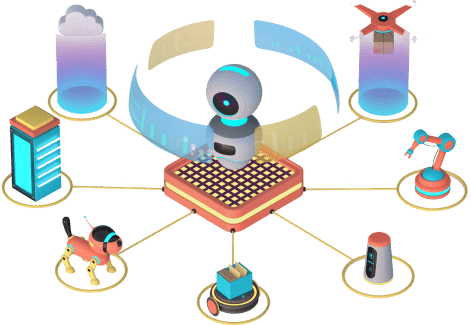 Planning to Leverage AI for your business? We provide AI Consulting to help organization implement this technology. Connect with our team to learn more.