Constantly shifting insurance coverage regulations cause uncertainty, so putting a specific emphasis on patient engagement and communication has become crucial. This has become more important after the additional pressure brought on by the COVID-19 pandemic. Purchasing a CRM for healthcare enables you to quickly access your patient's medical, financial, and behavioral history. You can use this information to personalize communications, enhance follow-up care, and increase client happiness and loyalty.  
The healthcare sector lags far behind the rest of the world when it comes to adopting efficient digital communication channels to meet consumer demands. The problem lies in utilizing innovative technology to boost personalization through marketing automation without sacrificing human touch or raising security risks. 
With the implementation of CRM in the healthcare sector, healthcare organizations can engage with patients through a variety of channels. This provides them with personalized health plan options. You can adhere to the best customer management procedures and maintain clients' data by using a CRM in your healthcare organization.
This data may include medical history, visits, medical bills, and more. To schedule and manage medical visits, you can also set up an online medical portal. It allows you to divide up the patient population into different groups so you can more thoroughly evaluate and understand them.  
Now, in this article, we will examine the advantages and characteristics of a healthcare CRM system, and how it can benefit the healthcare sector.  
What is a healthcare CRM?
A digital tool for managing client connections in the healthcare sector is defined as the healthcare CRM software. It is a solution created for any type of medical facility, including a hospital, lab, medical facility, public or private clinic, etc.
Healthcare CRM offers practical measurements & reports for daily clinic work review. Such a solution assesses several data sources, including demographics, health history, insurance payers, social and behavioral data, and more, about a customer.  
You can keep track of and update these facts for each of your patients using a healthcare CRM. This prevents you and your team from switching between various platforms to log information. It also provides you a complete picture of your patients and their preferences.  
Understanding the patterns and habits of patients through data analysis is helpful. With the help of these insights, healthcare organizations will be better able to understand their patients. This results in developing individualized engagement plans for each one of them.
This scientific approach to interacting with people helps organizations build lasting relationships since they feel that the interaction is occurring on their terms and that they are a part of the process. 
Also, read: Salesforce as a Healthcare CRM: Reasons Why Healthcare Providers Should Use It
What exactly does healthcare CRM software do?  
A healthcare CRM helps in redirecting the focus of healthcare toward addressing patients' requirements. Healthcare companies, like other businesses, can use CRM technology to concentrate on relationship management while providing more obvious advantages.
Using individualized reports that you create specifically for your business helps you assess the effectiveness of your engagement strategies. Additionally, it allows you to divide up the patient population into different groups so you can more thoroughly evaluate and understand them.  
The seamless integration and updating of patients' electronic health information can help prevent drawn-out initial examinations at the start of each session. This further helps save time. By enhancing care quality, reducing expenses, and effectively utilizing patient information, healthcare CRM helps healthcare providers maintain their operations in today's competitive environment.  
Also, Read: CRM Integrations You Need to Level up your Tech Stack 
What are the benefits of having a healthcare CRM? 
A healthcare CRM helps create dashboards and reports, run direct mail campaigns, integrate them with your current apps, and more. It works across different platforms and offers full customer management services.  
The healthcare CRM integrates data from several sources (such as your EHR, patient satisfaction surveys, and other sources) to produce an integrated profile. So, you can rely on this CRM to help you in developing a comprehensive view of your patients.
A healthcare CRM also improves patient engagement because it enables personalized outreach that addresses each patient by name. It follows the segmentation you choose (based on the data you gather and keep for each patient).  
In addition to managing different data streams, healthcare CRM solutions also provide the following benefits: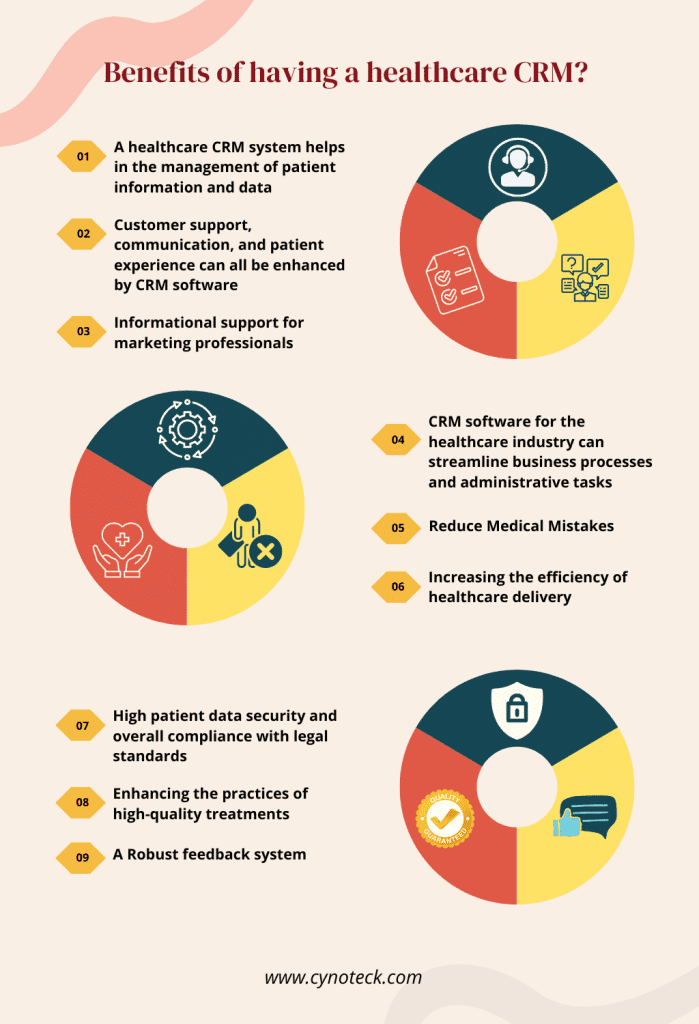 Copy Infographic
1) A healthcare CRM system helps in the management of patient information and data 
There are times when even mediocre hospitals have thousands of patients. Information about them is quite easy to lose. A healthcare CRM removes this problem in one way or another if managed effectively.  
2) Customer support, communication, and patient experience can all be enhanced by CRM software 
A healthcare CRM can make many care-related aspects of hospital treatment extremely comfortable. First, a CRM shortens hospital wait times in general. Second, patient disputes can often be avoided with the use of CRM software.
In the healthcare industry, patients frequently forget to take their medications or show up for appointments. Using a modern CRM for healthcare can solve many of these problems. 
3) Informational support for marketing professionals  
A healthcare CRM is a powerful tool for all types of marketing professionals. It provides information on a variety of patient behaviors. Personalized marketing – people with diabetes, for example, can receive information on installing automatic blood sugar-management equipment.
4) CRM software for the healthcare industry can streamline business processes and administrative tasks 
A healthcare CRM's capacity to transform several internal business processes into highly efficient ones is a significant advantage. The availability of information is one of the key issues facing modern businesses. Tracking the patient's valuable information, such as medication intake, is significantly simpler when CRM is used.  
5) Reduce Medical Mistakes 
Medical errors are one of the biggest issues in modern healthcare. These organizational difficulties, which rank among the largest in the sector, are eliminated by a healthcare CRM.  
6) Increasing the efficiency of healthcare delivery  
A CRM is essential for quick service delivery in the healthcare industry. With the use of such a system, a doctor can quickly provide potential patients with all relevant information.  
7) High patient data security and overall compliance with legal standards 
The goal of contemporary healthcare CRM software is to offer the highest level of security to all relevant stakeholders. First, using a healthcare CRM significantly reduces the risk of client data theft.
Second, this approach stops unauthorized alterations to medical records. A CRM also allows you to meet all the essential criteria that define the contemporary healthcare industry.  
8) Enhancing the practices of high-quality treatments 
Numerous options are available in a healthcare CRM for tracking relevant data about treatment approaches. It helps you monitor the most effective treatment techniques using the record-keeping systems. A specialist can examine which procedures satisfied patients the most and helped them the most. 
9) A Robust feedback system 
This CRM technology is crucial if you want to learn what your patients believe. Communication capabilities enabled by a CRM allow for the transfer of information from clients to management. 
10) A strong feedback system 
The technology involved is also essential if you want to know what your patients think. CRM enables communication tools giving a chance to transmit information from clients to management.  
Also, Read: How Construction, IT, and Manufacturing Industries can Capitalize on CRM?
Features of a healthcare CRM  
If you wish to compete in today's competitive environment, it makes sense to implement CRM in your medical practice. This is because, if you already utilize electronic health records and/or practice management software, it provides you with unique and extraordinary insight into your patients. The following are the key features of a healthcare CRM: 
 1) Using database tools makes managing your information simple
Top healthcare CRM software can help in storing a lot of data about your hospital. Large-scale information retention and, more significantly, information search are strengths of contemporary systems. Your patient management, therefore, becomes highly effective in this situation. 
2) Mail Campaigns 
This enables you to mail reminders for appointments to patients and potential clients while also promoting your practice. Before the start of the school year, parents will receive reminders to bring their children in for vaccines, etc. Greeting emails are appropriate for prospective patients who have visited your website and shown interest.  
3) Dashboards and Reports 
A crucial part of any CRM platform is reporting. The CRM must be able to generate personalized reports, as well as evaluate data and statistics. You might find that elderly patients that fall under one ZIP code are much less receptive to emails reminding them for visits.
But since they all have cellphones, they are receptive to SMS text messages asking them to schedule an appointment. You can avoid wasting money on patients who might not need your services right now all because of this increased outreach efficiency.   
4) Multi-Platform 
A good and reliable CRM has cloud capability. This enables your doctor to access or input data while they are out of the office, such as while they are making rounds at the hospital where you are affiliated.  
5) Tools for collaborating with coworkers  
Up to 30% of deaths attributed to medical errors are the result of communication issues. A healthcare CRM provides a wide range of solutions to address this problem.
It accomplishes this through the mechanism of straightforward data sharing. The necessary patient information can be sent across departments by a doctor or nurse with ease.  
6) Integrating with Current Software  
A healthcare CRM can integrate with your clinic's existing software, such as your electronic health record (EHR) software, practice management (PM) software, and other programs that you use.  
7) Customer Management and Service  
To provide a complete and cohesive image of each patient, your team must be able to track medications, appointments, patient notes, and other information.
Because they have immediate access to a patient's personal and medical information, customer service representatives can quickly set up appointments with specialists. This helps them to respond to questions about conditions and take other informed actions during patient contact.
A CRM for healthcare can completely change the way you interact with your target audiences.  
Locating relevant client records about diseases.  
Seeking a medical professional with expertise in a particular disease.  
Collecting information about patient visits;  
Recording information about different elements of healthcare and offering feedback.   
  8) Smart and Effective Segmentation 
By categorizing incoming appointment requests and other inquiries, you can maintain order. Requests can be ranked according to location, circumstances, connected doctors, referral partners, medical history and diagnosis, family records, and other factors. Through chats, messaging, and email, professionals can easily communicate around the same data. 
Key Takeaways
Today, any medical practice must use a healthcare customer relationship management, or CRM, tool. 
With the use of a healthcare CRM, you should be able to target various patient groups with direct mail, emails, and SMS messages after segmenting them. 
A CRM is made to help you engage with all your members more effectively. Your patients deserve the same level of care and consideration as any other local business's clients. 
For easier access by your team, especially while they are on the go, it is best to work with a healthcare CRM that operates on several platforms. These platforms may include tablet, smartphone, or desktop. 
Utilize the healthcare CRM solution to keep track of every element of your patients, from reordering prescription medications to sending out appointment reminders. 
Ensure that the CRM will integrate and work seamlessly with your current software programs.  
Also, read: CRM Artificial Intelligence – What is it and how can it benefit your business?
Conclusion
The healthcare CRM industry is expanding daily. This system offers healthcare firms all over the world the chance to establish and sustain strong customer connections by turning every client interaction into an opportunity. Customer relationship management in the healthcare industry is all about utilizing technology to offer patients value-added services, delight customers, and increase customer loyalty. To address the human aspects of implementation, pre-planning and executive support are required. 
Patient data management, aggregation, and collecting are the primary advantages of healthcare CRM. From this basic purpose and propensity for technology integrations, they develop to personalize patient experiences, improve internal and external communications, streamline internal procedures, and more.  
Always, remember that the CRM should work seamlessly with your current software and be accessible across multiple platforms.  
FAQs (Frequently Asked Questions) 
1) What is a healthcare CRM?
Healthcare CRM is a system that helps healthcare businesses in keeping track of all their patients' information and develop strong bonds with them. Additionally, CRM systems improve and promote a pleasant customer management experience by facilitating communication between team members, departments, referral businesses, and suppliers.  
2) How is CRM used in the healthcare sector?
CRM for healthcare places a strong emphasis on managing and enhancing patient relationships to keep current customers, attract new ones, and collaborate with cooperating businesses and suppliers. It is also utilized to promote healthcare services and sales, help with clinical outreach, improve the provision of medical treatment, and do a lot more.     
It furthermore helps to keep track of all work-related activities, inputting, performing, and following up on notes, tasks, reminders, collaborations, predictions, and analytics.   
3) Why should hospitals use Health Care CRM?
Managing the multiple facets of a hospital environment is challenging. The finest health CRM software allows you to automate workflows in a hospital setting to save time and increase productivity. And most importantly, it helps in improving the overall patient experience.  
4) What should CRM software for the healthcare sector include?
The best CRMs for healthcare should be safe and adhere to privacy policies in your region, such as HIPAA and HITECH standards. They should also integrate with the healthcare institution's Electronic Health Record, which accommodates all the patient's medical data. It uses a decision-support tool like the Clinical Decision Support System to automate event scheduling, patient intake, medication, other reminders, and nurse management.  
5) Which Health Care CRM is the top-rated and most affordable option?
You should only employ the best health CRM software for healthcare when it comes to managing your healthcare environment.  
The least expensive choices on the list are:  
* NetSuite   
* Zoho  
The top health CRM software programs created especially for the healthcare industry include:  
* Healthgrades   
* Influence on Health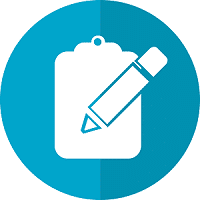 Do you want to implement a CRM system within your organization? Connect with our CRM Experts today!