Every person today owns a smartphone and shops online, and this is the reason why these mobile shopping apps are becoming increasingly popular among consumers. This ongoing coronavirus pandemic is the main reason for all this, it has made one of the biggest transformations in the shopping behaviour of customers. With nations all over the globe inflicting lockdowns and other protection measures like social isolation and distancing, contactless deliveries through shopping and retail apps have now become the latest trend of the town, and shopping online is the new normal of today. The world has started digitizing and this is just the beginning. The best retail apps provide comfort and convenience while shopping online and also have features that streamline and improve the mobile shopping experience for users.
Online shopping has nowadays become a huge trend. Those old times and days of mailers, catalogues, and magazines are now long gone, now it is all available on your smartphone. If you're a business owner, you're missing out on your competitors if you don't have your native app in place.
With today's growing retail technology, retailers can now manage their complete store with nothing more than a smartphone or tablet. We have shifted from cash registers and files that were buried beneath a never-ending stack of paperwork to utilizing a single gadget to market anywhere. So, it does not matter what your business is about, an app can make you reach your goals more easily and bring in the desired results.
Also, read: How to implement an app idea – 7 actionable steps to take
Top 5 best retail apps that have helped businesses thrive during lockdown
Using a mobile device and robust sales software like Shopify, including some best retailer apps, retailers can manage activities within their storefront or on the go at markets, pop-ups, and festivals. Not all mobile shopping apps are equally good and valuable. Mobile operating systems also play an important part, the order of these popular apps for shopping varies depending on whether they are used by Android or iOS mobile phones. Maybe you don't have one, or perhaps you would like the one that can perform better. Whatever is the case, looking at some examples may help you get any ideas on what type of retail mobile app is best for you. Defined below is the list of some best retail apps: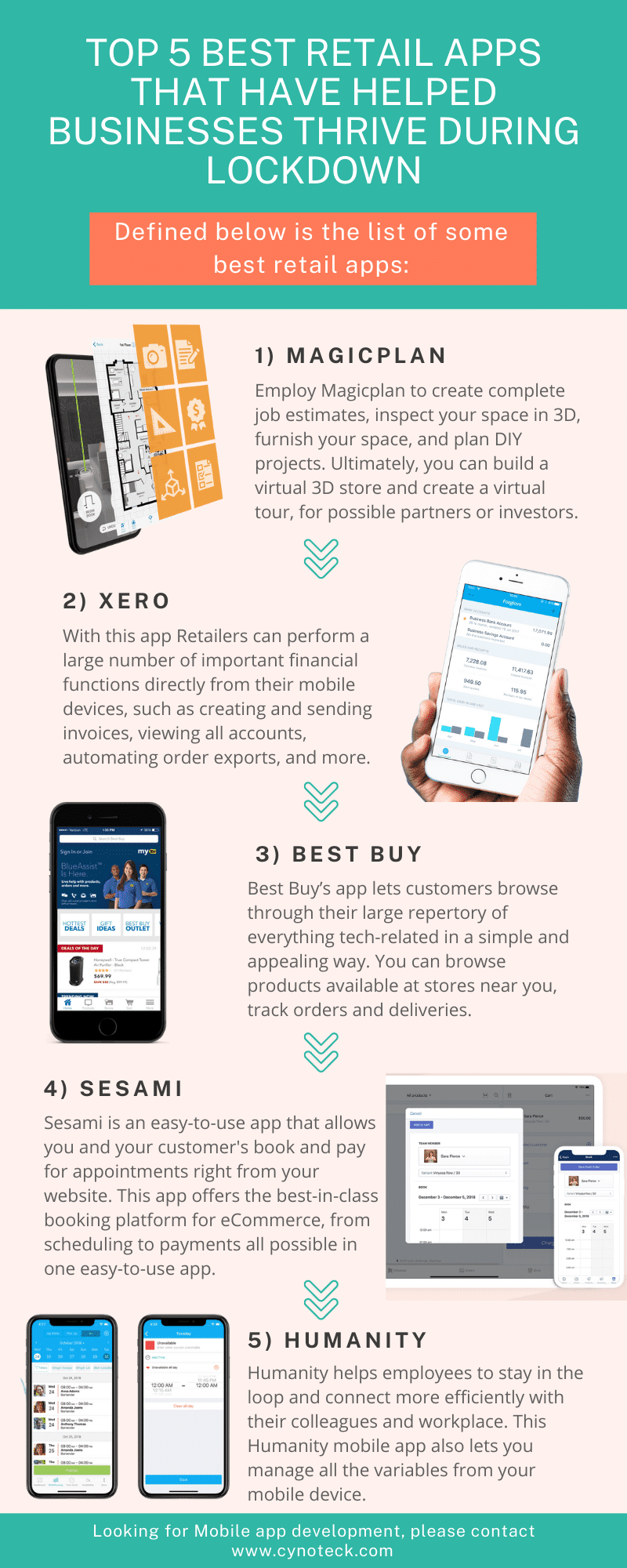 Copy Infographic
1) Magicplan
Your store layout is one of the most significant decisions that you will make regarding your storefront. However, it's usually difficult for retailers to visualize how they can optimize their space. That is where Magicplan comes into role. Utilizing augmented reality, retailers can build professional floor plans just by taking pictures. Take a walkthrough with your tablet or smartphone, click pictures when the app instructs you to do so! You will have a floor plan, with no measuring, drawing, or estimating. Employ Magicplan to create complete job estimates, inspect your space in 3D, furnish your space, and plan DIY projects. Ultimately, you can build a virtual 3D store and create a virtual tour, for possible partners or investors.
Also, read: The Guide to Developing and Adopting a Mobile App Strategy for Businesses
2) Xero
When it comes to managing your business, the main bottom line in your mind for your retail store is to improve and grow your business. With this Xero app, financial reporting and accounting functions can help you build and expand revenue transparency. 
Retailers can perform a large number of important financial functions directly from their mobile devices, such as creating and sending invoices, viewing all accounts, automating order exports, and more. A fast and ultra-secure cloud will preserve and save your data, even if your device gets lost or stolen. This powerful app can help you save money and stay balanced.
3) Best Buy
Gone is the time of physical electronics store, in today's time and keeping in mind the ongoing pandemic having an electronic store right in the palm of your hand can be a more powerful and profitable source. Best Buy app can become your good companion that can assist you to have more comfortable and probably even more modern Best Buy experiences, whether at home or on your way to pick up, etc. Best Buy's app lets customers browse through their large repertory of everything tech-related in a simple and appealing way. You can browse products available at stores near you, track orders and deliveries. Additionally, you can also discover nearby service options and store details.
Also, read: 5 Things most successful business Apps have in common
4) Sesami
Sesami is an easy-to-use app that allows you and your customer's book and pay for appointments right from your website. This app integrates with Zoom and Google Calendar, along with Shopify POS (point of sale system) which means that you can schedule appointments with consumers wherever you are—both online and offline. Sesami was built by entrepreneurs foreseeing the service and experiential commerce. This app offers the best-in-class booking platform for eCommerce, from scheduling to payments all possible in one easy-to-use app. This app also provides protection against a wide range of attacks including Phishing, Brute Force attacks on PINs, and more.
5) Humanity
Humanity is an app that provides you automated scheduling features that grant you the power to integrate multiple schedules each week or month with everything like store closures and vacation times already programmed in. Humanity helps employees to stay in the loop and connect more efficiently with their colleagues and workplace. This Humanity mobile app also lets you manage all the variables from your mobile device like managing time-off requests, ensuring that employees come and go at the appropriate time, plus ensures that shift trades run smoothly. It is loaded with features that made you hold employees accountable, understanding that your stores are well-maintained.
Also, read: 7 Examples of hybrid apps that have taken businesses to the next level
Final Thoughts
Best retailer apps can bring in new functionalities that help you optimize your site for a more satisfying customer experience and increased sales. These apps have a custom-centric approach and innovative features, which are the things that make them stand out. The above-defined apps are some of the best retailing apps that have helped retailers during this lockdown due to this ongoing pandemic, to get more sales with great results and increased ROI, thereby sustaining old customers and bringing in the new ones. When choosing among different apps, it comes down to only one thing i.e. discovering the most helpful apps for yourself and your business that satisfy your unique requirements. Happy selling!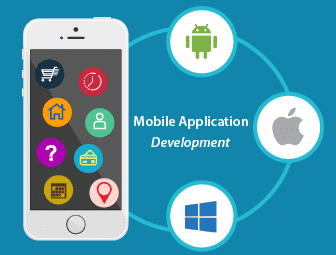 Do you want to leverage mobile technology for your business? Cynoteck is a one-stop Mobile app Development Services provider. We provide iOS and Android application development services so that you can reach your target audience on any device.