In the dynamic digital landscape of today, CRM tools have revolutionized businesses across various industries. With over 2 billion users, the widespread popularity of WhatsApp offers a compelling opportunity for integration with Salesforce. This powerful Salesforce WhatsApp integration allows the leading CRM platform to tap into a massive user base across 180 countries.
By seamlessly integrating Salesforce into your business architecture, you can empower your sales teams, foster customer loyalty, and expand market capabilities. As a business owner, ensuring synchronization between your daily WhatsApp conversations and your CRM is crucial to maintaining and nurturing customer relationships. Without this sync, these valuable interactions may remain unnoticed, restricting your business growth.
WhatsApp Integration With Salesforce allows smooth communication across sales, service, marketing, and commerce interactions. This integration furthermore empowers organizations to transform their communication approach by adopting WhatsApp-first messaging.
Leveraging the advanced capabilities of WhatsApp, businesses can provide convenient, integrated, and personalized experiences to customers worldwide, revolutionizing their interactions.
This comprehensive blog is all about the crucial elements of integrating Salesforce and WhatsApp. It explores the benefits of syncing WhatsApp chats with Salesforce and uncovers how this integration can revolutionize your business communications.
What is Salesforce WhatsApp Integration?
The integration of Salesforce and WhatsApp focuses on creating a user-friendly and intuitive chat interface that simplifies communication for Salesforce users. This integration allows seamless interaction with customers and efficient management of WhatsApp conversations.
As manually sending messages to each contact becomes a tedious and repetitive task. Recognizing WhatsApp as a highly effective sales outreach tool, automating the process of sending messages to each contact eliminates the tedious and repetitive nature of manual efforts.
Also, read: 15 Best Salesforce Integrations for Optimizing Your Business Operations
Considerations before implementing WhatsApp integration with Salesforce
The following are some important factors to take into account for successful integration if you're thinking about a successful Salesforce WhatsApp integration: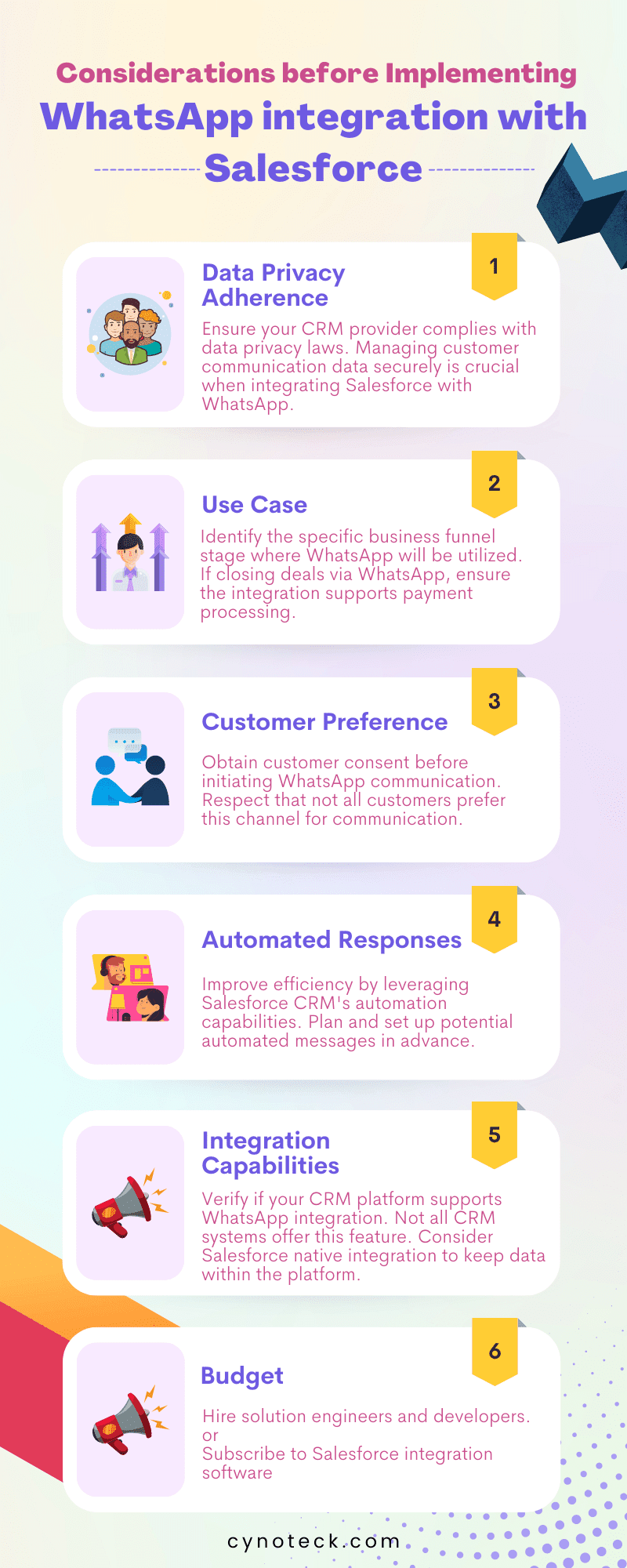 Copy Infographic
1) Data Privacy Adherence
It is important to verify that your CRM provider complies with data privacy laws, as integrating Salesforce with WhatsApp involves managing customer communication data.
2) Use case
You need to identify the specific stage in your business funnel where you need to utilize WhatsApp. For example, if you plan to close deals using WhatsApp, ensure that the Salesforce integration service provider can process payments.
3) Customer Preference
It is very important to get customer consent before moving with WhatsApp communication. This is because not all customers prefer this channel of communication.
4) Automated Responses
Leverage the automation capabilities of Salesforce CRM to improve efficiency by planning and setting up potential automated messages in advance.
5) Integration Capabilities
Before moving forward, verify if your CRM platform supports integration with WhatsApp, as not all CRM systems offer this feature. Additionally, some firms prefer a Salesforce native integration to ensure data remains within the Salesforce platform.
6) Budget
If you have a significant budget, you can consider hiring a team of solution engineers and developers to build a custom integration.
However, if you prefer a more convenient option, subscribing to a Salesforce integration software is worth exploring. When selecting software, you should always pay attention to the billing structure.
Also, read: Common Salesforce Integration Challenges And How To Overcome Them
Say Goodbye to Manual Data Entry and hello to Streamlined Workflows that Spark Joy.
Join us on a journey of automation, accuracy, and time-saving exhilaration. Try CTK Email Parser today and elevate your business to new heights!
Salesforce and WhatsApp Integration
Salesforce, a renowned cloud-based software, empowers businesses to embark on remarkable customer journeys and improve sales closing. Integrating Salesforce with WhatsApp enables customer-centric relationships that drive exceptional revenue, growth, and loyalty.
By leveraging the power of the Salesforce WhatsApp API, businesses can securely transmit diverse files, including images, records, and receipts, to customers with robust end-to-end encryption.
This integration facilitates personalized messaging experiences and streamlined communication management, elevating customer service excellence on the platform.
Now, we will explore different ways of Salesforce and WhatsApp integration.
Method 1) Integration of Salesforce and WhatsApp using AppExchange Solutions
On the Salesforce AppExchange, businesses can discover different apps to integrate Salesforce with WhatsApp. These apps offer quick installation and setup, allowing users to implement essential use cases within a matter of hours or even minutes.
Method 2) Using Salesforce's WhatsApp Messaging capability
An instruction manual for setting up WhatsApp messaging in Salesforce is provided below:
Step 1) Setup and Consent
To start with WhatsApp messaging for Salesforce, users need to begin by configuring a WhatsApp account on the Facebook Business Manager and associating it with their Salesforce org.
The process involves sending an email to the designated WhatsApp email address, providing essential details about the Salesforce org, Facebook Business Manager account, and company information.
Once WhatsApp completes the setup configuration, users can access WhatsApp as a channel option within their associated Salesforce org by referring to "Message Settings" in the Quick Find box.
Step 2) Notification template for WhatsApp
Before sending communications on WhatsApp, businesses must have their message templates approved by WhatsApp.
This requires sending an email with relevant details, such as the Salesforce instance to be associated with WhatsApp, the desired messaging template, planned content, and languages to be used.
Limitations of this method
You should take into account the following constraints before using this strategy because they are significant:
Supported image formats: .png, .jpeg, .jpg
You can only have 250 phone numbers on your Facebook Business Manager account for WhatsApp.
Max message length: 1,600 characters
Max file size: 5 MB
WhatsApp does not support sending stickers, audio files, geolocation, or contacts.
You can't see responses to specific messages. Agents will only see the new message that a customer sends if he or she replies to a specific message.
Also, read: Salesforce Integration Best Practices: Avoiding Common Mistakes
Method 3) Salesforce and WhatsApp integration through API
For integrating Salesforce and WhatsApp, an alternative approach involves utilizing REST/SOAP APIs. Through various API libraries, users can establish a connection between the two platforms.
While this solution may require more time and offer less flexibility, it proves beneficial for organizations with unique use cases or strict security requirements.
Steps to integrate WhatsApp business API with Salesforce:
To accomplish a successful Salesforce WhatsApp integration, there are several essential steps to follow to verify and operate your business account on the platform.
1) Create and set up a business WhatsApp account
You must first create a WhatsApp business account by downloading it from Google Play or Apple Store.
2) Set up a webhook for WhatsApp
You must configure a WhatsApp webhook to integrate Salesforce with your WhatsApp business account. The webhook URL will be used by your WhatsApp to instantly deliver messages and data to your salesforce.
3) Create a chatbot for WhatsApp
You must develop a WhatsApp chatbot for your Salesforce business to integrate WhatsApp.
You can look through the systems that provide these chatbots to choose one that offers the functionality you need, such as message responses from WhatsApp.
4) Salesforce integration for your Whatsapp business
You can connect your WhatsApp business account to Salesforce once you've configured your chatbot. You can instantly receive messages from your Salesforce account by using the WhatsApp API.
5) Salesforce custom actions can be created
To respond to customer messages sent to you via WhatsApp, you must establish custom actions in Salesforce. To control these processes and messages, use Apex triggers.
Boost your business efficiency with our expert Salesforce Integration Services.
Streamline your operations, enhance collaboration, and unlock the full potential of Salesforce.
Benefits of Integrating Salesforce WhatsApp for Businesses
Businesses can improve communication and collaboration between their sales and support teams by integrating Salesforce with WhatsApp.
This integration furthermore ensures seamless post-sales support, extending the same level of assistance provided to customers before closing a sale.
Here are some more key reasons why businesses should consider integrating WhatsApp and Salesforce.
Copy Infographic
1) Enhanced Communication and Customer Engagement
By integrating WhatsApp with Salesforce, businesses can engage customers on a unified platform for sales, service, and marketing activities.
This seamless integration allows for efficient customer support, helping in improved communication and collaboration between sales and support teams.
It furthermore results in reduced response times, personalized interactions, and boosted customer satisfaction and loyalty.
2) Improved Efficiency
Utilizing WhatsApp for communication allows businesses to optimize their processes, decrease manual data entry, and improve overall efficiency while minimizing errors.
3) Better and Accurate Customer Insights
Integrating WhatsApp provides businesses with valuable customer data, enabling deeper insights into customer behavior and preferences.
This information empowers businesses to personalize their sales, service, and marketing activities to better meet customer requirements.
4) Send pre-approved notifications to clients
Utilizing WhatsApp's pre-approved message notifications, businesses can effectively communicate with customers.
Salesforce allows for various permitted notifications, such as Appointments, Transportation, Ticket, Alerts, Payment, Financial, and Shipping notifications, improving customer engagement and interaction.
5) Improved client satisfaction with streamlined interactions
Integrating WhatsApp with Salesforce facilitates seamless management of customer interactions and data, leading to quicker responses to inquiries.
This improved communication and efficient support enhances the customer experience, ultimately driving higher customer satisfaction, sales, and loyalty.
Also, read: Get Started with Asana and Salesforce Integration for Enhanced Efficiency
Summary
Integrating WhatsApp conversations into Salesforce via WhatsApp Integration with Salesforce provides businesses with a centralized hub for monitoring all customer interactions. This consolidated view improves strategy, tactics, and decision-making processes.
Syncing WhatsApp chats with Salesforce drives customer engagement, boosts team efficiency, and provides valuable insights into customer behavior. By adhering to the above-suggested best practices for Salesforce WhatsApp integration, businesses can elevate the customer experience, increase conversions, and facilitate effective and consistent communication across all channels.
Businesses seeking to integrate Salesforce with WhatsApp can explore AppExchange apps such as ValueText integration. AppExchange offers a customizable and efficient solution, allowing businesses to leverage prebuilt features. Alternatively, businesses can also opt for the standard integration method for simpler use cases or utilize API methods for more specific requirements.
Are you ready to unlock the potential of Salesforce and WhatsApp integration today? Contact us to get started on transforming your business to achieve unmatched results.
Also, read: Top 17 Salesforce Integration Tools And Platforms
Frequently asked questions
1) What is the compatibility of Salesforce and WhatsApp?
Salesforce seamlessly integrates with WhatsApp, empowering businesses to effortlessly share product information, close sales deals, and deliver exceptional customer support. Syncing Salesforce contacts, leads, and opportunities allows for effective customer communication through WhatsApp.
2) What are the ideal practices for WhatsApp's integration with Salesforce?
Implementing a few key best practices will ensure a successful integration of WhatsApp with Salesforce. This will help you in optimizing your business operations and customer interactions.
i) Select the appropriate integration tool
Choosing the right tool that aligns with your business requirements and offers a seamless user experience is crucial. Cynoteck, a trusted provider, offers a user-friendly interface and reliable WhatsApp Salesforce integration solution for businesses.
ii) Set roles and permissions
When configuring the integration, it is essential to establish clear access rules. By doing so, you can safeguard customer information and business messaging, ensuring that only authorized users have visibility.
iii) Integration testing
Before launching the integration, it is important to conduct thorough testing. This step will enable the identification of any potential issues and ensure the integration functions smoothly and as intended.
iv) provide team members with the required training
To ensure a seamless transition, it is important to provide thorough training and support to all team members, allowing them to understand the integration's functionality and the benefits it offers. This will promote effective utilization of the integration across the organization.
3) What is the cost of Salesforce and WhatsApp integration?
The pricing for connecting a WhatsApp number starts at $40 per month, with annual discounts available.
4) What is the approval time for messaging templates on WhatsApp?
The approval process for new or updated templates in WhatsApp can take up to four business days. This is because WhatsApp carefully reviews each request before approving it.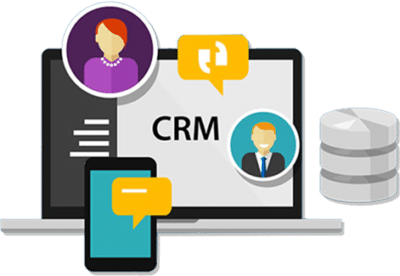 If you are new to automation and confused about Workflow or Process Builder. Need not to worry, we have got you all covered. Talk to our experts and clear all the cloudy thoughts about automation.