A well-designed and strategically developed website can be a powerful tool to attract customers, generate leads, and increase sales. But only having a website is not sufficient. Business owners must also focus on maximizing their Return on Investment (ROI) from web development efforts. In this article, we will explore valuable tips and strategies to help business owners optimize their web development ROI. 
From setting clear goals and conducting thorough research to embracing user-centric design and regular maintenance, these tips will empower business owners to make informed decisions and achieve tangible results from their web development endeavours.
By implementing these strategies, businesses can unlock the full potential of their online presence and drive growth in an increasingly competitive digital landscape. 
What is Web Development ROI?
A web page ROI is a measure used to assess a website's productivity. It is the assessment of a website's return on investment about its price.  
Note: The worth of a website should not be confused with its profitability. Profitability is a whole different concept.  
The ROI your website generates depends on the effectiveness of your marketing strategy. In contrast, the value of your website is its entire worth, which is determined by several criteria, including its generated profit (ROI).
The ROI calculation is more difficult than it seems. The cost of the investment can be calculated easily, but the investment value or profit may be more challenging.
This is because of several things, including productivity and hidden expenses. To determine the true worth of the ROI of your website, it is crucial to consider all relevant aspects. 
A growing ROI demonstrates your website's effectiveness and worth to your company. The need for more improvement is indicated by a negative ROI. The outcome should serve as a guide for your future website-related business decisions. 
Also, read: Mastering the Mobile-First Strategy: Key Reasons Your Business Needs a Mobile-First Website in 2023
Why is Web Development ROI important?
Web Development ROI (Return on Investment) is important for several reasons. Firstly, web development is a significant financial investment for businesses.
Whether it is building a website from scratch or updating and maintaining an existing one, it involves costs related to design, development, hosting, and ongoing maintenance.
Maximizing the ROI ensures that businesses are getting the most value and benefits from their investment, making it a wise and strategic business decision. 
Secondly, the digital landscape is highly competitive, with countless websites vying for attention and engagement. A high ROI from web development efforts translates into tangible business outcomes such as increased website traffic, higher conversion rates, improved user engagement, and greater revenue generation.
By focusing on maximizing web development ROI, businesses can ensure that their online presence effectively serves its purpose – attracting and engaging target audiences, driving conversions, and contributing to overall business success.
It enables businesses to optimize their resources, align their web development strategies with their goals, and make data-driven decisions to continuously improve their online performance.  
Also, read: What are 8 Ways to Increase Sales with your Web Design?
Tips for Web Development ROI
Copy Infographic
Well-defined Goals and Objectives 
If you have not decided what your goals or objectives are, determining the distinction between the two is an excellent place to start. A website may have a purpose, which serves as its overarching intention. Contrarily, an objective is something that can be measured.  
The measurable data can be used to determine whether a company goal has succeeded. 
You must specify what quantifiable objectives may be analysed and monitored within your website's aims to make them. 
Choosing the Right Web Development Team
Before selecting the best, it may need more effort and time to investigate these characteristics in web development businesses. Finding a capable and reliable service partner, however, will help you achieve your business needs and propel you forward.  
Professional web development firms do not need to be instructed on how to carry out a plan. To guarantee that you receive a speedy return on investment and that their position is maintained, they will diligently work to achieve the agreed-upon goals using the best strategies. 
You may need to adjust the established expectations if you believe that you must oversee your web development firm at every stage and direct them on how to complete their work. They might not fit your project right if this does not improve.   
Being the ultimate solution point for all your business requirements, Cynoteck offers services such as e-commerce, mobile development, web application development, and much more. To ensure assistance we assist all businesses to be its small size to large scale businesses. Our primary focus has been developing online 2.0-compliant, scalable online portals that can handle millions of daily visitors while enduring scalability and security demands. 
Investing in User Experience (UX) Design 
The goal of user-centric design is to provide goods and services that satisfy the requirements and expectations of the intended market. 
Businesses can improve customer satisfaction, loyalty, and engagement by putting the user experience first. Increased conversions, higher sales, and eventually a higher ROI follows from this.
Positive user experiences increase the likelihood that they will use a product or website again and refer it to others, which helps businesses succeed in the long run. 
Businesses can better understand their target audience, their motivations, and the environment in which they interact with a product or website by performing detailed research.
Users may simply discover what they need and do their tasks without difficulty or confusion when using an interface that has been thoughtfully developed.  
Prioritizing Mobile Responsiveness and Optimization 
With responsive design, a website will occupy the entire screen and display information regardless of the size of the screen. This may be done on a smartwatch, tablet, phone, or even a desktop computer.
You should observe that a website adjusts to your screen size as you browse it. Elements for huge screens will scale up to a certain amount so they do not appear oversized but still allow for easy interaction.  
As a business owner, you want to make it simple and quick for customers to find what they want and take the actions they want to take.
Once more, this calls for planning and determining how, when, and from where potential customers will connect with your material. 
Implementing Effective Conversion Strategies 
Websites are developed for a variety of purposes, including lead generation, brand exposure, revenue growth, and return on investment. However, each goal is achieved by a procedure called conversion.
"You can start optimizing your website for more conversions top priority once you have a clearer grasp of how crucial your conversion rate is to the success of both the marketing process and your business overall."
Regular Maintenance and Updates 
Regular website maintenance keeps your website functioning effectively, which is its most obvious advantage. Yet, there are other things to consider when managing your website, such as keeping it fresh, and appealing, and making sure that visitors have a good time while improving your SEO ranking.  
Also, read: How Can a Web Development Company Help Your Business to Grow?
How to calculate Website ROI?
Calculating the return on investment (ROI) of a website is essential for assessing its effectiveness and determining the value it brings to your business. 
We have collated simple and effective 5 common ways to calculate website ROI: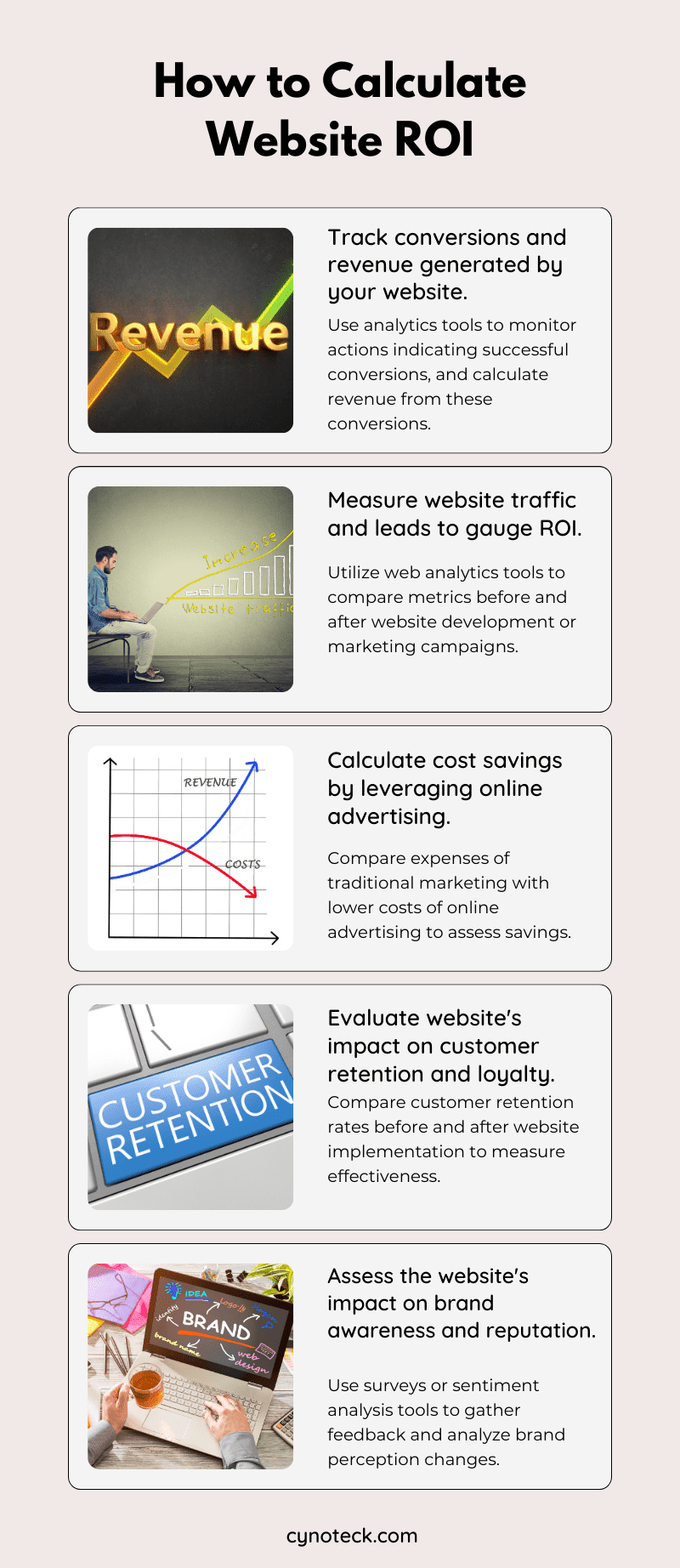 Copy Infographic
1) Conversion Rate and Revenue Generation
To measure the number of conversions generated by your website, you need to track specific actions that indicate a successful conversion, such as completed sales, sign-ups for newsletters, or inquiries through contact forms.
By implementing analytics tools and setting up conversion tracking, you can monitor these actions and quantify the number of conversions achieved. 
Once you have collected the data on conversions, you can calculate the total revenue generated from these conversions.
For example, if your website generates online sales, you can sum up the revenue from all completed purchases.  
Similarly, if your website collects leads, you can assign a monetary value to each lead based on their potential conversion into paying customers.
By accurately calculating the revenue attributed to your website's conversions, you gain a clear understanding of the financial impact it has on your business.    
Formula:  
To determine the ROI of your website:   
Compare the revenue generated by conversions with the cost of website development and ongoing maintenance.  
Subtract the cost of website development, including design, programming, content creation, and any associated expenses, from the revenue.  
Then, divide the resulting value by the cost of website development and maintenance, and multiply by 100 to express the ROI as a percentage.  
This calculation allows you to evaluate whether the investment made in your website is yielding a positive return and helps you make informed decisions about allocating resources for further development or improvements. 
2) Traffic Growth and Lead Generation
To measure the increase in website traffic and the number of leads generated, businesses can utilize various web analytics tools. These tools provide insights into the number of visitors, their behaviour on the website, and the conversion rate.
By comparing these metrics before and after website development or marketing campaigns, you can determine the impact on traffic and lead generation.
Increasing website traffic and generating more leads indicate a positive ROI as it expands the potential customer base and creates opportunities for conversions.  
To calculate the ROI, the formula:
[(Lifetime Value of Acquired Leads – Cost of Website Development and Maintenance) / Cost of Website Development and Maintenance] * 100 is used.  
The lifetime value of acquired leads refers to the estimated revenue a customer generates throughout their relationship with the business.
Among the considerations are the average purchase value, repeat business, client retention rate, etc.
Subtracting the cost of website development and maintenance from the lifetime value provides the net value generated by the website.   
Dividing this value by the cost of development and maintenance and multiplying by 100 provides the ROI percentage, indicating the return on every dollar invested in the website.
This calculation offers a comprehensive assessment of the website's effectiveness in generating revenue and allows businesses to make informed decisions about further investments or optimizations. 
3) Cost Savings and Operational Efficiency:   
One area where websites can generate significant savings is by reducing the need for traditional advertising and marketing methods. By leveraging online platforms, businesses can reach a wider audience at a fraction of the cost of traditional print or TV advertisements.
Calculating the total cost savings in this regard involves comparing the expenses associated with traditional marketing campaigns, such as printing costs, media placements, and distribution fees, with the lower costs of online advertising. The difference represents the cost savings attributed.   
4) Customer Retention and Loyalty
By comparing the number of repeat customers or the rate of customer retention before and after the website's implementation, you can measure its effectiveness in fostering loyalty.
Factors such as improved user experience, personalized content, and convenient online transactions can contribute to higher customer retention rates.
This increase in customer loyalty indicates that the website is successfully engaging and satisfying your target audience, resulting in long-term relationships with customers.  
To evaluate the ROI of your website in this context, subtract the cost of website development and maintenance from the revenue generated by retained or loyal customers.
Divide this result by the cost of website development and maintenance, and then multiply it by 100 to express the ROI as a percentage.
This calculation provides insights into the profitability of your website investment based on the revenue generated from maintaining a loyal customer base. 
5) Brand Awareness and Reputation
Assessing the impact of a website on brand awareness and reputation is essential for understanding the intangible benefits it brings to your business.
A well-designed and strategically optimized website can serve as a powerful branding tool, reaching a wide audience and shaping their perception of your brand.   
To measure brand perception, businesses can utilize surveys or online sentiment analysis tools to gather feedback and analyse customer sentiment toward the brand before and after website implementation.
By comparing the results, you can assess any improvements in brand awareness, customer perception, and overall reputation that can be attributed to the website.   
Note: It is important to note that these formulas provide a general framework for calculating website ROI. The specific metrics and factors used may vary depending on your business and goals. Additionally, it is advisable to track and analyse data consistently over time to ensure accurate and meaningful ROI calculations. 
Also, read: Custom Web Application Development: 10 Powerful Ways to Boost Your Business Revenue
Conclusion
Websites have significantly advanced to become a valuable resource for many businesses. An effective website is essential for enhancing online marketing, client satisfaction, and return on investment (ROI). 
A website is a great resource for businesses using online marketing to boost lead generation, sales, and revenue. But depending on the objectives of your website, measuring the ROI could appear difficult. 
Without spending money on a website redesign, we hope that this article will enable you to easily increase your website conversions. Please contact Cynoteck if you want to have these items added to your website. We have a team of experts who are skilled in all facets of site design, development, and upkeep. 
Also, read: The Importance of Web Development in Digital Transformation
Frequently Asked Questions
Q. How can I ensure that my web development project aligns with my business goals?
It is crucial to clearly define your business objectives and communicate them to your web development team. By setting SMART goals and regularly reviewing progress, you can ensure that your website is designed to maximize ROI and contribute to your overall business success.  
Q. Why is user experience (UX) design important for maximizing web development ROI?
User experience plays a pivotal role in engaging visitors and converting them into customers. Investing in intuitive and user-friendly design elements, such as easy navigation and clear calls-to-action, enhances the overall user experience, increases conversions, and boosts your web development ROI.  
Q. How can mobile responsiveness impact my web development ROI?
With the growing number of users accessing the web through mobile devices, having a mobile-responsive website is crucial. By optimizing your website for different screen sizes and ensuring seamless mobile experiences, you can reach a wider audience, improve user satisfaction, and drive higher conversion rates, maximizing your ROI.  
Q Why is it important to regularly update and maintain my website?
Regular maintenance and updates are essential to ensure your website remains functional, secure, and up to date with the latest industry trends. By addressing any technical issues promptly, monitoring analytics data, and implementing necessary updates, you can provide a seamless user experience, boost conversions, and maximize your web development ROI.  
Q. How can A/B testing help in optimizing my web development ROI?
A/B testing involves comparing different versions of your website to determine which design elements or functionalities perform better in terms of achieving your desired goals. By conducting A/B tests, you can make data-driven decisions, optimize your website for higher conversions, and maximize your ROI by focusing on what works best for your target audience.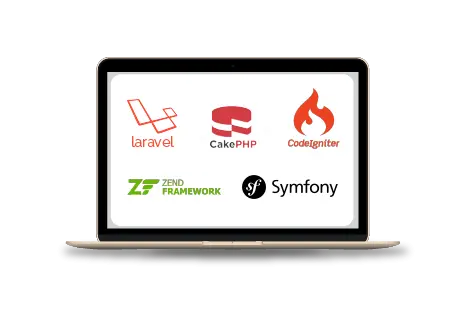 Are you looking for a reliable software development company? Our highly skilled software developers enables us to deliver result oriented software development services. Contact our team to understand, how we can help you in achieving your business goals.