Magento is an open-source eCommerce software for developing ingenious eCommerce websites, created by Varien Inc. (Private IT company from the US). It is a well-designed eCommerce platform that offers rich and flexible functionality to merchants for online retail stores. 
This open-source platform is also capable of driving maximum sales and increase conversion rates.
Below are the top features of Magento eCommerce Development Platform:
1. Catalog Management:
Catalog management is one of the key components of the online shop. In Magento, the inventory system admin can easily maintain the inventory and it also offers the following features:
Easy to maintain simple, configurable and grouped products.
Easy to download products with samples.
Unlimited usage of product attributes
Flexibility on maintaining Inventory with backorders items, minimum and maximum quantities.
Automatic functionality for image resizing and watermarking
Ability to personalized customer products etc.
Feature for RSS feeds and many more.
Also, read: How to create module in Magento 2
2. Site Management:
Magento provides excessive features to merchants for online site management.
Below are some of the features: 
One Administration panel to control multiple websites and stores
Administration permission for system roles and users.
Fully customized design using the template.
Unlimited support for multiple languages and currencies.
Inbuilt functionality for Content Management and Landing Pages.
Individual functionality for tax per location, product type, and customer group.
Captcha functionality to prevent fake logins.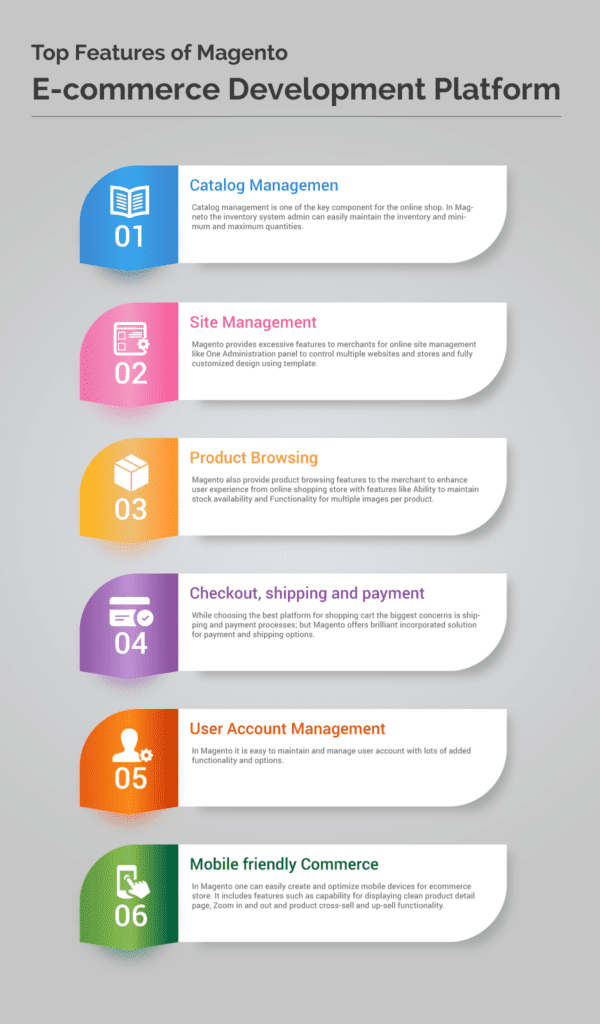 Copy Infographic
3. Product Browsing:
Magento also provides product browsing features to the merchant to enhance the user experience from the online shopping store.
The key features are:  
Functionality for multiple images per product.
Ability to maintain stock availability
Features for related products and multitier pricing upsell.
Features for grouped product view.
Functionality to add an item to wish list.
Also, read: How to add Simple & Configurable Products in Magento 2
4. Checkout, shipping, and payment:
While choosing the best platform for shopping cart the biggest concerns is shipping and payment processes, but Magento offers a brilliant, incorporated solution for payment and shipping options.
Below are the key features.
One-page checkout functionality
Ability to ship at multiple addresses in one order.
SSL security support for front-end/back-end order
Functionality for a shopping cart with tax and shopping estimates.
Integration with multiple payment gateways.
Functionality for accepting checks/money orders, purchase orders.
Additional availability of payment extension through Magento Connect.
Order Tracking, free shipping, flat-rate shipping and more.
5. User Account Management:
In Magento, it is easy to maintain and manage user account with lots of added functionality and options.
Easy to understand dashboard account
Functionality for maintaining recent orders, history, and status.
Saving wish list to give the user the option to purchase the item later.
By default, billing and shipping address
 Availability for downloadable/digital products.
Also, read: 4 Effective ways Small Businesses Can Optimize in Magento 2 Store
6. Mobile friendly Commerce:
In Magento, one can easily create and optimize mobile devices for an eCommerce store.
It includes features such as:
All device-specific media capabilities for audio and video
Capability for displaying clean product detail page
Easy to swipe between product images
Zoom in and out capabilities
Product Cross-sell and up-sell functionality
Mobile friendly drag and drop functionality.
If you are willing to open an eCommerce store and looking forward to something that can be easily maintained and capable of handling e-commerce needs, then there is no better choice than Magento.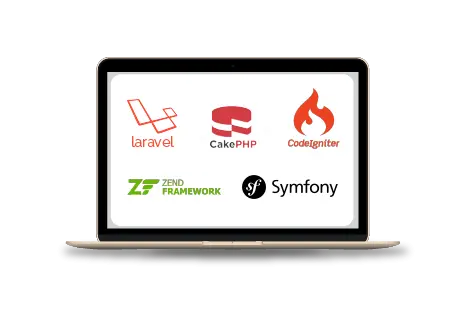 Are you looking for a reliable web development company? Our highly skilled web developers enables us to deliver result oriented web development services. Contact our team to understand, how we can help you in achieving your business goals.