What are the Benefits of Microsoft Dynamics 365?
Dynamics 365 is the only cloud-based solution that offers all that is needed for CRM and ERP, in one place. It is the only process that unifies the theme in all the CRM apps, which helps in implementing a more streamlined sales process, integrating marketing, field services, self-serve customer experience, PSA, dashboards, and reports.
No matter what kind of business you are, customers are the most important assets, and managing those customer relationships is the foundation for growing a business.
Microsoft Dynamics 365 services can be integrated with the tools that businesses already use like Excel and Outlook, and it brings the power of digital intelligence to every business decision.
Let's have a look at the top 10 benefits of using Microsoft Dynamics 365.
Top 10 Benefits of Microsoft Dynamics 365
Let's take a look at the advantages of Microsoft Dynamics 365 and how it can help you improve your business processes. So, here we have compiled and sharing 10 of the primary Microsoft Dynamics Benefits.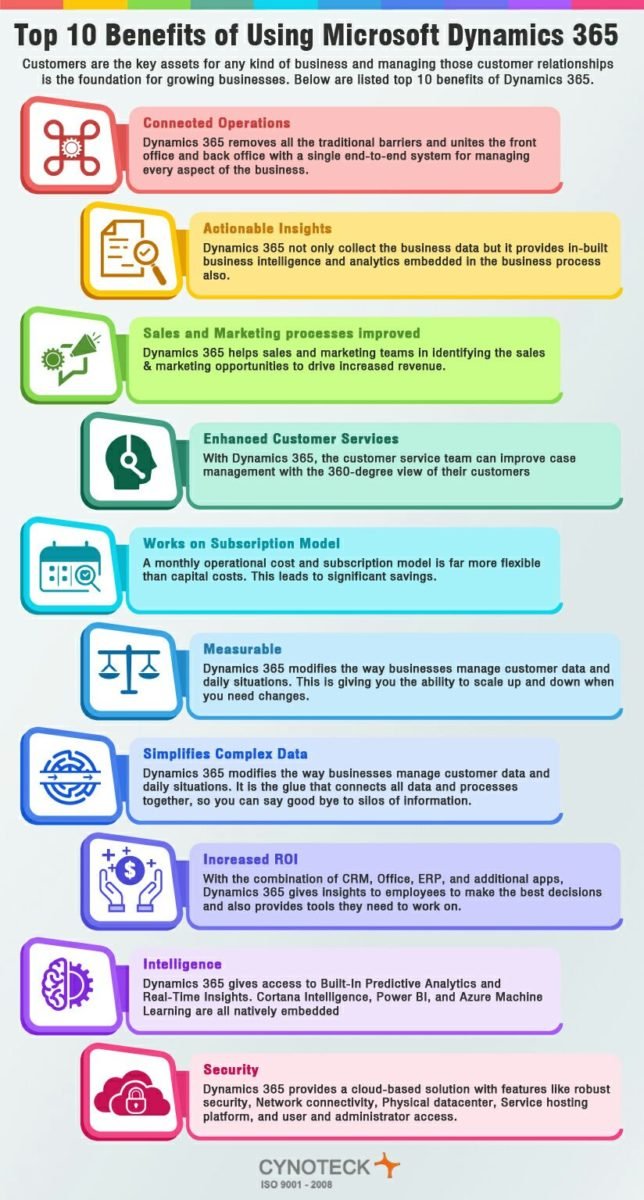 Copy Infographic
1. Connected Operations
­­Dynamics 365 removes all the traditional barriers and unites the front office and back office with a single end-to-end system for managing every aspect of the business. Leveraging integrated functionality, enables organizations to connect their entire business.
2. Actionable Insights
In this hyper-competitive market, having complete, real-time visibility into all the areas of the business can create a difference between success and failure. It is not enough to simply collect data; it needs to be turned into actionable insight. Dynamics 365 provides inbuilt business intelligence and analytics embedded in the business process.
3. Sales and Marketing Processes Improved
Dynamics 365 helps sales and marketing teams identify sales opportunities to drive increased revenue. Using the data collected and combining it with Power BI and analytics, the solution enables organizations to create targeted promotional campaigns that are timely and highly relevant to the consumer.
4. Enhanced Customer Services
With Dynamics 365, the customer service team can improve case management with a 360-degree view of their customers. The user interface is process-driven that streamlines the case management, helping the service representatives to deliver constant and effective customer care.
5. Works on Subscription Model
A monthly operational cost and subscription model is far more flexible than capital costs. Also, Dynamics 365 eliminates the need to manage the data center and server, and this leads to significant savings.
6. Measurable
A monthly subscription is needed for Dynamics 365 to operate comes with a scheduled monthly subscription; this gives you the option to scale up and down the changes according to the requirement.
7. Simplifies Complex Data
Dynamics 365 modifies the way businesses manage customer data and daily situations. This helps dissolve barriers between critical business platforms and make your data start working together.
The core of this concept of the Microsoft Common Data Model is to share the business database. It is the glue that connects all data and processes together, so you can say goodbye to silos of information.
8. Increased ROI
With the combination of CRM, Office, ERP, and additional apps, Dynamics 365 gives insights to employees to make the best decisions and also provides tools they need to work on. It provides a data model that is People-Centric making employees' daily work easier and enhances their productivity.
9. Intelligence
Dynamics 365 gives access to Built-In Predictive Analytics and Real-Time Insights. Cortana Intelligence, Power BI, and Azure Machine Learning are all natively embedded; this gives access to predictive insights, prescriptive advice, and actionable subsequent steps.
10. Security
Dynamics 365 provides a cloud-based solution with features like-
Access controls for apps and data that are built into the cloud services
Robust security
Network connectivity
Physical datacentre
Service hosting platform, and user and administrator access
Con of Microsoft Dynamics 365 With Cynoteck
As a whole, Dynamics 365 provides the seamless potential to streamline the product line and allow increasing agility for companies while reducing costs. If you are planning to implement Dynamics 365 CRM within your organization & looking for Dynamics 365 implementation partner, then choose Cynoteck Technology. We are a leading expert in Dynamics 365 CRM implementation & consulting, providing high-quality Dynamics 365 consulting services.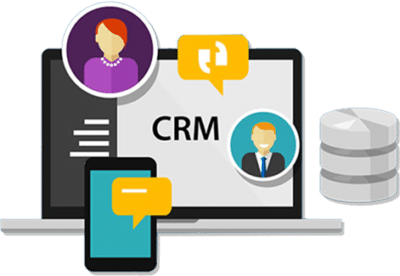 Cynoteck Technology is a leading expert on Microsoft Dynamics 365 and we provide an array of Dynamics 365 Consulting Services to all size of businesses. Get in touch with us for latest updates on Dynamics 365.