Digital transformation is the inevitable future of humanity. It is what innovators keep working hard to achieve. Speed, access to information, more accessible and cheaper communication are just a few benefits that we already enjoy from past digital transformations. Now more than ever, digital innovations are taking center stage and even rocking the business world.
The growing number of internet users and online customer trends have made it a necessity for businesses to move online. This also creates unique problems such as customer registration and customer data management. Companies that have digitized their industry and product also enjoy enhanced presence and publicity, wider marketing reach, and a stronger customer base, compared to non-digitized companies.
The difference in scalability, growth rate, and competitive edge is so significant that businesses now see digitization as a requirement for success. Digitization is also a secure method to cross national borders and reach the global market.
IT innovations continue to rock every economic sphere in society. The various tech giants seem to have recognized that creating powerful software based on innovative ideas would quickly transform the business world. Microsoft appears to be at the forefront, creating and upgrading business software at every turn.
The supply of Dynamics, PowerBi, and Azure has found super-efficient applications to grow businesses and increase productivity. Another innovative product is Microsoft's PowerApps. PowerApps makes use of creative tools to breakdown skill boundaries that have been unchallenged for decades. The benefits it provides are geared towards ensuring that businesses are successful, and the rate of digitization is enhanced.
Also, read: Microsoft Power Apps: Canvas apps vs Model-driven apps
Here are Top 12 PowerApps for Digital Transformation of your Business
Copy Infographic
1) PowerApps
PowerApps is a Microsoft software designed for businesses, analysts, and software developers to create unique software tools for business and enterprise. PowerApps is designed to function on Microsoft's Power Platform. The application is equipped with numerous templates and preset codes to enable regular individuals to build creative software solutions with little programming skills required.
Microsoft understands that the usual out-of-box, commercial applications are unsuitable for providing solutions to the unique problems and obstacles that face various business groups. PowerApps users can build creative solutions in as little as ten minutes.
Creating specialized apps has proven itself to be a significant advantage for businesses. Task automation becomes easily applicable once a simple app is created to complete a specialized task with efficiency and speed. This ten-minute software crafting has been reported to save over 70% in the cost of designing and creating enterprise applications, speed up workflows, and increase the productivity of employees.
Users can use PowerApps with little training to develop innovative tools converting ideas into working tools. Skilled developers can also take advantage of this platform to create high-quality apps with minimal investment of time and resources. PowerApps can build apps in two methods. The first uses a simple, user-friendly interface that makes use of 'drag' and 'drop' options on a plain 'canvas.'
This visualization is what makes the app building process simple and intuitively easy to learn. Apps created with this method are called canvas apps. The second method builds custom commands and features using an Excel-like format to craft controls and workflows. Apps created on PowerApps can be embedded into other applications such as Dynamics 365, PowerBi, and Flow.
The platform has over 200 connections to other platforms where data can be mined and analyzed on a single application. Apps built on PowerApps depend on the Common Data Service (CDS) framework. The CDS framework gives app builders access to commands and component templates such as preset Forms, Business Process Flows, Business Rules, and Custom Control. The benefits of this system include high compatibility, interoperability, and building speed.
Digitization makes use of digital tools to find solutions to regular problems. For a business, digitization means recording data, communication tools, and workflow monitoring. Digitization aims at increasing productivity and efficiency, developing innovative solutions with digital tools.
PowerApps provides the necessary tools and platform to speed up the digitization process for any business.
A business can convert its physical transactions and records on paper into digital constructs that ensure ease of access and efficiency of procedures. Examples of PowerApps abound on the shared platform where developers come together to show off their new builds and share ideas on new designs and styles.
Also, read: Setting the Default Mode for Forms in Canvas App (Power Apps)
2) Lend
This app was designed by 365 Mechanix. The lead was designed to leverage Microsoft's innovative tools and features to streamline, optimize, and automate the origination process for businesses. Powered by Artificial Intelligence, customers can enjoy a smooth registration process and securely confirm authorizations.
3) Online Users for Microsoft Dynamic AX
This app is the brainchild of AXPulse. Online Users is a monitoring tool designed on PowerApps to work with Dynamic AX 2012. Business owners can use the Online Users app to the application usage on Dynamics. This will help optimize resource use, design smart schedules, and improve productivity.
4) Acena
Acena is the actualization of a creative innovator. Employers are saddled with the responsibility of scheduling vacations for their employees. If they approve too many vacations requests, the business becomes understaffed. If they approved too few, they risk reducing job satisfaction. Acena not only digitizes the vacation application and authorization process, but it also automates it. Making it easy to create a schedule that fits everyone.
Also, read: Know about User Roles in Microsoft Power Apps
5) Visitor Entry System
This app was designed by Cynoteck Technology Solutions using PowerApps. This app manages visitor record and their visiting purpose in an organization. You can effectively manage visitors using this PowerApp by entering their information like name, address, Photograph and contact person, etc.
6) Project Online Timesheet
This app was designed by Advisicon using PowerApps. The app allows users to document and track the amount of time spent on a particular project or task. Project Online Timesheet also enables users to edit and update their records on different devices, both mobile and desktop.
7) Athlete Workout Manager
The workout app is created for professional coaches, athletes, and hobbyists. The coach (user) can design workout sessions for every athlete and monitor compliance and performance. Analysis of the data can also improve future training sessions.
8) Employee Engagement Solution
Created by Appfie to solve the problems of incentivizing and encouraging employee involvement, this app provides communication and monitoring tools. Managers can design effective models to motivate their teams.
9) Workflow Manager
Designed by Arbelo using PowerApps, the Workflow Manager automates authorization of workflow items, standardized reporting, and secure historical data. The application can link to Dynamics 365 FO and works well on mobile devices.
Also, read: Implement multilevel cascading dropdown in Power Apps from SharePoint
10) Inventory Tracker
Designed by Appfie, this application solves the problem that employees and management go through when trying to organize their inventory. The Inventory Tracker lets you organize data on your inventory. Employees have access to company data and can update it from both desktop and mobile devices.
11) Company Events
This app is designed by Canviz to enhance communication and announcement reach. This tool is like a digital bulletin board. Employees can check on company updates, announcements, and see the calendar of events.
12) Workplace Safe
This app was designed by BeCloudSmart to encourage the best safety practices and control hazards. Employees can identify the job their doing, its nature, location, and estimated hazards.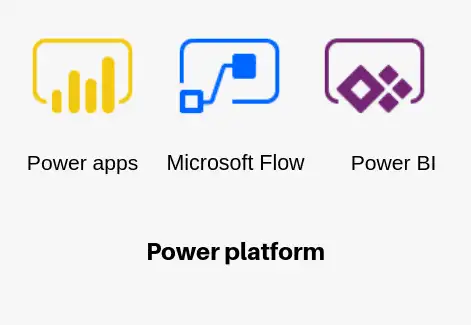 Still, have a question? You are free to contact me or other experts in our team to showcase the real power of PowerApps to you.