The selection of CRM software (Customer Relationship Management) can sometimes look to be one hell of an impossible task. We have so many of them and the cost of getting some of this CRM software is not convincing at all. It becomes like a Hercules impossible task.
However, there is no need to worry, we are here to help you out to help from the best. Considering that there are multiple CRMs to explore, we are going to discuss in detail the differences between the top two of them- Salesforce vs. SAP CRM.
Salesforce Defined
Salesforce is a CRM solution that helps to unite organizations and their customers. It is a SaaS (Software as a Service), which implies that you don't require to install the software or server to work on.
Users can simply signup for Salesforce.com and can begin managing the business immediately. This integrated CRM platform provides every department of a business (including sales, commerce, marketing, and service) a holistic and shared view of its customers.
SAP Defined
SAP stands for Systems, Applications, and Product, in Data Processing, it is one of the most widespread ERP Software for data processing.
It is a European multinational company that develops software solutions for customer relationships as well as managing business operations.
A single SAP system can manage and control the execution of all the business activities and communicate standard information to all within an organization.
Looking for Salesforce Development and Implementation Services
Send us your requirements, we will get back to you with a quote
The Position of SAP and Salesforce in the SaaS Market
The software industry has witnessed a noticeable shift towards cloud-based implementation and SaaS (software as a service) model. The reason behind this is its flexibility, reduced upfront costs, and easy implementation features.
When it comes to Salesforce vs. SAP, Salesforce conquers the CRM industry with a user-friendly tool, whereas SAP is the head in the ERP industry.
The data revealed by the Synergy Research group from Q2 2017 revealed that the increase in enterprise SaaS to a rate of 31% annually to reach a quarterly revenue of almost $15 billion having collaboration as the prime growth segment.
SAP is considerably more profitable today and plans to produce a 32% operating margin in '25, while CRM's management is eager to declare an 18% operating margin.
Salesforce projects 18% revenues CAGR to $50bn in '25, while SAP's growth forecast is more conservative (6% CAGR) to $36bn in '25.
The market growth is estimated at 11%. SAP's forecast is on the conservative side, which pushes down the company's valuation and at the same time provides upside potential to at least $165/share.
Microsoft maintains its number one position in the overall SaaS revenues having taken over about a year ago from the long-time market leaders. The addition of LinkedIn happens to be the main factor behind Microsoft's SaaS growth. Nevertheless, in the CRM segment, Salesforce continues to dominate the market.
Copy Infographic
Salesforce CRM and SAP CRM comparison
1) Automation
When it comes to Salesforce vs SAP in terms of automation, even though SAP and salesforce offer almost similar capabilities, SAP's incorporation with its famous and powerful ERP system provides a competitive edge to the vendors. This is in cases the CRM buyer is already making use of SAP products for ERP.
Hybris Sales cloud for sale is more fascinating to users who already have an SAP ecosystem. This is due to the capability to integrate the SAP cloud with an on-premises SAP ERP/CRM.
Salesforce, on the other hand, would have to have its adaptors developed to perform integration between Salesforce and on-premise SAP ERP.
Lots of innovations have been made by SAP to all functionalities in the cloud which includes marketing, delivery, sales, and service. Presently, Salesforce is more preferable in terms of app customization, cloud integration, and third-party extensibility. With the recent improvements made by SAP, they won't be far behind.
One of the vital things to take into consideration is that it is not a binary decision for companies in choosing an ecosystem. It is not everything that goes to a cloud or perhaps, everything is on-premise as it is the hybrid approach that is very common today.
Bearing this in mind, the ability of SAP to combine with on-premise on top of its extraordinary growth in the cloud positions SAP in a better place compares to Salesforce for those who use hybrid (on-premise and cloud) environments.
Also, read: Why Salesforce end-user training matters for smooth implementation
2) Business intelligence (BI)
Business intelligence (BI) tools are gradually becoming famous as an additional model in business software. The reason why BI and business analytics enables users to collect detailed data and monitor KPIs of their day-to-day business operations is that it aids in making data-driven decisions for the long-term good of the company.
Salesforce's paid add-on QlikView provides business intelligence which is beneficial with ease of use and no reliance and minimal on IT for real-time analytics.
By measuring pipeline trends throughout the sales cycle, Salesforce customers can drive sales efficiency and effectiveness at their peak. This can be using QlikView. Market campaigns can be planned and tracked to discover strategies for improvement. This can also be achieved by analysing customer and lead data.
SAP doesn't specialize in CRM alone compared to Salesforce. It integrates capabilities from SAP's BI system with business objects such as KPI reporting. It can be directly used in SAP CRM without using a different BI system, but it limits its comprehensiveness in some cases.
Salesforce provides users an overall more powerful BI module. This is because it makes use of a different strong BI that blends perfectly.
Also, read: How to create Campaign in Salesforce for Sales Departments: 5 Best Practices
3) Customer support
Custom reports are one of the important features of BI. Lots of organizations may discover that the report template that has been previously built does not meet their needs, which makes been cable to generate specialized reports very important in business intelligence operations.
Dashboards and Salesforce reports provide a real-time picture of your business at a peep. It gives room for the creation of pre-built or custom reports to collate data on KPIs such as rep performance, sales metrics, and conversion.
SAP has an easy-to-use interface that enables users to create or change interactive reports from the same screen. Reports can, therefore, be allocated to particular users or organizational units to ensure it gets to where it is supposed to get to.
SAP's role-based access aids in making data secured to organizationally appropriate roles.
Comparing the reports of Salesforce vs SAP, SAP's report is more interactive and offers special assigning and access abilities than Salesforce.
4) Knowledge Creation Workflow
This is a way of saying a searchable database of information that is accessible to both internal and external users. This can be in the form of forums, video tutorials, and other information resources. This can serve as training material for your staff and can also help a customer find information.
Salesforce Knowledge is a knowledge base that enables users to be able to manage and create content called articles and also view and find the ones they need. It is very thorough and provides a forum that allows interactions involving tutorials, question and answer, and more.
Also, it has a role-based access restriction in the sense that what the public can see is different from what internal users can see. Thus, giving room for multiple functionality and usage. it is comprehensive and user-friendly.
SAP CRM knowledge base function provides interaction centre (IC) agents to look for documents, solutions, and cases in the database which can be forwarded via chat or email to a customer. Salesforce, on the other hand, offers a more user-friendly and comprehensive knowledge base for its users.
Also, read: 7 Reports in Salesforce that will help you boost revenue
5) Email Utilities
Email utilities are defined as the tools that allow users to track emails, such as how many are site clicks, how many emails are opened, and other data. With the help of these tools, consumers can determine the ROI on particular campaigns and apply changes to future marketing efforts based on gathered data from prior experience.
Salesforce allows clients to effectively track client messages from any email application. Clients can unpretentiously detect each client's collaboration with email battles, partnering those connections with the fitting contact, record, or opportunity for future support.
SAP has a comparative element for following communication channels from messages dependent on whether they are opened, or whether those messages prompted site sees. Messages can be innately followed, yet clients should physically incorporate exceptional parameters into the following instrument for a specific following.
Salesforce's ability to assign interactions to openings and contacts comprises a layer of advancement that SAP presently lacks.
6) Integration
Salesforce offers different well-known APIs for quicker integration to operate with other applications. For instance, it offers integrated marketing automation and consumer service platforms. Also, Salesforce acquired MuleSoft, which is known for the integration of services and software.
Salesforce vs SAP– both of these CRMs provide different platform-as-a-service (PaaS) environments. SAP makes available SAP Hybris Cloud for Consumer Element, a different turnkey cloud service for SAP Cloud as well as API integration.
Salesforce Integrations are available through their AppExchange whereas, SAP Sales Cloud can furthermore be integrated with the Sap Hybrid e-commerce platform making the integration considerably more cost-effective. Overall, you can say that both SAP and Salesforce, are good at integration.
7) Pricing, Features, and Add-Ons
Salesforce offers different functions and features on different pricing, starting from a minimum of $25/user/month with the basic functionalities.
Here in Salesforce, if you need to avail additional features according to the type and requirement of your business, you need to pay more.
On the other hand, SAP is available for $75/user/month on a contractual basis. The SAP is not that much cost-effective if compared to Salesforce, and sometimes it isn't comfortable to buy the license.
When comparing these CRMs- Salesforce vs SAP in terms of features and add-ons, Salesforce offers lots of different features within its CRM software. It furthermore provides a broad range of the App Store, available for additional modules such as Marketing automation tools.
Whereas SAP has launched its application marketplace for its consumers. It offers packaged application software.
Also, read: Salesforce Nonprofit Success Pack (NPSP)- Complete Guide
Some drawbacks of using SAP CRM:
Below are some drawbacks of using the SAP CRM:
The SAP CRM is not much user-friendly, and the trainee or sales representative needs much time to learn how to work on it efficiently.
The SAP CRM functions much slower than the Salesforce CRM, and it takes some time to proceed with each click.
SAP CRM has a problem of getting freeze, which means it might get freeze and make the system automatically log out.
Integrating any third-party application and the SAP CRM is much complex, and it needs high technical knowledge.
To understand and utilize the SAP System's functionalities, the user needs to have adequate background knowledge of the system.
The biggest disadvantage of SAP CRM is that the system has an option of Channel Management.
Also, read: Salesforce security: the guide to keeping your business and customer data safe
Final thoughts on Salesforce vs SAP
So, Salesforce vs SAP CRM, the contest is close, but which one do you think is better? We cannot say if it is Salesforce or SAP, as both Salesforce and SAP are used interchangeably sometimes if we do not focus on their differences.
It can be stated that some features of Salesforce are more useful than that of SAP and vice versa. Salesforce takes the lead when it comes to better user experience and the ability to integrate with another cloud-based CRM.
SAP has the advantage when using complicated segmentation for your transactions. However, it is of greatest significance you keep in mind your needs when exploring for CRMs, even though Salesforce may not be the most suitable CRM for every company.
Moreover, in the end, it all comes down to one thing – what you are looking for in your CRM. So, determine what are your requirements, and then move further to acquire knowledge for either Salesforce or SAP.
Also, read: Salesforce SharePoint Integration – How does it help to maximize value from both systems?
Frequently Asked Questions (FAQs)
1) Why is SAP IBP considered the most trending thing now?
SAP IBP (Integrated Business Planning) is a cloud-based solution that enables businesses to manage their tactical, strategic, and operational objectives in an integrated environment. Its key features include real-time simulations to bring together demand, supply, and financial models, also it has a user-friendly interface.
2) What is the primary difference between SAP CRM vs Salesforce CRM?
The main difference between Salesforce and SAP is their mode of deployment. SAP started as on-premise software, whereas Salesforce began early in the cloud.
3) Which is the most suitable software for marketing automation?
ere is no difference between SAP CRM and SalesForce.com Enterprise Edition in the number of Marketing Automation features and functions supported inherently. Both of these CRMs support the same number of Marketing Automation features and functions.
4) Which CRM is better CRM for Industry-Components?
SAP takes the lead here, it is notable for how it provides a wonderful deal of industry-related parts and features, alongside CRM components. On the other hand, Salesforce simply targets CRM-based components.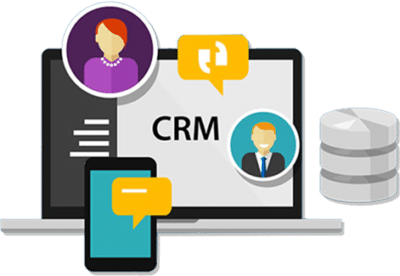 If you are new to automation and confused about Workflow or Process Builder. Need not to worry, we have got you all covered. Talk to our experts and clear all the cloudy thoughts about automation.