For many businesses worldwide striving for customer growth and expansion, Salesforce has become an indispensable tool today. As the number one cloud-based Customer Relationship Management (CRM) software, Salesforce provides a unified platform for your business to deeply understand your customers, manage customer information and interactions, expand the customer base, and many more.
While providing many editions and pricing, Salesforce has categorized them into different business types, industries, platforms, and use cases such as small business, sales, marketing, industries, analytics, etc. These bundled products provide you with several pricing tiers with having an extra set of features specific to each option.
Within these categories of Salesforce products, sales cloud, and service cloud offer four fully customizable CRM editions, including Essentials, Professional, Enterprise, and Unlimited editions. Among these four editions, the most popular pricing edition is the salesforce enterprise edition which is, according to Salesforce, a 'deeply customizable sales CRM.'
The Essentials edition is the cheapest option which is more suitable for small businesses, and the professional edition suits any size business. Nonetheless, its enterprise edition has many things to offer, so it has become the top selection in many organizations.
If you want to see if the Enterprise edition suits your business needs, go through this article to learn its features, pros, and cons, to understand how its capabilities and limitations affect your organization.
Also, read: Top Salesforce trends that will grow business in 2022
Features of both Salesforce Enterprise editions and Professional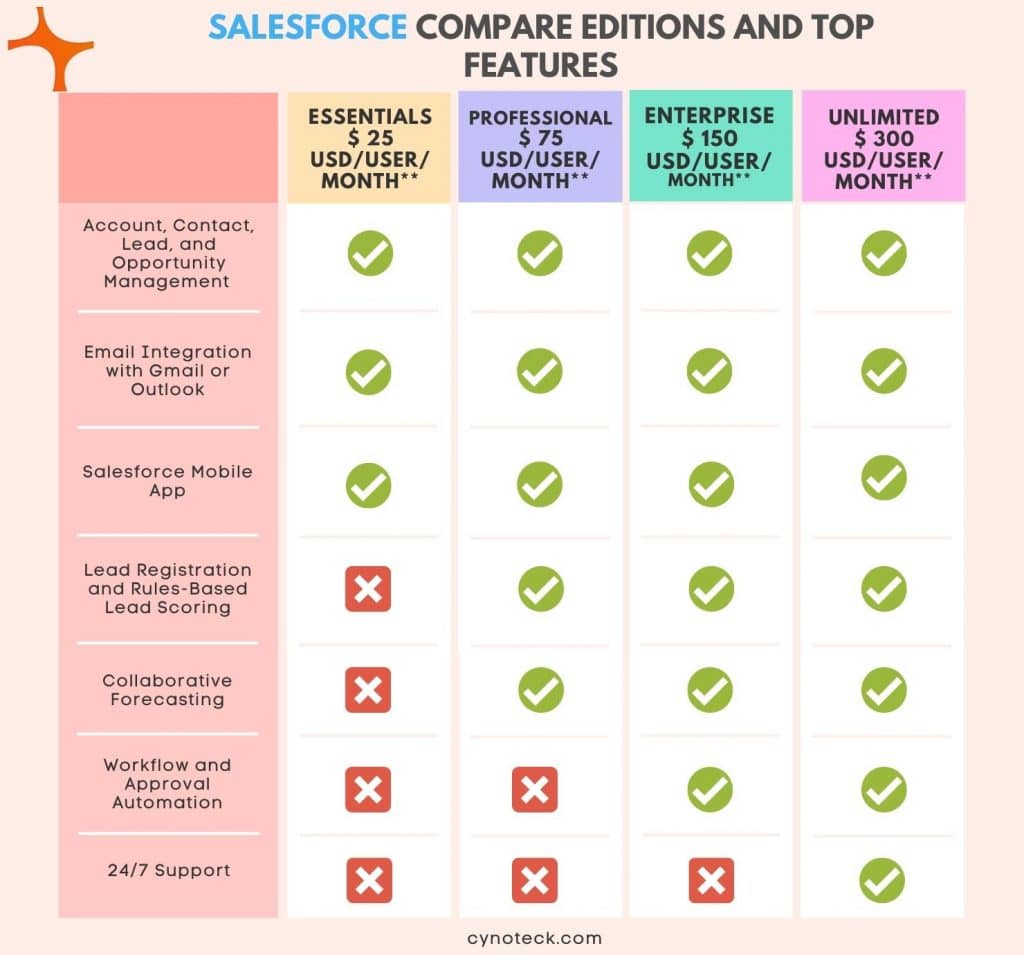 Salesforce professional edition is the next best option to the essentials edition as it provides more useful features suit for any team. If you analyze the enterprise vs professional edition Salesforce provides a common set of features to both editions such as:
Entire sales lifecycle management including sales and opportunities tracking, account and contacts management.
Entire case lifecycle management from automatic case creation, automatic responses to correct case routing for faster case resolution.
Keep track of contracts, warranties, subscriptions, or maintenance agreements.
Lead registration and automatic rules-based lead scoring.
Web services API.
Mass email generation for targeted events and automatically track the leads that received the emails.
Product catalog saving, reporting, and dashboards.
Provides the Service console app for productivity, salesforce mobile app with full functionality, and forecasting mobile app.
Receive up-to-date content and follow-up recommendations.
Google and email integration with outlook.
Lightning Sync enables contacts and events syncing between any Microsoft Exchange-connected device.
Collaboration support with external parties and support for collaboration on deals related files.
Developer sandbox for testing in a different environment.
Also, read: Salesforce Nonprofit Success Pack (NPSP)- Complete Guide
Exclusive features of Salesforce Enterprise edition
While you receive a large set of features that you can also get from the Salesforce professional edition, Salesforce offers you the following features exclusive to the enterprise edition:
Ability to use APIs such as REST and SOAP to integrate third-party systems to Salesforce.
Advanced reporting functionalities.
Single sign-on capability for all your enterprise applications lets you directly connect to the current directory.
Automating workflows, alerting, approvals, and many more.
Set up a help center for your customers to easily find answers to their issues.
Opportunity splits for tracking contributions of the sales team, letting you easily divide sales commissions.
Territory Management.
Pricing
Salesforce Enterprise Edition is currently priced at $150, which almost doubles the Professional Edition price.
Pros
The process builder tool helps organizations save time by automating many workflows, including case routing and time-consuming approval processes. The best thing about the enterprise edition is that the number of processes and flows per organization is unlimited, enabling you to automate almost every task that takes otherwise a significant amount of time. For example, many workflows that require approval from the manager usually need to go through several steps. But you can accelerate the manual approval process by building an automated workflow automatically notifying managers for approvals at the right time.
Advanced reporting features such as cross filters, summary formulas, joined reports, etc., allow you to get different data views in one place. For example, cross filters are great for specifying what you do not want to include, like filtering user accounts without admin accounts. Reporting snapshots allows you to get snapshots of records freezing the data for future use, and Joined reports allows you to combine two reports into a single report to get a holistic view of the data.
With Email and Google App integrations, you can sync your favorite productivity applications with Salesforce. Not only that, but Salesforce Web Services API also allows you to integrate other third-party systems such as ERP, finance, marketing systems, and other external data to Salesforce. External applications can call Salesforce through secure REST and SOAP APIs. It means this functionality allows organizations with multiple departments to connect and expand their functionalities across them.
Enterprise sales territory management is another key advantage that allows you to effectively manage sales territories, enhancing the sales and profits of the company. Because you can organize different types of territories and identify which sales reps are best for specific customers optimizing the resource allocation.
Cons
While enterprise edition offers many advantages for automating workflows, lead generation, integration support, and many more, as we discussed, there are several disadvantages also.
However, the disadvantages are functional limitations and additional costs, which will not hinder organizations from taking all the capabilities from the enterprise edition.
For example:
Creating knowledge articles, mobile-live messaging, live agent support, developer pro sandbox, and full sandbox are only available for an additional cost. For instance, if you want to enhance the user experience with live agent support, it will cost you an additional $75 per month. You can find out how much it will cost for these add-ons by referring to the Salesforce add-on pricing guide.
Sales and service product categories have additional organization limits per user include 20 MB data storage, 2GB file storage, and 1000 API calls per day.
24/7 Toll-fee support and chat support are only available for an additional charge, and support has a two-day response time.
Enterprise edition is most suitable if your organization is a larger one that has multiple sales teams and multiple departments because of several reasons.
For example, smooth collaboration is necessary for better engagement and delegations among multiple teams. This edition promotes smooth collaboration among teams belonging to different sales departments.
Also, if most of your organizations' workflows are manual, his edition can immensely help you lift that weight off through workflow automation. The number of customizations this edition provides is also a deciding factor for organizations that require custom reports, third-party integrations, and user access control.
Another key deciding factor is the advanced case management support that this edition provides. If your organization provides multiple products, then advanced case management will add an advantage for tracking and resolving customer issues across departments.
Also, read: Salesforce SharePoint Integration – How does it help to maximize value from both systems?
Conclusion
Salesforce enterprise edition offers a comprehensive CRM experience for your business with additional capabilities. The salesforce enterprise edition will be an excellent choice if your organization expects more automation, efficiency, and customizations for sales processes. However, your decision must consider the pricing, limitations, and additional costs we discussed in this article. Although the limitations are very few compared to the additional set of features it provides, additional costs may impact your budget. Therefore, you need to carefully assess your organizational requirements and budgetary constraint.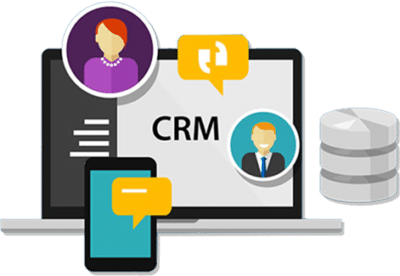 If you are new to automation and confused about Workflow or Process Builder. Need not to worry, we have got you all covered. Talk to our experts and clear all the cloudy thoughts about automation.