Are you curious about the potential benefits of integrating marketing automation into your sales role? Irrespective of your position within the marketing or sales hierarchy, you may have encountered instances of misalignment between these two vital departments.
These differences could arise from conflicts of interest, discrepancies in quota achievement, divergent team objectives, or variations in individual personalities. Addressing and rectifying such issues is a significant challenge that sales teams often face as they grow and evolve.
Marketing automation emerges as a strategic solution to coordinate the collaboration between sales and marketing functions, thereby promoting an environment characterized by heightened productivity and synergy.
The true potential of technology exceeds tool utilization; it lies in adeptly integrating an array of tools and applications to construct platforms that offer value surpassing the sum of their components. This highlights the significance of integrating your marketing automation tool with Salesforce, as it not only conserves valuable time but also augments the value proposition for your sales team.
Salesforce Pardot describes an advanced marketing automation platform designed to help enterprises automate intricate workflows and processes. It catalyzes the optimization of sales and marketing operations, allowing for enhanced efficiency, and facilitating the creation of personalized and engaging customer experiences.
We will provide a thorough explanation of the Pardot and Salesforce integration in this article. This will furthermore cover a thorough analysis of synced objects, methods for managing prospects who are already registered with Pardot, and a complete strategy for mapping Salesforce users with their corresponding profiles in the Pardot system. We will provide you with a concise yet thorough understanding of this integration, enabling its best use.
Salesforce Pardot Integration – Top Benefits
Pardot offers a streamlined onboarding experience, requiring only basic technical skills, ensuring a quick and seamless integration for businesses. Here, we present an organized list of compelling reasons to opt for Pardot and Salesforce integration. Please review them below.
Copy Infographic
1) Valuable Analytical Insights
Integrating your marketing and sales efforts on a unified platform empowers your team to access Interaction History. Pardot delivers comprehensive analytics and insights, enabling organizations to gain a deeper understanding of their marketing endeavours.
Sales professionals can readily access Contact Historical data, offering valuable insights for more personalized customer interactions and ensuring a consistent brand image.
2) Improved ROI Reporting
Pardot empowers organizations with comprehensive campaign analytics, optimizing ROI. Advanced email reporting explores user engagement metrics like taps and opens, providing valuable insights.
By integrating key data sources, you can gain a comprehensive view of your marketing ecosystem. Leveraging this information is key for driving business growth, boosting sales, and maximizing marketing ROI.
3) Improved Customer Engagement
Through strategic use of social media, businesses can cultivate client relationships and improve loyalty. Pardot's customer engagement feature provides a robust tool to elevate customer retention.
4) Email builder to close more leads
Pardot's Innovative Email Builder offers an intuitive interface for effortless marketing email creation. It serves as an adaptable out-of-the-box prototype, offering customizable design elements and seamless data formatting. Moreover, it enables precise timing for delivering communications to your target audience.
5) Customization and Scalability
Within Salesforce Pardot, the extensive array of data and behaviour tools, along with robust lead-scoring capabilities, empowers essential personalization. The platform's scalability helps businesses to adapt campaigns as requirements shift, ensuring a continuous ability to surpass client expectations.
This strategic agility is key to staying competitive and thriving in today's rapidly evolving tech landscape. Salesforce Pardot carefully records and offers valuable insights into your actions and communications.
Also, read: WhatsApp Salesforce Integration: Guide to Available Options
Steps for Pardot Salesforce Integration
Outlined below are the crucial steps involved in the integration of Pardot and Salesforce. This overview offers a comprehensive understanding of the distinct phases within the integration process: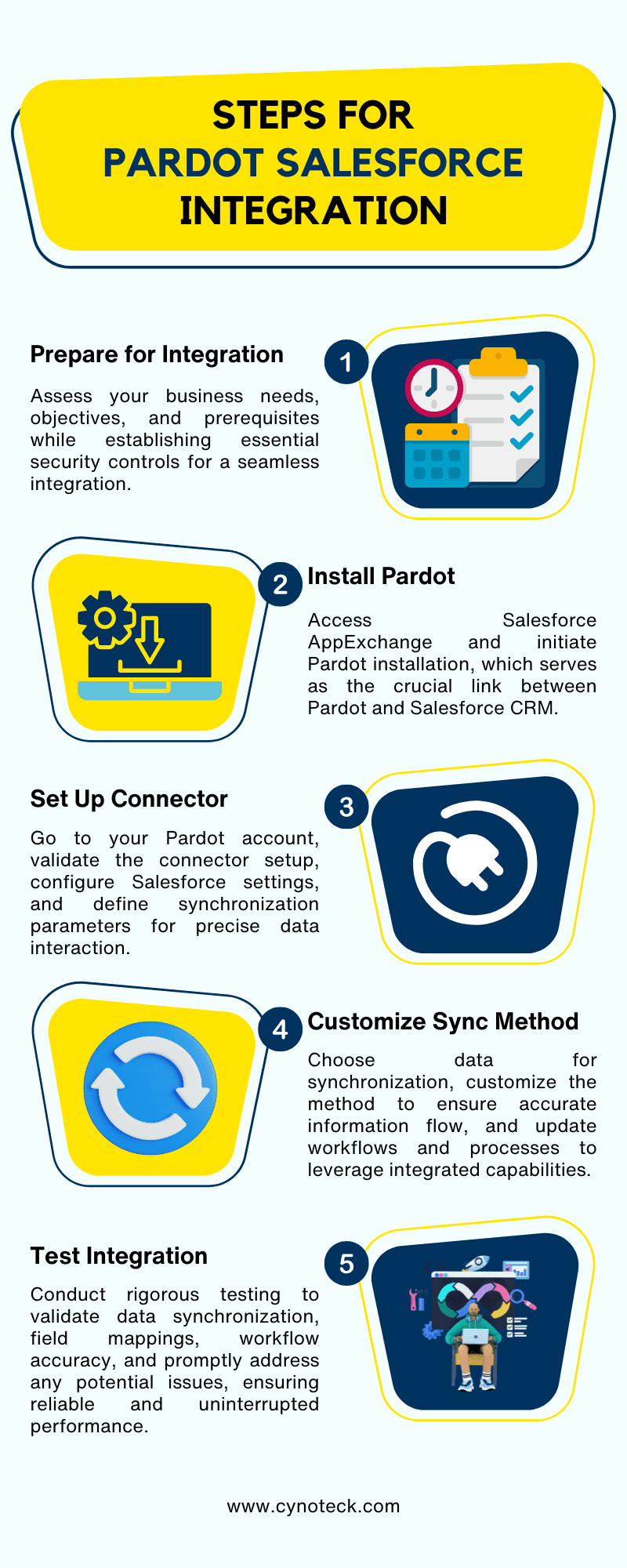 Copy Infographic
1) Making things ready for Integration
Starting the integration process involves a thorough assessment of your business needs and challenges, and identifying the specific issues you aim to address. This ensures that the integration is in perfect alignment with your business objectives.
Simultaneously, it's essential to meet the necessary prerequisites, guaranteeing that the integration is executed with precision and that requisite user controls are established to maintain security measures.
2) Installing Pardot
This subsequent phase involves navigating to Salesforce AppExchange to initiate the installation of Pardot. This crucial application serves as the essential link between Pardot and Salesforce CRM, enabling seamless integration.
3) Setting Up the Connector in Pardot and Configuring Salesforce
Once the Pardot application is successfully installed, proceed to your Pardot account to initialize the connector setup. Thoroughly validate the connector to ensure a seamless integration process. Subsequently, within Salesforce, carefully configure the settings for the Pardot connector.
This critical step orchestrates data synchronization and defines the parameters governing the interaction between Pardot and Salesforce. Tailor the synchronization settings to align precisely with your unique business requirements.
4) Customizing Sync Method and Updating Workflows
The next crucial step involves the strategic selection of data for synchronization between Pardot and Salesforce, including key elements like leads, contacts, and opportunities.
Through careful customization of the synchronization method, you can ensure the seamless flow of precise information across both systems.
Following this, it's important to ensure the uninterrupted operation of your business processes while capitalizing on the integrated capabilities.
Accomplishing this includes making essential updates to harmonize workflows and processes with the improved functionalities of the integrated systems.
5) Finally Testing the Integration
Finally, after the completion of the integration setup, comprehensive testing becomes important to validate its seamless operation. Rigorously evaluate different scenarios to confirm the accuracy of data synchronization, field mappings, and workflow processes.
This thorough testing regimen serves as an effective means to pinpoint and address any potential issues or inconsistencies in the early stages, thus ensuring the integration's reliability and uninterrupted performance.
Also, read: 15 Best Salesforce Integrations for Optimizing Your Business Operations
Potential Challenges in Integrating Salesforce Pardot
Achieving successful integration between Pardot and Salesforce is undoubtedly possible by following the above-mentioned steps.
However, it's important to remain aware of the challenges that may arise during this process. Below, we outline some of the typical challenges to be aware of:
1) Data Consistency, Security, and Alignment
Maintaining data consistency and alignment between Salesforce and Pardot is important. This needs accurate mapping and synchronization of different data fields across both platforms, preventing discrepancies and preserving precise customer information.
Furthermore, safeguarding data security and ensuring compliance requires the implementation of robust security protocols, the establishment of stringent access controls, and the careful management of data-sharing agreements.
2) Complicated Configuration Process
The process of configuring integration settings and establishing crucial connections involves a technical setup. This includes tasks such as defining field mappings, configuring automation rules, and establishing access permissions.
Without adequate guidance, this phase can indeed become complex, posing challenges, particularly for non-technical users.
3) User Adoption
Effective user adoption is crucial for businesses implementing robust integrated systems like Salesforce Pardot. Successful adoption requires careful and comprehensive training to ensure all users, including marketing and sales teams, possess a thorough grasp of the integrated features and can utilize the system to its fullest potential.
4) Insufficient Technical Expertise
The smooth integration of Salesforce Pardot frequently demands technical expertise. This includes understanding integration complications, issue resolution, and the implementation of advanced features, all of which may necessitate the involvement of Salesforce developers or administrators. Contact us today for expert assistance in ensuring a seamless Pardot Salesforce Integration. Our team is fully prepared to support your business requirements.
Also, read: Common Salesforce Integration Challenges And How To Overcome Them
Conclusion
Leveraging Salesforce alongside Pardot can significantly improve your marketing and sales initiatives when executed correctly. We hope that our guidance has equipped you with the right strategies and tools to seamlessly integrate Salesforce and Pardot into your marketing workflow.
With Salesforce Pardot, marketing and sales teams can prepare customized lead acquisition journeys, irrespective of their industry.
Pardot's intuitive features enhance content marketing efforts, ensuring content reaches the right audience at the right time. It also enhances campaign effectiveness and provides the means to measure and evaluate overall ROI.
The integration of Pardot with Salesforce defines a powerful synergy that can profoundly improve your marketing automation and CRM capabilities.
Leveraging its advantages and robust features can lead to improved outcomes, promoting alignment between your sales and marketing teams and, ultimately, fueling revenue growth for your business.
Also, read: Salesforce Integration Best Practices: Avoiding Common Mistakes
FAQs (Frequently Asked Questions)
1) What is Salesforce Pardot?
Salesforce Pardot serves as a potent marketing automation solution, adeptly producing a suite of software dedicated to enhancing sales, marketing, and customer service efforts. It functions as a vital intermediary, seamlessly bridging your Salesforce CRM with anonymous website visitors. This robust platform seamlessly integrates customer relationship management (CRM), streamlines marketing automation, and amplifies email marketing endeavors. Pardot empowers users to engage prospective customers across all phases of the purchasing journey with tailored content and enticing offers, all while carefully monitoring and analyzing campaign performance.
2) What different objects are synced between Pardot and Salesforce?
Salesforce and Pardot promote seamless synchronization of various core objects, including leads, contacts, accounts, opportunities, custom objects, and more. Customizing this synchronization to your specific requirements allows you full control over the process.
3) What is the difference between Pardot and Salesforce?
Pardot primarily serves as a dedicated B2B marketing tool, whereas Salesforce offers a comprehensive CRM solution that encompasses sales, service, and marketing for all business aspects.
4) How can Salesforce Pardot integration help your business?
The integration of Pardot within Salesforce seamlessly unifies Sales Cloud and Marketing Cloud, enabling a refined customer journey. This integration empowers personalized communication, precise campaign targeting, and intelligent analytics. Additionally, Salesforce Pardot integration improves mobile management of leads, contacts, campaigns, and assets for optimal efficiency.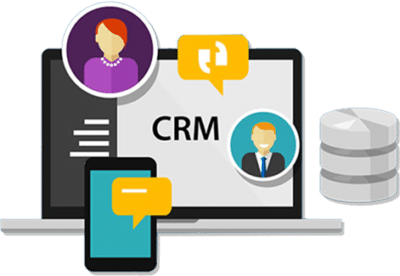 If you are new to automation and confused about Workflow or Process Builder. Need not to worry, we have got you all covered. Talk to our experts and clear all the cloudy thoughts about automation.