Over the last few years, businesses have been going through a revolutionary change. From traditional methods to storing data and transmitting information, businesses are moving ahead toward cloud computing and digital transformation. Both terms amplify radical alteration in businesses and help to promote growth.     
Cloud computing is quite a common term nowadays, from start-ups to large-scale businesses. There is an effortless ease of user experience while storing information in the cloud. Digital transformation has established different methods for businesses to create a presence online. However, cloud computing is something that helps you to stay "only on the web."      
In this blog, we will explore how cloud technology drives business innovation and empowers organizations in the digital era. Let us get started:     
What is Cloud Computing?
Cloud computing can be defined as a storage house for storing data over the cloud. Over decades, information has been searched on the web over different systems. But with the advent of cloud computing businesses can store information and massive data.     
This approach is easy, fast, and economical. Firms can choose the cloud services they would require (there are many options!). Once you decide, pay for the cloud and DONE! Cloud services allow you to scale as your business's demands change, reduce operational costs, and improve infrastructure management.    
With the help of cloud computing, you can process data without having to sit down at a computer or carry around heavy equipment.
All the data and information are stored in the cloud and can be accessed easily. Your work, data, and applications are accessible from any connected device, anywhere in the world, with an internet connection.    
Also, read: The Pros and Cons of AI/ML in Healthcare
Benefits of Cloud Computing:
Copy Infographic
Unparalleled Usability
Apps are becoming an integral part of businesses. Every organization uses different types of apps to smoothen processes. The most common advancement nowadays is the advent of generative AI. Not only do these apps make processes or tasks super easy but they are too convenient.     
What do apps help in? Eliminating manual process, yes! Tasks can feel more tedious when you are doing them repeatedly. Not only are repetitive tasks time-consuming, but they also affect the cost.     
Different apps store space in the cloud, now earlier all the data used to store in one place. This used to hamper the speed of the desktop. But now as everything is saved up in the cloud efficiency is even better! And that is what creates a pathway for unparalleled accessibility and smooth transitioning of business.     
Data Privacy & Security    
Organizations are modern data repositories. Data is the foundation of all digital transformation projects, including those for automating manual processes and creating AI and ML models from pre-existing datasets to create intelligent systems. You just cannot miss out on security; it is one of the most important aspects to focus on. As businesses rely more on the cloud for their data projects, they must secure challenging cloud environments.    
On a sector level, the cloud and the web are consistently making progress in securing the cloud. Public cloud providers are stepping up their security and compliance efforts, according to recent industry headlines to boost cloud security.  
Organizations need to move beyond the limitations of the present cloud security architecture when it comes to enhancing security for Digital Transformation programs, whether they are cloud-based or on-premises.     
Cost-Efficient    
When it comes down to calculating investment for digital transformation, firms take different approaches. Now it is important to note that cloud computing is expensive.
Yet, through cloud models' businesses can get better results. To sum up, we can highlight that it increases efficiency and that leads to productivity and profits.   
There are some varied approaches businesses have taken up. For example, modern IT operations include multiple technologies, teams, and employees. It does contribute to IT spending but in a conscious manner.     
High Scalability 
Scalability is the ability of a system or application to handle increasing loads and demands. In cloud computing, virtualization allows for flexible allocation of resources, enabling virtual machines to efficiently manage growing workloads as needed.
Digital Transformation programs highly value scalability, as it enables dynamic adjustments to cater to changing customer needs without compromising speed or quality of delivery.   
Cloud solutions empower organizations to scale effectively, enhancing operational efficiency and promoting innovation in IT departments.    
Cloud-based scalability also brings cost-effective benefits by optimizing resource utilization and enabling rapid deployment of new applications and services. This agile approach helps businesses stay competitive in the ever-evolving digital landscape.
Adopting scalable cloud solutions is crucial for organizations seeking to meet growing demands, drive efficiency, and embrace the potential for future growth.     
Elasticity 
Cloud Elasticity refers to the capability of scaling up or down cloud resources, such as CPU, memory, and storage, to match changing usage requirements. This dynamic scalability allows organizations to efficiently meet changing demands and optimize resource utilization.    
Cloud Costs have become a major concern for businesses as they can quickly spiral out of control if not monitored closely. A recent survey revealed that over 77% of organizations were taken aback by the rising cloud expenses.
Moreover, many find it burdensome for engineers to manually track cloud costs, leading to a waste of time and resources. As cloud usage increases, so does the risk of cloud wastage.     
Automation Possibilities    
Cloud Computing presents extensive automation possibilities, contrasting the traditional on-premises approach reliant on manual processes.
Organizations can leverage Infrastructure as Code practices, automated Back-Ups, Version Control for workflows, Security Controls through user access, and the Platform as a Service model.
By embracing automation, businesses can streamline operations, enhance security, and ensure cost-efficient cloud management.
Also, read: Generative AI in Healthcare: Enhancing Patient Engagement and Beyond
The Synergy of Cloud and Digital Transformation
Customer experience 
With an out-of-date IT infrastructure, your company lacks the processes and tools required to meet client expectations. To compete in today's business environment, you need to offer an omnichannel experience with real-time adaptability.
For staff to have access to the most up-to-date information on customer needs, you need integrated, cloud-based business software, such as your customer relationship management (CRM), revenue, and platform for communication.     
Employee productivity 
Traditional systems restrict users in many ways. For example – accessibility, it is not possible with the system-based models to check, edit or update any information.
There is lagging and whatnot which makes it extremely difficult to access anything. On the other hand, with cloud computing, you can access your data anytime and anywhere.
The functionality is different in old versions of data storage. However, now through off-site servers, you can easily access great commuting capacity.      
Growth and progress
The information is endless; now, if your platform is SaaS or PaaS, all you must ensure is you are growing. When there is so much out there to offer, you must ensure that users are loyal to you and that you are also progressing.
Now progressiveness can be attained in diverse ways. There is not one single way through which you can excel in business.   
Organizations are implementing tons of ideas and strategies for the success of their business. Now some are hit and trial, but few are assured moves. Such as the right digital transformation.
We cannot emphasize enough the fact that no matter what your business size is or how new or old your firm is. The only thing that is of greater significance at this moment is "growth and progress."     
It is important to learn new things and make sure to implement them. Relatability is achieved through the right implementation and transformation. As an organization, if you refuse to upscale your business and grow then eventually it becomes hazardous for you.     
Implement the right strategies and grow your business with the correct approaches like cloud computing.     
Also, read: IoT and Digital Transformation: Elevating Industries and Connectivity
How cloud computing enables rapid prototyping and experimentation for new products and services?
Cloud computing plays a pivotal role in expediting rapid prototyping and experimentation for new products and services.
By providing scalable and on-demand computing resources, cloud platforms enable businesses to quickly set up development environments and deploy test applications without the need for extensive hardware investments.      
Development teams can collaborate seamlessly in the cloud, iterating and refining their ideas in real-time. Moreover, cloud-based services and APIs offer a diverse range of tools, including machine learning and data analytics, allowing organizations to incorporate innovative technologies into their prototypes.    
This agility and flexibility provided by cloud computing empower businesses to innovate faster, reduce time-to-market, and gain valuable insights for delivering successful products and services.    
The impact of AI & ML on cloud computing  
The integration of AI and machine learning technology with cloud operations has transformed how businesses manage their infrastructure. This transformative shift encompasses various aspects, including enhanced efficiency, scalability, security, and compliance.     
By leveraging intelligent automation and predictive analytics, organizations can optimize cost efficiency and foster innovation, gaining a competitive edge in the digital era. Embracing these powerful technologies enables businesses to achieve higher levels of performance and unlock new opportunities for growth and success.    
Also, read: Unlocking the Power of AI in Digital Transformation: A Roadmap to Success
Cloud Adoption Challenges and Mitigation Strategies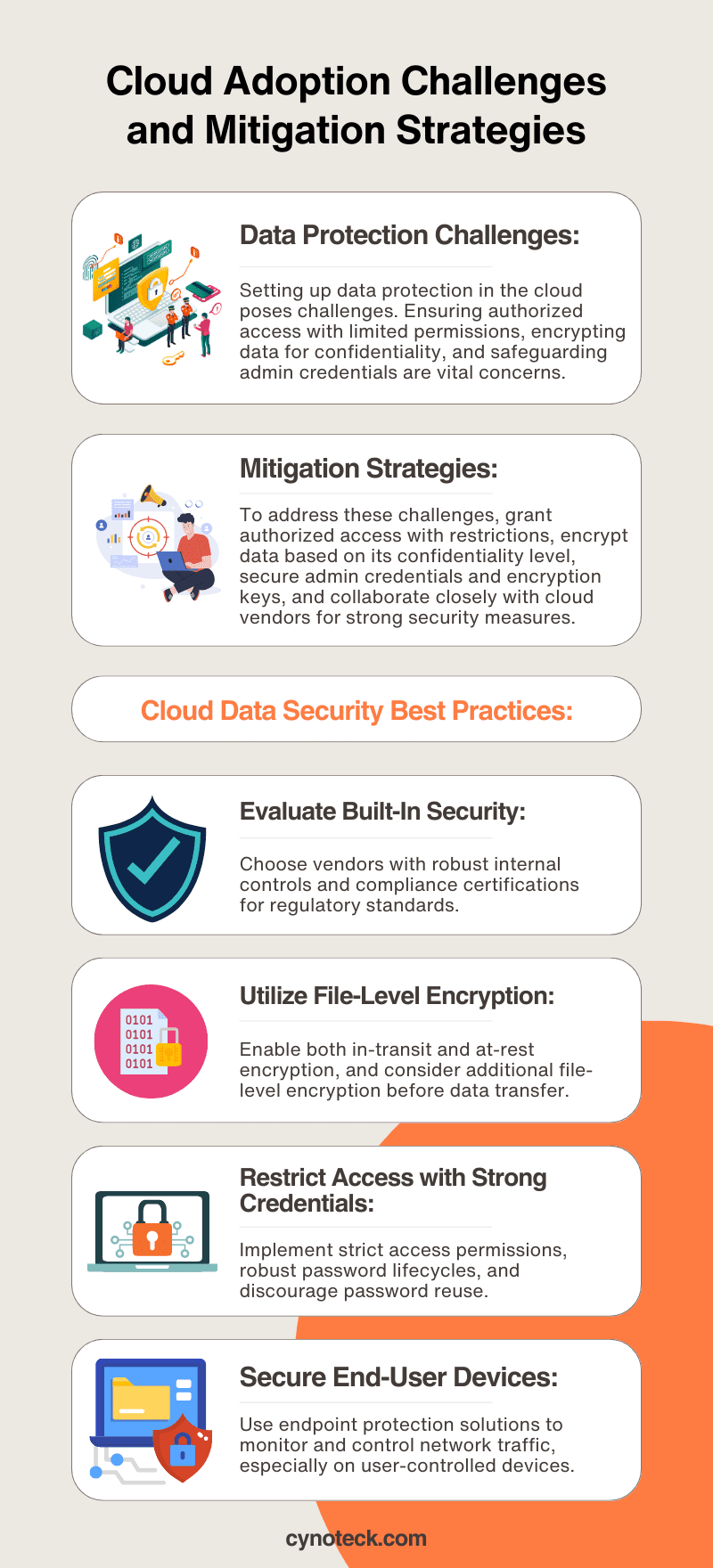 Copy Infographic
Data Protection Challenges in the Cloud  
Setting up data protection in the cloud presents several challenges that organizations must address. One crucial aspect is ensuring the integrity of systems to grant authorized access only, with restricted permissions for data modification or deletion to appropriate users.     
Confidentiality is another significant concern, demanding proper restriction of permissions and encryption to safeguard data according to its confidentiality level. The protection of admin credentials and encryption keys is paramount to maintaining these restrictions effectively.     
Cloud Data Security Best Practices  
To ensure the effectiveness of the protections you implement, consider adopting the following best practices:    
Evaluate Built-In Security: Select a cloud vendor with strong internal controls and comprehensive tools to secure data. Ensure they offer service-level agreements that guarantee proper system protection. Verify the vendor's compliance policies, as certifications are crucial for meeting regulatory standards.   
Utilize File-Level Encryption: Enable both in-transit and at-rest encryption provided by the cloud provider. Consider adding an extra layer of file-level encryption by encrypting data before transferring it to cloud storage. If file-level encryption is not possible, explore data "sharding" to disperse data or applications across various locations, making it harder for attackers to access sensitive information.  
Restrict Access with Strong Credentials: Enforce strong credential policies and strict access permissions. Ensure users and applications have access only to the data they require and implement robust password lifecycles with periodic audits. Discourage password reuse and employ difficult-to-guess passwords to prevent unauthorized access.  
Secure End-User Devices: Recognize that endpoints, especially user-controlled devices like smartphones under a BYOD policy, can be vulnerable. Implement an endpoint protection solution to monitor and control network traffic, restricting data movement in and out of your systems, even on devices not fully under your security control.  
By following these best practices, businesses can enhance their cloud security, safeguard sensitive data, and reduce the risk of security breaches and compliance violations.
Taking proactive measures will enable organizations to make the most of the benefits offered by AI, ML, and cloud technologies while ensuring robust protection against potential threats.  
Also, read: The Importance of Web Development in Digital Transformation
Conclusion 
In 2023, it is ascertained that digital transformation evolution will always keep thriving. Along with digital expansion, cloud computing will also keep advancing. Be it delivering cloud-based solutions or enabling cloud for businesses. Cloud and digital transformation are a promise of great user experience. To enable and accelerate growth both advancements are assuring.     
Discover how next-generation tech partners change investments. How? By utilizing cloud computing services and easing the transition to SaaS, PaaS, and IaaS. Explore Cynoteck's custom software development services to achieve every digital transformation goal.    
With our tools, team & strategy – we can enable digital transformation and surround businesses with digital specialists and consultants that can guide them in choosing the best solution for their needs. Our teams deliver projects of any scale and complexity to boost business agility. As we acquire the proper combination of in-depth knowledge of technology & experience.
Also, read: Digital Transformation in Healthcare: Key trends in healthcare for 2023
Frequently Asked Questions: 
Q. How does cloud computing help with digital transformation?
Cloud computing facilitates digital transformation by providing scalable, cost-effective, and accessible infrastructure. It empowers businesses with advanced data analytics, collaboration tools, and the ability to innovate rapidly.  
Q. Can cloud technology enhance business innovation?
Yes, cloud technology accelerates business innovation by enabling rapid prototyping, experimenting with innovative ideas, and leveraging AI/ML capabilities for data-driven insights.  
Q. Is data stored in the cloud secure and private?
Cloud providers implement robust security measures and encryption protocols to ensure data confidentiality. Organizations can also implement additional security layers to safeguard sensitive information.  
Q. How does the cloud support remote work and collaboration?
Cloud-based tools and applications allow employees to access data and work collaboratively from any location, cultivating seamless remote work and boosting productivity.  
Q. What challenges might businesses face during cloud adoption?
Businesses may encounter challenges related to data migration, integration with existing systems, and ensuring compliance. Effective planning, proper training, and partnering with experienced cloud service providers can help mitigate these challenges.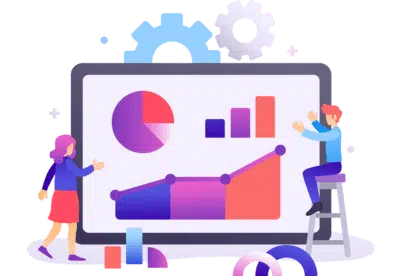 Harness the power of Data Science
Unlock hidden opportunities, optimize processes, and make smarter decisions. Contact us today to discover how our Data Science services can propel your organization forward. Don't let your data go untapped. Take action now and revolutionize your business with Data Science.