Experts tell us that the rate of growth of technology is increasing exponentially. Such is quite evident if you think about it. Ideas and concepts that were relegated to the computer screens have now become everyday gadgets. Currently, it seems SciFi movies are struggling to dream up more fantastic technology before its current list is brought to life. Technology is intrinsically linked with our culture, tradition, and evolution of our society.
As technology evolves and develops, it makes numerous possibilities available for individuals in the community. Modern technology has made the production of new products and services possible, creating new customer trends, behaviour, and demand. Meanwhile, advanced technology has also made the production of former products and services cheaper, faster, safer, and of higher quality.
Also, tech experts talk about how the swift and efficient communication system has created a 'smaller' global village while increasing our focus on speed, mobility, and autonomy. The popularization of the Internet of Things (IoT) and Bring Your Device (BYOD) concepts in social occasions and business centers is already shaping cultures and daily habits in different ways.
With the availability of personal computers and mobile devices, recent technological development has been focused on increasing connectivity, communication, and data sharing. This is more evident in the business world where access to information has a strong influence on the success of a campaign.
Microsoft PowerApps stand in the front line of technologies designed specifically for business. Microsoft PowerApps was completed in 2017 and released to help business owners create apps and software codes without requiring in-depth programming skills. PowerApps tools take advantage of improved communication and data sharing systems to increase sales and optimize business processes. Microsoft PowerApps comes in mobile and desktop versions to create easy synchronization, mobility, and ease of access.
Microsoft PowerApps runs on a Software-as-a-Service (SaaS) platform combining applications, services, and data transfer to create unique combinations. PowerApps has high compatibility and runs on numerous web browsers, mobile, and desktop operating systems. PowerApps is part of a group of Microsoft's business application tools called Power Platform. Interoperability with other Power Platform apps allows PowerApps to automate data recording and analytic procedures. Integration with Dynamics 365 allows for the improved coordination of working teams and the creation of unique business codes.
Microsoft PowerApps Use Cases
PowerApps is a toolbox of creative solutions and innovative services to help any business owners build unique apps to get on top of the game. As with any tool, the level of result is influenced by the user's skill. Here are some problems that call PowerApps to the rescue:
Data Management and Transfer
Working on the go and coordinating multiple teams can get even more complicated when you remember that there is no set standard for presenting data. It would be disheartening to gain access to essential data but be unable to edit it due to differences in format. PowerApps solve this problem by introducing the common data service (CDS).
CDS ensures data format compatibility with more than 200 data sources, including OneDrive, Dynamics 365, PowerPoint, Excel, Salesforce, Outlook, and Twitter. This way team member can download and edit information on different devices, from anywhere.
Unique Solutions and Specialized Apps
PowerApps provides a safe and simplified app building platform that requires very little technical knowledge or programming skill. This enables businesses to create specialized applications with the right blend of functionality and uniqueness to improve productivity. While tech companies are increasing the quality of products available on the market every day, there's no one size fits all option.
With PowerApps, business owners can design exactly how they want and need, while discarding the non-essentials. Unique apps can be programmed to take over repetitive tasks such as data recording and management while freeing up intelligent labour for more essential tasks.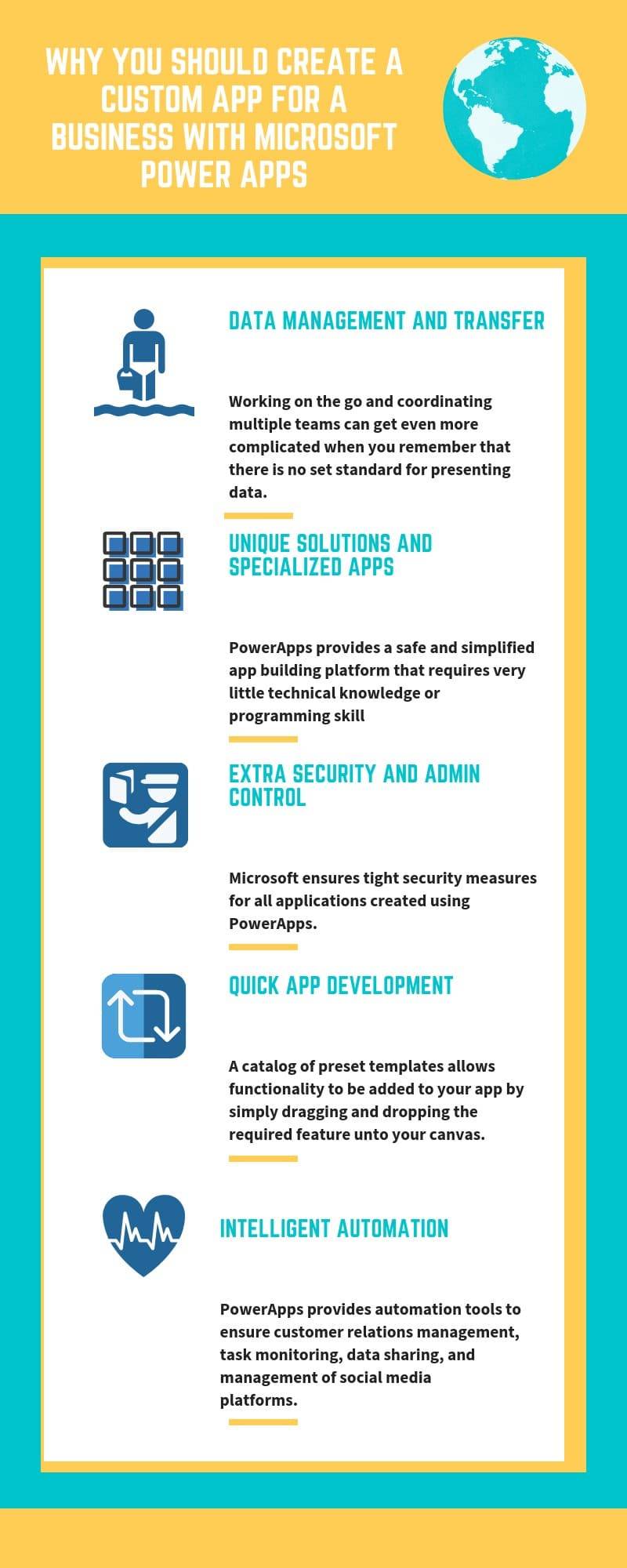 Copy Infographic
Extra Security and Admin Control
Microsoft ensures tight security measures for all applications created using PowerApps. Microsoft active directories domain service (ADDS) automatically registers and links up with every application built on the PowerApps platform to ensure and enforce security compliance. The CDS platform is also geared to maintain the General Data Protection Regulation (GDPR) compliance.
Quick App Development
PowerApps runs a straightforward system.
A catalog of preset templates allows functionality to be added to your app by simply dragging and dropping the required feature unto your canvas. The final result is a unique blend that requires very little time.
Intelligent Automation
PowerApps provides automation tools to ensure customer relations management, task monitoring, data sharing, and management of social media platforms. Automation functionality allows management to focus on more important tasks without sacrificing service quality and uptime.
Microsoft PowerApps Implementation
PowerApps makes access easy with desktop and mobile device applications. PowerApps simplifies the app development process using an innovative drag-and-drop interface. Apps can either be created by choosing from a varied selection pre-set templates or building from scratch. Here's a simplified implementation using templates:
Choose your desired template from the catalog and ensure it is compatible with your preferred mobile device.
Connect to the appropriate data source (such as OneDrive or Salesforce) to import your data
Proceed to drag and drop the different options for additional functionality and features to your app.
Complete the process by simply clicking finish and share the app to all connected users and partners.
Apps can also be created from scratch without using preset templates. Integrating with Azure Functions will provide your app with cloud features, integrate your apps with other SaaS or website tools, and add data analytics.
PowerApps examples
As we speak, great apps are being built! Check out the list below.
1.      Expense Management System: Manage expense request in an organization.
2.      Internal Training Management System: Easily manages your training sessions within an organization using the Internal Training Management System.
3.      Confluent – Employee Onboarding – Go Onboarding app is a unique hands-on adventure that frees up HR resources and delivers consistent, memorable onboarding experiences for new employees.
4.      Configatek – Zero Harm (Field Hazard Reporting) The Zero Harm app is a field Hazard Reporting app that provides a simple mechanism for any employee to report a risk or hazard from any work site.
5.      Communication Square (Employee shift management)- Manage the shifts of your employees in a better way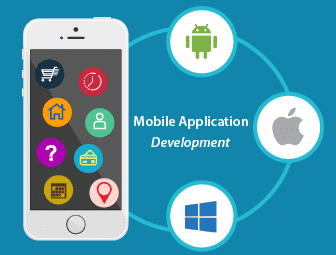 Do you want to leverage mobile technology for your business? Cynoteck is a one-stop Mobile app Development Services provider. We provide iOS and Android application development services so that you can reach your target audience on any device.