Microsoft has launched a set of AI features for Dynamics 365 Customer Services software in a bid to compete with the market leader Salesforce.
The new Dynamics 365 AI features are a clear competition to Salesforce that has its own AI features for its services. Both the applications deliver out-of-the-box insights by unifying the data and integrating it with advance intelligence to guide decisions and empower companies to take better and informed decisions.
Dynamics 365 was introduced 2 years ago to tear down the traditional silos of customer relationship management and also enterprise resource planning. It was set out to reimagine business applications as unified, modern, and adaptable solutions that can integrate office 365 and natively was built on Microsoft Azure.
Dynamics 365 AI for customer service uses Microsoft AI and natural language understand technology to help the workers understand where and how to take action based on automatically generated insights. This app will work with virtual tools without users needed to write any kind of code. Microsoft officials have said, Microsoft itself will offer a domain-specific bot for customer service available with AI for Customer Service.
Over the past year, Microsoft has focused on augmented reality or mixed reality products more towards business users and application, rather than the gamers and general consumers.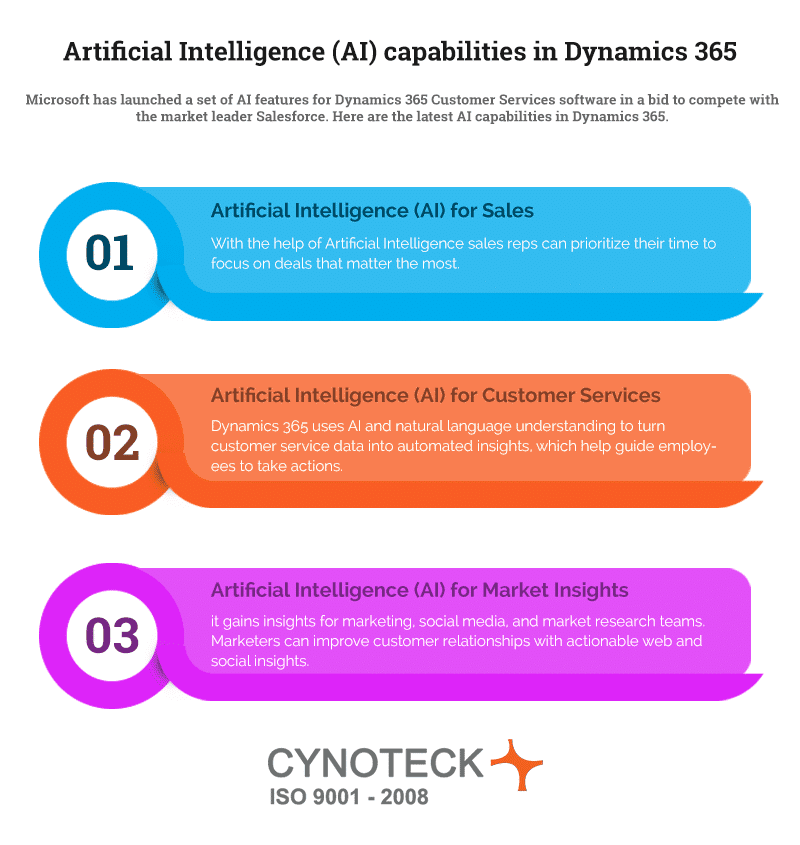 Copy Infographic
What all Dynamics 365 offers
Dynamics 365 for Sales – With the help of Artificial Intelligence sales reps can prioritize their time to focus on deals that matter the most. Moreover, it provides the answer to the most common questions asked regarding performance, offers a detailed analysis of sales pipeline, and surface insights that enable smarter coaching of sales teams. The application offers greater insights into prospects as well next best actions are also recommended.
Dynamics 365 AI for Customer Services – It uses AI and natural language understanding to turn customer service data into automated insights, which help guide employees to take actions. The application also leverages virtual tools.
Dynamics 365 AI for Market Insights – it gains insights for marketing, social media, and market research teams. Marketers can improve customer relationships with actionable web and social insights to engage in relevant conversations and respond faster to the trends.
Microsoft Dynamics 365 AI functionality
With Dynamics 365 AI you can empower the people across the organization to discover predictive insights, make informed decisions, and communication with the customers by leveraging the power of Artificial Intelligence. Additionally, you can –
Gain the most out of your data: With Dynamics 365 AI gets the intelligence across your business with the help of external sources Microsoft Data Signals, and Dynamics 365.
Get immediate actionable insights: Get relevant insights that can help your organization optimize decision, whenever your team does their work.
Agile abilities with a space to expand: Get out-of-the-box insights with Dynamics 365 AI applications, and customize them to address different scenarios via the power of Microsoft Azure.
Remote Assist and Layout were also listed in the Dynamics 365 AI October Release
Remote Assist is a hands-free calling app, designed to help workforce quickly triage issues. Consumer can use Microsoft Common Data Service to enable Remote assistance to leverage work-order from Dynamics 365 Field Service on-site.
Whereas, Layouts is a spatial-planning application that can help the user visualize room layout in real world scale, with a competitive advantage for customers in manufacturing and retail. With layouts, customers can resize and rotate 3D models in order to edit layouts on the fly.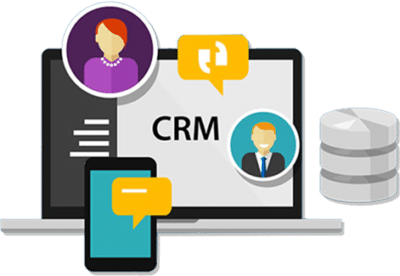 Cynoteck Technology is a leading expert on Microsoft Dynamics 365 and we provide an array of Dynamics 365 Consulting Services to all size of businesses. Get in touch with us for latest updates on Dynamics 365.