If you are using Microsoft Power Platform, then you must have come across the words like Microsoft Dataverse and Microsoft Dataverse for Teams. In this blog post we will discuss what these terms are and what they do.
What is Microsoft Dataverse?
Microsoft Dataverse is not new, but a new name given to Common Data Service by Microsoft. It is a safe, secure and scalable data platform to manage your data so that you can use it for your business applications.
Similar to any other platform like Excel and SQL, Dataverse uses a set of tables to store data with rows and columns. Earlier table/tables were referred as Entity/Entities, row/rows were referred as record/records and column/columns were referred as fields/fields or attribute/attributes. There have been terminology updates across Microsoft Power Platform in Microsoft Dataverse as given in the table below:
| | |
| --- | --- |
| Legacy Table | Current Term |
| Entity, entities | Table, tables |
| Fields, fields, Attribute, attributes | Column, columns |
| Record, records | Row, rows |
| Option set, multiselect option sets, Picklist, picklists | Choice, choices |
| Two options | Yes/No |
Microsoft Dataverse leverages the security and connectivity of Microsoft services and lets you to create an app using this cloud based, low-code data service.
It easily integrates with all the aspects of Power Platform so that you can create, control and automate your applications to strengthen your business.
It can be accessed with an internet connection, as it is not designed for stand-alone use on your servers. It offers a great deal of functionalities.
List of features offered by Microsoft Dataverse:
Security:
As with all other Microsoft cloud-based services, Dataverse security is managed by Azure Active Directory (Azure AD) that allows conditional access and multifactor authentication. Users can only access the data after you grant them permission. Role based security provides rich auditing capabilities, as it supports authorization down to the row and field level. It also allows you to control access to tables for different users within same organization.
Data and Storage:
Dataverse gives you full control of the way it looks irrespective of how it is used. Both the metadata and data are stored in the Azure cloud therefore, you don't not need to worry about the security of the data and details of how they're stored.
Logic:
Dataverse lets you apply business logic at the data level. Henceforth, you can define calculated column, workflows, business rules, and business process flows to drive business processes and, in the meantime, ensure data quality.
Integration:
Dataverse is designed in such a way that it allows data to be integrated from multiple sources to be used in Power Apps, Power Automate, Power BI, Power Virtual Agents and other Dynamics 365 applications. Dataverse is a powerful cloud-based solution that can work with any type of data and incorporates all the major categories of data technologies that are required in your business.
Microsoft Dataverse for Teams
Microsoft Dataverse for Teams was first introduced in September 2020 by the name of Project Oakdale. Later it was officially named as "Microsoft Dataverse for Teams". It is a low code data platform solution in Teams that lets users to build custom apps, flows and chatbots using Power Apps, Power Automate, and Power Virtual Agents.
It provides relational data storage, rich data types, enterprise-grade governance, and one click deployment solution. It empowers everyone to build and deploy apps within Teams.
Some of the benefits of Dataverse for Teams are:
Ability to build low code or no-code apps, flows, bots for and within Teams
Data capabilities of Microsoft Power Platform and Dynamics 365
Rich data types, relational data storage and one click deployment solution.
2 GB storage per team and support for up to 1 million rows
Support for up to 500 teams
Enterprise security that is easy to use and aligned with the approach used in Teams.
Thus, Microsoft Dataverse for Teams is a low code development platform that empowers everyone to build apps, flows and intelligent chatbots without any prior coding experience
I hope you are now able to see the value of Dataverse to build your solution in the Power Platform and understand that it more than just a cloud-based data solution.
Cynoteck is a Microsoft Gold Partner and Power Platform Partner. With our knowledge across the Microsoft Stack, we build solutions that best fit your needs. We help you identify and utilize your organizational data to the best which lets you make intelligent decisions for your growth.
Connect our team if you are interested in implementing Power Platform in your business.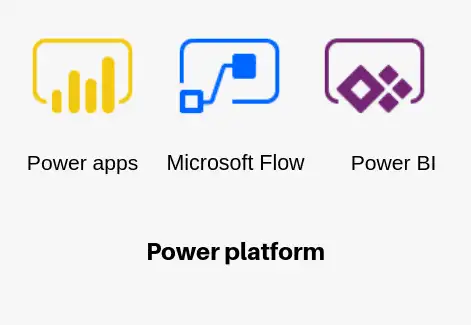 Still, have a question? You are free to contact me or other experts in our team to showcase the real power of PowerApps to you.