This is a news article for Power Platform. If you are not aware of Power Platform, it is a name given to the combination of Power Apps, Power BI, Power Automate, and Power Virtual Agent.
The article will be covering the general aspect, specific update featuring functionality, and the new connectors added in the list to get the information you are looking for.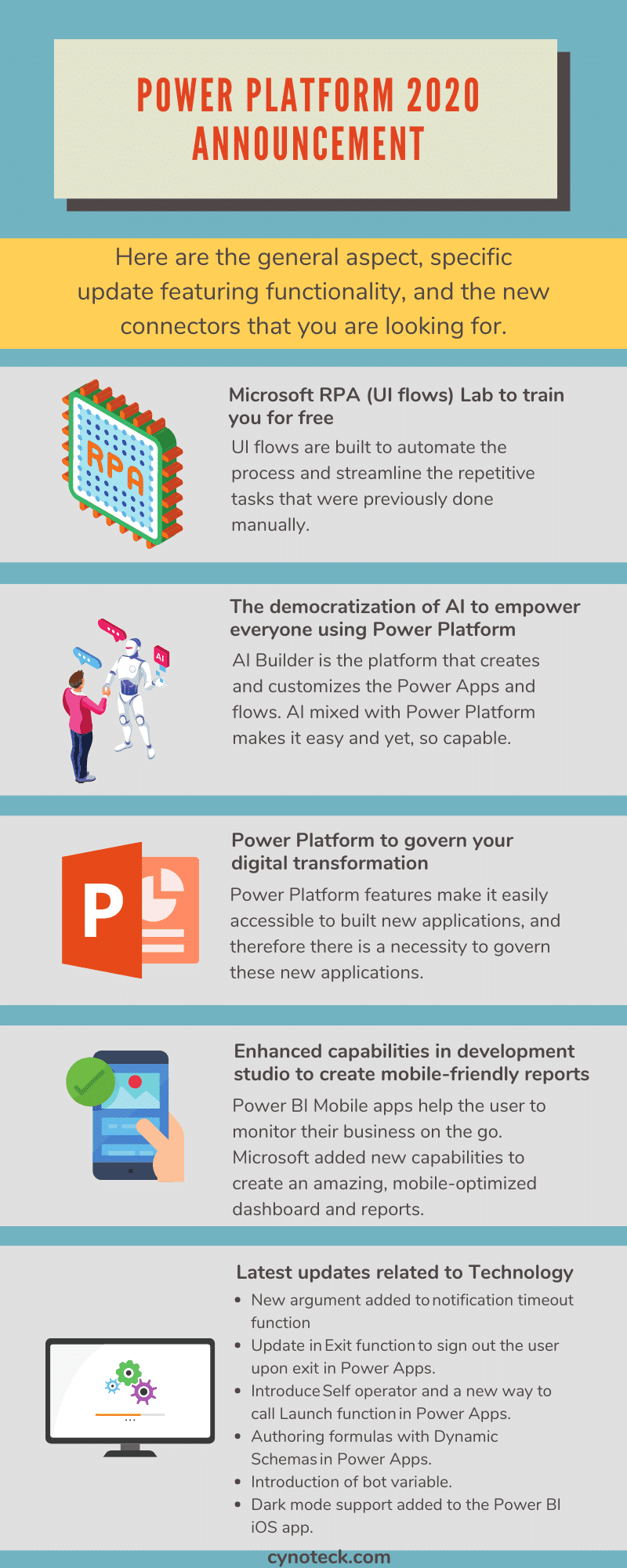 Copy Infographic
General News:
Microsoft RPA (UI flows) Lab to train you for free
This is a day training to help you learn how to develop RPA automation using UI flow. UI flows are built to automate the process and streamline the repetitive tasks that were previously done manually. The hands-on lab exercises help you to build a modern end to end solution for the business. In the lab, you will use UI Flows and API connectors to automate the process.
The democratization of AI to empower everyone using Power Platform
The Power Platform is a low-code platform that enables users to analyze data, act on it through applications, and automate the process. It empowers everyone from citizen developers to professional developers to create a solution as per the business need and drive output. AI Builder is the platform that creates and customizes the Power Apps and flows. AI mixed with Power Platform makes it easy and yet, so capable. Binary Classification, Text Classification, Object detection, Business Card Reader, Form Processing, Customer Testimonial are some of the key capabilities of AI Builder that already existed. Recently, Microsoft made three AI Builder preview model types generally available i.e production-ready.
1) The Entity Extraction prebuilt model
2)The Entity Extraction custom model
3) The category classification custom model.
Power Platform to govern your digital transformation
As more and more organizations are understanding the power of data, the need to create an application is increasing like never before. Power Platform being the low code platform, and its ease of use and availability of a wide range of features makes it easily accessible to built new applications, and therefore there is a necessity to govern these new applications. Expansive governance capabilities ensure that organization digital transformation is according to protocols.
Enhanced capabilities in development studio to create mobile-friendly reports
Smartphones have become the new workspace in today's world. Mobile apps provide flexibility to the user to perform their tasks anywhere, anytime. Power BI Mobile apps help the user to monitor their business on the go. Mobile authoring in Power BI released in 2016 enables us to create report layouts that are phone optimized. Microsoft added new capabilities to create an amazing, mobile-optimized dashboard and reports. This includes new modified visualization pane, overlying visuals to create fine, interactive reports, updated emulators, and fine-grained canvas grid.
Latest updates related to Technology
Technical updates that will help you to work better in the Power Platform.
New argument added to notification timeout function to control the appearance of banner in Power Apps.  
Update in Exit function to sign out the user upon exit in Power Apps. 
Introduce Self operator and a new way to call Launch function in Power Apps. 
Authoring formulas with Dynamic Schemas in Power Apps. 
Introduction of bot variable commonly known as global variables in Power Virtual Agent and setting its value from external sources. 
Dark mode support added to the Power BI iOS app. Power BI made snowflake connector generally available with enhanced capabilities like the connection to snowflake without an on-premises gateway, support for Azure active directory authentication and SSO enabled DirectQuery mode authentication.  
Six new connectors are added to Power Automate, bringing the total number of connectors over 345 on the Power Platform. These are: Azure IoT Central, Eduframe, LIFX, Microsoft 365 message center, Office 365 Groups Mail, Virus Total 
I tried to cover all that you need to know about the Power Platform 2020 announcement through this article but if I missed anything, please share it in the comments section so that I can add it for other readers to know.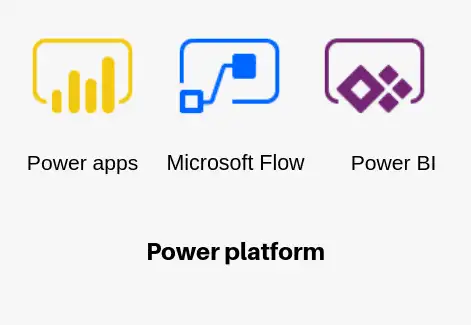 Still, have a question? You are free to contact me or other experts in our team to showcase the real power of PowerApps to you.