"Low code platforms and Digital Transformation go hand in hand in shaping your organizations future"
Transform or perish has always been the mantra of sustainable businesses. We have seen many successful businesses go out of work just because they could not ride the wave of change.
According to John T. Marcante article "Just look at the S&P 500. In 1958, U.S. corporations remained on that index for an average of 61 years, according to the American
Enterprise Foundation. By 2011, it was 18 years. Today, companies are being replaced on the S&P approximately every two weeks"
So what exactly is Digital Transformation and how can it help your business in remaining viable? According to Ring Central "Digital Transformation is about adapting your business operations, processes, models, methodologies, and competencies to take full advantage of the digital landscape"
While enterprises may look at digital transformation as something that might transform certain departments of an organization, but digital transformation is much wider. For digital transformation to succeed the entire organization needs to participate in the change. As rightly mentioned by IT executive Neil Gomes "Digital transformation should be enabled by IT and IT groups but really shouldn't be centered in that space"
Digital transformations that use low code platforms are governed by the IT but gives power to all departments to build a digital discipline across the organization.
Few ways a low code platform may help in digital transformation are
Copy Infographic
Engage
A low code platform can be used by citizen-developers to build simple apps. Most of the time these apps would be simple paper processes digitized by enthusiastic employees within an organization. Since this directly engages non-IT people, it helps the IT department engage them in the transformation journey. An engaged workforce would result in a quicker adaption of the changes.
Educate
A low code platform can help to educate non-IT workforce about the positive changes Digital Transformation can bring to an organization. With first-hand use of low code platform employees can understand the power of Digital Transformation.
Empower
Low code platform empowers employees to build their own apps which can help with automating processes quickly. IT department with its finite resources automate processes that directly impact profitability first. With the power to build apps, the entire transformation journey is democratized.
Envision
Based on the apps build by non-IT the CTO's and IT heads can envision solutions that can shape up the transformation journey.
Although there are many Low code platforms available in the market but we talk two major platforms which can be adopted in organizations of any size and fit perfectly in an enterprise's transformation journey.
Salesforce Lightning
Named as one of the leading low code development platform by Forrester for year 2019 salesforce is already an enterprise platform leading in digital transformation.
Microsoft PowerPlatform
For companies already using various Microsoft cloud services like Office365, Microsoft PowerPlatform is a platform of choice for low code development. Microsoft is another leader in low code development
Conclusion
Democratizing digitization is a major step in successfully transforming your organization. The higher the participation higher is the adoption.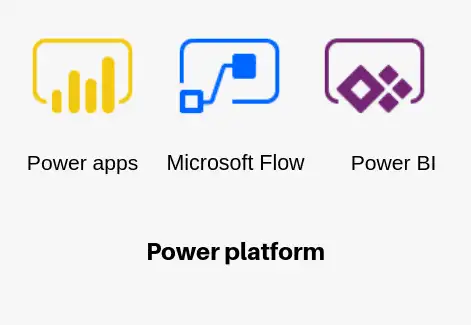 Still, have a question? You are free to contact me or other experts in our team to showcase the real power of PowerApps to you.