The technology industry is evolving at an accelerated rate with continuous innovation all over the globe, making remarkable transformations in every phase of people's lives. All these developments have encouraged us to constantly update ourselves to make sure that we can take on future challenges.
Software development is one of the true growth areas of the past decade and is a constantly in-demand skill that meets a whole multitude of disciplines, roles, and frameworks. There are some industry trends that can help you make immediate skills investments. Coding is one such new-age skill. With multiple future jobs expected to rely on coding abilities, it is no surprise to see that the requirement for such top tech talent is growing with each passing day.
Nowadays companies work in a dynamic environment and are challenged with unprecedented difficulties when it comes to talent sourcing. From the lack of skilled professionals to the changing requirement, resourcing challenges are usually a project pain-point. Organizations can hire software developers over a broad range of technologies to expand their teams or facilitate product development. They can also hire developers on demand for long-term working.
Hiring on-demand developers can help you quickly fill any skills gap within your team. With the appropriate professionals, you can instantly benefit from ongoing support, a team expansion for any specific project, or any emergency help. Highly skilled remote developers can fit seamlessly inside your team and watch as much regarding your project's success as you do. An experienced professional can also help in optimizing project costs and timelines and can make them become more manageable.
What is an On-Demand Developer?
In the modern age of today, hiring specific on-demand app developers is a requirement for several companies to meet their development needs. This on-demand development service empowers businesses to evaluate market opportunities through a unique digital platform and hire developers on-demand to get the work done.
On-demand developers are simply developers that businesses hire to outsource their work to. These developers can be freelancers or any member of a staffing company serving particularly in any technology or a member of a team of well-suited people. On-demand developers have one point in common i.e. they are not full-time employees. Rather, they are an addition to the company's full-time programming team. There are several advantages of hiring on-demand developers.
Why Hire On-Demand Developers?
Defined below are the points you need to understand why there is a huge demand to hire on-demand developers:
1) High-Quality Work with Increased Productivity
High-Quality Work is one of the best things that you will get after hiring an on-demand developer. You can find someone who shines in that specific field as per your platform requirements whether, Java, Python, Ruby, etc. You can easily communicate your requirements and get matched with someone knowledgeable, dedicated, and experienced in specifically what you need.
This saves time, money, training, and stress paired with improved productivity that you wouldn't believe. These developers work based on their assignments, as the functions are already set out, so they begin working on them. These developers next put forward to transfer the work for any extra corrections. Once it's finished, they can quickly move to the next task.
2) Cost-Effective Solutions
When you hire someone in-house, the complete budgeting of your company gets increased. You need to move through the onboarding, pay the settled salary and provide the benefits that full-time employees in your company get.
But hiring on-demand developers saves you a lot of time during the long run as you avoid the hiring process. Ultimately, you have much more flexibility when planning the budget for a project with an on-demand developer. A developer will help you get your job done easily. Hence, this provides you quality work and saves your budget from overspending. Simply remember, when it comes to developers, you only get what you pay for.
3) Easy Management and Seamless Transition
Whenever a task is assigned to a developer, the dedicated developer or his/her development team takes out the entire task within the specified time with quality results. You, as a manager, would only be required to coordinate with the work. Therefore, this easy management will help you gain productivity, quick work, and less postponed work.
On-demand developers can easily handle the varying number of differences between business environments, and they're very adaptable to each company they're matched with. This is a much simpler process than working through a typical onboarding required for full-time employees.
4) Lower Risk and Fast Turnaround Times
Hiring a full-time employee is a huge risk. If he/she is not a valid match or they don't work satisfactorily with the programming team, then you might end up wasting your money, time, and resources. On the other hand, when you hire an on-demand developer, you have little to no risk. You can hire a different developer if the one doesn't seem fine plus you can ask for edits if you're not satisfied.
On-demand developers are hired to perform specific projects they normally have a more accelerated turnaround time as compared to an in-house development team. This is because they simply work on limited amounts of projects at once and provide their complete attention to the task at hand. This way they can help you meet up with your deadlines.
Successful Strategies to Find the Right On-Demand Developer
Getting the right on-demand developer can be a difficult task. There are several freelancers available out there that may not have the experience that you need. Plus, you also need to check for many things like compatibility, expertise, and more before hiring any developer.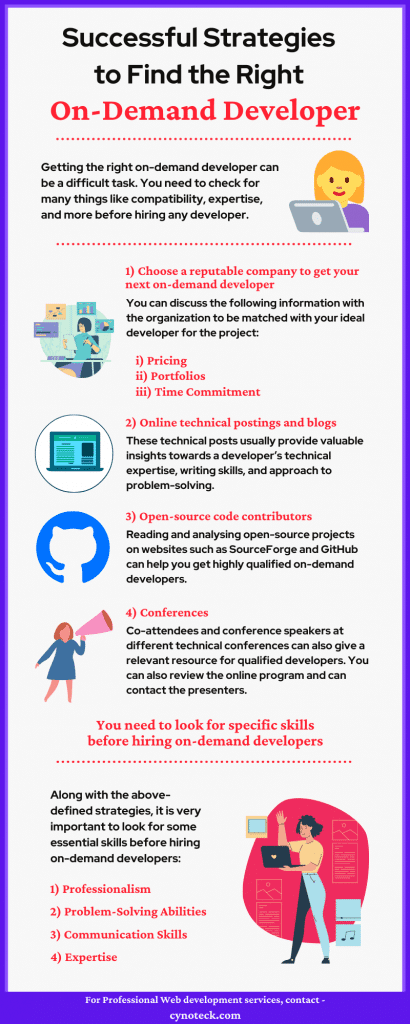 Copy Infographic
1) Choose a reputable company to get your next on-demand developer
You can discuss the following information with the organization to be matched with your ideal developer for the project:
i) Pricing
Let the organization know about your budget, what it is on the high end and at the low end. You need to make sure that you get what you are paying for.
ii) Portfolios
Getting a judgment from the developer's portfolio is the most reliable way to identify whether or not you've got what you were looking for. You can match the styles of different developers to understand what to expect.
iii) Time Commitment
Let the organization know what the time commitment would be. The more specific you are, there are more chances that the organization will be able to pair you with the ideal person.
Following these, you will get the right developer for your project. Work with your new developer for a trial period first, to ensure that he/she is the appropriate fit for making the final engagement.
2) Online technical postings and blogs
Online technical postings and developer blogs can be an excellent source of getting strong on-demand developers. These technical posts usually provide valuable insights towards a developer's technical expertise, writing skills, and approach to problem-solving. All of these things are essential for recognizing and choosing the top elite developers.
3) Open-source code contributors
Reading and analysing open-source projects on websites such as SourceForge and GitHub can help you get highly qualified on-demand developers. Using this strategy provides you an additional benefit, it enables you to see and assess a candidate's code samples and units before even choosing to make contact.
4) Conferences
Co-attendees and conference speakers at different technical conferences can also give a relevant resource for qualified developers. You can also review the online program and can contact the presenters. Reaching them at the right time can help you provide some recommendations, or they may refer you to someone else who is qualified and has vast experience.
Also, read: 5 ways to find an offshore development team in 2021
You need to look for specific skills before hiring on-demand developers
Along with the above-defined strategies, it is very important to look for some essential skills before hiring on-demand developers:
1) Professionalism
Always choose a reliable company to find your next on-demand developer to ensure that you're working with a company that takes its responsibilities seriously.
2) Problem-Solving Abilities
Whatever would be the problem, your app developer should be capable enough to come up with solutions that are not only profitable on the technical end but additionally for your business too. The capacity to resolve problems is a critical attribute.
3) Communication Skills
Software development is considered a collaborative process. Every member should be clear on what he/she is working on. Your developer should be able to explain technical dialect in layman words. This is another method to evaluate his or her knowledge of the subject.
4) Expertise
A reputable IT company would have the best developers for the highest criteria. With such expertise, you can hire an excellent developer.
Also, read: How to turn a website into an App: 3 ways to go
Top 10 On-Demand Developers that you May Need to Hire
1) WordPress Developers
Several businesses today build business applications, and WordPress web applications are conquering the market. WordPress is a great powerful framework for enterprises, large or small, it is utilized for accessing a database-backed application.
2) Python Developers
Python is a framework that has appeared as the leading choice for enterprises to flawlessly build machine learning projects. It's in huge demand and works as the ideal framework to develop a solid and unique online presence.
3) Shopify Developers
Entrepreneurs all around the world are practicing the Shopify framework for managing a stable and successful business. It is a robust platform with high-functionalities and scalability features.
4) Java Developers
The platform is utilized for building a variety of applications and serves several industries with its unique features and functions. It allows businesses to reveal excellent work of Machine Learning and IoT.
5) AngularJS Developers
Angular JS is one of the most trending technologies that is making its way to the market. It is a preferred framework for building extraordinary mobile applications for different businesses.
6) Flutter App Developers
Flutter helps in developing a scalable, robust, and high-performance mobile application with a great user interface and power-packed features. It has become the favourite framework for several businesses.
7) React Native Developers
React Native is the most successful mobile app development platform for developing hybrid and cross-platform applications that work finely on iOS and Android devices.
8) Swift App Developers
The iOS mobile app development has constantly offered something unique and trendy into the market. This market is growing and providing businesses a completely new prospect to reach out to iOS audiences.
9) Objective C Developers
Objective C has appeared as the bright star inside the mobile app development world. Objective C is utilized for general purpose activities and offers creative and interactive user interfaces.
10) Natural Language Processing Developers
Natural Language Processing is a sub-division of Artificial Intelligence that helps computers to understand the human language. NLP is used for developing automated technologies for building and integrating advanced software into your website.
Also, read: Best WordPress Plugins for Website Enhancement
Conclusion
Recruitment agencies and individual IT recruiters both have several strategies and channels to get the most suitable on-demand developer for their needs. However, getting a skilled developer to work for you regularly, can be challenging and costly. But you should also understand that utilizing their services, without the need of hiring them full-time, is an excellent opportunity to perform your task smartly while saving your revenue.
These techniques outlined above can serve as a helpful core method to discover and hire on-demand software developers that are reliable and the best in the industry. But remember that efficient hiring is not a goal, it's a journey. You should constantly re-evaluate and tweak your process to get better results every time. As in the case of a static process, it becomes a dead process after some time.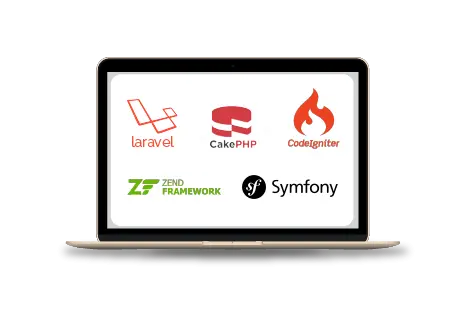 Are you looking for a reliable web development company? Our highly skilled web developers enables us to deliver result oriented web development services. Contact our team to understand, how we can help you in achieving your business goals.