The above questions are some of the most inquiries people ask when they come in contact with Salesforce for the first time. Hence, before going into the details of what Salesforce Cloud does, it is essential we briefly define Salesforce.
So, what does Salesforce mean?
Aside from being the first and most popular SaaS-based CRM system, Salesforce is a creative ecosphere consisting of IoT and AI, providing numerous solutions to all forms of businesses, including non-profit.
What is Salesforce Cloud?
To provide solutions to the conventional on-premise infrastructure and server systems, Cloud was created in 2006 by Amazon when the company began its Elastic Compute Cloud products. However, the term cloud computing has been in existence for a long as 1996.
Since the Cloud was created, it has brought tremendous benefits to end consumers, including the comfort of maintenance-free projects (at least servers).
Salesforce Cloud can be defined as a customer relationship management (CRM) tool designed to assist marketing, sales, and customer support for both business-to-customer (B2C) and business-to-business (B2B) contexts.
Salesforce cloud has five versions ranked from lowest to the highest as Group, Professional, Enterprise, Unlimited, and Performance. Also, they are different per-user or per month packages. The company provides three stages of support contracts, which are Standard Success Plan, Premier Success Plan, and Premier+ Success Plan.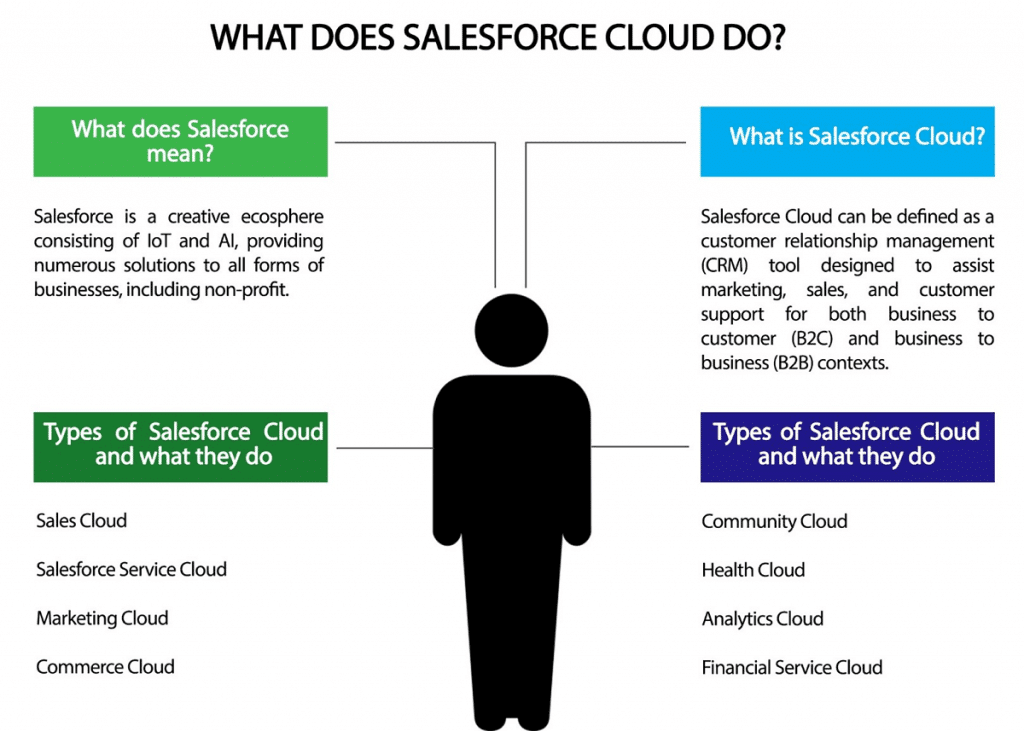 The following are the different types of Salesforce Clouds and what they do.
Sales Cloud
Salesforce Sales Cloud assists businesses to grow their accounts. It offers quick insights to clients and helps organizations to close deals faster. Salesforce Sales Cloud allows you to create more leads, which boosts revenue and productivity since it provides better insight that facilitates ethical decision making.
Below are the services under Sales Cloud and what they do.
Lightning for Gmail
This is a native Salesforce CRM integration with Gmail, and it allows you to:
See every record related to all email
Bring new to the Gmail side panel
Enjoy the Salesforce lighting in Gmail.
Lightning Dialer Voicemail Drop
This is a popular Salesforce Sale Cloud features. It allows you to leave voice mails for your list of potential clients with a single click. Pre-record a general message and send them to the list of the move on the next cool.
Einstein Automated Contacts
Einstein Automated Contacts help to sustain accurate & clean data. Also, it can analyze calendar and email events. Likewise, they identify new contacts and suggest new ways to add a new record by empowering your CRM.
Lightning Contact Hierarchy
Lighting Contact Hierarchy allows you to access records on a secure and user-friendly visual display. Simple hacks known with this tool are column configuration and customizing.
Lightning Report Builder
Salesforce Lightning Report Builder has a simple interface that enables you to create multiple reports. As a business user, you get access to data within minutes.
Salesforce Service Cloud
Salesforce Service Cloud allows you to provide seamless services to your clients conveniently. It provides services like live conversations, call-centre, knowledge base, and support with products to consumers.
Below are the services you can find under Salesforce Service Cloud:
Lightning Service Console: helps to optimize case hovers, case feed, split view, and keyboard shortcuts.
Lightning Service Setup: enables setting up lightning communities and also knowledge base with instructional videos.
Snap-ins for Lightning Communities: provides personalized customer services as well as real-time live chat.
Lightning Field Service Preventive Maintenance: allows the maintenance of work order to stop product breakdown.
Lightning Field Service Parts Transfers and Requests: allows request parts and track shipping.
Marketing Cloud
Salesforce Marketing Cloud offers social channels and assists marketers in delivering the right message both on web & mobile applications at the right time. It has a Social Studio equipped with the Salesforce Einstein Vision which provides brilliant social media insights. Also, Salesforce Marketing Cloud enables you to understand user adoption and identify the most performing social media campaigns.
Commerce Cloud
Salesforce Commerce Cloud is known for its luxurious shopping experience with collective IT solutions. The services that are under Salesforce Commerce Cloud include:
Einstein Predictive Sort: which uses the data of clients to create customized products.
Order Management: it manages all exchanges returns and updates.
Mobile-First Reference Architecture: assists in designing mobile apps for both traders and customers
Commerce Cloud Reports and Dashboards helps to track performance and revenue with simple dashboards and reports.
Android Pay: integrates mobile commerce and provides security to Android transactions.
Community Cloud
The Salesforce Community Cloud facilitates interactions between partners, customers, and employees of an organization and connects them by establishing a community related to their enterprise. It enables each community to access content from existing CRM systems. Salesforce Community Cloud makes it possible for agents to see content last viewed by contacts. Also, you can view essential metrics on the dashboard.
Health Cloud
Salesforce Health Cloud was created to promote stronger relationships between hospital administration, service providers, and patients. A patient with an existing profile can easily access information from different data sources such as the EMRs (electronic medical records), medical devices, and wearables.
Analytics Cloud
The Salesforce Analytics Cloud is a business intelligence platform created to optimize mobile access and data visualization. The cloud-based analytic program is designed to carry out fast, iterative exploration of data with results that can be seen via layers of dynamic display over underlying data sets.
Financial Service Cloud
Salesforce Financial Service Cloud allows entrepreneurs to create custom communities that are compatible with their business needs. As a business owner, you can use it to connect to your independent investor and share vital customer data with them to create better marketing strategies. Examples of customer data you can share include financial accounts, goals, and existing client relationships.
Final Thoughts
Salesforce Cloud provides numerous functions, and before you can understand what it does, you need to know the different salesforce cloud. Salesforce Cloud services are not just clouds, but they are smart software solutions incorporated with AI like Salesforce Einstein. In general, the Salesforce cloud provides excellent business solutions as well as specialized CRM solutions for businesses of all kinds.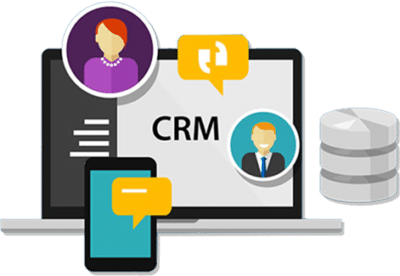 If you are new to automation and confused about Workflow or Process Builder. Need not to worry, we have got you all covered. Talk to our experts and clear all the cloudy thoughts about automation.