The End of the Google Appmaker is near
By next year, Google's low-code platform app maker would be shut down because of dormancy and fewer users on it. The company publicized this on Monday. Come April 15, privileges to this business application builder (launched in 2016) will come to an end.
All applications built by the use of the low-code platform would stop functioning by 2021. However, it doesn't mean that data stored in Cloud SQL would be lost or discarded. Instead, they would be made available in alignment with the Google Cloud Platform (GCP).
Google has updated it platform. This happened 14 days after its acquisition of no-code provider AppSheet, which it has been sent into Google cloud.
The company has a vision in which AppSheet will enable clients to be able to build applications that take advantage of Google's other properties, which include forms, Android, Google Sheets, Maps, and Analytics.
So, what options are available out there for your App makers?
Well, the following includes the various option Google has made available for app-makers to select from, to move forward.
For efficient data collection, make use of google forms. The question now is, what if your business sometimes in the future wants to use the same data to configure workflow?
To build and deploy apps, AppEngine is best recommended. The problem is that it is an advanced platform, which implies that it requires someone with professional skills to operate it. Also, AppEngine reduces the speed of development needed to create innovative business solutions.
To make your business processes easy, shift to AppSheet. The platform is very new and doesn't offer some of the old features such as report builder and drag-and-drop. Few essential elements, which include: MDM deployment options and sandbox are missing.
Copy Infographic
Introducing the Microsoft Power Platform – A leader in the world of low code
Recently, technology has had a tremendous positive impact on operation and communication. Flexibility and Versatility have become a significant focus. Also, time and connectivity have been very valuable with the increase in the practices of Bring your device (BYOD) and the Internet of things (IoT) in commonplaces and businesses.
For the smooth production of mobile and desktop apps, Microsoft PowerApps was released in 2017. PowerApps is very economical. It provides terrific, full-featured, and well-organized experiences with reliable integrations at a low price. As a result of this, Microsoft PowerApps has selected for developers to be used for power users and IT as a strong low-code development platform.
Page BreakFunctions of PowerApps
PowerApps provides a fantastic drag-and-drop user interface that enables you to add different media (video, images, and camera controls for your phone), functions (i.e., choice field, text field), screens and forms to construct mobile apps.
It gives room for the storage of data inside the app and also enables you to connect to external data sources. After creating an app, you have to publish it and share it with your organization.
How does it work?
Microsoft PowerApps can be easily accessed either on handheld devices from the mobile app or through desktop devices. With a friendly and straightforward drag-and-drop user interface, creating a desktop or mobile app has been made easy. Below are four-step processes that can be used:
Select a readymade template and make sure it is compatible with your desired phone layout tablet.
Connect to data sources, after which you import your selected data into the app. A data source may include Dropbox, OneDrive, or Salesforce.
You can now create your desired app by using the drag-and-drop to create various screens, forms, and controls, including images, videos, choice fields, text fields, a camera, and much more.
Finally, select the publish and share buttons to share the app across the whole business world.
Features and Benefits to a Business.
What makes Microsoft PowerApps special? This depends on what your business needs. Do you want to automate workflow? Or You want to combine all internal and external business data into one program? All these are features and benefits that can be provided by Microsoft PowerApps.
The main benefits include:
Enabling extensibility for developers: you can offer professional developers the tools that prolong the functionality of apps to the fullest by exploiting features like Azure functions and custom connectors.
Getting started quickly: It enables your teammates to waste no time in building and launching of apps. They can make use of the readymade templates, drag-and-drop simplicity, and quick redeployment. The other needed improvements can be made as time moves on.
Superior data integration: by making use of Microsoft's standard data services (CDS), your employees have access to data from over 200 different sources. These sources include Dropbox, Salesforce, Dynamic 365, Outlook, SharePoint, PowerPoint, OneDrive, Twitter, Excel, and many more. This gives staff easy access to business data irrespective of their location.
Building apps without compromises: It equips your team with the necessary things to build apps needed for your businesses with advanced and updated functionality, including pre-build artificial intelligence.
Security, control, and compliance: Microsoft PowerApps enables a business to have full control through its admin center. The admin center is where companies can see all their listed apps and control all the activities such as administering policies, user control options, and permissions.
Companies have access to full security since every app created in PowerApps is automatically linked to Microsoft's active directory domain service (ADDS), which authorizes, authenticates, and enforces security policies for all users and devices. As a result of all apps been built on Microsoft's CDS, every app is automatically General Data Protection Regulation (GDPR) compliant.
Boosting Staff productivity. PowerApps allows businesses to create their desired mobile and desktop apps that suit their needs perfectly. One of which may include self-service apps such as employee details, recording client's information, managing payroll information, and processing approvals and requests. With this, staff can do boring and smaller jobs on phones rather than setting aside time to catch up.
Microsoft Power Platform can serve as a means to extend low-code apps and also to provide permanent solutions for your organization's needs. You can manage your enterprise app development like an expert using Azure DevOps. Also, tap into a surge of reusable components and AI services components.
Automating processes and functions. Businesses can perform some tasks without the need to go through the stress to do it manually. For instance, with the use of push notification as seen on social media platforms such as Twitter and Facebook, they can disseminate important information, updates, and news to clients and staff on their phones. Even when the management is not available, PowerApps gives room for advanced functionality, such as reporting and resolving issues.
To know more about Microsoft Power platform and how it can help your business contact us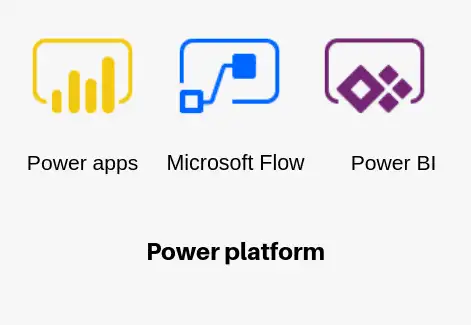 Still, have a question? You are free to contact me or other experts in our team to showcase the real power of PowerApps to you.