Our team here at Cynoteck is thrilled to announce that we are awarded as one of the top Salesforce Service providers by Clutch.co! Salesforce is the leading cloud-based CRM in the world. With an immensely rich product suite and powerful platform, Salesforce has established itself as the CRM of choice for organizations, across various industries and sizes. Clutch ranking us amongst 2020's top Salesforce consultants made our day!
Cynoteck team has extensive experience in consulting, development and support for Salesforce key products including Sales Cloud, Service Cloud, Community Cloud, Marketing Cloud, Analytics cloud to name a few. At Cynoteck, we proud ourselves in understanding customer needs and pain points, to help design solutions that drive value within client organization. Our mature delivery practices ensure, that there are no surprises in delivery and customers have full visibility of delivery roadmap and execution status at any given point of time.
Cynoteck possesses more than a decade of experience in providing robotic solutions through cloud-based Customer Relation Management (CRM) platform to companies. Cynoteck has expertise in successfully delivering end-to-end Salesforce solutions to various sectors of industries around the world. We deliver a wide range of Salesforce professional services to help companies implement CRM strategy within their organization to provide better customer experience and boost sales. We have successfully delivered more than 80 Salesforce service projects and most of our clients have trusted us time and again, which reflects our dedication and professionalism.
Salesforce services offered by Cynoteck include Salesforce Consulting, Salesforce Implementation, Salesforce Customization, Migration, Integration, and Salesforce Support and maintenance. Customer Satisfaction has been the top priority of Cynoteck while giving Salesforce solution and therefore we have team of experts who poses years of experience in designing innovative solutions using Salesforce customization features such as Apex, Visualforce, Lightning components framework and others, to deliver seamless user experience
Clutch's has a team of analysts that take the time to independently verify every review they conduct from clients around the globe. When you're looking to hire your next B2B service provider, Clutch.co is the premier ratings and review site.
Clutch's reputation makes us thrilled that we have a perfect 5.0-star rating on their site! In a recent review, the vice president of IT at Blood Hound Underground Utility Locators highlighted our proactiveness as we deliver flawless Salesforce solutions to her underground utility locating firm.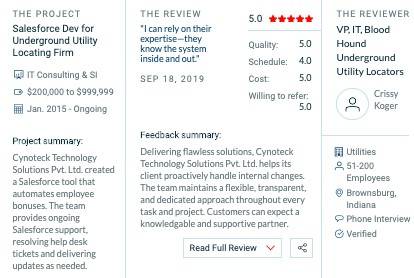 With our other perfect satisfied reviews, the B2B resource platform Clutch.co ranked us as one of the world's best Salesforce consultants for 2020! We're incredibly honored.
"We are thrilled to have been recognized by Clutch as one of the Top IT Services Companies! This award will motivate us keep on providing excellent services to our global clients." Udit Handa, CEO at Cynoteck.
Thanks to our many satisfied customers for allowing Clutch to recognize us if you want to join their ranks reach out today!
Drop us a lineif you'd like to collaborate on a project today.