Power Apps is a low-code platform to create and deploy custom apps that can be used across cross platform devices like mobile, tablet and desktop. It is one of the components of Power Platform family. Power Apps with Microsoft Azure together can create custom apps for business needs with rich functionality in a low-code platform. Power Apps and Microsoft Azure combination works together to enable professional developers to build and deliver applications quicker, effective and cost-efficient.
Introduction to Microsoft Azure
Enter Microsoft Azure, the cloud computing titan. Azure offers a plethora of services, from computing power to storage and analytics. Scalability, reliability, and top-notch security define Azure's identity. It's not merely a cloud; it's a dynamic ecosystem supporting a myriad of applications, including the ones built on Power Apps.
Setting the Stage for the Powerful Synergy
Now, imagine the possibilities when these two tech powerhouses join forces. The synergy between Power Apps and Azure is more than just integration; it's a harmonious collaboration. Together, they form a robust environment where low-code app development meets the scalability and advanced features of the cloud.
In this exploration, we'll dive into the dynamics of Power Apps, unravel the capabilities of Azure, and uncover the magic that occurs when they come together.
It's not just about technology; it's about unleashing potential, simplifying complexities, and propelling businesses into a future where innovation knows no bounds. Let's embark on this journey through the landscape where Power Apps meets the azure sky.
The Dynamics of Power Apps
In the expansive world of application development, Power Apps emerges as a transformative force, reshaping the landscape of how we create and interact with software solutions.
Exploring the Capabilities of Power Apps
At its essence, Power Apps transcends being just a tool; it's a catalyst for innovation. It empowers individuals with diverse technical backgrounds to contribute to app development. From crafting user-friendly interfaces to automating intricate workflows, Power Apps empowers those who understand business processes the best.
Low-Code Development: Revolutionizing App Creation
Say goodbye to complex coding marathons. Power Apps heralds the era of low-code development. Its user-friendly interface enables dragging and dropping elements, making app creation an attainable feat. This isn't just a feature; it's a revolution—a fundamental shift in the realm of application development.
Cross-Platform Compatibility and Versatility
In a world defined by diverse devices and platforms, Power Apps stands out with its cross-platform compatibility. Whether on a desktop, tablet, or mobile device, applications crafted with Power Apps seamlessly adapt. This versatility ensures users can access and engage with apps anytime, anywhere, fostering a connected and flexible work environment.
Setting the Stage for Powerful Synergy
Imagine the scene: Power Apps takes center stage, and the curtain rises to unveil its collaboration with Microsoft Azure. It's not just a partnership; it's a fusion of capabilities. The stage is set for a performance where low-code simplicity meets Azure's robust infrastructure and advanced features. Together, they create a harmony of efficiency, scalability, and limitless possibilities.
As we navigate through the convergence of Power Apps and Azure, it's not merely about technology; it's a journey of empowerment. It's about unleashing creativity, streamlining processes, and propelling businesses into a future where innovation knows no bounds. Join us as we explore the dynamics of Power Apps, where simplicity meets sophistication, and each click brings us closer to a new era of application development.
Explore how Power Apps and Azure work together
With Power Apps and Azure combination, it is possible to create business applications quickly and automate business processes with out-of-the-box connectors, drag-and-drop simplicity, and rich extensibility.
Given below are the ways in which Power Apps and Azure work together:
Pre-built UX components:
Power Apps enables citizen developers and pro developers to quickly build an app and create solutions with Azure services using pre-built user experience (UX) components and simple frameworks.
Bring AI to your apps:
Easily add Power Apps AI capabilities built on Azure AI, to inject intelligence into apps and processes without any prior machine learning expertise. Add AI capabilities with pre-trained models in Power Apps enriched with Azure services.
Cost-effective ERP extensions:
Prebuilt connectors in Power Apps helps you to adapt quickly to changes in the business needs such as new regulations and updated compliance standard with enterprise resource planning (ERP) extensions. Some of the examples of ERP extensions are Salesforce, ServiceNow, SAP, Workday etc.
App lifecycle management:
The combination provides automated app life cycle management and deep Azure DevOps integration.
It Streamlines low-code app lifecycle management (ALM) with built-in continuous integration and deployment (CI/CD) support in GitHub to shorten time for delivery and code changes.
GitHub Azure connector allow CI/CD self-service for non-professional developers.
Center of Excellence and security:
Azure Active Directory built-in security roles and permissions keep better control of app environment. Administrators can manage access rights for licensed Common Data Service users through their organization's Azure Active Directory (Azure AD) groups.
Azure Active Directory is beneficial as it provides a secure environment for the user to create an app and manage it with security groups. Depending on the security group, an owner can enable or disable specific functionalities within the Power Apps when shared with the users.
Customization:
Extend your app capabilities and functionalities using services such as Azure Functions, Cognitive Services, IoT Edge, and Azure Synapse Analytics. Using the command line interface in Visual Studio Code, easily build custom Power Apps with fully customised and reusable user experience components.
Seamless connection:
Power Apps provides seamless integration with over 350+ data sources or legacy system through data connectors. Some of the popular data connectors are SharePoint, Excel, SQL Server, Office 365, Salesforce, and Twitter etc. It is also feasible to create custom connectors using Azure API Management and Azure Functions. Custom connectors help to scale your app with resiliency and low latency access to data with Azure processing power.
Thus, Power Apps and Azure are better together and helps to:
Attain business demands faster by building business app quickly using drag and drop user interface (UI) and pre-built user experience (UX) components.
Save on app development cost with ERP extensions and Azure solutions like IoT and mixed reality. It also helps to automate the business process using Power Virtual Agents and Power Automate.
Integrate data sources through pre-built data connectors to bring relevant information directly into Power Apps, with app delivery backed by Azure.
Create custom apps and extend its capabilities with Azure functions and Azure services using built-in API integration and reusable components with Visual Studio Code.
Conclusion: Unleashing Possibilities with Power Apps and Azure
In the symphony of software solutions, the partnership between Power Apps and Azure isn't just a collaboration; it's a dynamic fusion that opens new doors of innovation. As we conclude our exploration of the powerful synergy between Power Apps and Azure, it's evident that this combination transcends conventional boundaries.
Power Apps, with its low-code prowess, brings simplicity to the complex realm of application development. It's not just about creating apps; it's about empowering individuals across diverse backgrounds to participate in the creation process. The era of intricate coding as a barrier is fading, giving way to a more inclusive and creative development landscape.
The cross-platform compatibility of Power Apps ensures that the applications created aren't confined to a specific device or operating system. This versatility is more than a convenience; it's a response to the dynamic nature of the modern work environment. Power Apps ensures that applications are accessible seamlessly, fostering a connected and flexible workplace.
However, the real magic happens when Power Apps takes the stage alongside Azure. It's not merely a juxtaposition; it's a synergy that amplifies capabilities. Azure's robust infrastructure and advanced features join forces with Power Apps' simplicity, creating a nexus of potential. It's a collaboration that marries efficiency with scalability, offering a canvas where businesses can paint their visions without constraints.
As a software consultant, this journey through the dynamics of Power Apps and Azure resonates with the essence of empowerment. It's not just about technologies; it's about providing tools that empower businesses, individuals, and teams. It's about unlocking a realm of possibilities where innovation becomes an everyday language, spoken by those who dare to dream and create.
In the grand finale of our exploration, it's clear that Power Apps and Azure, when harmonized, are more than tools; they are enablers of transformation. The curtain falls not on a mere collaboration but on a promise—a promise of a future where simplicity and sophistication dance together, defining a new era of application development. The stage is set; the possibilities are boundless, and the journey continues into a realm where innovation knows no limits.
Cynoteck is a Microsoft Gold Partner and Power Platform Partner. With our knowledge across the Microsoft Stack we build solutions that best fit your needs. We help you identify and utilize your organizational data to the best which lets you make intelligent decisions for your growth.
Connect our team if you are interested in implementing Power Platform in your business.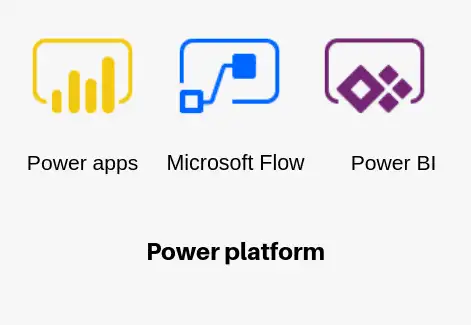 Still, have a question? You are free to contact me or other experts in our team to showcase the real power of PowerApps to you.