Power Apps is a low-code platform to create and deploy custom apps that can be used across cross platform devices like mobile, tablet and desktop. It is one of the components of Power Platform family. Power Apps with Microsoft Azure together can create custom apps for business needs with rich functionality in a low-code platform. Power Apps and Microsoft Azure combination works together to enable professional developers to build and deliver applications quicker, effective and cost-efficient.
Explore how Power Apps and Azure work together
With Power Apps and Azure combination, it is possible to create business applications quickly and automate business processes with out-of-the-box connectors, drag-and-drop simplicity, and rich extensibility.
Given below are the ways in which Power Apps and Azure work together:
Pre-built UX components:
Power Apps enables citizen developers and pro developers to quickly build an app and create solutions with Azure services using pre-built user experience (UX) components and simple frameworks.
Bring AI to your apps:
Easily add Power Apps AI capabilities built on Azure AI, to inject intelligence into apps and processes without any prior machine learning expertise. Add AI capabilities with pre-trained models in Power Apps enriched with Azure services.
Cost-effective ERP extensions:
Prebuilt connectors in Power Apps helps you to adapt quickly to changes in the business needs such as new regulations and updated compliance standard with enterprise resource planning (ERP) extensions. Some of the examples of ERP extensions are Salesforce, ServiceNow, SAP, Workday etc.
App lifecycle management:
The combination provides automated app life cycle management and deep Azure DevOps integration. It Streamlines low-code app lifecycle management (ALM) with built-in continuous integration and deployment (CI/CD) support in GitHub to shorten time for delivery and code changes. GitHub Azure connector allow CI/CD self-service for non-professional developers.
Center of Excellence and security:
Azure Active Directory built-in security roles and permissions keep better control of app environment. Administrators can manage access rights for licensed Common Data Service users through their organization's Azure Active Directory (Azure AD) groups. Azure Active Directory is beneficial as it provides a secure environment for the user to create an app and manage it with security groups. Depending on the security group, an owner can enable or disable specific functionalities within the Power Apps when shared with the users.
Customization:
Extend your app capabilities and functionalities using services such as Azure Functions, Cognitive Services, IoT Edge, and Azure Synapse Analytics. Using the command line interface in Visual Studio Code, easily build custom Power Apps with fully customised and reusable user experience components.
Seamless connection:
Power Apps provides seamless integration with over 350+ data sources or legacy system through data connectors. Some of the popular data connectors are SharePoint, Excel, SQL Server, Office 365, Salesforce, and Twitter etc. It is also feasible to create custom connectors using Azure API Management and Azure Functions. Custom connectors help to scale your app with resiliency and low latency access to data with Azure processing power.
Thus, Power Apps and Azure are better together and helps to:
Attain business demands faster by building business app quickly using drag and drop user interface (UI) and pre-built user experience (UX) components.
Save on app development cost with ERP extensions and Azure solutions like IoT and mixed reality. It also helps to automate the business process using Power Virtual Agents and Power Automate.
Integrate data sources through pre-built data connectors to bring relevant information directly into Power Apps, with app delivery backed by Azure.
Create custom apps and extend its capabilities with Azure functions and Azure services using built-in API integration and reusable components with Visual Studio Code.
Cynoteck is a Microsoft Gold Partner and Power Platform Partner. With our knowledge across the Microsoft Stack we build solutions that best fit your needs. We help you identify and utilize your organizational data to the best which lets you make intelligent decisions for your growth.
Connect our team if you are interested in implementing Power Platform in your business.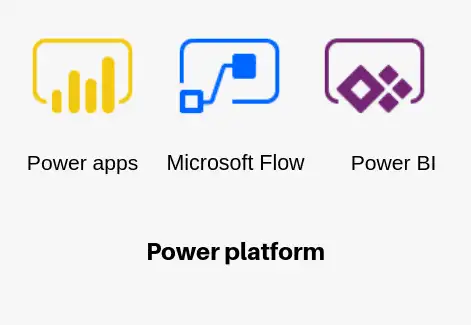 Still, have a question? You are free to contact me or other experts in our team to showcase the real power of PowerApps to you.