The Salesforce CRM system is the ultimate choice for small and mid-sized enterprises to enhance direct access to cloud-based customer data management in a user-friendly way.
Salesforce CRM cloud platform facilitates effective management of contacts and sales activities that boost sales rep productivity thus increasing sales revenue.  Cloud computing CRM solution from Salesforce CRM technology keeps customer relationships thriving.
Now, the businesses and its users can create their own customized Salesforce tools in the cloud with Salesforce CRM system PaaS solution.
The SME specific requirements are met by the quick and easy implementation of SalesForce CRM enhanced flexibility to modify Salesforce and construct modules. The SalesForce CRM system is backed by comprehensive predictive analytics that helps and facilitates salespeople or marketers, to gain better insight into their daily schedule. The following top 5 salesforce apps are very useful for sales and marketing managers.
Cloud characteristics of Salesforce offer a better solution to check on the competitors
Through the refined customer data from the Salesforce CRM software, a business can get a clear 360-degree view of the customer and market behaviour to effectively manage sales data, service data, customer data, and marketing data while reporting and easily interacting with the customers.
The sales forecast on company sales and marketing campaigns based on the market trend of the current business scenario is checked for any new services or discounts by the competitors that hike the interest among the customers.
The SME can expedite the sales process by tracking the performance of their business as it offers end-to-end customer relationship management by outlining the customer needs and requirements
Salesforce consultants make use of the Salesforce CRM system to check on the business leads effectively through salesforce development that offers the better response to the real-time insight of the questions posed by the customers and businesses.
The sales rep, marketing professionals can effectively manage customer inquiries from different geographical areas through Salesforce CRM.
Top 5 salesforce apps for sales and marketing managers should use
Here We're offering a roundup of the top 5 salesforce apps for sales and marketing managers should use which is available on the Salesforce app exchange.
1. MailChimp app for Salesforce
One of the important assets of any marketing campaign is email marketing. Almost, 7 million people send, track and design email marketing campaigns via this salesforce technology innovative apps. This is an easy way to keep MailChimp and Salesforce software data in sync with this free integration as it facilitates creating custom queries, building campaigns, and managing subscribers.
Storing customer data and significant information consisting of email content and customer communications is made easy for the sales teams by this feature-rich salesforce apps
The user can see the full activity of this app by effectively controlling subscribers and subscriber detail from leads and contacts list views in the Salesforce software. Adding Visualforce pages to the contact and lead pages, as well as custom fields is easily done with this app.
The whole email marketing campaign results can be viewed and accessed with this app along with the history activity of the subscriber within Salesforce while creating queries, contact, and custom lead that run on the hourly and daily basis.
Upload marketing subscribers as Salesforce leads. Sync leads and contacts from Salesforce to this app and create, schedule, and send marketing campaigns from within the Salesforce CRM system
iContact for Email marketing
iContact for Salesforce is another indispensable app that focuses on the important activity of mass email marketing. This application is entirely native to Salesforce. Now, the users can utilize a direct measure in engaging, converting and retaining leads & contacts as the option to create, send and track emails at the campaign level. This is a comprehensive, robust app that is functional to build ongoing and meaningful relationships with contacts by tracking their interest in various campaigns, to send relevant, targeted emails.
This facilitates effective tracking of the email campaign results at the lead & contact level
This app offers complete full integration as it is built on Salesforce Campaigns
Run reports based on your leads & contact and track interactions of individuals across multiple email campaigns. Personalize emails and segment email marketing campaigns by using standard or existing Salesforce custom fields
Track leads through the sales process for a direct return on investment from bulk email marketing campaigns and it is intuitive as it starts quickly using Salesforce's Campaign functionality
An unlimited number of emails can be sent per day, allowing for maximized success on important campaigns and unlimited use of 600+ customizable templates with responsive designs to render on any device.
Conga Composer for easy creation of documents
This app speeds up your document generation and reporting as it facilitates easy creation of documents by scaling up, streamlining, and customizing Salesforce activities. All without the nuisance of administrative privileges. This app is fully functional to create and make presentations from any custom and standard object and generate reports in PDF formats, PowerPoint, Excel, Word, and HTML email. This app is thoroughly compatible with Communities Portals, Service Cloud, Platform, Sales Cloud, Salesforce & Lightning. The best part of this app is that it uses Salesforce reports or SQL queries that easily integrate any data from any object merging data from any standard or custom object. The user can create fully customized output using Word, PowerPoint, Excel, HTML email and PDF forms of your Document in your Format:
This app comes with powerful add-ons to maximize efficiency with a fully automated solution:
Conga Mail Merge: You can make use of this app as it can be to simplify mass mailing procedures as it can generate 1,000s of printable letters, labels & envelopes at once
Conga Conductor: For all the Salesforce work related to the batched & scheduled document creation
Conga Workflow: This app can be utilized for another advanced dynamic work like event-triggered document generation
Conga Composer assures unlimited uses for all organizations & industries:
Invoices/Receipt
Contract
Quote
Proposal
Account plan
Work order
Report & Chart
Shipping document and more!
Conga Composer offers cost-effective simplified alternatives for an effective document generation that increase productivity as it by-passes errors. Now, you can rely on this Salesforce app to reduce the staff resources, as it is capable to generate 1,000s of documents per day. Easily scale solutions to produce to create personalized templates. In addition, it can be swiftly launched from a button/link on any standard or custom object with other predefined options for a one-click solution. You can create follow-up tasks, update fields and automatically log activities. It offers flexible Delivery Options as you can automatically deliver the output via email or you can download it locally. In other options, the user can send the output for eSignature with DocuSign, Adobe eSign services or Sertifi in Salesforce,or through Google Drive or SpringCM.
With DocSend Document Intelligence app, get actionable document insights in sales and marketing in the Salesforce
DocSend app facilitates effective optimizing, tracking and controlling of the sales and marketing collateral you send. This salesforce CRM app increase revenue by improving upon the leads, as all visit data gets seamlessly sync to Salesforce providing information on the time when the leads and contacts have viewed your collateral. This app offer benefits to optimize your sales and marketing collateral by shortening the sales cycle by getting an insight into specific pages that engage most of the leads and contacts. You need not send significant business documents by attaching via email as you can optimize and expedite your sales and marketing campaign to reach out to the prospects with DocSend app to promptly view notification emails. This facilitates to coordinate between sales and marketing as it offers details on all the marketing uploads of all the sales' links consisting of the new versions of collateral, whenever latest version.is automatically updated. This gives page-by-page statistics on the time spent on the content giving all the data about the content which is working best as you can update your content as per requirement and your prospects will only see the latest version. Now, securing content is not a big deal as this can be easily done with a passcode or auto-expiration feature in this app that shut off access to a document at any time.
Geopointe: The all-in salesforce app for the Mapping, Routing & Geo-Analytics, Territory Management, and Maps
This app offers out of the box Salesforce functionality to view maps of your data anywhere in the world. This provides advanced routing, optimization & navigation for territory management, geo-Analytics & Advanced Visualization against Big Data. Geopointe location-enabled Salesforce app gives analytical insights that make you more productive.
Feature-rich Geopointe: lets you map everything:
Map in a Shape Layer
Customize your Data Sets (queries)
Map Marker Rules
CSV & KML Exports
Multi-point, Optimized Route Planning
Add to Campaign
US Census Demographics
KML, KMZ & GeoRSS overlays
Map from a View
Map "Places"
Intuitive Mapping on Google Maps
Map any Object
Proximity searching
Worldwide Boundaries
Change Record Ownership
More
Offer all round automation
Custom Actions (buttons & links) linked to your development
Visualforce Components
Standardize & clean address data
Global Apex methods
Automatic, Global Geocoding
Automated Territory Assignment
Mobile Salesforce1 App
Facilitates to Manage Routes
You can locate and Find Nearby
Can be used for the Check In, Check Out
Provide Geo analytics:
Enables Use Shapefiles (ESRI)
The Geo-Analytics with Big Data in this Salesforce app
Thematic Maps
Avail Heat Maps
Geopointe supports the Lightning Experience.
We hope you find the selection on this list to be a suitable pick of the most promising Top 5 Salesforce apps out of the Salesforce app exchange. Apart from this, what else would you like to add to this post in the Salesforce apps from Salesforce app exchange that helps sales & marketing manager to increase sales revenue and graph? Let's hear it in the comments section.
At Cynoteck, our expert Salesforce CRM consultants are more than delighted to discuss your Salesforce CRM plans. Consult Cynoteck for an array of best Salesforce solutions, and a commitment to service excellence. Cynoteck has been showcased as one of the 20 Most promising CRM solutions providers by ERP Insights Magazine 2016. For any further questions on implementing a CRM in your organization please feel free to contact us.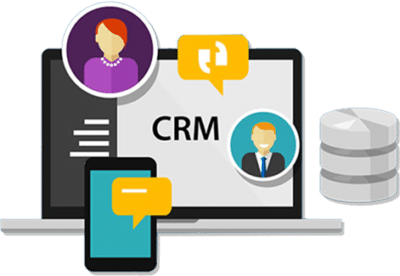 Need to enrich your Salesforce CRM with business focused solutions? Contact our team to understand, how we can help you in achieving your CRM goals.