Outsourcing mobile app development is becoming more and more popular for companies that want to expand their technological reach to mobile platforms and don't want to have huge development budgets. Hiring talented mobile developers and project managers can become quite expensive and so outsourcing is a great alternative.
Many companies do not know exactly how to begin outsourcing their development and so we have provided this blog on how to outsource mobile app development in 2021. Listed are 7 things you should keep in mind when you are looking to outsource your mobile app development.
Copy Infographic
Plan!
When looking to outsource any sort of development you must know exactly what you want from the developers so that you can create clear expectations and have the best possible service. You should have an idea in mind of what you want the finished mobile app to be able to do and why. During your planning make sure there is some wiggle room for change since you do not want to create a plan so rigid that when problems do occur there is no way to fix them through creative solutions. Keeping clear and consistent communication with the outsourced development team about what you expect from them, the mobile app, and what possible changes may need to be done will be essential for the most efficient development process to occur.
Do your research
The quality of the final product when outsourcing mobile app development heavily relies on the team of developers behind it. This means that you should do your research before choosing a development team. Some things you should keep in mind and ask during this searching process could include seeing who else a company has done work for and how well does the company communicate with you simply when you ask questions regarding them since this can be an indicator of how well they will communicate during the actual project.
Prototyping
Prototyping should be an ongoing part of the development of an app and again this relies on effective communication between you and the development team. Make sure you see the mobile app prototype at varying stages of development and not just once all the code has been completed. Doing so will allow you to assess not only the progress the development team is making but also whether the features of the app are in fact functional at an early stage before they become costly to fix.
Ask lots of questions
If you are looking to outsource your mobile app then there is a chance you are not very familiar with technology and what the best ones are to use. Don't be afraid to ask developers what technology they are implementing in your mobile app and why. You can do your own research on the various types of technologies, databases, and platforms that are available, but also listen to the developers opinions on what they think is best for your app.
Pick the right development service option
Many options exist when it comes to outsourcing your app development and which one is right for you will depend on your specific requirements as well as the budget you can allocate to the mobile development project. An economical option is to hire a freelancer, but even if they are very talented at app development you may compromise on certain parts of the development process such as market and strategy research. Offshore development centers offer a great alternative to freelancers as they are usually more cost-effective than onshore developers, but they also may have the expertise in all areas of mobile app development that a freelancer could be lacking.
Payment model
You should keep in mind the payment model of you mobile app project, are you looking to pay all at once or through a "pay as you go" type of method? Paying all at once is usually only beneficial if the project is relatively small and the requirements are extremely clear. The amount of time it will take to complete the mobile app must also be determined in advance. T
This can be a good option if your company has a limited budget. Otherwise, it is common to use a "pay as you go" method in which an hourly rate is assigned for a developer and you only pay for the hours completed. This method can be helpful in cases where there may be changes to the plan of requirements throughout the development process, such as with more complex mobile apps. Be sure to communicate with the development team about which option is best for you and what their expectation is in terms of wages.
Support after the app is complete
Once the mobile app is complete and the project is done it may feel as if you do not need the help of the developing team that you outsourced your app to. In reality problems with the app may occur, even if it was built by a top-tier development team and therefore it is a good idea to ask the development team if they can provide you with support for the app in the future if any problems do arise.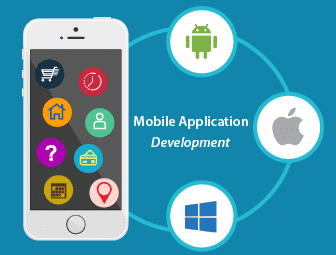 Do you want to leverage mobile technology for your business? Cynoteck is a one-stop Mobile app Development Services provider. We provide iOS and Android application development services so that you can reach your target audience on any device.